Low supply and interest rates across the U.S. has led to an extension of the seller's market we've become accustomed to, according to a new Redfin report. The data shows that as of May 10, multiple offers were present across 41% of all real estate transactions on Redfin. And, in some metros, this multiple offer rate was 60%.
Source: Redfin
The report notes that "The coronavirus pandemic is contributing to a shortage in the number of homes for sale across the U.S. as would-be sellers hold off on listing their homes amid ongoing uncertainty. The lack of inventory has led to a significant amount of bidding wars, particularly for single-family homes priced under $1 million in desirable areas…Even before the novel coronavirus took hold in the U.S., home supply was at its lowest point in seven years."
The top 10 markets that saw the most multiple offer scenarios are:
Boston, Massachusetts (63.3%)
San Francisco, California (63%)
Fort Worth, Texas (62.2%)
San Jose, California (59.4%)
Providence, Rhode Island (52.8%)
Cleveland, Ohio (52.2%)
Virginia Beach, Virginia (50%)
Frederick, Maryland (49%)
Worcester, Massachusetts (48.5%)
Orlando, Florida (47.8%)
Diana Olick of CNBC picks up on the news, noting that the national rate for multiple offers was just 9% in January prior to the pandemic. Also, new listings are down 29%, exacerbating the supply strain amidst continued demand for housing.
STRs seeing a bounce back?
Renzo Downey of FLAPOL reports that Florida jurisdictions have now allowed STRs to reopen in 26 counties across that state. "State officials approved vacation rental safety plans for 10 more counties Thursday. Those plans, going into effect immediately, will reverse DeSantis' ban placed statewide in late March. Last week, the Governor announced individual counties could submit their plans to reopen the vacation rental industry."
The data is promising, as we see a spike in domestic travel reservations. According to Dan Lake of NewsHub, Airbnb data for New Zealand reveals a 15x increase in weekly future bookings when compared to the same time in March. Further, "New Zealand bookings on Airbnb have recovered to 85 percent of pre-COVID levels, compared with the same week in 2019, the website says…The data also shows that people aren't stretching their bubbles too far, with more than 55 percent of bookings being within 320km of peoples' homes."
Jill Menze of Phocuswire reports on AllTheRooms data that shows a noticeable increase in length of stays at vacation rentals in the U.S. From January to May 2020, the average length of stay increased by 74%. When compared to May 2019, the average length of stay has increased by 109%.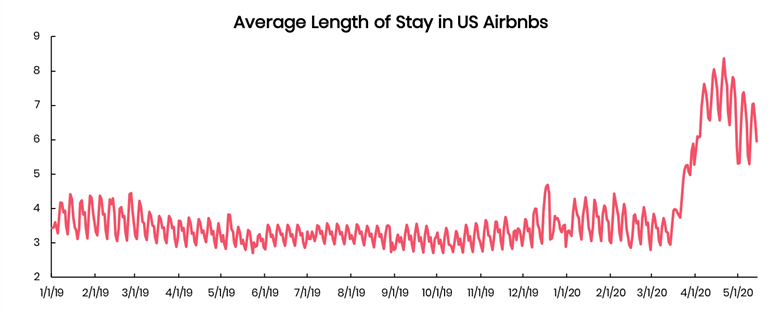 Source: Phocuswire
AirDNA data also points to a slow recovery to pre-COVID levels for future bookings:
Source: AirDNA
All of the above has led some to describe a V-shaped recovery in the vacation rental sector. AllTheRooms notes that "Top-performing states in the U.S. include Arizona, down only 16.2% year-on-year. Other states closest to 2019 levels of booking activity include Nebraska, down 13.9%, Maine, down 17.4%, Arkansas, down 18.0%, and Georgia, down 23.2%." According to AllTheRooms CEO Joseph DiTomaso, "When the bigger markets start to come online, such as California, Florida, and New York, we're going to see the rebound to 2019 levels accelerate. Markets like Arizona suggest that there's still strong demand for short-term rental stays."
Commercial real estate
All eyes are on commercial real estate these days as the effects of business closures echos through this sector. In April, we saw commercial real estate transactions drop 71%, the lowest level seen in a decade. Office buildings and retail are getting hit particularly hard, with some predicting that these sectors may not come back at all following the pandemic.
Jerome Dineen of The Real Deal reports that the number of commercial deals fell an average of 36% since January, with a 61% drop between March and April. "Hotel sales descended to $5.1 billion, their lowest level since RCA started recording transactions. The office and industrial sectors performed the "best," but each still notched a 60 percent drop in transactions."
Joy Wiltermuth of MarketWatch reported that late mortgage payments in the commercial sector rose another 12% in May, and that "there is now $32 billion worth of commercial property loans in "special servicing" as of May, or more than double the late-February tally when the coronavirus deepened its hold on the U.S."
Couple the above with a recent piece in The New York Times (subscription required) titled New Threat to New York City: Commercial Rent Payments Plummet.