Late market cycles and rent control aren't the only topics of interest to multifamily investors these days. Julia Falcon of Housing Wire reported this week that in Q3 2019, multifamily vacancy rates dropped to 3.6%, down 40 basis points from the same time in 2018. Of note, this is the lowest vacancy level since 2000, according to data from CBRE.
Jeff Lee of Commercial Advisor also reported that "the multifamily market is on track to post another record year in 2019." According to Lee, Freddie Mac expects debt originations to hit $336 billion, which is 8% more than last year, driven by "abundant liquidity, low interest rates and continued demand for multifamily investments." As home sales slow and apartment construction continues to rise, 2020 could be another good year for multifamily according to Lee.
Kelsey Ramírez of Housing Wire adds to this story, noting that according to the Mortgage Bankers Association, commercial and multifamily originations climbed 24% from Q3 2018 and 9% from Q3 in 2019. MBA expects this positive trajectory to continue into 2020.
Unless you're an investor in New York. Multiplenewsoutletsaredescribing the drag on investment in the state directly as a result of The Housing Stability and Tenant Protection Act of 2019 (HSTPA). Jon Banister of Bisnow even quoted TruAmerica Multifamily Co-Chief Investment Officer Matt Ferrari as stating that rent regulations across the U.S. are "probably the biggest risk to our industry…[and is] having a contagion effect from these deep blue states, New York and California, and eventually spreading across the country."
California's housing woes pile on
New York isn't the only state where investors are facing headwinds. California had more than its fair share of negative housing news, starting with Noah Buhayar and Christopher Cannon's widely-reported Bloomberg piece titled How California Became America's Housing Market Nightmare. In a nutshell, the authors provide a slew of data showing how households in the state are historically cost-burdened, and why this is going to negatively impact the housing market.
Source: Bloomberg
Sophie Alexander of Bloomberg Businessweek reported this week on the IPO windfall that never happened in California. Alexander reports that the expected IPO startup boom buoyed by WeWork, Lyft, Uber, and Slack—all proving disappointing in different ways—has not manifested itself.
Sarah Ravani of the San Francisco Chronicle reported this week that the city of Berkeley is discussing removing the option for criminal checks in housing applications, adding to the list of recent changes that are angering landlord groups.
On a positive note, Ridaa Murad of Forbes reports on the 879 Opportunity Zones in the state and how "California is in prime position to stabilize its economy, thanks to socially conscious investors looking to make a difference while maximizing their returns." For more on this investment strategy, see our guide to investing in OZs.
Outward migration in California is also on the rise, as shown through the following chart from Compass: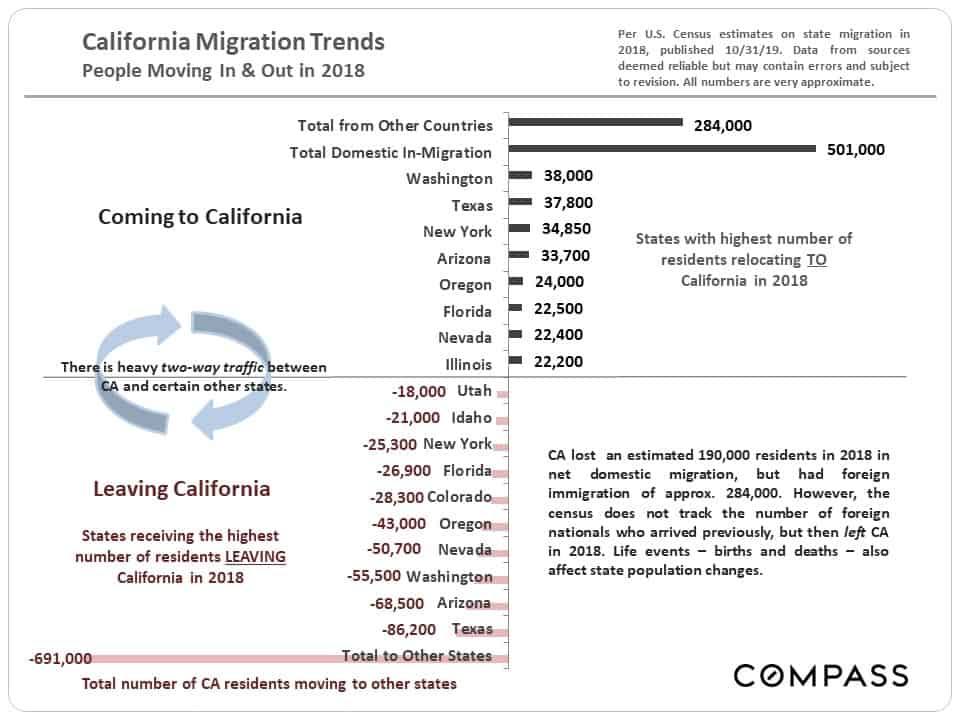 Source: Compass
Circling back to Apple's announcement last week of their investment in California housing, here's an interesting New York Times opinion piece (subscription required) on why these types of investments won't solve the problem. Couple this with a similar piece in The Mercury News.
#PropTech Update: Acquisition and iBuyer platforms
Big news in PropTech acquisition this week, with RealPageannouncing an acquisition of Buildium—a leading SaaS property management platform with 2 million units across 17,000 customers using its software.
Taylor Soper of GeekWire reported this week that Redfin's revenue grew 70% year-over-year to $239 million while earnings per share is $0.07, up from $0.04. Revenue was mainly driven by Redfin's Properties division, which brought in $80.9 million in revenue, up from $11.4 million in 2018.
Another PropTech darling had positive news this week, with Nat Levy also of GeekWire reporting that "Zillow Group's home sales division now makes up the majority of the company's business, just 19 months after it started and nine months after the real estate giant went all-in on buying and selling houses directly." In Q3 2019, Zillow's "Homes" segment brought in $384.6 million in revenue, up 55% percent from Q2 2019.
Finally, Dees Stribling of Bisnow reported that Reonomy—real estate data juggernaut—raised $60 million in Series D funding. This latest round was led by Georgian Partners, alongside Wells Fargo Strategic Capital, Citi Ventures, and Untitled Investments.