President Biden has not wasted any time with policy moves. And, housing has been no exception. Here's an overview of the President's steps to date, and a look at how this may impact the market.
😬 1031 Exchange
This is arguably one of the biggest impacts on real estate investors, with the President promising to repeal this tax incentive. According to Bloomberg, this would equate to a loss of over $50 billion over the next five years.
Fair housing and racial equality
Following up on a significant campaign promise, President Biden signed several new executive orders last week to address racial equity, including one for the Department of Housing and Urban Development (HUD) to "mitigate racial bias in housing and advance fair housing laws," according to Housing Wire. In the order, Biden charged HUD to examine what changes former President Trump made last year and assess whether they harmed access to fair housing.
In commenting on this move, Rebecca Baird-Remba of the Commercial Observer noted that "Housing organizations overwhelmingly opposed the Trump-era rule, which repealed the Obama administration's 2015 Affirmatively Furthering Fair Housing (AFFH) regulation and a 1994 fair housing rule issued during the Clinton administration. The 2015 policy essentially required state and local housing agencies to provide a detailed accounting of how they were enforcing fair housing policies."
Zoning
Part of the fair housing initiatives involve inclusionary zoning. This is the process whereby cities require new developments to have a certain amount of affordable housing units, even in "richer" areas. According to EnergyLogic, "Biden's proposal requires states receiving community development block grants to incorporate inclusionary zoning into their planning, setting aside a portion of new construction for affordable housing."
Construction
If Biden wants to encourage more construction, particularly involving inclusionary zoning practices, he's going to need to incentivize builders. EnergyLogic also reports that "Builders and developers commonly use tax incentives and other sweeteners that aim to ease building costs. If implemented effectively, the Biden plan will provide billions of dollars for subsidies and incentives."
Tax credits
According to Tim Glaze of Housing Wire, "The housing industry is keeping a close eye on the Biden administration's proposal of a $15,000 first-time homebuyer tax credit. If passed, the funds could be accessed immediately by the buyer at the closing table. Biden's tax credit is more of a possibility now that both Senate races in Georgia went to Democrats."
This tax credit is great for first-time buyers, however, with an already tight housing supply, this upward pressure on demand could have an upward impact on house prices, and therefore affordability.
Janet Yellen, Treasury Secretary
This move is an important one, as Lawrence Yun, National Association of Realtors (NAR) chief economist notes: "In regards to the real estate industry, she understands the important role our housing market plays in America's economic growth and recognizes the societal benefits and wealth building opportunities that homeownership can bring, especially among minority households."
Evictions
Biden wasted no time, writing an executive order immediately after his inauguration to extend the eviction moratorium to March 2021.
Spending
This is a lot of spending, and President Biden isn't shy about that. So how will all of this be paid for? Biden is glad you asked: "[The] $640 billion investment in America's housing is paid for by raising taxes on corporations and large financial institutions. Specifically, approximately $300 billion of the housing plan is devoted to new construction and is encompassed in the $1.3 trillion infrastructure plan. The remaining portion is paid for by instituting a financial fee on certain liabilities of firms with over $50 billion in assets."
Spotlight on multi-family
It's been a blockbuster year for most multifamily markets. There have been several reports released over the past few weeks that we wanted to share and analyze. Let's get started.
Freddie Mac Multifamily released a report late in January looking at how vacancies and rent collections remained surprisingly stable throughout 2020 despite the pandemic. As you can see, some pain was felt in the 'A' segment, with others remaining relatively stable throughout the end of 2020.
Source: Freddie Mac
And the outlook for 2021 according to Freddie Mac? "For 2021 we expect the vacancy rate to increase to 5.8%, while rents are predicted to fall -0.2%, leading to an estimated overall decline in gross income of -0.5%. These are the national averages, and the larger gateway markets of New York, San Francisco, the District of Columbia and Miami are expected to perform much worse, while the smaller, more stable markets in the Northeast and across the South and West are typically expected to perform better."
That said, sluggish income growth projects for the coming years will place upward pressure on vacancy rates, particularly in the 'A' class segment as seen above.
Source: Freddie Mac
Matthews Real Estate Investment Services also released a comprehensive multifamily report in January, with similar findings to the above. TLDR: A class is oversupplied and much more vacant than B and C-class apartments.
Source: Matthews
That said, Matthews concludes that the multifamily sector overall is resilient, and will continue to see vacancy rate declines and rent improvements over the coming years.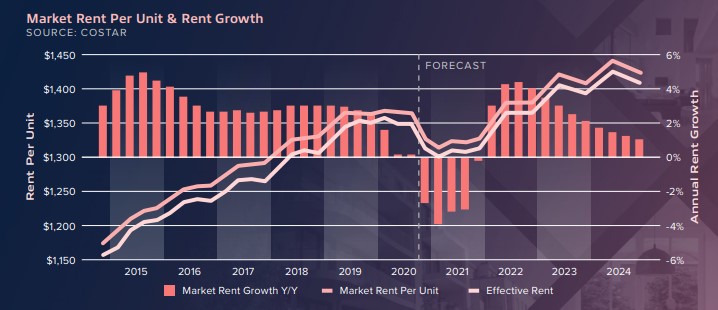 Source: Matthews
CBRE released its 2021 U.S. Real Estate Market Outlook, reporting that the multifamily sector "will shrug off the impact of the crisis in the first half of [2021]." Further, CBRE expects investment in U.S. multifamily to increase a full 33% in 2021. Suburban, submarkets, the midwest and southeast regions will all outperform other U.S. regions, according to CBRE.
Source: CBRE
Moody's Analytics provides a bit more bearish picture of apartment investing, noting that "In general, occupancies have been remarkably stable throughout the year, despite sources of uncertainty from both the economic and political environments conflating distress. However, with large declines in asking and effective rents – record-setting for some large markets – the sector is not immune to the broad reach of the global pandemic."
Finally, looking at rents over the past few months, the National Multifamily Housing Council (NMHC) reports on data collected from 11 million apartment units. Although rents are down, there's by no means a concerning trend.
Source: NMHC
Overall, it appears that the experts are seeing the multifamily sector as a bright light over the coming years. People need places to live, and if you're well-position in secondary markets then the fundamentals get even brighter. The biggest headwinds include sluggish economic growth and downward pressure on wages. Housing supply and demand are imbalanced in many markets, leading to record prices and low vacancy rates. Couple this with low-interest rates, and this imbalance seems likely to continue into the near term and will be net positive for investors in this sector.