It's the beginning of the month, which means investors' eyes are all on rents. Kelsi Maree Borland of Globe St (subscription required) reports that rents are on a downward trend nationally, with 41 of the top 100 markets seeing declines since March.
According to data from Apartment List, the average decline was only 0.8%, with metros like San Francisco, New York, and Seattle seeing the steepest decline in rents, with 17.8%, 11.6%, and 9.9% drops, respectively.
Source: Apartment List
No surprise that more affordable midsize cities saw the biggest rent increases. More informative is Apartment List's comparison of the Summer of 2019 and 2020, and rent growth in major U.S. cities.
Source: Apartment List
According to new data from the National Multi House Council (NMHC), rent collection is slightly below, but almost the same as in 2019 despite the economic and health headwinds resulting from the pandemic.
Source: NMHC
According to Zumper's National Rent Report: October 2020, rents are seeing a gap-closing effect in the most expensive cities: San Francisco; New York; Boston; San Jose; Oakland; Los Angeles; and Washington D.C. The rental growth rate in 1-bed prices averaged -12.7% in these cities, compared to a -10.4% drop in September.
Source: Zumper
Real estate in charts
In an excellent analysis piece on the housing market this week, Ben Carlson of A Wealth of Common Sense provides some highly informative charts that are informative to investors and real estate watchers. Starting with existing home supply being the lowest it's been since data collection began in the late-1990s.
Source: A Wealth of Common Sense
Housing starts and building permits are well off their 2006 highs: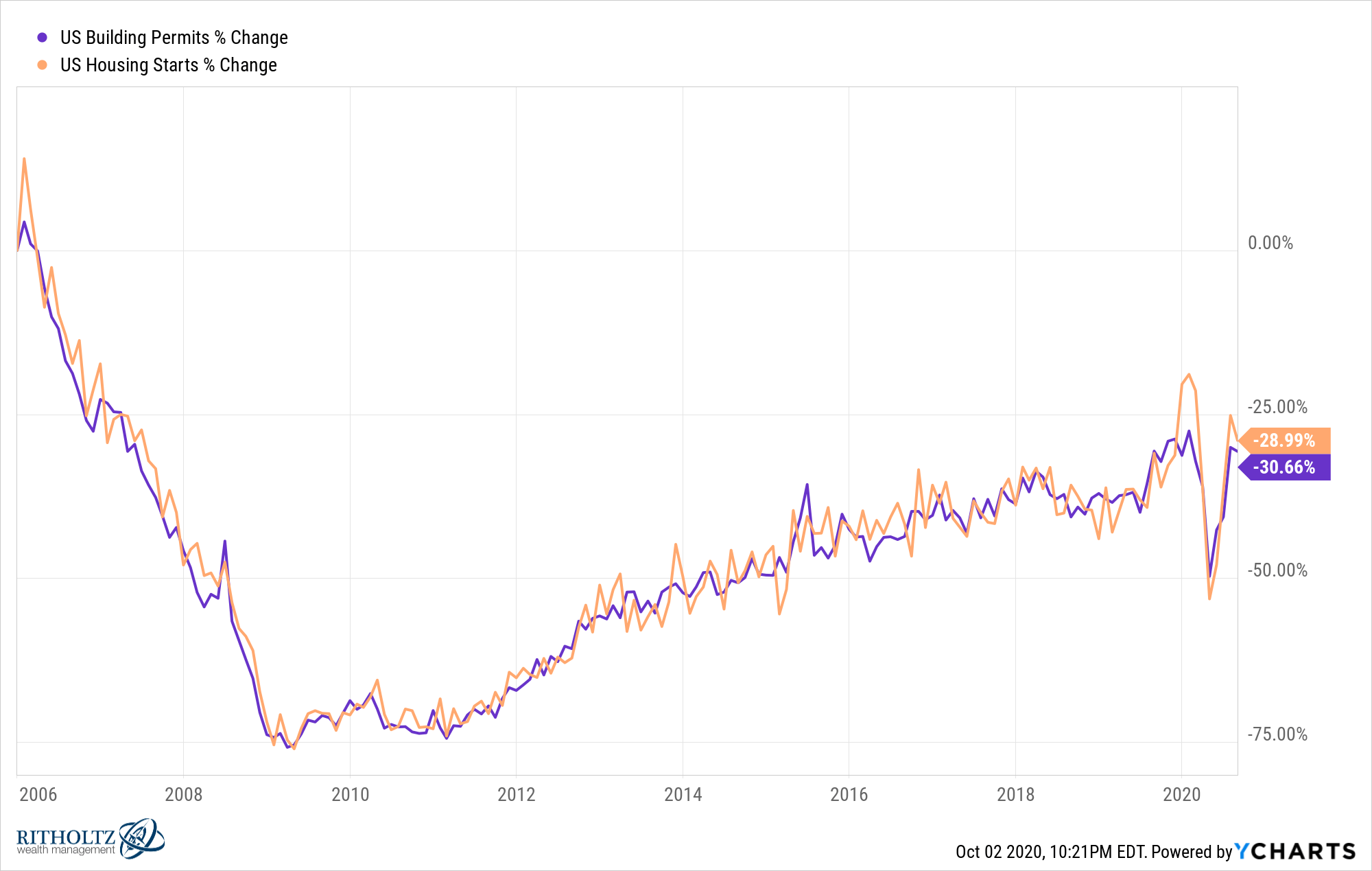 Source: A Wealth of Common Sense
Creating the seller's market we currently find ourselves in most markets is the decline of housing supply overall in the U.S.
Source: A Wealth of Common Sense
Couple this with the fact that people want to own their own homes and U.S. homeownership is on the incline, we have ourselves a slight problem.
Source: A Wealth of Common Sense
Demand for homeownership is fueled by low-interest rates. But there's more pent-up demand, according to Dion Rabouin of Axios, who reports that despite record-low interest rates underwriting is becoming more stringent. "Tightening credit requirements also mean that many potential homeowners could be locked out of the market."
Couple this with a recent BBC article reporting on a "Bank of England (BoE) policymaker has defended the potential use of negative interest rates, which could take the cost of borrowing below zero."
#PropTech Update
Lots of #PropTech news this week, starting with a Deloitte report showing Q1 2020 saw a 41% year-over-year decline in VC funding of startups in this industry. That said, in Q2 there was a promising bounceback of a whopping 100% year-over-year. Why the change? According to Deloitte:
Many cosharing proptechs and startups were significantly hit by the pandemic due to rapid contraction in business activity, travel restrictions, and health and safety concerns related to shared spaces…However, during 2Q 2020, a large proportion of funding was directed toward cosharing spaces, which raised U$1.2 billion, signifying continued investor confidence.
John Egan of Housing Wire picked up on the Deloitte news, reporting that "among the proptech innovations that the report foresees enjoying greater demand because of the coronavirus," include
"Smart" cleaning and monitoring
Virtual appraisals
Touchless property navigation
Digital lease transactions
Remote property management
In other #PropTech news, Propy—a blockchain-verified platform for selling houses—raised an undisclosed amount of funding from VC Tim Draper (early investor in Tesla, Skype, Twitter, Coindesk, and Robinhood, to name a few).
Airbnb is also looking to reportedly raise $3 billion in a December IPO according to The Real Deal. And, Canadian iBuyer platform Properly raised $100 million from major U.S. investors last week.
In a press release last week, former Zillow executives announced the launch of a new startup, Pacaso, aimed at helping individuals better fractionalize and own secondary residences. Check them out.
Anyone interested in AR should read Bisnow's interesting take on Facebook's move and its implications for PropTech titled, Facebook's Big Augmented Reality Play Could Spark New Wave Of Proptech.