Rent collection—automated
Make it easy for tenants to pay on time, and automate key tasks like deposits, late fees, and accounting. Stessa online rent collection is a win-win and is free for both landlords and tenants.
Easy Setup
Onboard tenants in minutes
Once you've opened a Cash Management account, all you need is an active lease and your tenant's email address. Set up the balance due and we'll send your tenant an email invitation to start paying rent through Stessa.
Automated Reminders and Tracking
Automate your to-do list
Don't worry about sending rent reminders or depositing rent checks. Stessa handles it for you so nothing slips through the cracks.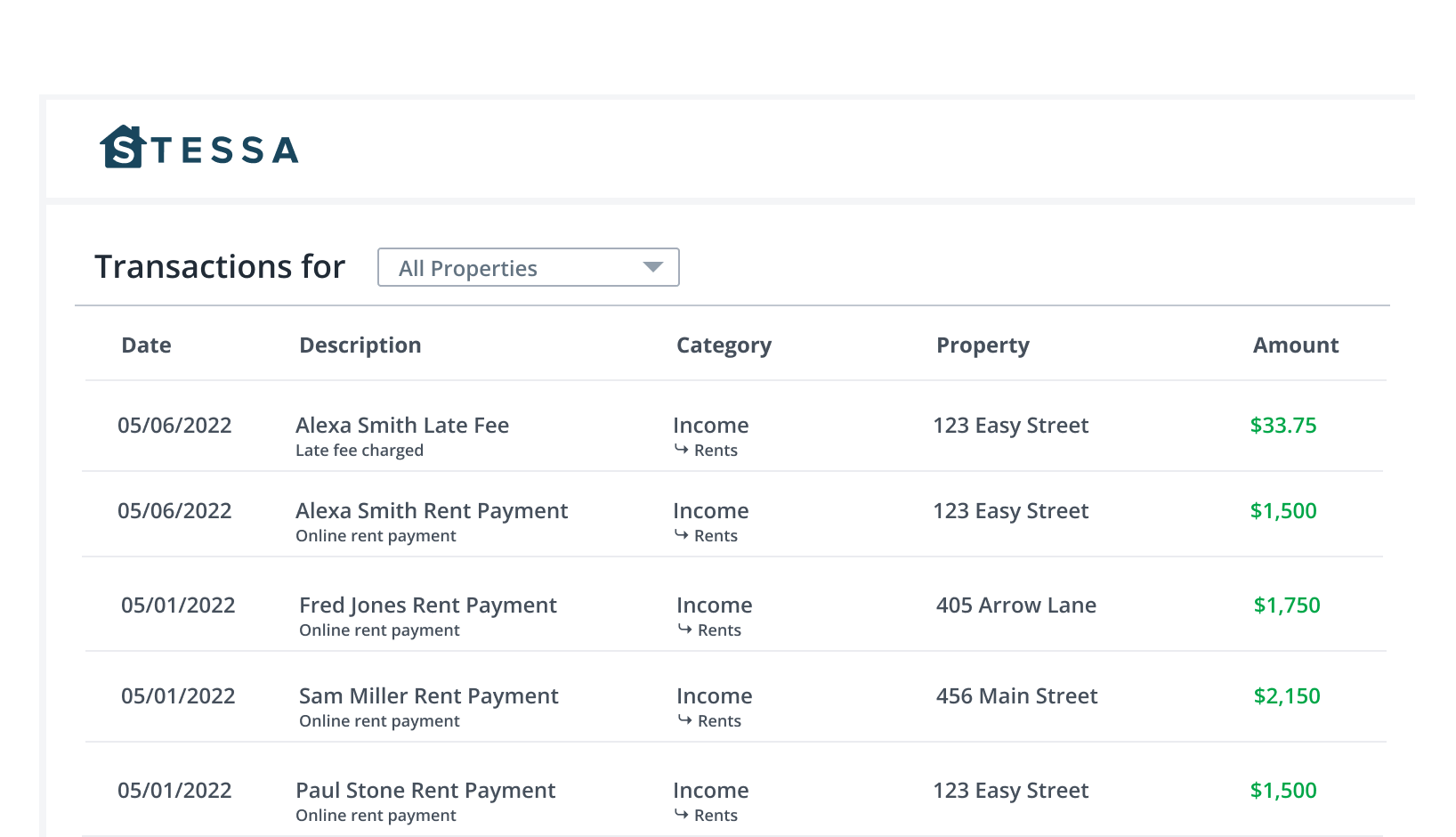 AUTOPAY
Enable tenants to pay on time every time
Offer tenants the ability to set up recurring ACH payments—so they never miss a deadline. Options for additional payment methods are coming soon.
Real-Time Notifications
No more worrying about checks stuck in transit
Get notified when a payment is made and when it's been deposited in your account.
Best-in-class Security
Get peace of mind
Stessa partners with Plaid to keep your information—and your tenant's—safe and secure. At the end of a lease (or in case of eviction), landlords can disable tenant access in one click.
Here's why successful investors love Stessa



Stessa is even simpler than I could have ever imagined. Most packages are either complex accounting or complex property management, this is a great combination of both but in a simple format.

Rich Estep

6 SFR Assets, Indiana




Stessa is the only program I've found that works across our entire portfolio. Keeping track of receipts and invoices, and running cash flow reports are so easy that I can finally get rid of my spreadsheets. I can't wait for next tax season when I'll have a full year of Stessa data. Stessa works!

Gwynne Wharton

11 SFR & STR Assets, The Carolinas




I'm thrilled to no longer be using my Excel pivot table reports or having to manipulate Xero, Wave, QBO, Netsuite, etc. to fit my needs as a real estate investor. Stessa is a stellar platform with amazing customer service and great regular content!

Nicole Gobert

5 SFR Assets, Texas



There's much more to Stessa
Whether you have one or 100 properties, Stessa can help you grow and manage your real estate portfolio. Stessa comes with:
Cash Management
Open a checking account that integrates with Stessa. Pay vendors, move funds, and earn cash back and interest.
Reporting and insights
Get full visibility into portfolio performance with reports that generate automatically and update in real time.
Income & expense tracking
Swap that pile of paperwork for a secure and automated system that organizes your transactions with precision.
Tax readiness
Access your personalized Stessa Tax Package, which includes an income statement, net-cash-flow report, and ZIP file.
Stessa is not a bank. Stessa is a financial technology company. Banking services provided by Blue Ridge Bank, N.A., Member FDIC. The Stessa Cash Management Visa® Debit Card is issued by Blue Ridge Bank, N.A., pursuant to a license from Visa U.S.A. Inc., and may be used everywhere Visa debit cards are accepted. Your funds are FDIC insured up to $250,000 through Blue Ridge Bank; Member FDIC.
Essentials is a free plan and Pro is a premium plan. Annual Percentage Yield (APY) of 3.12% on deposit accounts for new Essentials users signing up and 5.08% for the Pro users is accurate as of July 26, 2023. APY for the account may change at any time, before or after the account is opened. No minimum balance or opening deposit required. Fees could reduce earnings on the account.
Account holders can earn 1.10% cash back on debit card purchases. Cash back earned each month will be credited to your account by the next month's statement cycle. ATM transactions, the purchase of money orders or cash equivalents, loan payments and account funding made with your debit card are not eligible for cash back rewards. No minimum opening deposit and no minimum balance requirements. *Terms and eligibility requirements apply. See T&C's for cash back program for more details.