Landlords and property managers have a lot of choices to make when it comes to property management software. AppFolio and Apartments.com (formerly Cozy) are 2 of the most popular options, but which will work best for you?
In this post, we'll compare the 2 programs so that you can make an informed decision. We'll outline the pros and cons of each program and detail features they offer. By the end, you should have a good idea of which property management software program is best for your rental business.
And be sure to check out our review of free rental property management software from Stessa. It's a great resource if you're looking for a free, user-friendly solution to automatically track rental property income and expenses, collect rent online, and prepare year-end taxes.
---
Key takeaways
AppFolio offers a wide variety of robust features, but its pricing plans may not be a good fit for landlords with a small number of rental properties.

Apartments.com (formerly Cozy) is a free program that provides features to help manage rental properties, including marketing, screening tenants, and collecting rent payments. Still, it lacks important features that landlords look for.

Stessa is a free, cloud-based reporting and accounting software that enables tenants to receive recurring online rent payments and track property and portfolio performance metrics for unlimited single-family houses, multiunit properties, and short-term vacation rentals.
---
AppFolio overview
AppFolio is a cloud-based property management software program offering a wide variety of features, including marketing and leasing, maintenance and operations, communication and service, and accounting and reporting for both residential and commercial rental property.
While AppFolio offers many robust features, it may not be a good fit for investors or property managers with a small number of homes. That's because AppFolio requires a minimum portfolio size of 50 units and charges a minimum monthly fee equal to 200 units, plus a one-time onboarding fee based on portfolio size.
Current pricing
AppFolio provides 2 simple property management software pricing options depending on the size of your portfolio:
Core
Designed for small to medium portfolios, Core requires a minimum of 50 units and costs $280 a month, with additional units billed at $1.40 a month. The onboarding fee is based on portfolio size and starts at $400.
Plus
Plus may be worth considering if you have a portfolio of 1,000 units or more. With a minimum of 500 units and a cost of $1,500 a month, you'll get all the features in Core plus additional property management tools. Onboarding fees vary depending on how many units are in your portfolio and start at $400.
Software features
Core
Accounting and reporting

Virtual marketing and leasing tools

Resident and owner management

Online maintenance

Full mobile capabilities

Continuous software updates
Plus
All Core features

Workflow management

Performance insights

Revenue management

Data export capabilities

Strategic account management
Apartments.com (formerly Cozy) overview
If you're searching for property management software to make your life easier, Apartments.com (formerly Cozy) is a great option to consider. It's free to use and provides many features to help with everything from marketing your rentals and screening tenants to signing leases, collecting rent payments, and submitting maintenance requests.
You can also list vacant properties and homes for rent on Apartments.com. You can use the software to list all types of residential rental property, and homes for rent are advertised on some of the most popular rental listing websites. According to the company, you'll reach over 25 million prospective renters monthly.
Current pricing
Apartments.com offers a free and easy-to-use solution. All of the features listed below are included in the free version. The company also provides premium listings, requires a fee for applicants to pay for screening, and collects a transaction fee if rent is paid with a debit or credit card. 
Software features
List your rental on 5 of the most active websites in the Apartments.com network, including ForRent.com and Apartamentos.com.

Purchase an optional premium listing with more exposure on 7 network sites.

Prospective tenants can fill out an application online directly from the listing.

TransUnion provides tenant screening reports, including a credit and background check, debt payment history, employment verification, and previous addresses.

Use the leasing wizard to create state-specific lease agreements that can be signed online.

Online rent payments are free when tenants use an Automated Clearing House (ACH) transfer and incur a small fee when a debit or credit card is used.

Easily track rent payments, prorated rent, security deposits, and late fees.

Tenants can make online maintenance requests with photos and videos to help landlords respond to needed repairs quickly.

Manually enter and track property expenses, and upload and store images and receipts to provide backup.

Operating expenses are categorized according to Internal Revenue Service (IRS) Schedule E, and data can be exported in CSV and PDF formats to prepare financial statements and tax returns.
How do AppFolio and Apartments.com compare?
Here's a side-by-side comparison of the essential features many landlords use.
Listings
AppFolio seamlessly integrates with online listing services, including Apartments.com, Zillow, and Zumper, to help landlords fill vacancies and keep cash flowing. Virtual tours can be run within the AppFolio platform, and artificial intelligence (AI) leasing assistant Lisa handles routine tasks like data entry and scheduling showings.
The Apartments.com network includes ForRent.com, Apartment Finder, ApartmentHomeLiving, Apartamentos.com, and Apartments.com. Listings are free, and landlords can purchase a premium listing to increase search exposure with videos, a more prominent ad, and 2 additional websites—Doorsteps and Realtor.com.
Tenant screening
Tenant screening is an add-on service with AppFolio that checks an applicant's credit score, criminal history, and eviction history and verifies their income and rental history. The company currently charges $15 for each credit or eviction check. Credit, criminal background, and eviction checks are $20 for all 3 reports.
Apartments.com collects an application and tenant screening fee at a current price of $29 paid by the applicant. Screening reports are good for 30 days and can be used by the applicant for up to 10 other listings on the Apartments.com network if landlords turn them down.
Leasing
AppFolio subscription plans include unlimited, customized state-specific e-leases and renewals that tenants can digitally sign from any device. Apartments.com offers online lease builders to create and sign lease documents online or upload an existing lease. After the lease is executed, landlords can use free online storage from both companies to organize and store documents, eliminating the need for paper copies.
Online rent collection
AppFolio and Apartments.com offer various options for collecting rent online, along with partial payments, security deposits, and other charges, such as utility costs. AppFolio currently collects a $0.50 fee for each ACH transaction, a flat fee of $9.99 for a debit card payment, and credit card transaction fee of 2.99%. With Apartments.com, ACH rent payments are free, and there is a 2.75% fee for using either a debit card or a credit card.
Financial reporting and tax management
AppFolio provides real-time, flexible reporting online. You can access over 80 customizable reports, including owner statements, income and cash-flow statements, balance sheets, rent rolls, and tenant delinquency records. The software also provides landlords with tax readiness tools; you can file 1099s for independent contractors directly from the platform.  
As a landlord using Apartments.com, you can manually enter your property expenses online according to Schedule E categories and store receipts and images to create an electronic backup. In addition, income and expense transactions on Apartments.com can be downloaded in CSV and PDF formats to help complete IRS Schedule E and file year-end taxes more efficiently.
Stessa vs. AppFolio and Apartments.com
AppFolio and Apartments.com offer rental property management software with features many landlords look for, including marketing vacant listings, screening tenants, digitally signing leases, and collecting rent online.
AppFolio pricing currently begins at $280 a month and requires a minimum of 50 units, plus an onboarding fee. While Apartments.com is free for landlords to use, it lacks important features that landlords look for, including automatically tracking income and expenses and online financial reporting.
Stessa, a Roofstock company, offers free rental property management software that provides powerful tools to investors with single-family rentals (SFRs), small multifamily buildings, short-term vacation properties, and entire rental property portfolios.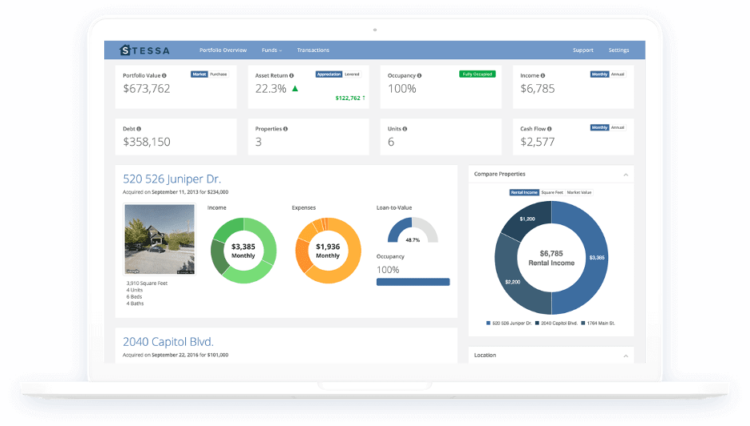 More than 100,000 investors already use Stessa to track over 250,000 properties with over $60 billion in asset value:
Stessa is free with optional premium services for a fee to assist with things like rent analysis and market research.

Track unlimited SFRs, multifamily units, and short-term vacation rental properties and portfolios.

Access comprehensive performance dashboards at the property and portfolio levels.

Automate income and expense tracking by linking property bank and mortgage accounts.

Stessa online rent collection

lets tenants pay online using a free ACH transfer.

Stessa Cash Management

allows you to create unlimited free business or sole proprietorship accounts, which allow you to open a dedicated account for each rental property or portfolio. You can also earn 2.00% APY* on Cash Management deposit accounts.

Track expenses on the go with the iOS and Android app.

Organize and store all real estate documents safely and securely.

Generate financial reports, including income, net cash flow, capital expense statements, tenant rent roll, and real estate balance sheet.

Create a personalized tax package on the

Stessa Tax Center

that includes an income statement, net-cash-flow report, and a ZIP file in a single email.
* Annual Percentage Yield (APY) of 2.00% is effective as of 8/25/2022. No minimum opening deposit or account balance required. Fees could affect earnings on the account. Stessa is a financial technology company, not a bank. Banking services provided by Blue Ridge Bank, N.A., Member FDIC. 
Final thoughts
There are a few options for landlords to consider when it comes to property management software, but Stessa could be the best solution for some. The software is free to use and offers features landlords need, including automatic income and expense tracking, comprehensive financial reporting, online rent payments, and streamlined tax readiness.
If you're looking for an easy and effective way to keep track of your rental properties and collect rent online, Stessa could be the perfect solution.