With the increase in housing prices, homeowners have enjoyed significant equity gains according to a new report from Molly Boesel at CoreLogic. Equity in mortgaged housing jumped $3.2 trillion in Q4 2021, a 29.3% increase. This translates into an average year-over-year equity gain of $55,300 according to the report.
Source: CoreLogic (March 2022)
According to the report, the states with the largest negative equity share (those with a value less than current mortgage) are Louisiana (7.2%), Iowa (5%), and Oklahoma (4.1%). It's worth noting that the nationwide negative equity figure is at its lowest point since 2009.
Source: CoreLogic (March 2022)
CoreLogic continues, reporting that "U.S. home prices rose 18% year over year in the fourth quarter of 2021, up from the 8% annual gain recorded in the fourth quarter of 2020. The appreciation helped push the national negative equity figure to the lowest in over a dozen years, with just 1.1 million homeowners underwater on their mortgages. Western state homeowners saw the biggest equity gains by dollar value, led by Hawaii, California and Washington. Year-over-year price appreciation increased by 19.1% in January 2022."
In commenting on the above data, UBS Wealth Management notes that 92% of the mortgages have a loan-to-value (LTV) of under 80%, and 48% below 50%. Further, only 2.5% of mortgages had an LTV that was above 90%.
Foreclosures
With the pandemic lockdowns and eviction moratoriums ending, foreclosures have been creeping up according to new data from ATTOM Data Solutions. In all, there were a total of 25,833 properties in foreclosure, an increase of 11% month-over-month and 129% year-over-year.
The counties with the worst rates include:
Source: ATTOM Data Solutions (March 2022)
That said, according to Rick Sharga, executive vice president at RealtyTrac who comments on the data, we shouldn't be worried: "February foreclosure activity looks a lot like what we can expect to see for at least the next six months – double digit month-over-month growth, and triple digit year-over-year increases…This isn't an indication of economic turmoil, or of weakness in the housing market; it's simply the gradual return to normal levels of foreclosure activity after two years of artificially low numbers due to government and industry efforts to protect financially-impacted homeowners from defaulting."
Chris Morris of Fortune comments on the above data, noting that "The February filings ranged from default notices to scheduled auctions and bank repossessions. Foreclosure starts were higher in 40 states…Nationwide, one in every 5,320 housing units had a foreclosure filing, with New Jersey having the highest rates."
Inflation and stagflation
Inflation tends to be good for real estate, although Franco Faraudo of Propmodo points out that "There are signs that real estate might be largely spared from the negative effects of the inflation we are feeling now but that doesn't mean that we are out of the woods yet. If inflation starts cutting into our savings and curbing our spending it could add another roadblock for an already shaky pandemic recovery."
Conor Sen of Bloomberg eloquently writes on the subject of inflation, stagflation, and housing, noting that despite high housing prices the output of housing has stagnated. "This stagflation is a headache for homebuilders and homebuyers, but it's a benefit for many existing homeowners…That's going to make it much harder for the Fed to rein in the expanding spending that's pushing inflation higher."
Fan-Yu Kuo of the National Home Builders Association (NAHB) explores the inflation issue, reporting that core inflation hit a 6.4% annual increase, the highest rate since 1982.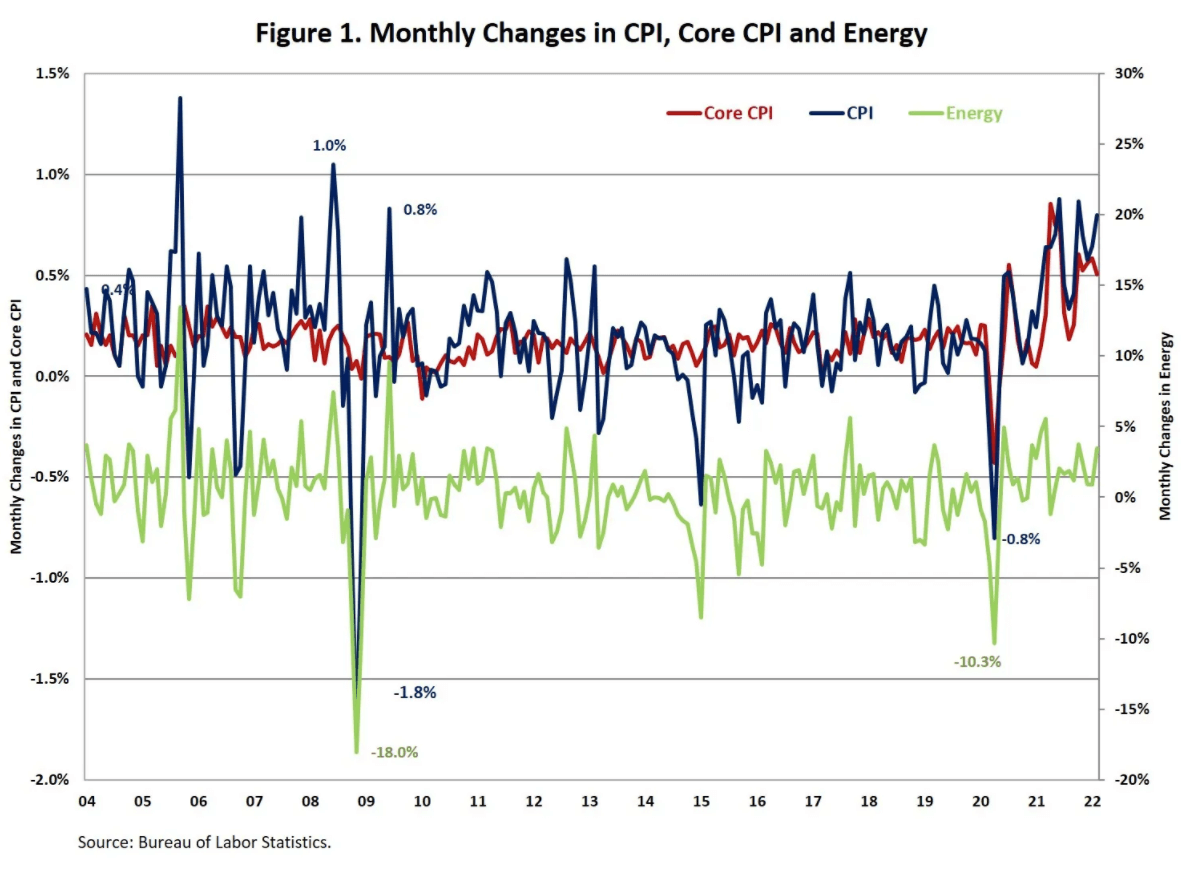 Source: NAHB (March 2022)
Greg Iacurci of CNBC commented on this issue last week, noting that shelter costs rose 4.7% year-over-year, the highest increase since May 1991.
High inflationary pressures are caused by the above—significant equity gains. This, coupled with pent-up demand and labor shortages from pandemic lockdowns, has led to a spending spree that has increased the cost of everything.