Employers added 339,000 jobs last month, with unemployment rising from 3.4% to 3.7%, according to Brooklee Han of Housing Wire. While the number of employed persons increased in May, wage growth remained at a 4.3% year-over-year increase. This strong economic data complicates the Fed's expectation to hold rates flat at the next meeting.
Lauren Gurley of the Washington Post reports that the jobs data sent the stock market higher and gave investors confidence that the Fed will pause interest rate increases at its June meeting.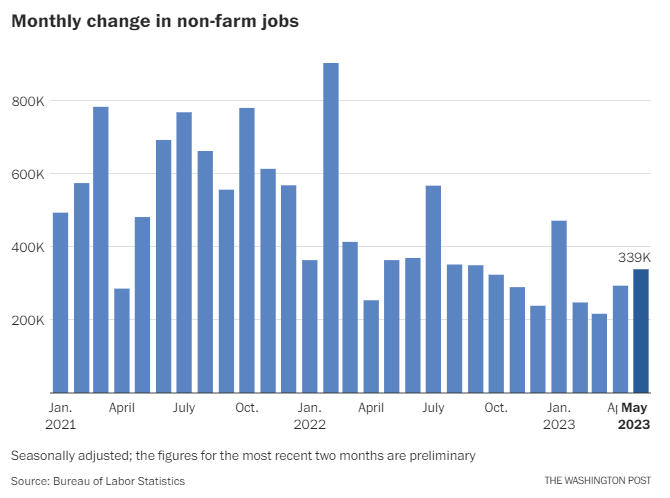 Source: Washington Post (June 2023)
According to Robert Dietz of the National Association of Home Builders (NAHB), "[t]he count of open, unfilled jobs for the overall economy moved higher in April, rising to 10.1 million and complicating the June Federal Reserve decision. The higher job opening count for April increases the chance of another rate hike despite some speculation that May was the end of tightening."
Orphe Divounguy of Zillow reports that interest rates edged higher on the strong jobs data. Although a stronger economy is good for housing demand, it increases the chances of higher mortgage rates, and the Fed will return to rate increases.
The Mortgage Bankers Association (MBA) Chief Economist Mike Fratantoni comments on May's employment conditions:
"Despite the increase in job growth, two data points in this report show signs of somewhat weaker labor demand. Wage growth has slowed to 4.3% over the past 12 months, and the unemployment rate ticked up to 3.7%. The increase in unemployment was not caused by an increase in the labor force participation rate. The household survey, which is the basis for the unemployment rate, is telling a very different story than the establishment survey this month, one showing weakness in employment, the other strength. Several Federal Reserve officials have signaled that they are likely to hold rates steady at their upcoming June meeting but are unlikely to reduce rates anytime soon. This somewhat mixed jobs report is likely to support that approach."
Investor update
Investor activity is generally on the decline, given the overall macroeconomic picture, according to Redfin's Lily Katz and Sheharyar Bokhari. In Q1 2023, investors bought 18% of sold homes, down from 20% a year earlier. Further, investor home purchases overall fell a record 49% year-over-year, compared to a drop of 41% in overall purchases.
Source: Redfin (June 2023)
That said, investors are still buying up a greater share of homes than they were pre-pandemic but are gravitating toward more affordable homes. This creates a supply crunch for starter homes and leaves first-time buyers with fewer homes to purchase.
Erik Sherman of Globe St reports on an investment bright spot, build-to-rent (BTR) homes. The BTR construction market tripled in 2022 and has hit record completions, with completion volume jumping from 9,928 in 2021 to 14,500 homes in 2022. Further, there are still over 44,000 BTR homes under construction.
Finally, Will Parker, Konrad Putzier, and Shane Shifflett of the Wall Street Journal (subscription required) report on syndications, noting that many are heading to foreclosure amidst rising rates. 
"Many syndicators are racing to either raise funds or sell properties before tipping into foreclosure. Most hold balloon-payment loans that require repayment when they come due this year or next. Those syndicators face large payouts at a time when getting new, more affordable property loans will be difficult."
#LocalNews: Top markets, Arizona, and California insurance
Reports indicate that State Farm Insurance will no longer accept new applications for property and casualty coverage in California "because of soaring wildfire and construction costs." Further, Allstate will no longer issue policies on new homes for the same reasons. For Allstate, this followed a 40% rate increase for the state's home and business property and casualty insurance.
According to Alissa Walker of Curbed, California's insurance problems is partly the result of not-in-my-backyard (NIMBY) activism. "The long-standing NIMBY resistance to denser housing has historically pushed new development into the flammable fringes of cities known as the wildland-urban interface."
Emma Newburger of CNBC reports on Arizona, which will no longer allow new housing construction in the Phoenix area that depends on groundwater. "The decision by the Arizona Department of Water Resources applies only to groundwater supplies and would not affect current homeowners who already have an assured water source."
CoreLogic recently released an analysis of wildfire, inland flood, severe convective storm, winter storm, earthquake, and hurricane risks across the U.S. to develop the safest counties from natural disasters. Here are the top 10:
McKinley, New Mexico

Duchesne, Utah

Conejos, Colorado

Emery, Utah

Summit, Colorado

Pondera, Montana

Saguache, Colorado

Uintah, Utah

Mesa, Colorado

San Miguel, Colorado
Finally, Freddie Mac released a research brief that outlined the top 10 metro areas that homebuyers are moving in and out of; here's what they found:

Source: Freddie Mac (June 2023)