In today's world, it seems like there is a new expense management software (EMS) on the market every other day. While all of these options have their own benefits, 2 popular choices to use for rental property expenses include Expensify and Stessa. So, which one is right for you?
In this post, we'll break down the pros and cons of each so you can make an informed decision. Keep in mind, though – no matter which you choose, using EMS may help save you time and money.
---
Key takeaways
Both Expensify and Stessa may help you save time and money by streamlining your rental property expenses.

Expensify offers a more comprehensive set of features than Stessa, many of which real estate investors may not need.

Users need to sign up for a paid subscription plan to access all of the features that Expensify provides.

Stessa is a free asset management software for rental property owners that automates income and expense tracking, rent collection, and financial reporting.
---
Expensify overview
Expensify is an EMS for personal and business use. The Expensify app also offers a business credit card called the Expensify Card. This app allows users to track expenses, submit expense reports, pay bills, generate invoices, collect payments, track mileage, and plan trips with the company's SmartScan technology.
With SmartScan, you can quickly and easily upload your receipts. SmartScan reads the merchant, date, and amount of the transaction from your receipt and creates an expense in your Expensify account automatically. If you have a credit card connected, any receipts you upload that match a card expense will be automatically merged with the imported expense.
Current pricing
Expensify offers pricing plans for businesses and individuals/self-employed people. New customers on a Group Policy with multiple users may receive a free trial for up to 6 weeks.
The pricing listed below is for unbundled services and monthly billing. However, the company presently provides 2 discounts for users:
50% discount for annual billing

50% discount for bundled services, provided that the Expensify Card is used for at least 50% of a company's expenses
Business
Free
$0 a month

Receive free Expensify Cards for everyone in your business to reimburse cash expenses, send invoices, and pay bills
Collect
From $20 per user a month

Everything in the Free Plan, with custom coding for smart limits, accounting integrations, tax tracking, and expense approval
Control
From $36 per user a month

Everything in Free and Collect plans, plus multilevel approval, expense policies, access control, and custom reporting
Individuals and self-employed
Both of the following plans include 25 free SmartScans per month. Individual users can access unlimited SmartScans with a monthly subscription:
Track
Send money to friends, submit and track expenses to anyone, send invoices, track mileage, and split bills with friends.
Submit 
Send receipts to managers or accountants, receive and send money, send invoices, collect payments, and track mileage.
Software features
Expense management
Unlimited receipt tracking

One-click receipt scanning

Credit card import

Accounting, HR, and travel integrations
Expensify Business Card
Up to 4% cash back in the first 3 months (minimum spending limits apply)

Between 1% and 2% cash back after the first 3 months

Smart Limits to control how much employees spend

Concierge Travel bookings with free medical advisory, emergency transport, and more

10% of interchange revenue on every Card transaction to Expensify.org 
Invoices
Automate your invoicing and collection process with the app.

Create and send bulk invoices automatically to multiple customers at one time.

Multiple payment options include credit and debit cards, Automated Clearing House (ACH), and PayPal.

Accounting integrates with QuickBooks Online, Xero, Sage Intacct, and NetSuite.

Get payment notifications and updates once an invoice has been paid, with payment status automatically updated in your accounting software.
Bill pay
Track, approve, and pay your bills in Expensify.

SmartScan automatically captures details from your bills for easy review and processing.

Automate approvals and payments directly from your business bank account.
Expensify also offers Concierge service to assist with business travel management and reporting. The Expensify CPA Card combines expense management technology with perks and dedicated support for accounting firms.
Stessa overview
Stessa is free, cloud-based software that helps real estate investors maximize profits through automated income and expense tracking, personalized reporting, and smart money management.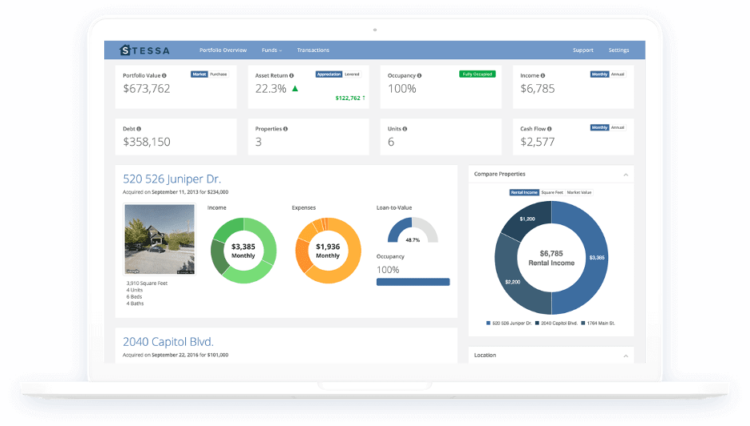 Managing your money – and your expenses – well has tremendous benefits, like potentially saving on taxes, increased rental income, and lower operating expenses. But if you don't manage your money well, it could mean overpaying taxes, lost rental income, higher expenses, and a low overall return on investment (ROI). Proper money management starts with keeping good records.
Stessa helps landlords simplify rental property accounting in 4 critical areas:
Receipts: Scan and digitize receipts to create an electronic trail to easily access records when you need them.

Invoices: Quickly scan and file them in your free cloud-based Stessa storage cabinet for tax and auditing purposes.

Online rent collection:

Stessa online rent collection

is an online tool for tenants to pay their rent (along with security deposits, partial rent payments, late charges, and miscellaneous fees) with a free ACH transfer.

Financial metrics: Benchmark your property against others in order to properly audit it and understand where you can save money and improve your revenue. Stessa provides  financial reports at the property and

portfolio

levels, including income statements, net cash flow, capital expenses, real estate balance sheets, and tenant rent rolls.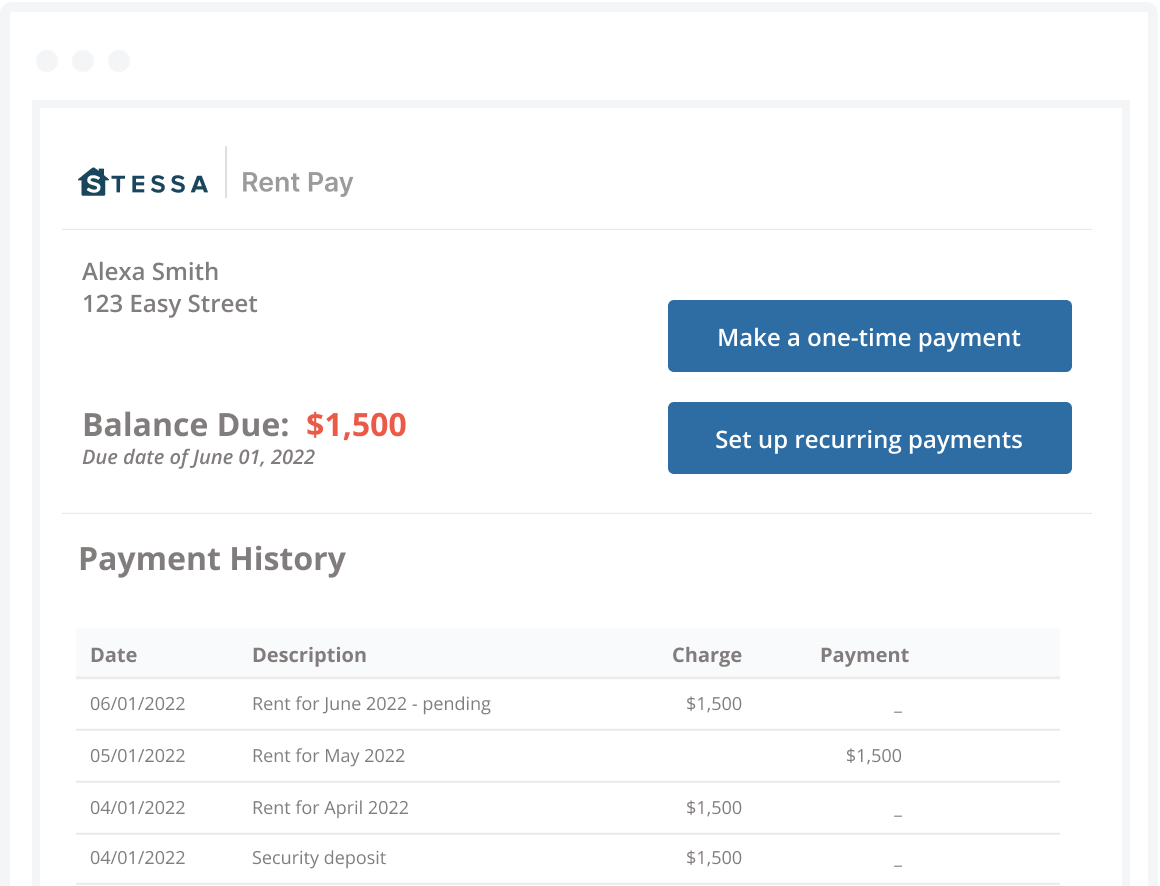 Stessa was founded in 2016 by 2 experienced real estate investors with a combined 30 years of experience. Stessa was designed to take care of the details of monitoring and analyzing, so that you don't have to. Over 100,000 investors already use Stessa to track more than 250,000 properties with a total asset value of over $60 billion.
Roofstock, a company building the leading real estate investment marketplace, acquired Stessa in March 2021. The Roofstock platform lets everyone from first-time investors to global asset managers evaluate, purchase, and own residential investment properties with confidence from anywhere in the world.
Current pricing
Stessa is a free asset management software that helps landlords track their property performance, finances, and records easily and all in one place. The company also offers premium services for real estate investors for a fee that can assist with tasks like rent analysis and market research.
Software features
Automate income and expense tracking by linking bank, credit card, and mortgage accounts for free.

Scan and track expenses on the go with the iOS and Android apps.

Track unlimited properties and portfolios of single-family rentals, residential multifamily, and short-term rentals.

A rental property chart of accounts assigns income and expenses according to Schedule E to streamline year-end tax reporting.

Collect rent online with automated ACH payments from tenants and convenient automatic reminders with online rent collection.

Stessa Cash Management

allows you to create unlimited free business or sole proprietorship accounts, which allow you to open a dedicated account for each rental property or portfolio. You can also earn 2.00% APY* on Cash Management deposit accounts.

Get comprehensive performance dashboards at the portfolio and property levels from anywhere, 24/7.

Run monthly reports, including income statements, net cash flow, capital expenses, tenant rent roll, and more.

A real estate balance sheet periodically updates property values, mortgage balances, and owner's equity.

Organize and store all your real estate documents, invoices, and payment receipts to create a record that all investors need.

Export tax-ready financials and access to the

Stessa Tax Center

to help make tax time a breeze.
* Annual Percentage Yield (APY) of 2.00% is effective as of 8/8/2022. No minimum opening deposit or account balance required. Fees could affect earnings on the account. Stessa is a financial technology company, not a bank. Banking services provided by Blue Ridge Bank, N.A., member FDIC. 
How do the expense management features of Expensify and Stessa compare?
Expensify focuses on expense management for businesses, individuals, and self-employed workers. On the other hand, Stessa is asset management software for landlords and real estate investors that integrates expense management features as part of a more expansive suite of features.
Here's a quick look at how Expensify and Stessa compare based on the most essential expense and income management features that landlords use.
Expense management
Both Stessa and Expensify use receipt scanning to upload and record expenses to designated expense categories automatically. Both companies have an option for connecting and syncing bank and credit card accounts and uploading transactions using a CSV file.
Expensify users may import general ledger codes from their accounting software. By comparison, Stessa's general ledger and chart of accounts are already made for rental property owners and fully customizable to meet a landlord's specific needs.
Banking card
Landlords can apply for banking cards from both companies for free. The Expensify Card can automatically merge receipt images with bank transactions that immediately download into the user's account. Each card can be programmed with set limits to control how much can be spent on the card.
Stessa Cash Management is designed for the unique needs of real estate investors. You can set up an unlimited number of free accounts for each property or portfolio as an individual sole proprietor or with any business structure. Each account comes with a virtual mobile card and a physical card, with unique account numbers that make it easy to manage record-keeping by posting expenses to the correct property and expense line item.
Stessa is a financial technology company, not a bank. Banking services are provided by Blue Ridge Bank, N.A., member FDIC. The Stessa Cash Management card is issued by Blue Ridge Bank, N.A., pursuant to a license from Visa U.S.A. Inc. This card can be used everywhere Visa debit cards are accepted.
Invoicing
Expensify is designed for general business use and automates invoicing and collections through its app for both free and paid subscription plans. Users can create and send bulk invoices to multiple customers simultaneously, and customers can pay with various options, including credit or debit card, ACH transfer, or PayPal. ACH payments are free, while credit card payments currently incur a 2.9% merchant fee.
Stessa online rent collection is free of charge for landlords and tenants when rent is paid using an ACH transfer. 
Financial and tax reporting
Both Stessa and Expensify generate financial and tax reports. Expensify integrates with general-purpose accounting software, including NetSuite, Sage, QuickBooks Online, and Xero. Once transactions are exported, Expensify subscribers can generate their financial reports.
Stessa financial reporting is integrated with the rental property management software, eliminating the need to export to a third-party service. Landlords can generate financial reports, including profit and loss (P&L) statements, cash-flow and capital expense reports, and real estate balance sheets with owner's equity. Income and expenses are automatically posted to Schedule E categories. When tax time rolls around, you'll receive your personalized Stessa tax package, including an income statement, net-cash-flow report, and a ZIP file in a single email.
Stessa vs. Expensify: How to decide?
Both Stessa and Expensify do an excellent job of tracking expenses. However, while Expensify is designed for general business use, Stessa was created specifically for real estate investors and is free. If you're a landlord, Stessa may be a better choice for you.
While Expensify focuses on expense management, Stessa incorporates expense management features into its rental property asset management software for free. That means you can manage your expenses and keep track of your income and profits all in one place. Plus, Stessa offers other helpful features like online rent collection, performance reports, smart money management, and tax optimization tools.