Last week, the Federal Housing Finance Agency (FHFA) announced that Fannie Mae and Freddie Mac will eliminate the Adverse Market Refinance Fee for loan deliveries effective August 1, 2021.
First, what is the Adverse Market Refinance Fee? It's a fee added in 2020 to refinance mortgage loans of 0.5%, charged to lenders, and almost always passed to consumers in closing costs or through a higher interest rate. For example, on a $300,000 refinance, consumers would generally have to pay an additional $1,500.
The FHFA noted,
"The fee was designed to cover losses projected as a result of the COVID-19 pandemic. The success of FHFA and the Enterprises' COVID-19 policies reduced the impact of the pandemic and were effective enough to warrant an early conclusion of the Adverse Market Refinance Fee. FHFA's expectation is that those lenders who were charging borrowers the fee will pass cost savings back to borrowers."
That last statement is key and will be an outstanding question in all this.
Georgia Kromrei of Housing Wire reports that many were critical of this policy given that lenders have performed very well throughout the pandemic. According to Kromrei, "In the first quarter of 2021, Fannie Mae reported $5 billion in net income, and Freddie Mac reported $2.8 billion in earnings."
Diana Olick of CNBC comments on the fee, noting that the mortgage industry is supportive of this move. Olick quotes Greg McBride, Chief Financial Analyst for Bankrate.com: "The fee had often resulted in an increase of one-eighth percentage point in rate, which was enough to siphon $20 per month in potential savings out of the pockets of borrowers with a $300,000 loan."
It's worth noting that the adverse market fee only applies to refinance loans eligible to be sold to Fannie and Freddie, who currently purchase around 70% of national mortgage loans.
Housing market update
The housing market is showing some cooling trends, according to new data from Redfin. Reportedly, weekly home sales with a price drop increased to 4% for the first time since September. Further, pending sales are down 11% from the 2021 peak, and asking prices have been flat since May.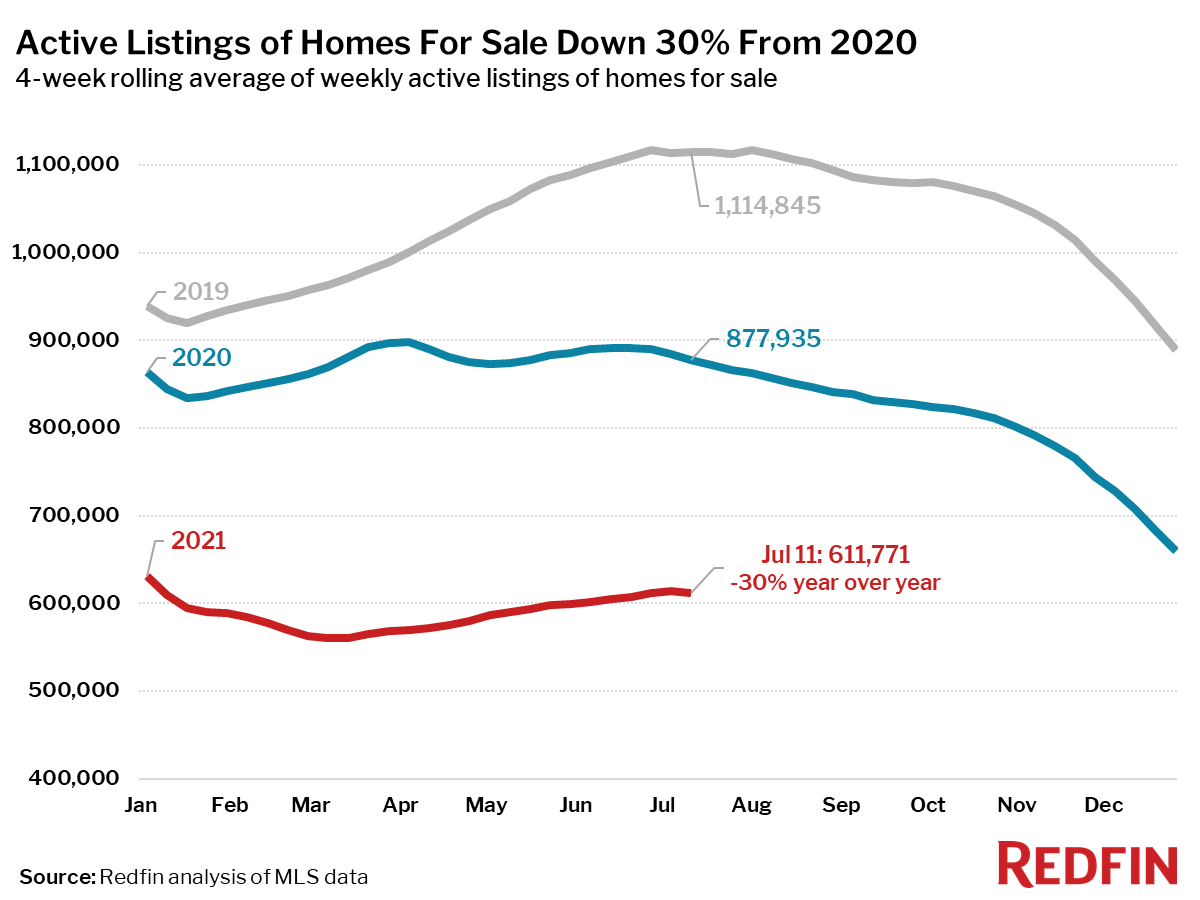 Source: Redfin
According to Redfin, "other indicators corroborate the slowdown: the share of homes sold over list price, the share of homes sold within a week and median days on market are all also either cooling off or plateauing."
Ted Knutson of Globe St commented on this trend, noting that credit availability is dropping and applications for new home purchases sank almost 6% compared to last year. These are all indicators of a cooling housing market, according to Knutson.
Daniella Genovese of FOX Business reports that overall sales of homes fell 1.2% from May to June, the largest drop in almost a decade. "In the month of June, the number of homes for sale also dropped, about 28% compared to a year earlier. This also marked another record low since 2012, when the real estate brokerage began tracking this data."
Further, despite the recent drop in lumber futures, the National Association of Home Builders (NAHB) reports that "changes in prices for softwood lumber products that occurred between April 17, 2020 and July 08, 2021 are enough to add $29,833 to the price of an average new single-family home, and $9,990 to the market value of an average new multifamily home. The increase in multifamily value, in turn, translates to households paying $92 a month more to rent the new apartment."
For an excellent historical perspective on where the housing market is now, check out Molly Boesel's CoreLogic article titled, Comparing Two Home Price Booms, Fifteen Years Apart.
#PropTech Update
The mortgage technology space is heating up, with a number of recent high-profile funding raises.
Luke Fitzpatrick of Entrepreneur reports on several exciting real estate fintech companies shaking up the industry, including Blend Labs, Divvy Homes, Roofstock, Notarize, among others.
In other funding news, prefab builder Abodu raised $20m, material financing platform Billd raised $30m in Series B funding, and Cape Analytics raised $44M to better automate property inspections with AI.
Finally, the home services industry is attracting more venture capital than ever before, as materials and labor become increasingly tighter. For more, check out Joanna Glasner's Crunchbase article titled, With Contractors In High Demand, A Lot of Funding Is Going To Home Services Startups.