New rent data from Apartment List shows that the rapid deceleration of rental prices is ongoing. The national rent index dropped by 0.3% month over month in January, the fifth straight monthly decline. Modest year-over-year rent growth continues in January at 3.3%, the lowest growth level since April 2021.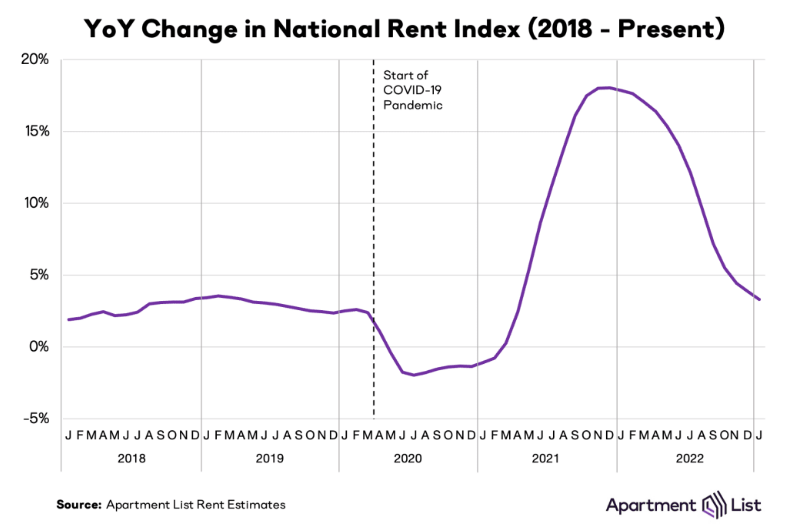 Source: Apartment List (January 2023)
The rental market faces further headwinds as a record number of units are currently being built.
"The cooldown in rent growth is being mirrored by continued easing on the supply side of the market. Our vacancy index now stands at 6.1 percent, surpassing 6 percent for the first time since spring of 2021. With a record number of multi-family apartment units currently under construction, we expect that supply constraints will continue to soften. 2023 could be the first time in years that we see property owners competing for renters, rather than the other way around."
Similarly, Zumper recently released its National Rent Report showing a similar analysis. One-bedroom apartment rents fell by 0.3% month over month to $1,492, and 2-bedroom unit rents stayed flat at $1,822. Zumper found this cooldown most evident in areas with more drastic rent jumps throughout the pandemic, like Arizona and Florida. 
Source: Zumper (January 2023)
Kate Dore of CNBC reports on HouseCanary data showing that year-over-year single-family rents increased 5% nationwide. These were the strongest annual rent growth markets:
Indianapolis; Carmel, IN; Anderson, IN (+30.8%)

Charleston, SC; North Charleston, SC (+25.3%)

New Haven, CT; Milford, CT (+24.4%)

Naples, FL; Marco Island, FL (+24%)

Pittsburgh (+23.2%)
Memphis, TN, saw the largest rent decline of major U.S. metros, with a negative 5.4% annual decrease.
As rent growth remains primarily in positive territory and new reporting suggests the average U.S. renter spends 30% of their income on rent, Tannistha Sinha of HousingWire reports on a Biden administration effort to roll out more renter protections in a new blueprint: 
"The federal government and numerous federal agencies will take action on these and other issues outlined in the blueprint. The administration said it will also launch the 'resident-centered housing challenge,' which leans on housing providers and state, local and tribal governments to expand access to housing through stronger policies…The Federal Housing Finance Agency (FHFA), along with Fannie Mae and Freddie Mac, stated in the blueprint that the agencies will consider the establishment of tenant protections to limit 'egregious rent increases' for properties purchased with certain types of federal mortgages."
Home sales
As we begin to see relief on mortgage rates, pending home sales climbed up slightly in December 2022, according to Realtor.com. Month-over-month contract signings increased by 2.5% in December but are still down 33.8% yearly, reflecting an ongoing struggle with affordability.
Danushka Nanayakkara-Skillington of the National Association of Home Builders (NAHB) reports on new home sales data that shows a modest 2.3% month-over-month increase in December, which is still down 26.6% year over year. 
Dana Anderson of Redfin reports on pending home sales, noting that:
"Pending sales began rising on a month-over-month basis in December as buyers started returning to the market, encouraged by their increased negotiating power and mortgage rates that have declined to 6.1% from their 7% peak. That signals the recent increase in early-stage homebuyer demand–mortgage-purchase applications are up 28% since November and Redfin home-tour requests are on the rise–is starting to translate into sales."
Source: Redfin (January 2023)
Orphe Divounguy of Zillow reports that the median existing-home price in December was $366,900, up 2.3% year over year, and we may not see any dramatic decreases in the short term. "While the stabilization of affordability will be good news for potential home buyers, a lack of available inventory could remain a constraint for home buying activity."
Home sale profits
According to ATTOM Data Solutions, home sellers in 2022 realized an average profit of $112,000, up 78% from $63,000 in 2020. This 2022 gain represents a 51.4% return on investment compared to the purchase price. This is the highest level of profits recorded since ATTOM began collecting data in 2008. Rick Sharga, EVP of market intelligence at ATTOM, comments on the data:
"It seems pretty likely that home seller profits peaked for this cycle in 2022…Median prices have declined on a monthly basis since mortgage rates doubled between January and October and are likely to decline further in many markets across the country in 2023, reducing profitability for home sellers."
Source: ATTOM Data Solutions (January 2023)
Danielle Hale, chief economist at Realtor.com, reports on equity values in the U.S., noting that even though home prices are easing, home equity reached a record high in Q3 2022, totaling $29.6 trillion. Homeowner equity now represents 70.5% of the total value of real estate in the U.S., the highest it's been since the 1980s. According to Hale:
"The total value of equity that homeowners had in real estate was just less than $29.6 trillion in the third quarter, $0.5 trillion more than the second quarter and $4.2 trillion more than the previous year. In fact, equity as a share of real estate value held steady at 70.5%, tying its highest share since 1984. It's well above the lows seen in 2012 (46.0%) and also above the 60-65% share it saw through much of the late 1990s and early 2000s."
Source: Realtor.com (January 2023)