Single-family rentals (SFRs) were back in the spotlight last week with several news stories highlighting strong fundamentals for this asset class. Natalie Dolce of Globe St. begins by citing a group of experts who highlight the underlying factors that are keeping investors interested in SFRs, primarily:
As younger generations get older and form households, they are increasingly wanting more space;
Availability of credit is decreasing meaning purchasing is getting more difficult; and
Labor and construction constraints remain, which means supply will continue to be depressed, putting upward pressure on prices.
Joe Burns of FinLedger continues the discussion, noting that apartment demand is slowing, but the SFR market remains robust. "Millions of would-be homeowners are being forced to rent, fueling higher rental prices across the country. But challenges for one part of the housing market mean opportunity for another, and homebuilders are turning these lemons into lemonade with build-to-rent (BTR) communities. Smart property managers are also taking note."
Abha Bhattarai of The Washington Post reports that younger generations are already more prone to renting than older ones, but that adding in high student and consumer debt levels with rising interest rates, renting will become the only option for many. Further, by some estimates, the U.S. is already short 5 million homes, which will keep demand elevated for the foreseeable future.
And rent growth continues to increase in the SFR market, according to a new report from CoreLogic. According to their index, although decelerating, SFR rent growth hit 11.4% year-over-year in August, primarily because of the above-mentioned market dynamics.
Source: CoreLogic (October 2022)
Molly Boesel, principal economist at CoreLogic, commented on the data:
"Single-family rent prices in August were 26% higher than before the onset of the pandemic, adding an average of $400 per month to tenants' monthly costs and compounding other household expenses caused by inflation…While annual rent growth is projected to continue increasing throughout the rest of 2022, those gains will likely moderate further in 2023."
This is why larger institutions, such as Invitation Homes, are looking to allocate more capital to the strong SFR market. According to Patrick Clark and Gillian Tan of Bloomberg, as one of the largest landlords in the country, Invitation Homes is seeking a joint venture partner for a $1 billion fund to scoop up more SFRs.
Midterms
Chris Salviati and Rob Warnock of Apartment List released a report last week outlining the growing role renters may play in the midterm elections. That is because when they do vote, renters tend to skew toward the Democrats.
"Renters have historically voted at far lower rates than homeowners, but that gap has been narrowing in recent years. Mobilizing renters could be a winning strategy for Democrats, the party that renters tend to favor by a wide margin. But given their present state of economic frustration and disenchantment, this large voting bloc could present an opportunity for either party."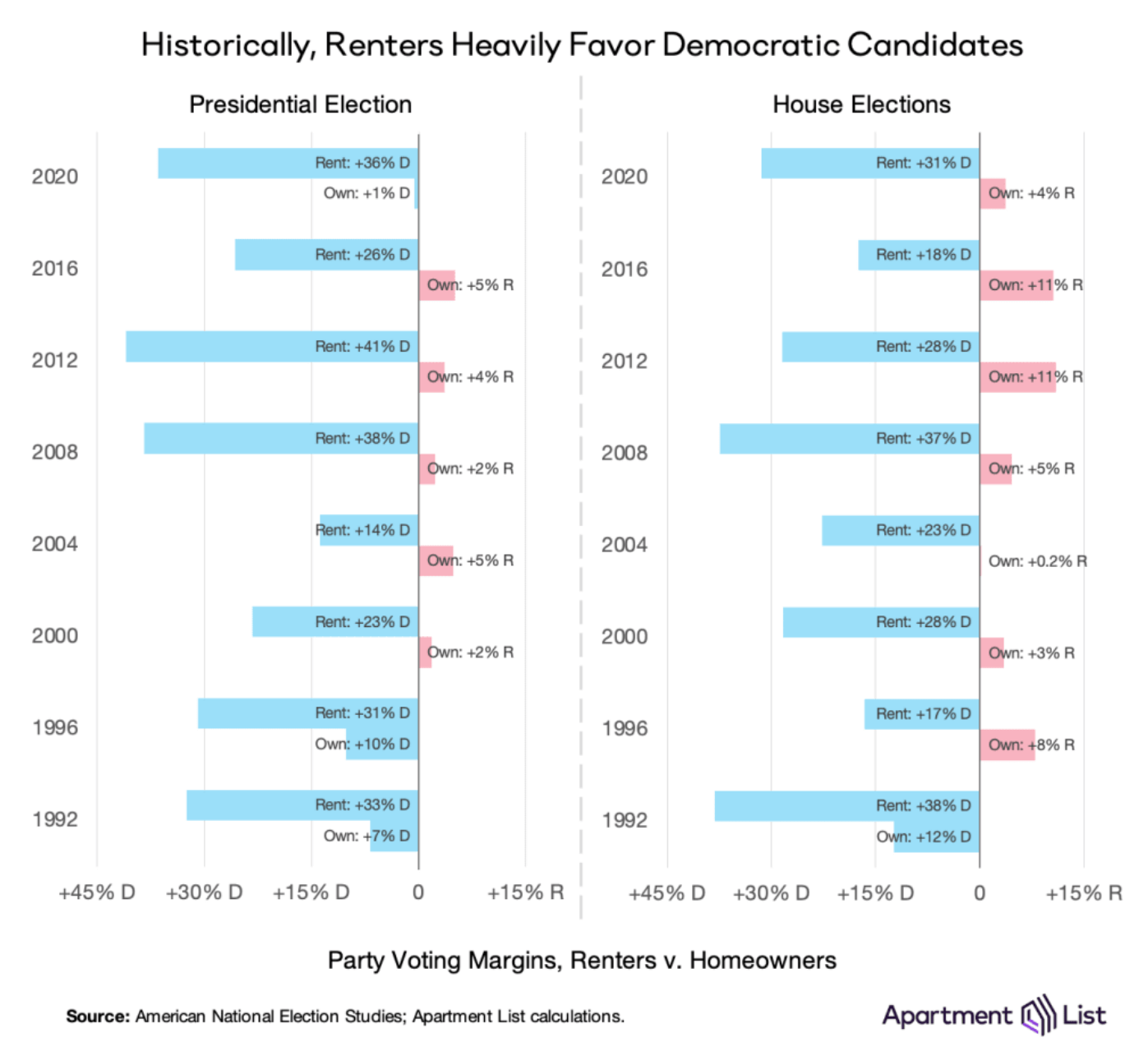 Source: Apartment List (October 2022)
Given the strong skew toward Democrats, high voter turnout among renters could be a strong tailwind for Democratic candidates. The key factor for the renter segment is inflation and housing costs, which continue to rise and may be a mobilizing factor to turn out and vote
Finally, Lynn Pollack of Globe St. projects that a likely outcome of the midterm elections is a split Congress, but that the president will still control regulatory agency appointees, which are the most impactful on housing and real estate. Therefore, there is little chance that the regulatory environment will change following the midterms, until there is a new Presidential election in 2024.
Rents
Speaking of renters, several new reports give us insight into where rents are heading, starting with Zumper. In their monthly rent report, Zumper finds that nationally both one and two-bedroom apartment rents are down, 0.8% and 0.7% respectively, for the first time in two years. Average rents for one-bedroom units now sit at $1,491, and $1,832 for two-bedrooms.
Source: Zumper (October 2022)
Zumper concludes that:
"This reversal of widespread price hikes is fueled by several factors, including rising vacancy rates in some markets, a return to more typical seasonal moving patterns and, above all, fear of recession."
Apartment List similarly found in their monthly report that rents have been decelerating, by 0.7% in October. This is the second straight month of declines, and the largest monthly dip since 2017. There were some markets that bucked the trend of declining rents:
Source: Apartment List (October 2022)
That said, Apartment List showed some optimism for rental assets: "Going forward it is likely that rents will continue falling in the coming months as we enter the winter slow season for the rental market. Despite the monthly decline, rent growth over the course of this year continues to outpace the pre-pandemic trend, even as it has slowed significantly from last year's peaks. So far in 2022 rents are up by a total of 5.9 percent, compared to 18 percent at this point in 2021."
Further, vacancy rates are still historically low, sitting at 5.5%. As interest rates increase, expect rental demand to remain strong, therefore putting downward pressure on vacancy rates even more.