Mortgage rates are rising, and are at levels not seen since 2018. According to Jo Constantz of Bloomberg, the 30-year average mortgage rate hit 4.67% last week, up from 4.42%. Since the beginning of the year, rates are up 1.5%, which is the biggest increase seen since 1987.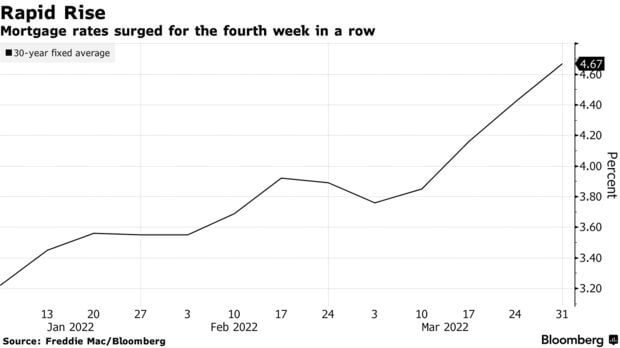 Source: Bloomberg (March 2022)
Constantz quotes David Battany, executive vice president of capital markets for Guild Mortgage, as saying: "We definitely expected rates to rise, just not this much, this fast…We could literally be approaching 5% within a few weeks, we're that close." These rate increases will be particularly difficult for entry-level buyers who are battling higher borrowing costs as well as higher home prices. This may push more to the rental market.
According to Will Daniel of Yahoo! Finance, "The rising cost of home loans may help cool the U.S.'s red-hot housing market as higher rates will lead some borrowers to lose their mortgage eligibility due to banks' strict debt-to-income ratio requirements."
Orla McCaffrey of The Wall Street Journal (subscription required) notes that higher rates typically slow down buying activity, but that "there are ample signs that the U.S. home boom, featuring surging prices, ultralow inventories and persistent demand around the country, is far from over. That is likely good news for the industry and the economy in the near term, but rising rates stand to further reduce affordability at a time when many lower-income households are already stretched."
According to Zillow, experts predict several more 0.5% increases from the Federal Reserve in 2022. This is due to strong economic data, which shows the central bank that the economy can withstand more aggressive increases without suffering recessionary pressures.
Diana Olick of CNBC joins the conversation, noting that higher rates have perhaps led to the 15% drop in refinance applications, which are down 60% year-over-year. Further, although homebuyer mortgage demand rose 1% last week, it was down 10% year-over-year.
Condos
Perhaps due to being a more affordable housing option, condo popularity has been rising according to new data from Redfin. The average U.S. condo sold for $319,000 in February, a new record. This is mostly due to the rising costs in single-family homes, which are up 15.9% year-over-year, and 34.9% from 2020.
Source: Redfin (March 2022)
According to Chance Glover, a Redfin manager in Boston: "The condo market has bounced back…People are no longer afraid to live downtown, close to the crowds–and they often prefer it, because they're close to the office and all the amenities of the city. Rising prices are pushing single-family homes out of reach for a lot of buyers, so condos are affordable in comparison."
And condo supply is way down, 38% year-over-year, even more so than single-family homes.
Source: Redfin (March 2022)
Here are some further highlights from the Redfin report:
Condo prices increased from last year in 61 of the 67 metros.
Nashville, TN had the nation's highest price growth for condos, with median sale prices rising 49.3% year over year to $426,000. It was followed by Charleston, SC (41.1% to $319,000) and Las Vegas, NV (33.3% to $237,000).
Condo supply dropped from a year earlier in all but one of the 67 metros. The only metro where supply increased was St. Louis, MO (62.8%).
Condos sold fastest in Seattle and Denver, with the typical condo going under contract within 5 days of being listed.
Construction
Job openings in the construction industry continue to remain high, according to Robert Dietz of the National Association of Home Builders (NAHB). The number of open construction jobs sat at 381,000 in February, which is high, however, the record was set in April 2019 at 416,000 during the height of the pandemic.
Alicia Wallace of CNN reports on the continued supply chain issues, first with the pandemic, now with the war in Ukraine.
"For many home builders, supply chain disruptions from the pandemic have meant garage doors are on back order, floor tiles keep getting discontinued mid-construction, and appliances are marooned aboard waylaid shipping vessels. Now, the Russia-Ukraine conflict is hitting commodities such as oil and metals, leaving U.S. home builders to brace for further cost hikes and delays and putting the squeeze on already tight housing inventory and affordability."
That said, according to new U.S. Census Bureau data, construction spending is up. In January and February 2022, construction spending sat at $237 billion, which is 10.4% higher than a year earlier. In February, single-family home construction alone was up 20% year-over-year, with multifamily up only 7.8%.
Jing Fu of NAHB reports on construction wages, noting that the "average hourly earnings (AHE) for residential building workers were $28.66 in February 2022, increasing 6% from $27.01 a year ago."