It's a fact, real estate investing comes with a lot of paperwork. There's nothing more frustrating than searching high and low through email attachments for that lease, loan doc, contract or insurance certificate when you're trying to get something done. 
Having all of your real estate documents at your fingertips makes managing your investments so much simpler. That's why we're excited to unveil Documents on Stessa! By popular demand, we've designed Documents to give real estate investors one place to easily keep track of, organize, and securely store all of those files.

For those of us with messy files (no judgement), we hope Stessa Documents gives you the much needed motivation to finally get all your docs in order. Imagine how good it will feel when you can cross this off your "to do" list and rest easy knowing that everything is in its place (make Marie Kondo proud 😉 ) and securely backed up.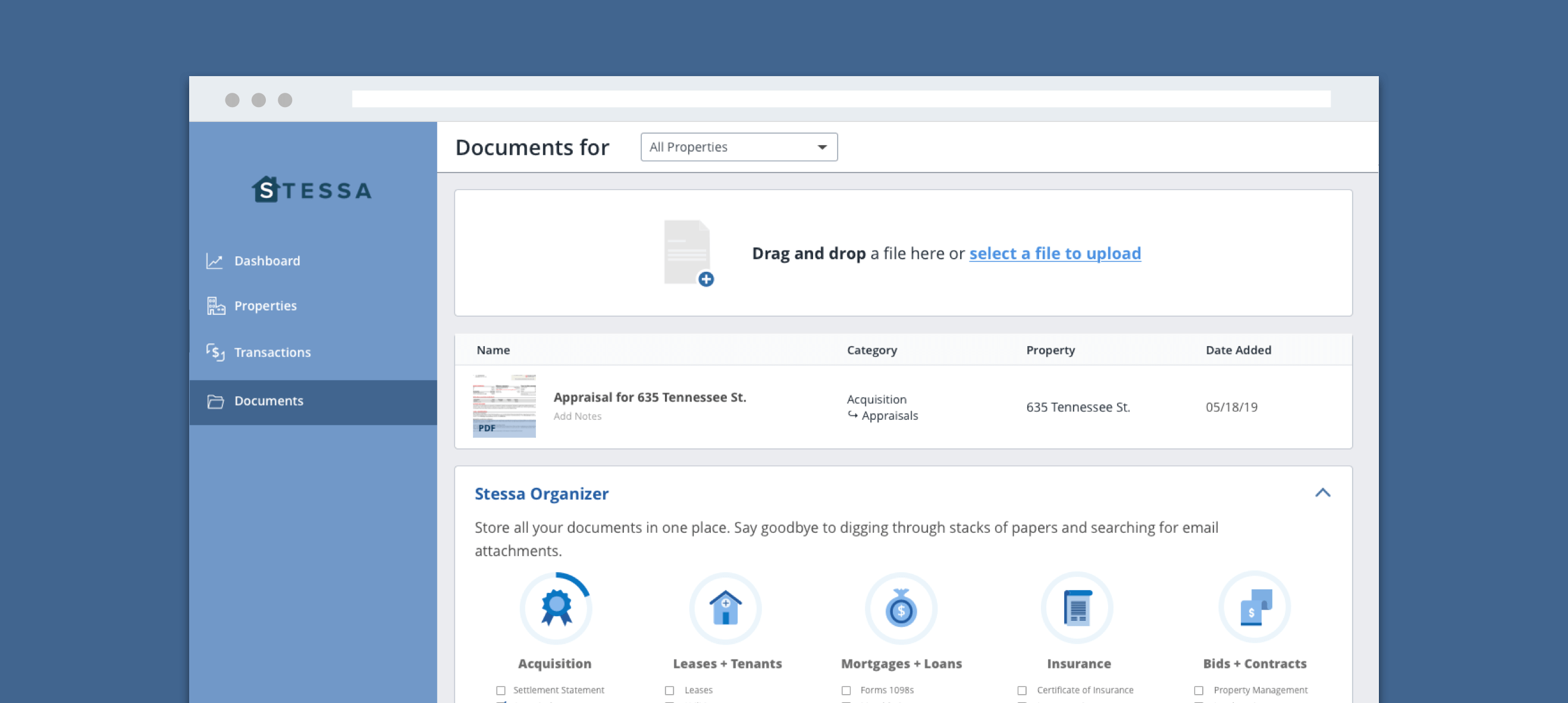 Documents is available for all Stessa users for free and lets you:  
Organize all of your real estate documents in one place

at the portfolio and property-level, no more endless searching through email attachments! 

Store all types of documents

for acquisitions, leases, tenants, mortgages, loans, insurance, contracts, bids and absolutely anything else you want to keep track of

Simplify record-keeping

across each of your properties with a handy checklist that shows you what's on file by category

Easily share files

with partners, brokers, lenders and CPAs

Back up your documents

so you always have a copy on hand

View and download your files from anywhere

, whenever you need them

Understand what documents to keep on file

, and for how long

Quickly drag and drop upload

all file types

Unlimited, secure cloud storage

for all of your real estate files
Try uploading a few documents and let us know what you think. We're excited to hear your feedback at support@stessa.com. This is just the beginning of Documents on Stessa. We've got plans for more exciting and powerful features to streamline your rental investing paper trail. Stay tuned…