Average annual revenue from short-term rentals (STRs) listed full time grew by $56,000 by the end of 2021, marking the highest level ever. According to the 2022 Short-Term Rental Outlook Report from research firm AirDNA, demand for STRs this year is forecast to grow by more than 14%, with an average daily rate of nearly $250.
With growth like this, it's easy to understand why more investors are seeking software to track income and expenses and improve cash flow for their STR businesses. In this article, we'll review some software solutions to consider this year, ranging from free and easy to use to full-service, fee-based subscription plans.
---
Key takeaways
The main features of STR software include auto-tracking income and expenses, monitoring property performance in real time, and generating financial reports.
Subscription-based software often includes modules for channel management, multi-calendar synchronization, payment processing, accounting, and analytics.
Software solutions range from 100% free to hundreds of dollars per month.
---
What can STR software help your business do?
STR software serves as a centralized platform for property that is rented out by the night, week, month, or even a few months at a time. Software solutions range from free and uncomplicated financial software like Stessa, a Roofstock company, to more complex and costly options.
Some of the main features vacation rental software may offer – depending on the specific program or package – include:
Connecting and syncing to business bank and mortgage accounts
Automatically tracking income and expenses
Owner dashboard to monitor an unlimited number of STRs at both the portfolio and property level.
Generate financial reports such as income and cash flow statements.
Export tax-ready financials to minimize prep work and save time and money.
Organize and store documents securely online  to protect confidential data.
Mobile apps for iOS and Android to track expenses on the go.
Channel management to sync rates and availability across major listing sites such as Airbnb, Vrbo, and HomeAway.
Multicalendar synchronization to view all reservations from all channels in a single view.
Reservation management to update data such as prices, arrival dates and departure dates, and other details.
Integration with other applications, such as payment processors or keyless entry systems, to streamline cash flow and improve guest experience.
Software solutions for 2023
Here's a list of software solutions to consider using this year.
Stessa
Let's begin with Stessa, which is the only free STR software on this list.
Stessa was designed by real estate investors, for real estate investors. The company was founded in 2016, is used by tens of thousands of investors to track nearly 200,000 properties, and was acquired by Roofstock in 2021. If  STRs are part of your long game, you can Find STR properties newly listed on the Roofstock marketplace.
While Stessa doesn't offer all the bells and whistles that other solutions do, it can be a good choice for investors getting into the STR business, adding to an existing real estate portfolio, or with an existing Airbnb.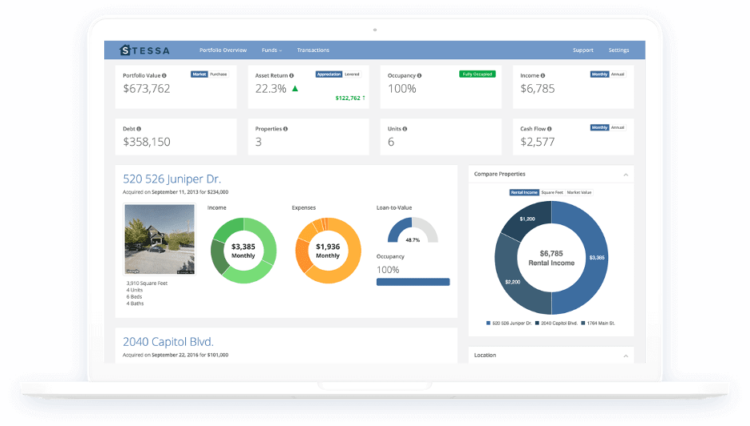 Here's how to use Stessa for STR property. Investors who don't have an existing home rented short term can skip step 2:
Sign up for a free Stessa account by providing an email address and property address.
Download transaction history from Airbnb into a CSV file format, then upload it to Stessa, where most (if not all) prior transactions will be automatically categorized in the chart of accounts.
On the Leases & Tenants page for the STR property, change the Rent Roll to Short-Term Rental and enter the nightly rental rate.
Enter the budgeted operating expenses on the Property Details page for the STR property to compare budget to actual financial performance.
Connect business banking and mortgage accounts to automatically track and categorize income and expenses, and update property value and owner's equity in real time.
This blog post from Stessa goes into more detail about how to use the software for STR property investments.
Key takeaways:
Free to use with STRs, single-family homes, and small multifamily property
Automatically track income and expenses, property value, and owner's equity
Monitor property performance in real time at both the portfolio and property level via the owner's dashboard
Generate financial reports and export tax-ready statements to help save time and money
Organize and store STR real estate documents safely and securely online
Use iOS and Android mobile apps to track expenses on the go
Visit the Stessa website.
Guesty
Guesty was established in 2013 and provides an end-to-end solution to simplify short-term and vacation rental property management. The company provides a comprehensive suite of tools for STRs, including accounting tools, analytics, channel management, multicalendar, owner's portal, payment processing, reporting tools, task management, a unified inbox, and 24/7 guest communication.
Key takeaways:
Pricing available on request with a 14-day free trial.
Manage STRs across all major booking channels.
Modules include automated messaging, channel management, cleaning management, financial reports, and a website builder.
Mobile apps for iOS and Android.
Visit the Guesty website.
Hostaway
Hostaway was launched in 2015 and is used by thousands of vacation rental property managers, with a complete set of tools for marketing, channel management, analytics and reporting, property management, and communication.
Key takeaways:
Pricing plans start at $100 per month, although the company works with each client to find a suitable pricing model.
Both fixed and commission-based pricing are offered, depending on a client's needs.
Channel manager works with all major booking platforms.
Over 100 integrated software tools and apps are available in the marketplace, including Airbnb, Vrbo, Stripe, and Key Data Dashboard.
Visit the Hostaway website.
Rabbu
Rabbu has a free Airbnb calculator tool, helping owners project how much any address in the U.S. can earn as a short-term rental. Rabbu was founded as a short-term rental property management company in 2016, with their flagship Airbnb calculator tool launching shortly after. In addition to a monthly revenue projection, users can view other key stats and information about the STR-viability of the property they searched, including: ADR, Occupancy, RevPAN, a seasonality graph, and nearby comps. Users are then able to refine the projection further by utilizing filtering options or choosing to include or exclude comps similar or dissimilar to the address they searched.
The above functionality of the calculator is all free, though Rabbu also offers a comprehensive platform which users can subscribe to. For $99/month (with a 7-day free trial), users can receive access to the full Rabbu platform which includes:
Advanced features on their Airbnb calculator
Nationwide STR market data
On-market properties for sale, initially analyzed and paired with STR-specific financial stats
Key takeaways:
Free revenue projections through their Airbnb calculator
Ability to refine and customize projections by utilizing filtering and comp selection
Option to upgrade account to unlock additional tools, such as nationwide market data or investment properties for sale
$99/mo for access to entire Rabbu platform, 7-day free trial offered
Visit Rabbu's free Airbnb Calculator

Lodgify
Lodgify was founded in 2012 as an all-in-one SaaS solution for vacation rental owners and property managers to simplify vacation rental marketing. The company's mission is to help owners grow their accommodation business by providing great accessible and affordable technology.
Key takeaways:
Pricing begins at $17 per month + a 1.9% booking fee up to $69 per month + 0% booking fee.
Discounts available based on number of rentals, pricing plan, and annual or biannual payment plans.
Tools include property management software, channel manager, website builder, booking system, accounting, and payment processing.
Integrations include Airbnb, Vrbo, Booking.com, Zapier, and Mailchimp.
Visit the Lodgify website.
OwnerRez
OwnerRez was founded in 2009 by 2 software engineers who are also vacation rental owners and property managers. The company's mission is to deliver fast and simple booking services via a comprehensive management engine with a full range of features.
Key takeaways:
Pricing starts at $35 per month for 1 property, with the ProConnect service starting at $500 for up to 2 properties.
Modules include channel management, integrations, website building, messaging, CRM, and accounting.
Premium features include property management, QuickBooks integration, SMS messaging, and call center.
OwnerRez provides integrations for dynamic pricing, door locks, housekeeping services, payment processing, and more.
Visit the Owner Rez website.
Hostfully
Hostfully was founded in 2015 and services more than 25,000 properties around the world. The company says it provides a complete, end-to-end property management platform to help vacation rental property managers increase bookings, boost revenues, and provide 5-star hospitality.
Key takeaways:
Monthly pricing starts at $79 plus a one-time $400 implementation fee (waived for an annual subscription purchase).
Pricing packages are available for Starter, Pro, and Premium plans based on the number of listings.
Features include channel distribution, central calendar, direct bookings site, payment processing, pricing tools, and analytics and reporting.
Integrations and marketing partners include Airbnb, PayPal, Zapier, and Stayfi.
Visit the Hostfully website.
iGMS
iGMS (formerly AirGMS) was launched in 2015 and helps customers in over 130 countries oversee the management of nearly 84,000 property listings around the world. The company claims to help put a vacation rental business on autopilot by offering one software for everything.
Key takeaways:
Pricing ranges from $10 to $20 per property per month after a 14-day trial.
All plans include features such as channel manager, multicalendar, unified email inbox, cleaning and task management, and team management.
Premium plans with pricing of $12 per month or more include optional services such as automated reviews, revenue management, and financial reports.
Integrations for hosts include Airbnb, Booking.com, Stripe, and Abritel.
Visit the iGMS website.