It can be tough to keep track of all the paperwork and logistics involved in managing a rental property. That's where rental property software comes in handy. With so many options available, which software is the best for your business?
In this blog post, we'll compare 2 of the most popular options: SimplifyEm and Stessa. We'll break down the features of each program and help you decide which one is right for you. 
---
Key takeaways
Stessa is free cloud-based software that helps investors maximize profits through money management, tracking expenses and income, tax reporting, and rent collection.

SimplifyEm offers 8 different monthly subscription plans starting at $25 a month for up to 10 units and up to 2,000 units for $1,620 a month.

Stessa can be used for free with unlimited single-family homes, small multifamily buildings, short-term vacation rental properties, and entire portfolios.
---
SimplifyEm overview
SimplifyEm is subscription-based rental property management software that aims to help investors save money, save time, and take the tedium out of managing properties.
The software has a full suite of services, including advertising vacancies, screening tenants, signing leases online, rent collection and maintenance, and financial and tax reporting. It can be used for an unlimited number of properties or units.
Pricing
SimplifyEm offers 8 different pricing plans, based on the number of units under management, and a free 15-day trial. All subscriptions include features such as income and expense tracking, detailed financial reports, and tenant and lease information management:
P10: $25 a month for up to 10 units

P20: $35 a month for up to 20 units

P30: $45 a month for up to 30 units

P50: $60 a month for up to 50 units

P75: $75 a month for up to 75 units

P100: $100 a month for up to 100 units

P100+: Add increments of 10 units for an extra $8 a month for every 10 additional units

P2000: $1,620 a month for up to 2,000 units
SimplifyEm also provides extra optional features, with prices varying based on the monthly subscription plan:
P10 to P30
For an additional $10 a month, receive:
Communication history

Tenant, owner, vendor document sharing

Tenant, owner, vendor portals

Manage bank accounts

Manage tasks and work orders

Manage subusers and access rights

Automation: Property management fees, late fees, rent receipts, late rent notices, and owner reports

Export to QuickBooks & Excel
Other extra paid features:
Advertise vacancies: $3 for a listing

Online rental applications: $3 per application

Online lease form: $10 per form

Online payments: starting at $1 per transaction

Tenant screenings: starting at $19.95 per screening
P50 to P2000
Includes all of the above extra features at no additional charge, plus:
Advertise vacancies

Online rental applications
Other extra paid features:
Online lease form: starting at $5 per form

Online payments: starting at $1 per transaction

Tenant screenings: starting at $19.95 per screening
Software features
Comprehensive list of commonly overlooked write-offs

Customized solutions to fit your needs

Automatically recognize recurring income and expense items

Track cash transactions and unexpected expenses

Generate reports and analyze your cash flows

Online rent collection

Generate a Schedule E for free

Manage tenant and lease information

Automatic tenant billing and late payment notices

Set up tenants to pay rent online

Tenant portals for online access

Attach, scan, and store unlimited documents
Stessa overview
Stessa, a Roofstock company, is a free, cloud-based software that helps real estate investors profit through smart money management, automated income and expense tracking, online rent collection, property and tenant management, personalized financial reporting, and more.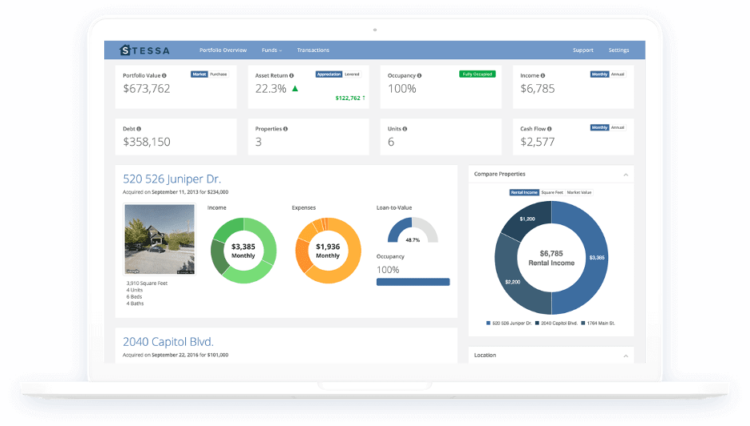 The company was established in 2016 by 2 experienced real estate investors with 30 years of combined experience. Stessa was designed with the investor in mind to take care of monitoring and analyzing the details, so you can focus on other things. More than 100,000 investors already use Stessa to track over 250,000 properties with an estimated asset value of $60 billion.
Pricing
Stessa's rental property management software is free and easy to use. Landlords can use it to track their property's performance, finances, and all the paperwork that comes with real estate investing. Stessa also offers optional premium services for real estate investors for a fee, which can help with things like rent analysis, mortgage financing, and market research.
Software features
Track unlimited properties and portfolios of single-family, residential multifamily, and short-term rentals.

Automate income and expense tracking by linking bank and mortgage accounts.

Collect rent online with automated free Automated Clearing House (ACH) payments from tenants and convenient auto reminders using

Stessa online rent collection

.

Stessa partners with Plaid to keep landlord and tenant information safe and secure.

Get comprehensive performance dashboards at the portfolio and property levels.

Access your portfolio from anywhere in the world with an internet connection.

Run unlimited monthly reports (income statement, net cash flow, capital expenses, and more).

Collaborate with partners, family, lenders, and buyers.

Stessa employs the industry's best security to protect your data.

Organize and store all your real estate documents, invoices, and payment receipts.

Track expenses on the go with the iOS and Android apps.

Export tax-ready financials and access the

Stessa Tax Center

(makes tax time a breeze).

Sign up for the Stessa newsletter and blog for real estate news that matters most for investors.
SimplifyEm vs. Stessa
The best rental property management software for you depends on your specific needs and preferences. To help you decide which one is right for you, here's a comparison of SimplifyEm and Stessa, based on the essential features that many landlords use.
Listings
SimplifyEm will post your listings to Zillow, Trulia, Hotpads, Craigslist, and many other websites to help you build an online presence and get tenants faster. If you have a website for your rental property business, SimplifyEm can provide a professional web page for each listing that you can share on your site.
Stessa does not include online listings, but rather allows landlords to select the rental listing websites that work best for them. Some of the most popular online listing sites for rental property are Zillow, Realtor.com, Apartments.com, Zumper, and Apartment List.
Tenant screening
SimplifyEm partners with TransUnion to provide tenant screening services for property managers and landlords. For $25, you can have a full tenant report viewable online within minutes. This comprehensive screening process includes credit, criminal, eviction, and income history reports. 
Stessa provides landlords with the ability to choose their own tenant screening options, rather than limiting user choice. Some of the most popular websites for screening tenants are TransUnion SmartMove, E-Renter, and RentPrep, a Roofstock company. Once a tenant is screened, you can store the rent application and screening reports in your Stessa account online for free. This allows for greater flexibility and convenience for both landlords and tenants.
Leasing
SimplifyEm provides lease agreement forms that meet the landlord-tenant laws of each state, plus other rental forms, including rental application, rental inspection, notice to vacate, and eviction notice. The cost of online lease forms ranges from $5 to $10 per form, depending on the monthly paid subscription plan.
Stessa does not offer an option for creating and signing leases online. However, once a lease is completed and signed by all parties, you can securely organize and store lease documents and other important paperwork online with Stessa's free unlimited document storage.
Online rent collection
Stessa and SimplifyEm both offer online rent collection. Property owners can collect the monthly rent, plus one-time fees such as a security deposit, prorated rent, or late fees. Tenants can also set up an automatic rent payment to ensure the rent is paid on time.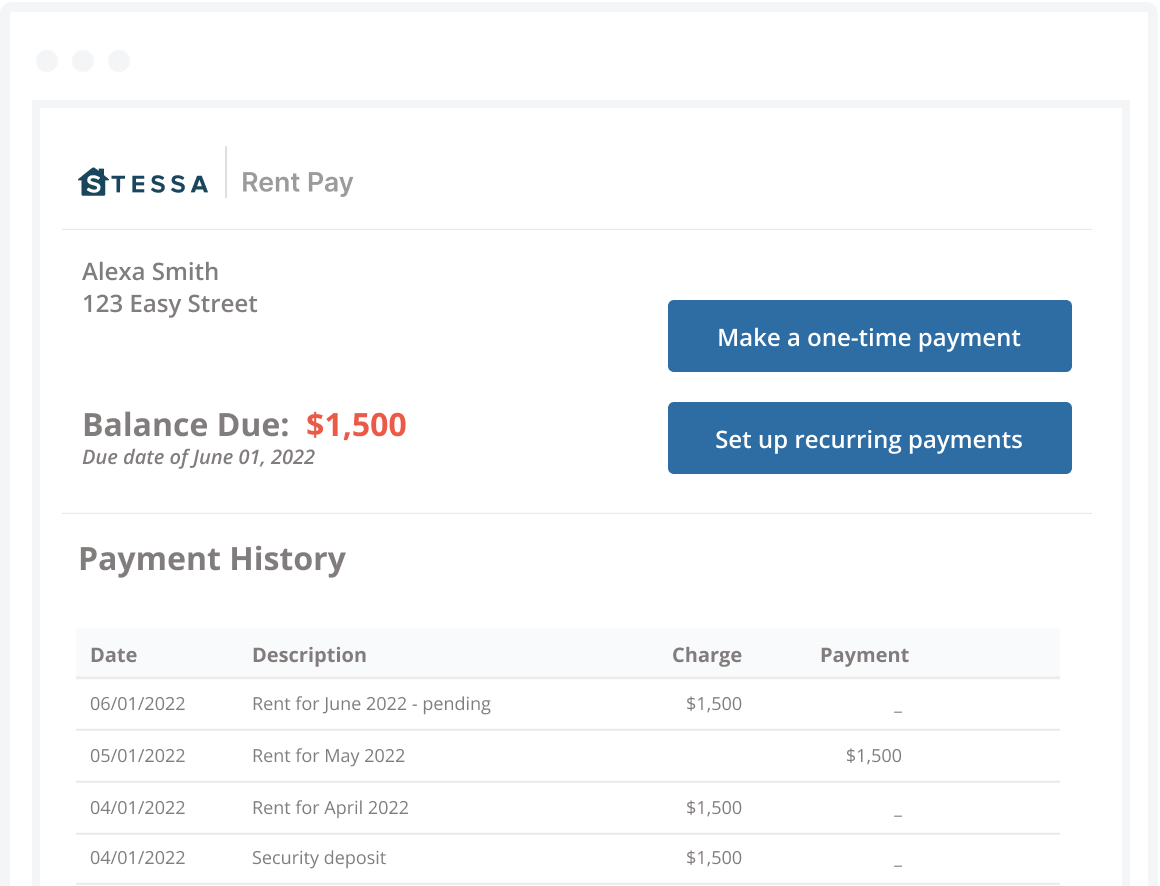 SimplifyEm charges a minimum rent payment fee of $1 per transaction for ACH, credit card, and debit card payments. On the other hand, ACH rent payments with Stessa are free of charge.
Financial reporting
SimplifyEm provides a wide variety of financial reports that landlords need, including cash flow, income and expense, and tenant rent roll. If you have the monthly P10, P20, or P30 subscription plan, for $10 extra per month you can export transactions to QuickBooks and Excel. Or, subscribe to a higher priced monthly plan and download data at no extra charge.
Stessa provides a full range of financial reports for free, including an income statement, net-cash-flow and capital expense (CapEx) reports, tenant rent roll, real estate balance sheet with owner's equity, and a Stessa Stress Test model to run various rent collection scenarios across your portfolio. After signing up for a free Stessa account, you can export your transactions data to Excel at any time for free.
Tax management
Both Stessa and SimplifyEm track income and expenses using Internal Revenue Service (IRS) Schedule E categories to help make tax reporting more straightforward.
SimplifyEm has a built-in Schedule E form that you can print out as a PDF for free. When income and expenses are entered in, they are automatically categorized according to the IRS categories. The Stessa Tax Center is free for users and includes a personalized year-end tax package with an income statement, net-cash-flow report, and a ZIP file in a single email.
Stessa vs. SimplifyEm: How to choose the right option for you
Both companies offer similar features, but while Stessa is free, SimplifyEm offers 8 different monthly subscription plans ranging from $25 a month to $1,620 a month, depending on the number of units under management.
Stessa is a free platform that allows landlords to outsource services such as rental listings and tenant screening. By offering landlords a choice, Stessa can stay focused on providing the best online rent collection, reporting, and accounting tools for landlords. The software is ideal for real estate investors who own single-family rentals, small multifamily properties, short-term vacation rentals, and entire rental property portfolios.