Stessa and Baselane rank among the top online tools property owners utilize to manage their rental portfolios. Both platforms offer consolidated solutions for financial reporting, income and expense monitoring, rent collection, landlord banking, and other critical functions. 
So, what unique advantages does each platform provide, and how do they fare in the eyes of demanding rental property owners? 
Below, we summarize each service's main features, strengths, and possible drawbacks. Check out this comparison table for a quick snapshot of these two software platforms before we delve into the details:
Stessa

Baselane

Key features

Track income and expenses (free)

Generate performance metrics across owned properties (free)

Open a landlord banking account* (free, but you can earn a higher APY with the paid Pro plan)

Access tenant applications, screening, and eSigning features (free for landlords, paid for by tenant)

Collect rent and auto-send payment reminders (free)

Scan receipts with the mobile app (free)

Utilize bookkeeping and financial reporting features

Create virtual bank accounts for each property 

View real-time financial reports

Collect rent 

Send automated payment reminders

Pricing

Essentials plan: Free

Pro plan: $16/month (billed annually) or $20/month (monthly payment)

Free to use 

Baselane earns money through interest held in customer banking accounts and a portion of merchant fees 

Unique advantages

Easy to use and integrate with some property managers

Comprehensive portfolio overview

Automated income and expense tracking

Free rent collection service

Extensive tax resources

Affordable

User-friendly 

IRS-compatible for easier tax reporting

Assistance with loans and landlord insurance

Limitations

Not a complete property management solution (no capability for handling maintenance requests or tenant communications)

No application or tenant screening features 

Lacks the robust rental property accounting features of other tools, like Stessa

Final takeaway

Greater focus on helping real estate investors track financial transactions and optimize property investments

Greater focus on landlord banking and rent collection 
How Stessa and Baselane work
While both Stessa and Baselane simplify and streamline the process of managing rental properties, each offers a distinct approach.
Stessa is comprehensive accounting software designed for residential real estate investors. Its automated tools track income and expenses, collect rent, and generate key performance metrics across all your owned properties. You can also open free landlord bank accounts for each of your rentals. 
Baselane focuses on providing tools for landlord bookkeeping, banking, and rent collection. You can automatically import transactions from linked bank accounts to create income statements by property and portfolio, instantly open an account online, view rental payment history, and manage invoices.
Stessa overview
Stessa, a subsidiary of Roofstock, offers a specialized accounting solution for residential real estate investors, enabling them to track the performance of their properties and portfolios from a single platform. The system organizes income and expense transactions and produces in-depth financial reports with minimal effort, reducing the need for paper documents.
Stessa is a powerful tool designed for both individual landlords and large-scale investors. The beauty of the platform lies in its ability to seamlessly integrate with your existing financial accounts and property management systems. You get a detailed view of your entire portfolio that helps optimize your investment performance.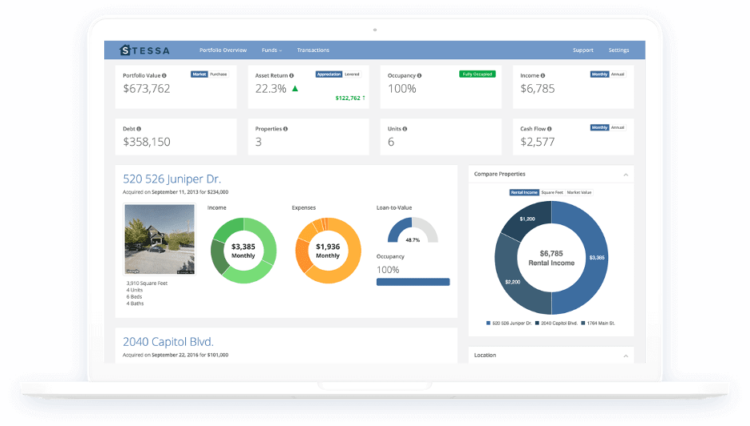 Stessa continues to significantly broaden its capabilities with features like tenant applications and screening, eSigning (available with the paid Stessa Pro plan), rent collection, landlord banking services, and document storage. 
Mobile apps for iOS and Android platforms ensure you can manage your property portfolio on the go. A standout feature of these apps is automated receipt scanning, a handy tool when tax season rolls around.
Pricing structure
Stessa's tiered pricing model accommodates different needs and budgets.
The Stessa Essentials plan is free, with its core tools available to rental property owners. Users can add as many properties and bank accounts as they like, automate bank feeds, run unlimited financial reports, and export their transaction data to Excel anytime.
Stessa Pro, available for $16/month annually or $20/month monthly, offers advanced features with more extensive financial insights and automation for tasks like budgeting and pro forma analysis. It also includes eSigning for up to five documents monthly via DocuSign, project expense tracking, and accelerated rent payments. Additionally, Stessa Cash Management provides a higher interest APY with competitive rates and no hidden or ongoing fees, helping you maximize your returns efficiently.
Features summary
Rental applications and tenant screening:

Stessa's tenant screening is available through RentPrep, which is seamlessly embedded in the Stessa tenant application tool.

eSigning (partnered with DocuSign):

With the Stessa Pro plan, upload up to 5 documents monthly, tag them for digital signatures, and send them to tenants, vendors, partners, and more. 

Free rent collection:

Collect rent through ACH payments, free for property owners and tenants.

Automated income and expense tracking:

Organize and categorize transactions by Schedule E automatically from connected bank, lender, credit card, and property management accounts.

Real-time performance metrics:

Get 24/7 visibility into your portfolio's performance.

Financial reporting:

Generate income statements, net cash flow reports, balance sheets (with the paid Stessa Pro plan), and more.

Property management integration:

Connect to your property management software for a complete portfolio summary.

Landlord banking:

Open an FDIC-insured checking account for each property and seamlessly link it to Stessa's financial tracking features.

Unlimited properties:

Add an unlimited number of properties.

Collaborative access:

Invite other investors with different access levels.

Data security:

Use industry-leading encryption to keep your data safe and secure.

Insurance quotes:

Get insurance quotes and policies for rental properties within Stessa from Steadily(™), a tech-enabled national landlord insurance provider.

Tax resources:

Access a suite of tax resources created in partnership with

The Real Estate CPA

.
Pros
Stessa is notable as a comprehensive tool designed specifically for residential real estate investors. 
You get real-time performance metrics and automated income and expense tracking for a detailed overview of your investment portfolio anytime. This information can be crucial when making decisions and planning future investments. 
The platform's user-friendly interface connects directly with your property management software and financial accounts, saving you the time-consuming task of manual data entry. Investors managing properties across several states appreciate the ability to add an unlimited number of properties.
Stessa also simplifies landlord-tenant interactions with its free rent collection service and built-in tools for rental applications, eSigning, and tenant screening. These features eliminate the need for third-party services and bring efficiency to the leasing process. 
You can manage more complex aspects of property ownership through the platform, such as tax preparation and insurance coverage, with easy access to tax resources and insurance quotes. Plus, an active community forum lets Stessa users share knowledge, skills, and interests with other real estate investors.
Cons
Stessa provides property owners with a wide range of features. However, tasks like tenant maintenance requests and communications aren't yet available. That could be a drawback for landlords seeking those specific property management features.
Baselane overview
Baselane is free property management software for landlords and property managers. Unlike all-in-one PMS platforms with traditional tenant onboarding and management features like screening and property maintenance, Baselane focuses more on easing the financial elements of rental property management, providing automated tools, tailored financial services, and data analytics.
Pricing structure
Baselane is free to use. Landlords can employ all its currently available core features at no charge. 
However, there are varying fees for services offered by third parties, like interest on loans and transaction processing fees. 
The platform is working on adding premium features. While Baselane has not stated the exact fee for these advanced features, it has mentioned they will come at an extra cost. 
Features summary
Automated rent collection

Automated late fee application

Auto payment reminders for your tenants

Bookkeeping and financial reporting

Unlimited virtual banking accounts for every property or unit

Virtual or physical debit card with customized spending controls

Bookkeeping software with a customizable chart of accounts

Real-time financial reports, including cash flow and income statements

Automatic Schedule E and other tax reports for seamless tax reporting
Pros
While Baselane offers several services tailored to landlords, it isn't a comprehensive property management system. 
However, it does facilitate fast rental payment processing, with landlords typically receiving their funds within 2 days. The company also partners with Blue Ridge Bank, N.A., for FDIC-insured deposits of up to $250,000.
The platform provides specific accounts for security deposits, similar to an escrow account, that earn interest of up to 4.46% APY. Baselane also helps landlords access loans, credit lines, and rental insurance through affiliations with financial service providers.
Cons
While it has beneficial features, Baselane lacks some essential tools for effective property management. 
One key missing feature is the ability to receive rental applications from potential tenants. Without this, landlords may have to rely on separate systems or manual methods to manage rental applications, which can be inefficient and time-consuming.
Another absent tool is tenant screening, a must-have for landlords when selecting from a pool of prospective renters. It allows landlords to check an applicant's credit history, criminal background, and rental history, reducing the risk of renting to unreliable tenants. 
The final verdict
Stessa and Baselane each have unique strengths. Baselane is a free property management software, while Stessa offers both Free and Pro plans with accelerated rent payments and advanced ownership reporting, depending on your needs.
Both strive to bring greater efficiency to the financial end of your real estate business, offering automated rent collection, bookkeeping, banking, and financial reporting features. 
However, Baselane doesn't have crucial tools, such as tenant application and screening services. These features are available in Stessa, which can enhance the organization and effectiveness of your operations by renting to the most qualified tenants. 
Stessa also takes a more complete approach, focusing on both property and asset management. Connecting to property management portals and financial accounts for automatic transaction import and categorization gives users another layer of convenience. 
For landlords seeking a wide-ranging tool that assists in managing their properties and optimizes their real estate investments, Stessa might be the more suitable choice. It has a blend of features designed to simplify operations, provide valuable insights, and maximize the profitability of your rental properties.
To learn more about Stessa, visit the website here.
*Stessa is not a bank. Stessa is a financial technology company. Banking services provided by Blue Ridge Bank, N.A., Member FDIC. The Stessa Cash Management Visa® Debit Card is issued by Blue Ridge Bank, N.A., pursuant to a license from Visa U.S.A. Inc., and may be used everywhere Visa debit cards are accepted. Your funds are FDIC insured up to $250,000 through Blue Ridge Bank; Member FDIC.
Essentials is a free plan and Pro is a premium plan. Annual Percentage Yield (APY) of 3.12% on deposit accounts for new Essentials users signing up and 5.08% for the Pro users is accurate as of August 25, 2023. APY for the account may change at any time, before or after the account is opened. No minimum balance or opening deposit required. Fees could reduce earnings on the account.
Account holders can earn 1.10% cash back on debit card purchases. Cash back earned each month will be credited to your account by the next month's statement cycle. ATM transactions, the purchase of money orders or cash equivalents, loan payments and account funding made with your debit card are not eligible for cash back rewards. No minimum opening deposit and no minimum balance requirements. 
Terms and eligibility requirements apply and are subject to change. See T&Cs for cash back program for more details.