If you're a property manager, you probably know about the different online property management platforms out there. But which one is best for your needs? 
In this post, we'll compare TenantCloud and Apartments.com (formerly Cozy) to help you decide. We'll also discuss Stessa, a rental property software with a variety of services, and why it might be useful for many investment property owners.
---
Key takeaways
TenantCloud delivers a comprehensive property management package with 4 pricing alternatives, including a free basic plan.

Apartments.com (formerly Cozy) is a free, cloud-based property management software that allows investors to manage their rental properties from start to finish.

Stessa is a cloud-based reporting and accounting system that works with unlimited residential properties and portfolios of single-family rentals (SFRs), multifamily residences, and short-term vacation rentals.
---
TenantCloud overview
TenantCloud is a cloud-based property management software designed for residential real estate investors, landlords, and property managers. 
If you're searching for affordable, full-featured property management software, TenantCloud could be worth checking out. The program has various features, including an online payment portal and a lease management system.
According to the company's website, more than 2 million landlords and tenants in all 50 U.S. states and 40 countries use TenantCloud.
Pricing
TenantCloud offers 3 levels: free, $15 a month, and $50 a month. Plus, there is a customized pricing plan for investors and property managers with large portfolios. 
All plans include an unlimited number of properties and units and an unlimited number of online rental listings. The company also offers a 20% discount for customers who pay annually and a free trial.
Free
The Free plan is for investors who want to test the waters with TenantCloud. The following are some of the features included in the Free version:
Listings

Scheduling

Applicants

Screenings

Rent payments

Maintenance requests

Vendor network access
Starter
The Starter plan is a good alternative for landlords who want additional services, such as tax reporting and Google Calendar synchronization. The Starter plan costs $15 a month and includes everything the Free plan does, plus some additional features:
Premium leads for online listings

Tax reporting and more

Digital signature

Lead tracking for customer relationship management (CRM)

Autopay for tenants

Google Calendar sync
Growth
For landlords with small and medium-sized portfolios seeking extra features, TenantCloud recommends the Growth plan. The Growth plan is $50 per month and includes all of the features available in the Free and Starter plans, plus:
Property manager tools

Individual owner portal

Management fees

Lease builder

Property message board

QuickBooks Online sync
Business
The Business plan is for property managers who want more options and pricing customizations. Those interested in the Business plan should contact the company for pricing, which currently includes everything in the Free, Starter, and Growth plans, plus:
Team management and tools

Task management

Customization
Software features
Apartments.com, Trulia, and Zillow are just a few of the popular online listing websites that automatically syndicate listings on TenantCloud

Owners are given the option to create their own listing websites with contact information, pictures of available properties, and customized rental applications.

Rental applications can be completed online with application forms and screening questions tailored to your needs.

TransUnion offers 3 different tenant screening packages.

Landlord forms provide templates for tenant leases, owner agreements, state-specific documents, and notifications to tenants.

Rent payments can be sent and received online using a debit card, credit card, and ACH.

To set up recurring monthly payments and enable automatic late fees, tenants can use AutoPay.

Landlords can process maintenance requests online, accept videos and photographs  of required repairs, assign tasks to service professionals, and track time and materials.

Landlords can use accounting solutions for storing, sorting, retrieving, and summarizing financial data, such as real estate transactions and balances, and download files in Excel, CSV, PDF, QuickBooks, and Numbers formats.

Landlords can sync TenantCloud with QuickBooks online for income and expense transactions and financial statement preparation.
Apartments.com (formerly Cozy) overview
Apartments.com added Cozy to its list of partners to help landlords advertise and rent any type of residential property, including single-family houses, townhouses, condos, and units in a multifamily home.
Apartments.com's free, cloud-based software provides a comprehensive set of property management tools. Property owners and landlords can use Apartments.com to market rentals, screen tenants, sign leases, receive rent payments and deposits, and make maintenance requests.
Homes available for rent are advertised on several of the most popular rental listing websites to reach over 25 million monthly prospective renters. Since 1992, Apartments.com has aided landlords and tenants in signing over 42 million leases.
Pricing
Apartments.com's rental management suite can list a vacant property, screen tenants and sign a lease, collect rent payments online, track and manage expenses, and receive and manage maintenance requests. All of these functions are free to use on Apartments.com.
Apartments.com also provides premium listings, collects application and screening fees from prospective tenants, and collects transaction fees if rent is paid with a debit or credit card.
Software features
Listings are automatically placed on 5 of the most popular websites on the Apartments.com network: ForRent.com, Apartment Finder, ApartmentHomeLiving, Apartments.com, and Apartamentos.com.

By purchasing a premium listing, landlords may get more exposure by having their property displayed on 7 network sites, gaining higher search rankings, and uploading videos to show the property.

A landlord can be contacted by phone or email, or the

Apply Now

button may be used to begin the application process.

TransUnion provides credit reports and includes a breakdown of an applicant's total debt, credit payment history, and employment and address history.

Criminal and eviction reports are generated by searching national databases and county records.

Online rent payments can be made automatically each month to help tenants pay on time.

Landlords can track tenant rent payments, security deposits, and other move-in expenditures, such as prorated rent, via an online portal. 

When paying rent, tenants may use a free ACH transfer; otherwise, they must pay a small fee using a debit or credit card.

Landlords receive payments directly into their bank accounts each month.

Tenants can request repairs online and upload information, including photographs and videos.

The tenant portal allows renters to check on the status of their maintenance requests and contractor visits.

Landlords can track operating expenses by property from anywhere, anytime.
TenantCloud vs. Apartments.com
TenantCloud is a paid platform with different pricing tiers depending on the number of properties managed, while Apartments.com is a free platform with some premium features available for an additional fee. 
Here's a quick look at how TenantCloud and Apartments.com compare.
Listings
TenantCloud offers automatic listing syndication to listing partners Apartments.com, Rentler, and Zillow Group to help investors gain maximum exposure. Landlords can also create a customized listing website for free to attract leads from prospective tenants. 
Apartments.com automatically places a listing on the top 5 most popular rental sites on the Apartments.com network. Additionally, by purchasing a premium listing, landlords may improve exposure through 2 additional network sites, improved search result placement, a more prominent ad, and property videos.
Tenant screening
TenantCloud partners with TransUnion to offer 3 different tenant screening packages, including a background and credit check, national evictions records search, and identity validation. Personal data is protected and delivered in accordance with the Fair Credit Reporting Act (FCRA).
Apartments.com utilizes TransUnion to run credit reports and criminal and eviction histories. In addition, Apartments.com's comprehensive tenant screening reports include employment and address history, total reported debt breakdown, and detailed credit account payment history.
Leasing
Landlords can upload their own lease agreements or create leases online with TenantCloud. The software provides rental agreement templates and digital signing. Once the lease agreement is executed, a landlord can set up the rent amount, security deposit, and other fees and request payment from the tenant online.
Apartments.com's online wizard takes landlords through a step-by-step procedure to develop an online lease agreement that complies with state law. All lease paperwork is signed electronically and stored online, eliminating the need for paper documents.
Online rent collection
AutoPay from TenantCloud lets a tenant set up a recurring monthly rent payment using ACH direct deposit or debit and credit card payments. Landlords can enable one-time or automatic late fees and allow partial payments, with funds deposited directly to the landlord's bank account.
Apartments.com allows tenants to make recurring rent payments online. Each month, funds are deposited to a landlord's bank account, and rent payments can be tracked via an online dashboard.
Financial reporting
TenantCloud syncs with QuickBooks Online to keep income and expenses up to date. Financial reports include deposits summary, general income, property expenses, amortization and depreciation tracker, and a P&L statement.
Landlords can manually record and review property expenses, categorize them as Schedule E tax categories, and submit receipts and photographs to organize and store online. The expense entry form includes fields for vendor and payment date, money spent, Internal Revenue Service (IRS) cost category, and a place to jot down notes about the expenditure.
Tax management
The tax preparation report and 1099 tax form from TenantCloud are used to calculate all property income and expenses, including management fees and depreciation expense, to help investors prepare IRS Schedule E. Data can be downloaded in Excel, CSV, QuickBooks, PDF, and Numbers formats.
Landlords using Apartments.com for tax management can download expenses based on a calendar year or a custom date range, as well as receipt images, in the download as a backup. Expense reports are generated in CSV and PDF formats following IRS Schedule E to simplify tax filing.
Stessa vs. TenantCloud vs. Apartments.com
TenantCloud is a comprehensive platform that offers online rent collection, tenant screening, financial reporting, and tax management tools. Apartments.com also offers online rent collection and tenant screening, but its focus is on simplifying the lease agreement process and providing easy-to-use financial reporting tools. 
Stessa, a Roofstock company, is a newer platform that offers a streamlined experience for landlords who own multiple properties. It includes features for portfolio management, online rent collection, and income and expense tracking.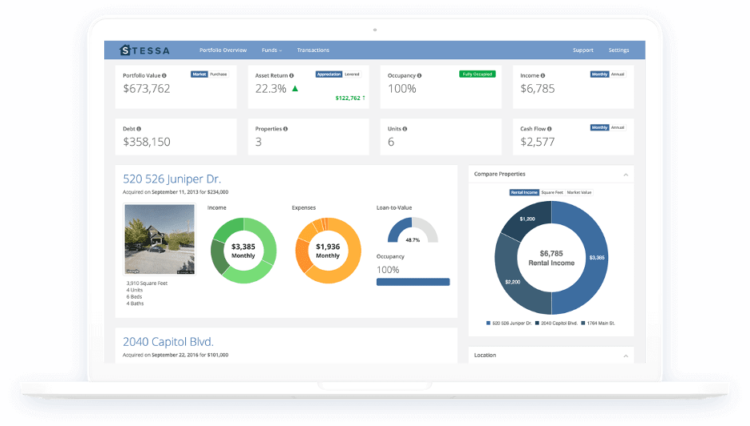 After signing up for a free account with Stessa and entering some basic property information, real estate investors can: 
Track unlimited properties and portfolios.

Get comprehensive performance dashboards at the property and portfolio levels.

Automate income and expense tracking by linking property bank accounts.

Collect tenant

rent payments online

using ACH transfer (tenants can also setup Autopay so they never miss a deadline).

Track expenses on the go with the iOS and Android app.

Organize and store all real estate documents safely and securely.

Run important financial reports, including income, net-cash-flow, and capital expense (CapEx) statements.

Export tax-ready financials to make tax time a breeze.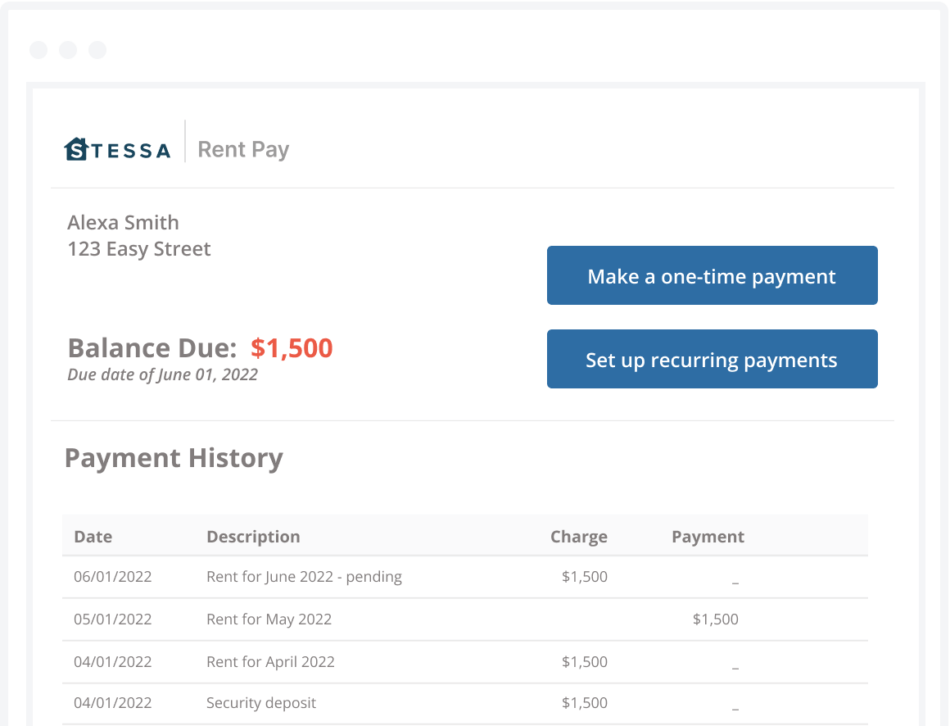 Closing thoughts
TenantCloud and Cozy offer a variety of features. However, some landlords may find that Stessa is a better choice than TenantCloud or Cozy because it offers a more streamlined experience for managing multiple properties.
Stessa is free and includes features for online rent collection, income and expense tracking, and portfolio management, making it easier for landlords to stay on top of their business.