As a landlord or property manager looking for an online property management system, you have lots of choices. Two of the most popular are TenantCloud and RentRedi. So, which one is right for you?
In this post, we'll break down pros and cons of each system to help you make the best decision for your needs. 
To help you make the best choice possible, we're also including a review of Stessa, free rental property software that more than 100,000 investors already use to track over 250,000 properties with more than $60 billion in asset value.
---
Key takeaways
TenantCloud offers a variety of tools to manage rental property with free and paid plans.

RentRedi has subscription-based pricing plans that vary based on the billing cycle, plus an additional monthly fee if landlords want to generate financial reports.

With Stessa, real estate investors can track their property performance, finances, and tax reporting and collect rent online, all in one place for free.
---
TenantCloud overview
If you're in the market for affordable and feature-rich rental property software, TenantCloud is worth considering. TenantCloud offers an online payment system and leasing management system to make life simpler for landlords by providing them with a configurable online platform to manage properties and tenants.
Current pricing
TenantCloud currently comes with 4 pricing levels:
Free: $0 a month

Starter: $15 a month

Growth: $50 a month

Business: Customized pricing plan for investors and property managers with large-sized

portfolios
All pricing plans include an unlimited number of properties and units and an unlimited number of rental postings on the internet. Customers who pay yearly save 20%, and the company also provides a free trial.
TenantCloud also offers tenant screening and online rent payments, with fees paid by the tenant:
Tenant screening
Full check report: $39 each

Credit check report: $30 each

Background check report: $25 each
Online rent payments
Automated Clearing House (ACH) payments: Free

Credit/debit card: 2.9% plus $.30 per transaction
Software features
Free
The free edition is for investors who want a sneak peek at the software. The following are some of the features available in the Free plan:
Listings

Scheduling

Applicants

Screenings

Rent payments

Maintenance requests

Vendor network access
Starter
You may want to consider the Starter plan if you're looking for extra services like tax report generation and Google Calendar synchronization. For just $15 per month, the Starter package includes all of the features from the Free plan, plus some added benefits:
Premium leads for online listings

Tax reporting and more

Digital signatures

Lead tracking for customer relationship management (CRM)

Autopay for tenants

Google Calendar sync
Growth
The TenantCloud Growth plan is ideal for landlords with small to medium portfolios who want additional features like a personalized owner portal and QuickBooks Online synchronization. This plan, which currently costs $50 per month, provides all the functions available in the Free and Starter plans, plus:
Everything in the Free and Starter plans

Property manager tools

Individual owner portal

Management fees

Lease builder

Property message board

QuickBooks Online sync
Business
The Business plan from TenantCloud offers more customization and flexibility for landlords and property managers. If you're interested in learning more about what this plan entails, contact TenantCloud for pricing information. In addition to the features included in the Free, Starter, and Growth plans, the Business plan also provides:
Team management and tools

Task management

Customization
RentRedi overview
If you're a landlord searching for a rental property software solution that's easy to use and adopt, RentRedi may be worth investigating. Its technology is affordable for self-managing landlords, and its computer and mobile app offer an all-in-one solution that can be used for current and future needs.
Current pricing
RentRedi's pricing model is based on subscriptions that vary according to the billing cycle. Landlords can use the software for an unlimited number of rentals, tenants, team members, rental listings, and customer support. However, REI Hub must be subscribed to separately in order to get financial reporting and accounting features:
Monthly: $19.95

Quarterly: $15 a month (paid every 3 months)

Annual: $9 a month (paid every 12 months)
REI Hub pricing for financial and accounting is monthly with no long-term contract required:
Up to 3 units: $15 a month

4 to 10 units: $25 a month

11 to 20 units: $45 a month

20+ units: $99 a month
Software features
RentRedi automatically syndicates vacant property listings to Realtor.com and Doorsteps.com, 2 of its affiliated sites.

Upload photographs, create virtual tours, and handle listings, marketing, and showings on a single online dashboard.

TransUnion provides access to comprehensive credit, criminal, and eviction history reports for every applicant through RentRedi.

Landlords may create and submit their own lease documents to RentRedi for digital signing.

Rent, late fees, evictions, and rent reminders can all be managed via the landlord dashboard.

Rent payments may be made online using a bank transfer, credit or debit card, or cash at over 90,000 retail outlets with RentRedi.

Landlords can send in-app push notifications to renters and receive maintenance requests.

REI Hub provides landlord accounting and financial statements as a premium service to RentRedi subscribers.

Once properties are synced and financial accounts are connected between RentRedi and REI Hub, subscribers can upload and track income and expenses.

REI Hub offers RentRedi users a comprehensive set of financial reports, including profit and loss (P&L) statement, cash-flow statement, balance sheet, and tax-ready Internal Revenue Service (IRS) Schedule E documents – all of which may be found through their RentRedi account.
TenantCloud vs. RentRedi
TenantCloud and RentRedi are both popular property management software programs. But which one is the better choice for your needs? Here's a breakdown of the most important features landlords look for to help you decide which platform is right for you.
Listings
TenantCloud connects with online platforms such as Apartments.com, Rentler, and Zillow Group to expand your listings' reach. You can also create a property-specific website to collect interest from potential tenants at no cost.
RentRedi listings are quickly syndicated to partner sites Realtor.com and Doorsteps.com, which is a substantial advantage for landlords. Furthermore, subscribers gain access to unlimited professional marketing pages to post on social media and can schedule tours with interested tenants only.
Tenant screening
Both TenantCloud and RentRedi partner with TransUnion so landlords can conduct tenant screening. TenantCloud offers 3 tenant screening packages with the fee charged to the applicant. A full-check report is currently $39, a credit check report $30, and a background check report $25. By comparison, all tenant screening on RentRedi includes full credit, criminal, and eviction history reports for a $35 processing fee paid for by the applicant.
Leasing
A landlord may upload their own lease agreement or create a new one using TenantCloud. The program offers rental agreement templates and electronic signature capabilities. Before taking payment from the tenant online after the lease has been signed, a landlord may use the system to define the rent amount, security deposit, and other costs.
RentRedi's platform allows you to share, sign, and send lease documents. When the forms are ready to sign, your tenants will be notified, and they may use the RentRedi Tenant App to electronically sign. The lease can be saved online with the tenant's profile after it has been signed.
Online rent collection
TenantCloud's Auto Pay system makes it easy for tenants to pay their monthly rent. They can use ACH direct deposit, debit cards, or credit cards, and landlords have the option to apply one-time or automatic late fees if necessary. Tenants can also make partial payments, and funds can be transferred directly to the landlord's bank account if desired. ACH payments are presently free of charge, but there is a fee of 2.9% plus $0.30 for paying rent with a debit or credit card.
RentRedi provides various payment solutions that can be customized to your preferences. This includes how you want to accept payments and if you desire to charge tenants processing fees. You can accept payments through ACH, credit and debit card, or cash deposit at over 90,000 retail locations. ACH/cash are presently $1 per payment, and card payments are 2.9% of the payment plus $0.30.
Financial reporting
TenantCloud integrates with QuickBooks Online to help keep your property management finances organized. The financial documents available include a summary of deposits, general revenue, property expenses, amortization and depreciation tracking, and a profit and loss statement.
RentRedi requires an add-on paid subscription with REI Hub to access financial reporting and accounting. After signing up, landlords can sync their properties on RentRedi and view recent transactions as well as standardized reporting templates.
Tax management
TenantCloud's Tax Preparation Report and 1099 Tax Form are used to compute all property income and expenses, including management fees and depreciation cost, in order to generate IRS Schedule E. Data downloads are available in Excel, CSV, QuickBooks, PDF, and Numbers file formats.
Provided you have a paid subscription with REI Hub; you can use RentRedi to generate reports, including a P&L, cash-flow statement, and real estate balance sheet. The system will also produce a Schedule E for filing your year-end tax return.
Stessa vs. TenantCloud and RentRedi
If you own a small rental property portfolio, you might not feel you need to pay for all the features that TenantCloud and RentRedi offer. That's why Stessa created an easy-to-use financial management system that is free for everyone.
Stessa, a Roofstock company, offers free cloud-based software that helps real estate investors maximize profits through smart money management, automated income, and expense tracking, personalized reporting, and more.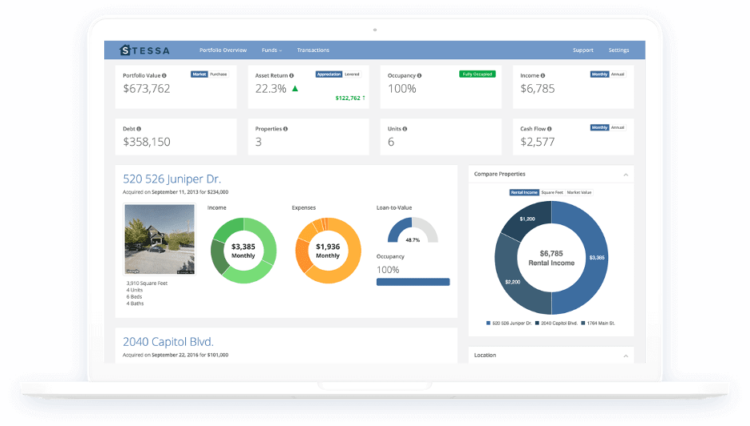 The company was launched in 2016 by 2 experienced real estate investors with 30 years of combined experience. Stessa was built to take care of monitoring and analyzing details, so you don't have to. More than 100,000 investors already use Stessa to track over 250,000 properties with more than $60 billion in asset value. 
By tracking property performance, finances, and records in one place, Stessa helps property investors save time and optimize their investments.
To get started, simply sign up for a free account and enter basic information about your properties. Within minutes, you'll have access to your own comprehensive online dashboard where you can track property and portfolio performance in real time:
Track unlimited single-family rentals, multifamily properties, short-term vacation rentals, and complete portfolios.

Monitor your rental property investments and portfolios from a single, comprehensive dashboard.

Automate income and expense tracking after linking property bank and mortgage accounts.

A real estate balance sheet periodically updates outstanding mortgage balance, property value, and owner equity.

Use

Stessa online rent collection

to accept tenant rent payments online with ACH transfer.

Stessa Cash Management

allows you to create free business or sole proprietorship accounts, which allow you to open a dedicated account for each rental property or portfolio. You can also earn 2.00% APY* on Cash Management deposit accounts.

Track expenses on the go with the iOS and Android apps.

Organize and store all real estate documents in the cloud safely and securely.

Generate key financial reports, including income, net-cash-flow, and capital expense statements.

Export tax-ready financials and access the

Stessa Tax Center

to make reporting a breeze.
* Annual Percentage Yield (APY) of 2.00% is effective as of 8/8/2022. No minimum opening deposit or account balance required. Fees could affect earnings on the account. Stessa is a financial technology company, not a bank. Banking services provided by Blue Ridge Bank, N.A., member FDIC. 
Closing thoughts
When it comes to property management software, there are a few key features that are essential. Both TenantCloud and RentRedi offer these features, but Stessa provides many of the same features for free – no matter how many units you own. So if you're looking for a comprehensive, easy-to-use system that won't break the bank, Stessa might be the best choice for many landlords.