TurboTenant and Apartments.com (formerly Cozy) are 2 of the most popular rental property software programs available today. Both offer a wide range of features and benefits that make them ideal for landlords and property managers. But which one is the best for your needs? 
To help you decide, we'll compare TurboTenant and Apartments.com. We'll also take a look at Stessa, another free option that over 100,000 investors currently use.
Read on to see how they compare in terms of features, pricing, and more. 
---
Key takeaways
TurboTenant is a powerful rental property software that makes it easy for landlords and property managers to track properties and tenants.

Apartments.com (formerly Cozy) offers a wide range of features, making it ideal for landlords with a variety of portfolio sizes.

Stessa is a free option that over 100,000 investors already use. It offers many of the same features as TurboTenant and Apartments.com, with automatic income and expense tracking and online rent payments.
---
TurboTenant overview
TurboTenant features include rental advertising, online tenant applications, tenant screening, online rent payments, and tenant management. 
The software may be a good choice for DIY landlords looking for an easy way to manage an unlimited number of rental properties. TurboTenant provides 24/7 customer service online and by phone, passing most of these costs to tenants. Landlords using the free plan may purchase optional services, including lease agreements, landlord forms, and digital signatures for online lease signing.
Pricing
TurboTenant offers a free pricing plan and a premium plan billed annually at $59. The premium plan may be a better choice for landlords with multiple rental properties, due to the additional features included in the price:
Free
Unlimited properties

Rental advertising

Lead management

Applications and screening

Automated reference checks

Rent payments

Rent reporting

Expense tracking

Maintenance requests

Messaging

Document management

Chat support
Landlords using the free TurboTenant plan are charged for:
State-specific lease agreements: $39 per lease

Lease addendums: $15 per addendum

E-signatures: $9 per document

Landlord forms pack: $145
Premium
Includes all of the free features, plus:
Faster response time for chat support

Phone support

Expedited rent payouts

Unlimited connected bank accounts

State-specific lease agreements 

Lease addendums 

Digital signatures 

Landlord forms pack 
Software features
Professional listing page including property description, amenities, and photos

Advertising on dozens of rental listing websites via TurboTenant

Automatic lead tracking, including tenant contact information

Customized rental applications filled out entirely online with any mobile device

Instant tenant screening from TransUnion, including an extensive credit report, comprehensive criminal history background check, and past evictions report

State-specific leases drafted by local lawyers and landlords to save time and money

Landlord forms pack with more than 32 essential rental forms and addendums

Electronic signatures to execute leases online, then upload and store documents to share and access from anywhere at any time

Online rent payments for tenants to make payments with just a few clicks

Automatic payment reminders, auto late fees, and records of all rent payments

Rental expense tracking in TurboTenant by manually entering expenses and assigning them to the correct property and Schedule E category

Expense receipts attached and stored as backups

Downloadable CSV file when tax time rolls around for uploading to accounting software or sending to a certified public accountant (CPA)
Apartments.com (formerly Cozy) overview
Apartments.com makes it easy for landlords to collect rent, track expenses, communicate with tenants, and market properties. Apartments.com also offers an easy-to-use platform for managing all aspects of your rental business. 
Pricing
Apartments.com's rental property tools are free. With this software, landlords can focus on finding the perfect tenant for their vacant property. Apartments.com makes it simple to accept rent applications and screen tenants online. You can also generate and sign leases, collect rent payments, track expenses, and receive and manage maintenance requests.
Everything connected to your rental property is organized and accessible in Apartments.com's rental management tools. The business also provides premium listings, charges prospective tenants application and screening fees, and takes transaction fees if rent is paid with a debit or credit card.
Software features
Apartments.com makes it easy to list a rental property on 5 of the most popular websites for finding apartments: Apartments.com, ForRent.com, Apartment Finder, ApartmentHomeLiving, and Apartamentos.com.

The landlord may be reached by phone or email, or applicants can click the

Apply Now

button to begin the application process.

Purchasing a premium listing helps property owners to get more exposure by showing on 7 different network sites and achieving higher search results.

Applicants authenticate their identities and pay for the tenant screening, which are recorded as "soft inquiries" to avoid affecting a renter's credit.

Equifax, TransUnion, and Experian issue Apartments.com's credit reports. These records detail an applicant's overall debt, credit repayment history, and job and address history.

Reports on criminal and eviction events are generated by searching national databases and county records.

A landlord may use Apartments.com's online wizard to draft one-of-a-kind leases for their tenants.

Lease agreements are drawn up based on the property's location, using input from industry and local authority professionals.

Lease contracts may be completed online using digital signatures and stored and retrieved at any time.

Tenants may set up online recurring payments to ensure that their rent is paid on time.

Timely payment reminders are sent to tenants every month, including late fees if the rent is past due.

Landlords may check their tenants' rent payments, security deposits, and other move-in costs, such as prorated rent, online.

Rent payments through Automated Clearing House (ACH) transfers are free for renters, but tenants must pay a small fee for using a debit or credit card.

Landlords receive payments directly into their bank accounts each month.

Repairs can be emailed and scheduled with landlord service professionals.

The online portal informs tenants about maintenance schedules, timelines, and contractor visits.

Landlords can maintain and store maintenance requests, receipts, and notes.

Landlords can track operating expenses by property anywhere, anytime.

Landlords can attach and store images and receipts to create a record.

Landlords can assign tax categories and export expenses in CSV and PDF formats summarized by property and tax category.
TurboTenant vs. Apartments.com
Here's a comparison to help you decide which one is best for your needs as an investor.
Listings
After entering a vacant property on TurboTenant, it will be listed for free on many popular websites, including Realtor.com, Apartment List, Rent.com, Facebook Marketplace, and Craigslist. Features include lead tracking, prescreening, and a listing page for each rental property.
When a vacant property is listed on Apartments.com, it will be automatically added to the network's top 5 most popular rental websites. In addition, landlords may get more exposure for vacant properties by purchasing a premium listing. This provides extra visibility and increased exposure through enhanced search results, more prominent ads, and property videos.
Tenant screening
TurboTenant reports an applicant's credit, criminal, and eviction history. Applicants pay for these reports. All credit reports come from TransUnion. The credit report is a soft inquiry, meaning it won't negatively impact the renter's credit score.
Apartments.com uses TransUnion to run criminal, eviction, and credit reports. Applicants verify their identities and pay for their screenings. Apartments.com's comprehensive tenant screening reports include employment and residential address histories, a complete debt breakdown, and in-depth credit account payment history.
Leasing
TurboTenant helps landlords create state-specific online lease agreements. They can input all the basic information, including rent, fees, lessees, and pet allowances. Once the lease is complete, it can be sent out for digital signatures. Landlords can store the signed lease in their TurboTenant account to access it whenever needed.
Apartments.com's online wizard can create a state-compliant online lease agreement. The lease agreement has been expert-reviewed and customized for the region where your rental property is located. All lease documents will be executed using digital signatures, securely stored, and available online for your convenience.
Online rent collection
With TurboTenant, landlords can connect a bank account, and the system will automatically charge rent, late fees, security deposits, and more. Tenants can be reminded to pay through the system and pay with a credit card, debit card, or ACH bank transfer. Tenants can also set up autopay.
Apartments.com allows renters to make recurring rent payments online. Landlords can track payments through an online dashboard and receive funds directly into their bank accounts.
Financial reporting
Expenses are manually entered on TurboTenant by date, property, and expense category. Landlords can export the expenses by creating and downloading a CSV to give to their CPA or upload to any financial software, such as QuickBooks. 
Apartments.com lets landlords record and manage rental expenses. They can use Apartments.com to input and track costs for a property, categorize them as Schedule E tax categories, and upload and attach receipts and pictures to organize and store online. The entry form features fields for vendor and payment date, amount, Internal Revenue Service (IRS) expense category, and a space to provide notes regarding the expenditure.
Tax management
TurboTenant tracks and organizes expenses according to the IRS Schedule E categories. Expense data can be exported using any date range, such as year-end, and uploaded to financial software like QuickBooks or Bench or sent to a CPA.
Apartments.com tracks information in an easy, secure way. Users can download expenses based on the year or a custom date range, as well as receipt images for backup. A CSV and PDF file are also produced as part of the Schedule E expenses report.
Stessa vs. TurboTenant vs. Apartments.com
While both TurboTenant and Apartments.com have a lot of features, owners of small property portfolios may not need all of them.
Stessa, a Roofstock company, may be a better option. Stessa is entirely free and simple to use. Over 100,000 investors already use Stessa to monitor more than 250,000 properties with a total asset value of more than $60 billion.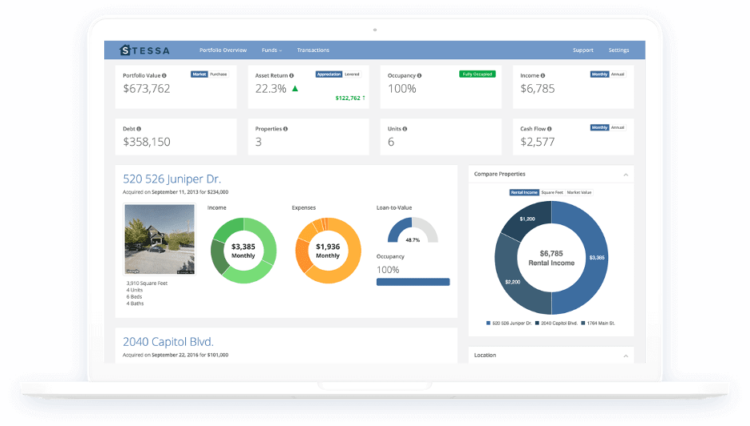 Owners can track rental property investments from a single, comprehensive online dashboard. Real estate investors can work to maximize profits through smart money management, automated income and expense tracking, personalized reporting, and more:
Track unlimited

single-family rentals

, multifamily properties, short-term vacation rentals, and entire portfolios.

Monitor rental property investments from a single, comprehensive online dashboard.

Link property bank and mortgage accounts automatically to track income, expenses, and owner's equity.

Collect tenant rent payments online using ACH transfers to improve on-time rent payments (tenants can also use Autopay).

Track expenses on the go with the iOS and Android apps.

Organize and store all real estate documents safely and securely online.

Run unlimited financial reports for free, including income, net-cash-flow, and capital expense (CapEx) statements.

Export tax-ready financials to make tax time a breeze.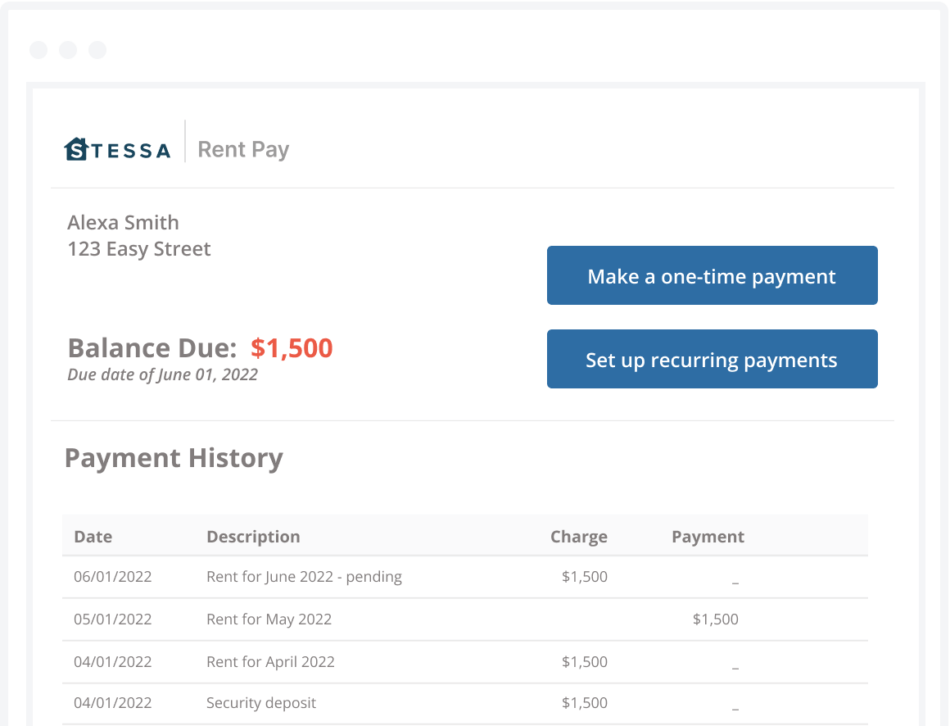 Closing thoughts
While both TurboTenant and Apartments.com have a lot to offer, owners of small portfolios may find that they don't need all the bells and whistles. Stessa is a free and simple alternative that may be a better fit for smaller rental operations.