It's that time of year again, as the year winds down and we begin to hear about what is to come for housing in 2023. Let's take a look at some of the recent 2023 housing predictions as we close out 2022.
CoStar predicts that as multifamily rents continue to decrease for the fourth straight month in November, this will extend well into 2023 with a possible looming recession. "With a potential recession looming in the first half of 2023, the current mismatch between supply and demand appears likely to widen even more. Therefore, the downward pressure on rents appears likely to continue across the nation, but especially in oversupplied Sun Belt markets."
Rick Sharga, EVP of Market Intelligence for ATTOM Data Solutions, reported by Bankrate, believes that interest rates will peak at 8% and 7.25% for 30-year and 15-year loans in early 2023, respectively, and "then gradually come down over the course of the year somewhat to hang in the range of 6.0 percent and 5.25 percent, respectively. This is entirely dependent on the Federal Reserve's ability to get inflation under control and ease up on its aggressive rate increases."
Zillow makes several predictions for where real estate is heading in 2023, including:
The Midwest to feature front and center in 2023

: "[A]s affordability has become the key driver of both supply and demand in the market, places that still feature reasonable prices are already seeing momentum shift their way, and should have the healthiest housing markets in 2023. Enter the Midwest."

Buying with friends and family will gain momentum

: "With housing costs rising far beyond previous affordability norms, those chasing down homeownership are turning to unconventional means of making it pencil out financially, and this should continue in 2023."

Affordability crisis will stabilize, if not improve

: "At the very least the market should stabilize, making it possible for households to budget and plan for housing decisions coming up in the months and years ahead."
Danielle Hale, chief economist at Realtor.com, offers some interesting 2023 predictions as well:
Mortgage rates to average 7.4% in 2023

Year-over-year existing median home price appreciation of 5.4%

Existing home sale inventory to jump 22.8% year over year

Rent growth to sit at 6.3%
"After 13 months of double-digit increases, year-over-year rent growth slowed to a single-digit pace in the late summer of 2022. Nevertheless, the cooling off does not mean the rental market will return to what was typical before the pandemic within the short term, especially when taking the high inflation rate and the strong labor market into consideration."
Finally, Windermere Real Estate Chief Economist Matthew Gardner offers some additional predictions via Inman on the 2023 housing market:
There will be no housing bubble.

Interest rates will drop.

We won't see a buyer's market, but a more balanced one.

New construction is unlikely to increase.

Sellers will need to become more realistic with their pricing.
Short-term rental (STR) update
Airbnb made headlines last week after announcing it would partner with larger apartment owners to enable tenants to rent out their units on the platform. Dennis Schaal of Skift reports that the newly launched Airbnb-Friendly Apartments program will allow renters, with landlord permission, to list their units on Airbnb. Landlords will earn a fee, and renters can earn the remaining commissions as supplementary income. Reportedly, over the first 3 months of the program, the average host hosted 9 nights per month and earned an average of $900 net of the Airbnb and landlord fees.
Paul Bergeron of Globe Street comments on this news, noting that "[r]esidents who sign a lease can sublease their units for a fixed number of days a year, depending on the building owner and/or local laws, but not more than 180 days. Owners who partner with the service will get a share of the total booking revenue from Airbnb sublets—20% in most cases."
This comes amidst news that the STR industry is growing. According to a recent press release from Technavio, the global STR industry is expected to grow by $79.3B between 2021 and 2026, which is a compounded annual growth rate of 8.42%. Further, the online travel agency Wander recently secured a $100M credit facility from Credit Suisse to expand its growth.
Finally, AirDNA sheds some light on this growth, reporting that despite the summer travel season winding down, September had an unusually strong month for occupancy. Further, average daily rates (ADRs) continued to grow 5.6% year over year in September. The ADR growth was seen in all segments, except for luxury.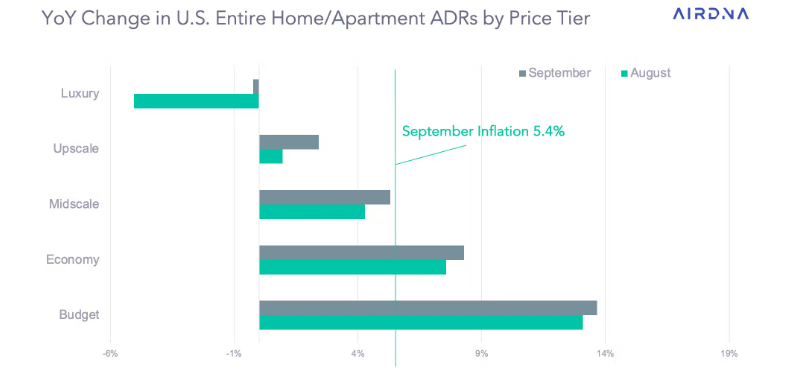 Source: AirDNA (December 2022)
Further, most of the current STR supply was added after 2020, according to AirDNA.
Source: AirDNA (November 2022)
Home price update
Housing prices continue to climb despite growth decelerating from previous highs. According to Selma Hepp, the CoreLogic S&P Case-Shiller Index saw a 10.6% year-over-year jump in September, down from the 13% gain the previous month. This is the sixth straight month of decelerating home prices.
Source: CoreLogic (December 2022)
"At this pace, and according CoreLogic's Home Price Index forecast, annual growth is expected to slow to 8% by December and 0% by the spring of 2023. Some markets will see more notable price slowing and potential declines in 2023, though decreases are expected to remain regional and specific to metro areas that saw relatively more price growth during the pandemic, such as Las Vegas and Phoenix."
Dana Anderson of Redfin reports on home prices in Boise, Idaho; Phoenix; and Austin, Texas, noting that price slowdowns have been most prominent in these markets. For example, Austin's median price per square foot increased only 1.3% year over year in October, down from 24% year over year in February 2022. In Phoenix, price per square foot was up 6%, down from 29% in February. 
Redfin Senior Economist Sheharyar Bokhari had this to say about this local data:
"The forces slowing the housing market, such as high mortgage rates, are having an outsized impact on places like Austin and Boise that saw home prices skyrocket over the last few years…Home prices can only rise by double digits for so long before the growth becomes unsustainable. High rates and stumbling tech stocks are making it unsustainable quite quickly, especially in destinations popular with tech workers. Plus, many of the out-of-towners with big budgets who wanted to move into those places already have."
Lastly, a separate press release on CoreLogic's Home Price Index (HPI) for October 2022 showed some interesting data points for investors:
U.S. home prices (including distressed sales) increased 10.1% year over year in October 2022 compared to October 2021. On a month-over-month basis, home prices declined by 0.1% compared to September 2022.

In October, annual appreciation of detached properties (10.1%) was 0.3 percentage points higher than that of attached properties (9.8%).

Annual U.S. home price gains are forecast to slow to 4.1% by October 2023.

Miami posted the highest year-over-year home price increase of the country's 20 largest metro areas in October, at 22.6%, while Tampa, Florida, retained the second slot at 20%.

Florida and South Carolina recorded the highest home price gains, 20.2% and 16.1%, respectively. Georgia and North Carolina tied for third, with 15.3% year-over-year increases. Washington, D.C., ranked last for appreciation at 0.2%.