As a landlord, whether you like it or not, you need to have your finances in order to run an effective business. Keeping a shoebox full of receipts is no longer necessary or practical in today's digital world. 
The good news is there are now quite a few rental property accounting software platforms available to help landlords automate and manage every financial aspect of their business. These solutions often include handy mobile apps and some excel at helping you track rental property expenses, income, deductions, and other key real estate investing metrics.
Here's a detailed overview of the best accounting software solutions for landlords. Find the one that suits your particular needs, budget, and investing experience.
What to look for in a good rental property accounting tool
Keeping up with your finances is critical to maintaining a profitable rental business. 
You need more than a simple accounting tool. Instead, you want comprehensive, intuitive, and powerful software to handle the unique challenges and opportunities of managing rental properties.
Here are some key features we recommend you look for in a software tool:
User-friendly interface:

You want software that's easy to navigate, especially for those who aren't tech-savvy. An intuitive design makes managing your properties and finances straightforward.

Extensive financial tracking:

The platform should provide a complete picture of your financial situation, including income, expenses, net cash flow, and valuations. Look for software that automatically categorizes transactions for easy analysis and reporting.

Real-time reports:

Access to real-time performance metrics like net operating income, appreciation, and cap rates can help you make more informed decisions about your properties.

Automated rent collection:

This feature streamlines the rent collection process. It sends rent reminders, alerts, and payment updates while reducing the need for additional third-party apps like

PayPal, Venmo, or Zelle

.

Tenant screening services:

This tool helps you mitigate potential financial losses by selecting responsible tenants with verified income sources, no evictions, and a solid track record.

Integration capabilities:

Any software should integrate seamlessly with other platforms you use, such as property management portals or bank accounts. This way, all your information is in one place.

Secure data storage:

Your financial data should be safely stored and encrypted to prevent unauthorized access.

Scalability:

Whether you have a single rental unit or a larger portfolio across multiple locations, choose a tool that can scale according to your needs and future plans

.
The top rental property accounting tools for landlords
Most of these top software picks have the essential features outlined above but differ in pricing. The one you choose depends on your needs as a landlord and the size and type of assets in your portfolio.
Stessa
Stessa is a platform designed specifically for owners of residential rental properties.
Whether you're a new investor with one rental unit or a seasoned professional managing a multi-family portfolio, Stessa offers an array of tools to streamline your operations and maximize your investment returns.
Stessa's intuitive interface and robust features take the guesswork out of asset and property management, letting you focus on growing your rental business. Its unique positioning as "asset management" software sets it apart from traditional property management tools.
Built to help investors optimize portfolio performance across a number of key metrics, Stessa provides real-time visibility into critical financial and operational data, automates income and expense tracking, and even offers automated rent collection services.
Security is also a top priority for Stessa, with multi-layer encryption that protects sensitive information at rest and in transit.
Key features
Real-time reporting:

Get 24/7 visibility into your portfolio's performance with automatically generated reports, updated in real time.

Automated income and expense tracking:

Stessa's automated and secure system organizes your transactions with precision. Connect Stessa directly to your banks, lenders, credit cards, and other financial service providers for automatic data imports.

Rent collection:

Simplify the

rent collection process

with reminders and payment updates. There's no need for any third-party apps.

Cash management:

Enjoy a hassle-free banking experience with real-time transaction categorization, cash back on purchases*, and no fees on monthly maintenance or bounced checks.

Integration capabilities:

Stessa connects to property management software and financial accounts to import transactions and give you an overview of key metrics in one place.

Unlimited properties:

There's currently no limit to how many rental properties you can set up on the platform.

Secure data storage:

Stessa uses industry-leading encryption to keep your data safe and secure.

Tax center: Tax time is a cinch thanks to the Stessa Tax Package feature. It helps aggregate your transactions and sends you personalized tax reports via email with digital copies of all of your receipts packaged into a single ZIP file.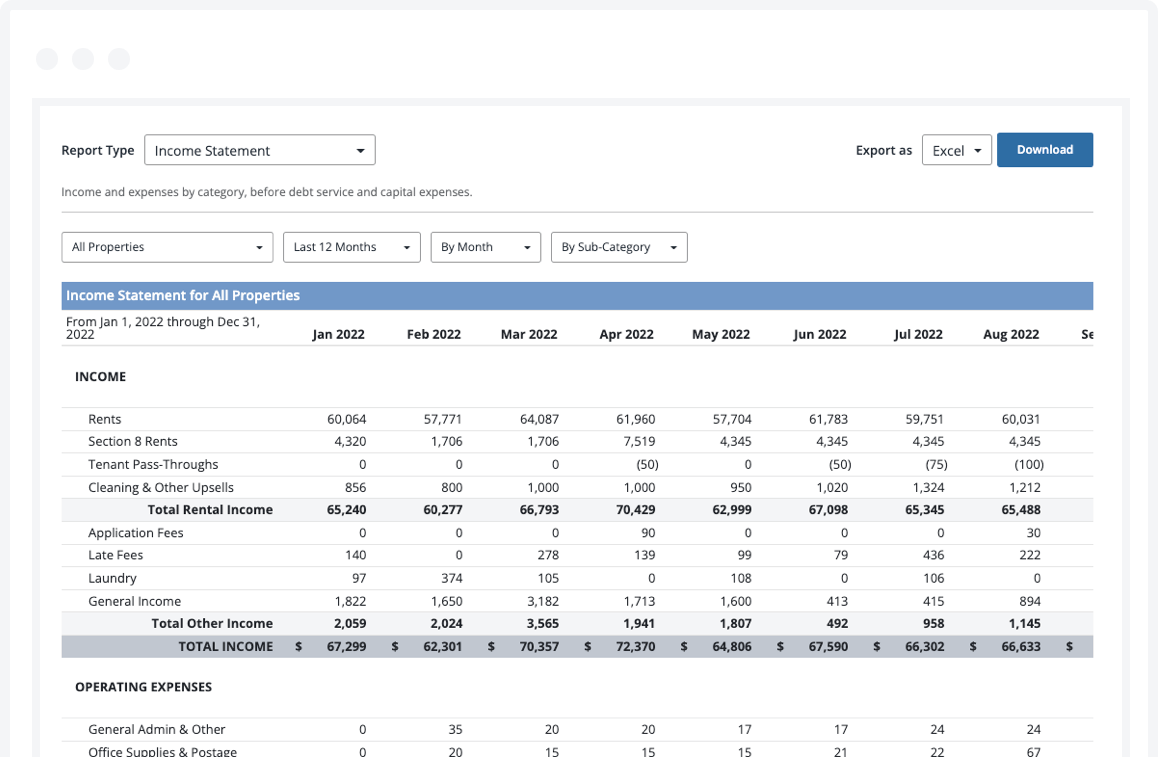 Pricing
Stessa offers a free tier and a paid option to suit the varying needs of rental property owners:
Stessa Essentials:

This is a free plan with core tools like unlimited properties, endless reporting, and the ability to connect as many bank accounts as you need.

Stessa Pro:

For $16/month (when billed annually) or $20/month (when billed monthly), users can access the full suite of Stessa features, including unlimited receipt scans, eSigning on up to five (5) documents per month, a premium 5.08% APY* on cash management balances, advanced reporting and tax readiness features, and other important extras.
QuickBooks
QuickBooks is well-known accounting software that businesses use across various industries, including real estate. It handles general business accounting needs, from invoicing and expense tracking to tax preparation and financial reporting.
However, QuickBooks(R) isn't designed solely for rental property management, which may result in a steeper learning curve for landlords looking to manage their portfolios online.
Also, while the software has an extensive suite of tools, its broad focus means it may have features that aren't as relevant for landlords and may lack some functionality that landlords need.
Key features
Expense tracking:

Categorize and track expenses, making it easier to monitor costs and prepare for tax season.

Invoicing:

Create and send invoices through QuickBooks, allowing for streamlined payment collection.

Financial reporting:

Generate several types of financial reports to get an overview of your business health.

Tax preparation tools:

Organize income and expenses in a tax-friendly way, simplifying the tax filing process.

Integration capabilities:

QuickBooks connects with many platforms, though its compatibility with specific property management tools may vary.
Pricing
QuickBooks has several pricing tiers, each with a different set of features. All plans come with a 30-day free trial and 50% off for the first 3 months:
Simple Start:

At $30/month, this plan has basic features like income and expense tracking, invoicing, and basic reporting.

Essentials:

Priced at $60/month, this tier includes bill management and time tracking.

Plus:

At $90/month, you get additional features like project and inventory tracking.

Advanced:

For $200/month, this plan offers more advanced reporting and automation capabilities.
AppFolio
AppFolio is property management software that caters primarily to professional property managers with residential, commercial, and student housing properties. 
While it has a range of tools, including online rent payment, vacancy posting, and maintenance requests, AppFolio may end up being a lot more muscle  than the typical rental property owner needs. As a result, it may not be economical for independent landlords who self-manage their properties.
Key features
Online rent payment:

Conveniently collect rent online.

Maintenance management:

Coordinate and track maintenance work orders.

Vacancy posting:

Share your vacancies on popular housing search websites from the platform.

Tenant screening:

Screen prospective renters using background checks and credit reports.

Tenant communication tools:

Renters and owners can communicate directly through the platform.
Pricing
AppFolio tailors its pricing structure to the size of your portfolio. They offer two main residential plans:
Core:

This plan is for small to mid-size portfolios. It starts at $280 per month for landlords with up to 200 properties. That's a minimum charge of $3,360 per year.

Plus:

Aimed at large, diverse portfolios, this plan starts at $3.00 per unit per month. It requires a more substantial minimum monthly fee of $900 or $10,800 per year.
AppFolio has different pricing structures for larger commercial operations and community associations.
Buildium
Buildium(R) is a property management solution for professional property managers overseeing multiple properties. Its features help with tenant screening, rent collection, accounting, and more. 
However, the software's focus on professional property management may make it more complex than necessary for individual landlords and real estate investors self-managing their properties.
Key features
Rent collection:

Automate rent collection and streamline payments.

Tenant screening:

Perform background checks and credit reports for potential tenants.

Financial management:

Track income and expenses, manage bills and vendors, and generate financial reports.

Lease and document management:

Store all lease agreements in one place and track lease terms.

Maintenance request tracking:

Manage and track maintenance requests from tenants.
Pricing
Buildium has tiered pricing based on the number of units managed. Each package comes with a 14-day free trial:
Essential:

This plan, starting at $52/month, includes basic property management features.

Growth:

Beginning at $166/month, this plan has more advanced features like unlimited eSignatures on leases and addendums and data exporting.

Premium:

Starting at $479/month with annual billing only, this plan adds premium capabilities like priority phone support and a dedicated customer success manager.
Landlord Studio
Landlord Studio is property management software that helps landlords and property managers track their rentals' regular income and expenses. 
Landlord Studio's capabilities are more focused on day-to-day bookkeeping. While its basic features can be beneficial, it may be of less value to landlords or investors who want broader asset management and portfolio optimization. 
Key features
Rent collection:

Simplify the payment process with online rent payments.

Expense tracking:

Categorize and track property-related expenses.

Tenant screening:

Use tools to screen potential tenants with credit checks and background reports.

Property accounting:

Basic accounting features manage income and expenses for individual properties.

Reporting:

Generate basic financial reports for individual properties.
Pricing
Landlord Studio offers two pricing plans catered to different needs:
Go:

This free plan lets you manage up to 3 units. It includes basic features such as rent collection, manual income and expense tracking, and creating financial reports.

Pro:

This plan is free for the first 14 days and all customers start on this plan.  Pricing begins at $12/month for 3 units, with a 20% discount for annual billing. There is no unit limit, and the plan includes advanced features such as automated bank feeds and Xero integration.
Xero
Xero is cloud-based accounting software for small to medium-sized businesses across numerous industries. It has robust accounting features such as invoicing, bank reconciliation, and financial reporting. 
However, Xero doesn't have purpose-built property management or real estate investment features. Landlords might pay for several functions they don't need and miss out on more specific features that a specialized platform like Stessa provides.
Key features
Invoicing:

Create and send custom invoices directly from the platform.

Bank reconciliation:

Automatically import and categorize bank transactions.

Financial reporting:

Generate income statements, balance sheets, and other financial reports.

Multi-currency:

Certain plans allow users to handle multiple currencies with exchange rates updated hourly.
Pricing
Xero has three pricing plans with a 30-day free trial and up to a 50% discount for the first 3 months, depending on the plan selected:
Early:

Regularly priced at $13/month, this entry-level plan allows you to send 5 invoices and quotes, enter 5 bills, and reconcile 20 bank transactions.

Growing:

Regularly priced at $37/month, you get unlimited invoices, quotes, bills, and bank transactions.

Established:

Regularly priced at $70/month, this top-tier plan has additional features like multi-currency, expense claims, and project tracking.
Hemlane
Designed as a comprehensive solution for property management, Hemlane is for landlords, property managers, and real estate investors. It offers a variety of tools for tasks like rent collection, maintenance coordination, advertising, and tenant screening. 
However, we feel that Hemlane's services lean more toward on-the-ground property management than investment performance optimization.
Key features
Rent collection:

Automate rent collection and track payments.

Maintenance coordination:

Manage and coordinate repair requests.

Tenant screening:

Screen tenants using credit checks and background reports.

Lease management:

Track lease terms and store agreements digitally.

Financial tracking:

Utilize basic income and expense tracking functions.
Pricing
Hemlane's plans start with a $28 monthly base fee, which is added to the per-unit cost. There is a 14-day free trial for each package, and annual billing gives you a discount of up to 20%: 
Basic:

Priced at $2/unit/month, totaling $30 for one unit with the base fee. It includes marketing syndication and tenant application and screening tools.

Essential:

This plan costs $12/unit/month, which adds up to $40 for one unit with the base fee. Additional features include state-specific leases and repair coordination.

Complete:

The most comprehensive package, priced at $32/unit/month, is $60 plus the base fee for one unit. This plan has all the Basic and Essential features plus extras, such as full repair coordination and access to a network of service pros.
Avail
Avail is another online tool serving landlords and property managers. It has a range of features designed to streamline property management tasks. 
While useful for landlords looking for basic tenant management tools, Avail may not be a perfect match for those seeking a detailed overview of their investment performance and insights that help guide key investment decisions.
Key features
Rent collection:

Set up automatic payments with online rent collection.

Lease agreement:

Create and sign digital lease agreements.

Maintenance tracking:

Tenants can use the platform's portal for submitting maintenance work orders.

Listing syndication:

Post your rental listings to popular websites.
Pricing
Avail operates on a tiered pricing structure:
Unlimited (free):

Avail's free plan offers basic features for an unlimited number of units.

Unlimited Plus:

This plan costs $7/unit/month and includes premium features like FastPay rent collection, customizable applications and leases, and the ability to create property websites.
Join the community of 200K+ landlords using Stessa
There are many options in this sea of accounting software solutions. 
However, Stessa's unique features and user-friendly design, tailored to individual landlords and real estate investors regardless of portfolio size, helps it stand out from the rest. 
From automatic income and expense tracking to comprehensive performance metrics, Stessa works to give you the necessary tools to manage your properties efficiently. Plus, its state-of-the-art security measures help ensure your data is protected, so you have peace of mind.
Try the free Essentials plan today, and experience how Stessa can help you run your rental property like the successful business you deserve to own.
*Stessa is not a bank. Stessa is a financial technology company. Banking services provided by Blue Ridge Bank, N.A., Member FDIC. The Stessa Cash Management Visa® Debit Card is issued by Blue Ridge Bank, N.A., pursuant to a license from Visa U.S.A. Inc., and may be used everywhere Visa debit cards are accepted. Your funds are FDIC insured up to $250,000 through Blue Ridge Bank; Member FDIC.
Essentials is a free plan and Pro is a premium plan. Annual Percentage Yield (APY) of 3.12% on deposit accounts for new Essentials users signing up and 5.08% for the Pro users is accurate as of July 26, 2023. APY for the account may change at any time, before or after the account is opened. No minimum balance or opening deposit required. Fees could reduce earnings on the account.
Account holders can earn 1.10% cash back on debit card purchases. Cash back earned each month will be credited to your account by the next month's statement cycle. ATM transactions, the purchase of money orders or cash equivalents, loan payments and account funding made with your debit card are not eligible for cash back rewards. No minimum opening deposit and no minimum balance requirements. 
Terms and eligibility requirements apply. See T&C's for cash back program for more details.