If you're a real estate investor or property manager looking for the best software to help you manage your rental properties, what are your options if you don't want to go with Avail?
We've rounded up 7 common Avail alternatives in this post.
Each has its own unique benefits that may be a better fit for your business. So before you make your final decision, be sure to explore all of your options. 
---
Key takeaways
Avail is a popular rental property software, but it may not be the right choice for every landlord.

Seven great alternatives to Avail are Stessa, Cozy, Innago, Landlord Studio, RentRedi, TenantCloud, and TurboTenant.

When choosing the right software, think about what features are important to you and your business.

Many landlords look for features including automatic income and expense tracking, generating financial reports, and online rent collection.

If you're looking for free and easy-to-use software, Stessa is an excellent option to consider.
---
Avail pros and cons
Avail may be a good software option for landlords who need a full suite of services and are willing to pay a little extra. It helps property managers keep track of their finances, manage properties, and stay organized. The software also includes features for managing tenants, such as a lease builder and online rent payment options. 
However, some landlords find that Avail isn't quite meeting their needs. Some commonly reported drawbacks to using Avail are:
Customized tenant applications and lease agreements are only available with the paid Unlimited Plus plan.

Tenants pay a $2.50 fee for Automated Clearing House (ACH) rent payments unless the landlord pays for the Unlimited Plus plan ($5 a unit each month).

Income and expenses not logged through the Avail platform must be manually entered before generating financial reports.
7 alternatives to Avail
Although Avail may not be the best choice for everyone, many other great options are available on the market. Here are 7 alternatives to Avail.
Stessa
Stessa, a Roofstock company, is designed specifically for rental property management, which means it has all the features needed to run your business more efficiently. Best of all, it's free and cloud-based so that it can be accessed anywhere at any time. It also offers optional, premium services for real estate investors for a fee to assist with things like rent analysis and market research.
You can automatically track expenses and performance metrics by linking your bank and mortgage accounts, create custom financial reports in seconds, and automate tasks like online rent collection to run your business more smoothly and efficiently.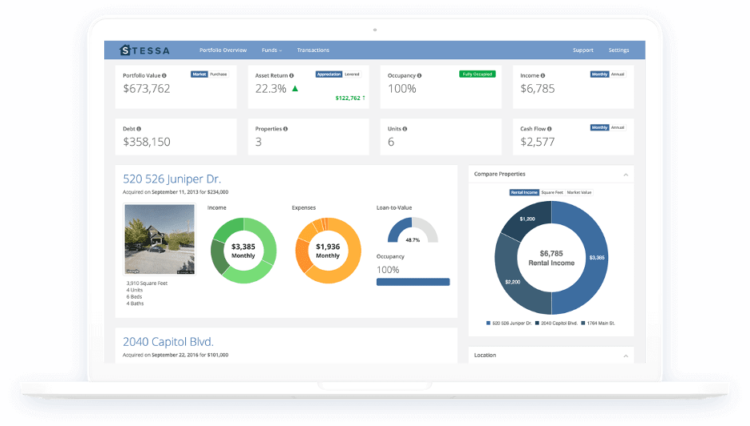 More than 100,000 investors already use Stessa to track over 250,000 properties with over $60 billion in asset value.
Key features
After signing up for a free account with Stessa and entering basic property information, watch your rental property stats come to life via a comprehensive online dashboard: 
Track unlimited single-family rentals, multifamily units, and

short-term vacation rental properties

and portfolios.

Automate income and expense tracking by linking property bank and mortgage accounts.

Collect tenant rent payments online using a free ACH transfer.

Access comprehensive performance dashboards at the property and portfolio levels.

Track expenses on the go with the iOS and Android apps.

Organize and store all real estate documents safely and securely.

Generate various financial reports, including income, net cash flow, capital expense statements, tenant rent roll, and real estate balance sheet.

Export tax-ready financials to make tax time a breeze.

Create a personalized tax package on the

Stessa Tax Center

that includes an income statement, net-cash-flow report, and a ZIP file in a single email.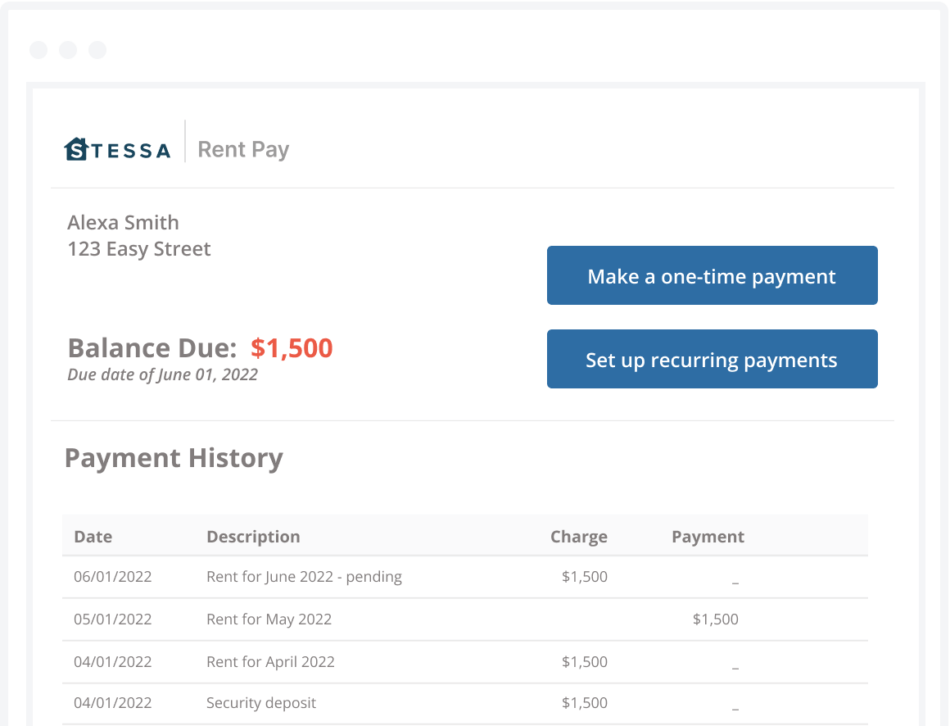 Apartments.com (formerly Cozy)
Apartments.com is a free, well-known online property management software with several significant advantages for real estate investors and managers. 
Key features
Get property listings on 5 of the most active rental listing websites on the Apartments.com network with the option of purchasing a premium listing for increased visibility.

Receive applications and screen prospective tenants online with reports by TransUnion.

Create a state-specific lease agreement using the online leasing wizard to create customized leases that can be signed online.

Collect rent payments online for free with an ACH transfer. Or, tenants can opt to pay a small fee for using a credit or debit card.

Property expenses can be entered and tracked 24/7 online, and owners can upload and store images and receipts to create a record.

Operating expenses can be recorded by the Schedule E category and exported in CSV and PDF formats to prepare financial statements or tax returns.
Innago
Innago provides free software that helps you find good tenants, collect rent online, and more. Innago can be used for all types of rental properties, including residential properties, commercial buildings, and student housing.
Key features
There are no start-up costs or monthly fees.

Add vacant property details and policies, upload images and videos, and publish to selected rental listing websites with just one click.

Get custom applications, tenant screening, and online leasing with digital signatures.

Get online rental payments through ACH, credit, and debit card payments for a small fee, automated debits, and single-business-day funds delivery available.

Get a tenant maintenance request portal with picture and video capabilities, work order tracking, and ticket forwarding to repair personnel.

Get financial tracking and reporting, bank deposit history, and exportable data.

Landlord Studio
Landlord Studio features include simplified accounting and tax reporting, tenant screening, online rent collection, and document storage for multiple rental properties. The company has 3 pricing plans, currently ranging from $6.99 to $35.99 a month for each unit, with discounts for annual prepayment and additional units.
Key features
Features vary based on the billing plan selected and include modules for accounting, reporting, bank feeds, rent collection, tenant screening, and rent collection.

To market vacant property, owners create a property listing page, then manually place the link on the rental listing websites of their choice.

Prospective tenants complete a rental application online, and TransUnion runs credit reports and background checks.

Tenants can set up automatic rent payments using an ACH transfer, debit, or credit card payment with a small transaction fee. 

Automatically track income and expenses by linking and syncing a bank account, and generate 15 different financial reports.

​IRS Schedule E can be generated in just a few clicks, making tax filing easier.
RentRedi
RentRedi currently offers 3 pricing plans based on billing cycle: $19.95 a month, $15 a month paid every 3 months, and $9 a month based on annual billing.
Landlords who want financial reporting must sign up for the add-on service with REI Hub, with current pricing varying based on the number of units: $15 a month for up to 3 units, $25 a month for 4 to 10 units, $45 a month for 11 to 20 units, and $99 a month for 20 units or more.
Key features
All billing cycles include unlimited rentals, tenants, team members, rental listings, and customer support.

RentRedi listings are automatically distributed to Realtor.com and Doorsteps.com, the company's partner sites.

TransUnion provides access to comprehensive credit, criminal, and eviction history reports, and lease documents can be uploaded directly from the RentRedi app.

Rent payments can be made using ACH, banking account, credit card, or cash with a processing fee.

Connect bank and credit card accounts electronically to sync income and expenses automatically.

Complete financial reports with a paid REI Hub subscription, including profit and loss (P&L), cash-flow statement, balance sheet, and tax-ready IRS Schedule E reports.
TenantCloud
TenantCloud is a cloud-based property management software with 3 pricing plans currently offered at $0 a month, $15 a month, and $50 a month. There is also a customized pricing plan for investors and property managers with large portfolios. Plus, customers who pay annually may be eligible for a 20% discount, and the company offers a free trial period. 
Key features
All plans include an unlimited number of properties and units and unlimited rental postings automatically syndicated to websites including Apartments.com, Trulia, and Zillow.

Features vary based on the price plan selected and include modules for key tasks like listings, scheduling showings, tenant screenings, leasing, rent payments, digital signatures, and tax reporting.

Three screening packages are available through TransUnion.

Design a lease agreement or use a template to update an existing lease and get digital signatures.

Rent payments may be made and received online using a debit card or credit card with a processing fee, ACH for free, and tenants can schedule recurring monthly payments.

Syncing with QuickBooks online to process income and expenditure transactions, prepare financial statements, tax preparation reports, and 1099s.
TurboTenant
TurboTenant offers property management software with a free and paid plan costing  $59 a year as of July 2022. Landlords selecting the free plan are charged $39 for each state-specific lease agreement, $15 for each addendum, and $9 a document for digital signatures. Subscribers may also purchase a landlord forms pack for a one-time charge of $145.
Key features
Everyday activities such as rental advertising, tenant applications and screening, reference checks, online rent payments, budget monitoring, and document management are all available depending on the plan chosen.

TurboTenant makes it simple to have your rental home listed on well-known sites like Realtor.com, Apartment List, Rent.com, Facebook Marketplace, and Craigslist.

TurboTenant offers landlords free credit, criminal, and eviction reports on potential renters, which are pulled from leading credit agency TransUnion.

Online lease agreements help landlords input all the essential information for their state. Once the lease is complete, it can be sent out for digital signatures and stored in the landlord's TurboTenant account.

TurboTenant doesn't charge a fee for ACH payments but does charge tenants a processing fee for paying rent using a debit or credit card.

The software allows landlords to manually enter their expenses, which can then be exported as a CSV file for use with QuickBooks or other financial software for tax reporting.
Final thoughts
When choosing software, think about what features are most important to you and your business. If you're looking for something free and easy to use, Stessa might be a good option.
This software helps landlords manage their properties, tenants, and finances all in one place. With Stessa, landlords can collect rent online, automatically track income and expenses, and more.