Collecting rent online is becoming more and more popular, and for a good reason. It's convenient, easy, and often free. With so many options, it can be hard to know which one to use. 
In this post, we'll compare 3 of the most popular ways to allow your tenants to pay rent online: Zelle, PayPal, and Venmo. We'll also look at how landlords can use Stessa, a free tool made specifically for landlords, to collect rent online.
---
Key takeaways
Collecting rent online is convenient, easy, and often free.

Zelle, PayPal, and Venmo are popular payment platforms for collecting rent online.

Stessa is a great option for landlords who want to collect rent online.

Be sure to compare different options before you decide which one to use.
---
Using Zelle to collect rent
If you're looking for a quick, easy, and free way for tenants to pay rent online, Zelle can be a good option. All tenants need is the landlord's email address or mobile phone number. They can even set up recurring payments, so tenants never have to worry about forgetting to pay rent on time again.
Pros
It's easy and free to send rent payments online or with a mobile app.

Tenants do not need a landlord's bank information.

Zelle is used in more than 1,000 banking apps in the U.S.

Funds are sent straight into your bank account, usually on the same business day.

Tenants can set up recurring payments if their bank provides the option.
Cons
Not every bank and credit union in the U.S. partners with Zelle.

Both the tenant and landlord must use a bank that works with Zelle.

Monthly transfer amounts may be limited depending on the tenant's bank.

There is no way for a landlord to require a

late fee

when rent is paid through Zelle.

Landlords can't block rent payments, creating potential problems if a tenant doesn't pay in full, pay on time, or is evicted.
Using PayPal to collect rent
PayPal is another popular option for collecting rental payments online. Like Zelle, all your tenant needs is your email address or phone number. However, unlike Zelle, PayPal charges a transaction fee of about 3%, and rent payments must be sent to your business account on PayPal.
Pros
PayPal is one of the most popular options for personal and business payments

around the world

.

Renters can pay rent in various ways, such as linking a bank account or debit or credit card.

Limits for single transactions may be $10,000, which is more than enough to pay the rent in most cases.

Transactions are generally processed on the same business day and made available for immediate withdrawal.

Tenants can set up automatic payments on PayPal, which may reduce the risk of late rent payments.
Cons
Paying transaction fees of about 3% to receive funds can reduce your gross monthly rental income.

Rent payments are sent to a landlord's PayPal account, which must then be withdrawn to a bank account.

Both a tenant and landlord must have PayPal accounts set up to pay and accept rent online.

There is no mechanism to stop partial payments or collect late fees if the rent is past due, creating potential collection problems or issues if the tenant is being

evicted

.

PayPay lacks flexible landlord options for collecting security deposits, prorating rent, and sending rent reminders to tenants.
Using Venmo to collect rent
Venmo can be a good option if you already use it to pay friends and family. Like PayPal, there are fees for business transactions on Venmo, including rent payments. The payment app is easy to use, and your tenant just needs an email address or phone number to send you the rent each month.
Pros
Venmo is easy to use for receiving rent as long as a tenant and landlord are using the Venmo mobile app.

Tenants can pay rent with any accepted U.S. bank account or debit card.

Rent payments are received on Venmo the same day.

Venmo offers an instant pay feature for a potential additional fee.

Landlords can create business profiles on Venmo for a more professional image.
Cons
Landlords pay business transaction fees of 2% to 3% for rent payments.

Funds may be held for up to 3 days before arriving in a landlord's bank account.

Venmo does not offer tenants an option for recurring rent payments.

Landlords can't block partial rent payments or automatically add late fees if the rent is not paid on time.

Venmo does not offer ano option for stopping or declining a tenant's payment if there is an eviction.
Introducing Stessa: Online rent collection made easy
Stessa, a Roofstock company, provides property management software that makes collecting rent online with an Automated Clearing House (ACH) transfer easy. An ACH transfer is an electronic bank-to-bank transfer that can be used to send money from one account to another. ACH transfers are typically used for large transactions, such as rent payments.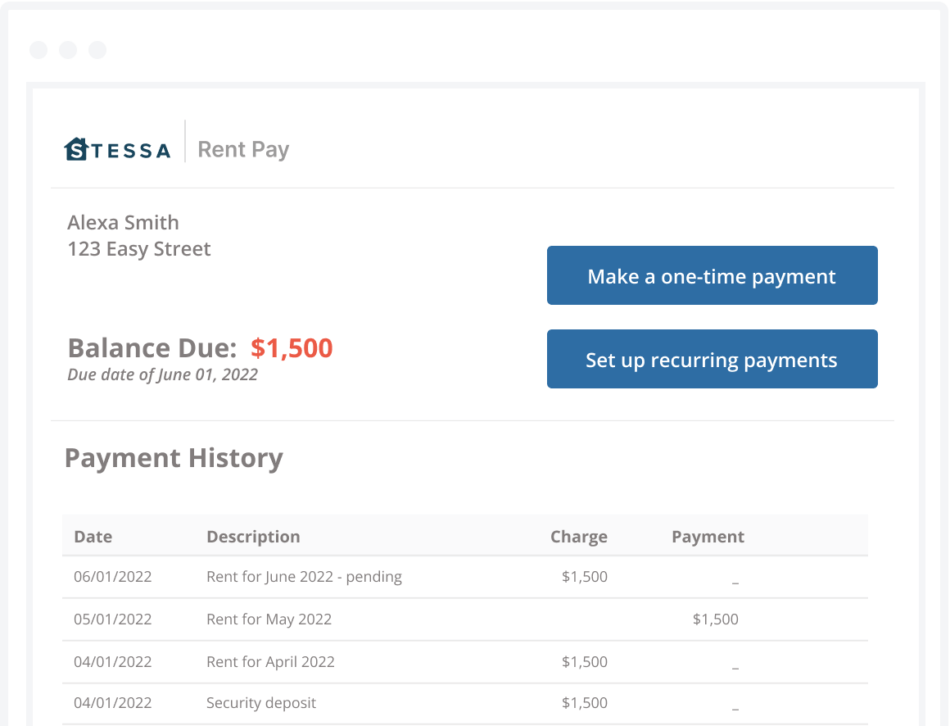 Stessa online rent collection gives landlords complete control, makes it easy for tenants to pay on time, and automates key tasks like deposits, receipts, and accounting. And, it's free for both landlords and tenants:
Autopay and late fee reminders may increase on-time rent payments, with additional payment options to come. 

All that's needed is an active lease and tenant email address to begin collecting online rent payments.

Stessa can also be used to collect fees, such as

security deposits

, additional rent for pets or utilities, and partial rent payments.

Automated reminders and tracking are handled by Stessa, eliminating the busywork  of sending rent reminders or depositing rent checks.

Landlords can receive real-time notifications when a payment has been made and when funds are deposited in an account.

Landlords can disable rent payments with one click, revoking tenant access immediately.

Stessa partners with Plaid to keep landlord and tenant information safe and secure.

Online rent payments fully integrate with Stessa's free rental property management software, automatically tracking income and expenses in real time via the comprehensive owner's dashboard.

Unlimited financial reports include profit and loss (P&L) statements, cash-flow statements, capital expense reports, and real estate balance sheets.

Landlords can use Stessa for an unlimited number of single-family rentals (SFRs), multifamily properties, short-term vacation rentals, and portfolios.

Accurate and dynamic financials from Stessa give you and your certified public accountant (CPA) peace of mind with a personalized Stessa tax package that makes year-end reporting a breeze.
As an added benefit, Stessa's Cash Management deposit accounts currently earn 2.00% APY (compared to the national average interest of 0.03% on checking accounts as of July 2022, according to the FDIC). Stessa Cash Management users can earn interest on balances from automated rent collection deposits, CapEx account, and operating account.
Annual Percentage Yield (APY) of 2.00% is effective as of 8/5/2022. No minimum opening deposit or account balance required. Fees could affect earnings on the account. Stessa is a financial technology company, not a bank. Banking services provided by Blue Ridge Bank, N.A., member FDIC. The national rate is the average of rates paid by all insured depository institutions and credit unions for which data is available to the FDIC, with rates weighted by each institution's share of domestic deposits.
Go here to create a free Stessa account.
Final thoughts
When choosing a method for paying rent online, it's important to consider transaction fees, ease of use, and personal preferences. Apps such as Zelle, PayPal, and Venmo are easy to use, but Stessa offers some additional features that may be appealing to landlords, such as the ability to fully integrate with Stessa's free rental property management software.
So, what's the best option for you? It depends on your needs and how else you use each service. If you're looking for a quick, easy, and free way to pay rent online, Stessa may be the ideal choice.