Does collecting rent from tenants often feel like a recurring uphill battle? Has manually tracking rent payments, waiting for checks in the mail, and chasing late payments become overwhelming? 
What if there was a better way?
Welcome to the world of ACH rent payments, the online rent collection method simplifying landlords' lives from coast to coast.
This article guides you through the ins and outs of the ACH network, how it works, and the ways it can benefit your rental business. We also introduce you to an innovative software tool that makes ACH rent payments easy and reduces the hassle of income and expense tracking, providing instant reports and real-time property performance metrics.
Get ready to transform your rent collection experience, one ACH payment at a time.
What is ACH?
ACH (Automated Clearing House) is one of the most secure payment systems, and it allows all sorts of business entities and individuals to collect electronic payments. Think of it as a digital highway for money: funds get transferred from one bank account to another like cars changing lanes. In many ways, ACH has left personal checks, cash, and various other manual forms of payment in the past. 
Here's how it works: Once you (the payee) and the person sending you money (the payor) set up an ACH agreement, their payment is automatically deducted from their bank account and deposited into yours. 
If it's set up as a recurring ACH payment, the payment repeats each month automatically, on the agreed-upon date, until the contract ends, the agreement changes, or there are no longer sufficient funds in the account being debited.
Benefits of ACH
Convenience

: Say goodbye to chasing down checks or making bank runs. ACH transfers are automatic and recurring online payments, freeing up your time for other tasks.

Efficiency

: These direct deposits streamline the rent collection process, reducing your administrative load and eliminating the need for paperwork. No more lost or misplaced rent funds!

Cost savings

: By eliminating the need for physical checks, you can lower the risk of lost or stolen payments and save on bank fees associated with check processing.

Timeliness

: ACH payments are faster and more reliable. You no longer have to worry about late rent or delays in depositing your money.

Security

: The transactions are encrypted, helping to make them a safe and reliable payment method. Your payor's financial information is protected, and so is yours.
Can landlords use ACH to collect rent?
Landlords can use ACH to collect monthly rent. However, you need to understand the legal and practical aspects before deciding that it's the best solution for you.
Legally, ACH transactions are subject to laws and regulations and these work to protect users like landlords and tenants. Before setting up an ACH payment system, be sure you know the laws in your jurisdiction. Getting explicit permission from your tenants before initiating ACH payments is also required.
On the practical side, setting up ACH through traditional banking methods can sometimes be challenging, often involving paperwork and time. For instance, some banks may require an authorization form for ACH transactions. Your tenant may also need to participate in the process, which is another layer of complexity.
Additionally, if you're using a business account, you might have to pay a fee to set up and charge ACH payments. You want to weigh these costs against the benefits of an ACH transfer's convenience and efficiency.
There are other potential issues associated with the traditional method of setting up ACH payments, including:
Paperwork

: Filling out forms and getting tenant authorization can be a hassle.

Time-consuming

: Setting up ACH can take longer than expected with the forms and manual processes involved.

Fees

: Banks sometimes charge fees for setting up and processing ACH payments, which can add up over time.

Delays

: Since authorization isn't instantaneous, there may be delays in getting your ACH system up and running.
Despite these bumps in the road, many landlords find the advantages of ACH outweigh its drawbacks. The key is understanding the process, considering the potential challenges, and finding a solution that works best for you and your tenants.
What alternative methods can make setting up ACH rent payments a breeze instead of the traditional banking approach? Let's explore some options. 
How to simplify and automate ACH rent payments
User-friendly software tools designed for rent collection can streamline and automate your rent payment process. These platforms have revolutionized rental property management, making ACH rent transactions easy.
Here's an overview of what these tools can do for you:
Automated reminders and late fees

: This feature sends automatic reminders to tenants when rent is due. If a tenant misses the payment deadline, the system can automatically apply late fees, saving you the trouble of tracking and enforcing these charges.

Expense charging

: If the tenant is responsible for additional charges, such as utility bills or maintenance fees, the software can manage this for you. It ensures all expenses are accounted for and billed correctly.

Tenant autopay

: This feature allows tenants to set up automatic rent payments. Doing so virtually eliminates the need for manual monthly payments, so rent gets paid on time, every time.

Rent roll and ledger

: These reports provide a detailed record of the transactions between you and your tenants. You can track who has paid rent, who hasn't, and any outstanding balances.

Accelerated rent payments

: Some software can even accelerate rent collection. That means you can receive rental income faster, improving your cash flow.

Tenant screening and application management

: These features help you screen potential tenants and manage rental applications all within the same platform. You can conduct credit checks and background screenings and know you're renting to reliable tenants.
Successfully automating your rent collection process means choosing a tool that meets your needs. 
Look for software with the right balance of features, ease of use, and affordability. When you find it, you'll take the first step towards simplifying your operations and improving your cash flow. Isn't that the ultimate goal?
Check out Stessa: A hassle-free solution for ACH rent payments (and more)
Stessa is a software platform designed by and for real estate investors. It's making waves among landlords and has recently added a slew of new features, all designed to make your rental operations run smoother.
The Stessa platform makes the traditional method of ACH rent collection largely seamless when you also take advantage of in-platform banking services. Payments through Stessa Rent Pay remove the need for manual processes and paperwork. The best part? There are no fees for landlords using Stessa's rent collection services.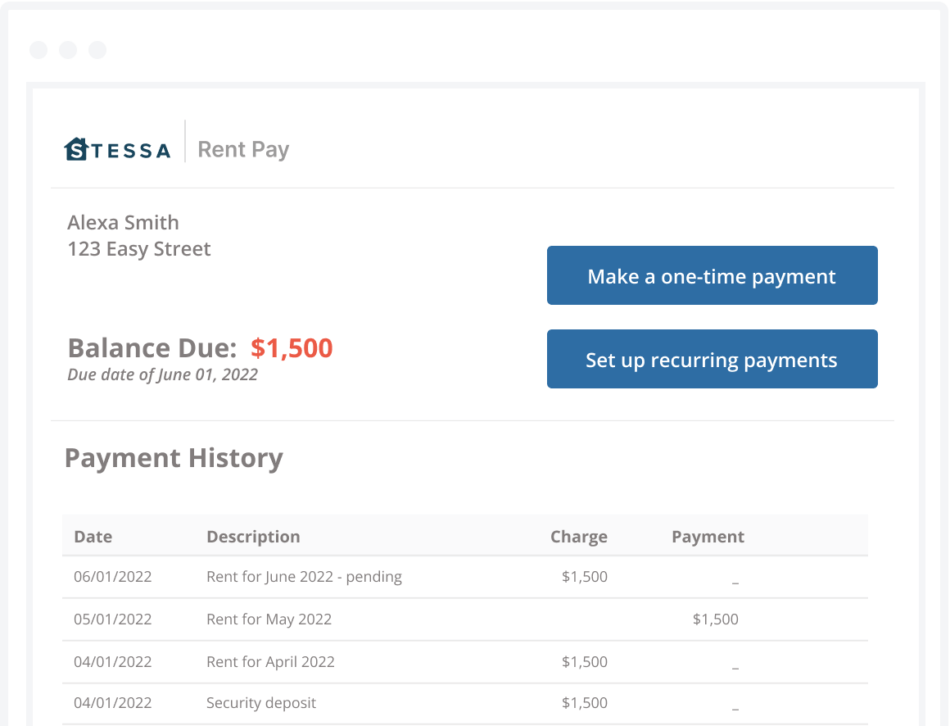 Easy to use
As a landlord, keeping track of rent payments and expenses for even a single property can quickly become a headache. What if you have an entire portfolio of properties? You may end up spending more time managing paperwork than managing your properties.
With Stessa, you start by setting up your properties on the platform, which takes about 5–10 minutes per property. Your tenants are then invited to sign up for Stessa Rent Pay, and voilà! Rent payments are now automated, and funds are transferred from your tenants' bank accounts to yours each month.
Key benefits
The benefits of using Stessa go far beyond simplifying the rent payment process. Here's what you can expect:
Automated income and expense tracking
One of the biggest challenges landlords face is keeping accurate records of income and expenses. With Stessa, this becomes a breeze. 
The software automatically tracks your income and expenses, freeing up your time and helping to reduce the risk of errors. You can focus on other vital aspects of property management without worrying about your financial records.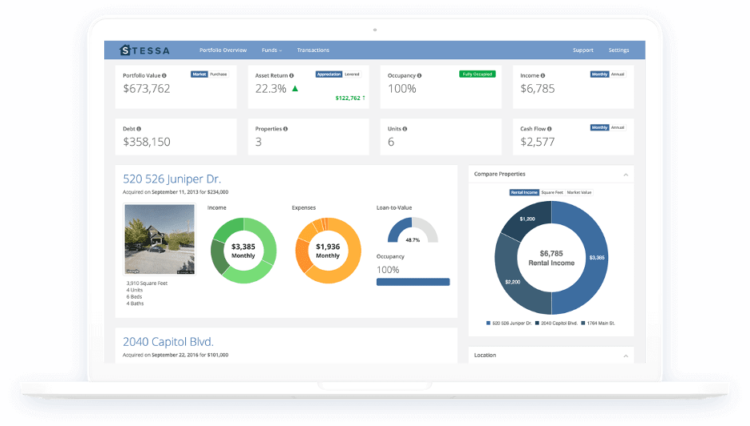 Real-time performance metrics
To make informed decisions about your properties, you need up-to-date performance metrics. Stessa provides these metrics in real time through an accessible online dashboard. You can check the performance of your rental properties anytime, anywhere.
Landlord banking
With Stessa, you get more than property management software. You can also get an FDIC-insured checking account with competitive APY rates and no hidden fees. 
With no minimum opening deposit or balance requirements, it's a flexible banking solution for landlords. Plus, account holders can earn 1.10% cash back on debit card purchases.* 
Tenant screening and rental applications
Stessa offers comprehensive tenant screening services, including credit reports and background checks. The software also supplies free rental applications, which makes finding reliable tenants easier.
Insurance services
In partnership with Steadily, a national landlord insurance provider, Stessa helps users get insurance quotes and policies to help ensure your properties have adequate protection with the right coverage at great rates.
Instant reports for tax season
Tax season can be stressful, especially when you're managing multiple properties. Stessa can alleviate some of this pressure by providing instant reports to help you maximize your deductions and stay compliant. 
No more scrambling to gather your financial data—everything you need is readily accessible within the platform.
Stessa Tax Center
To assist in navigating the complex world of real estate taxes, Stessa offers tax resources and information in partnership with The Real Estate CPA. This resource can be valuable throughout the year, not just during tax season.
Optimized performance
Stessa's goal is to help you optimize your properties' performance and ultimately, enhance the landlord experience. The platform provides insights that can guide your hold/sell decisions, helping you maximize your potential returns.
Free and Pro plans
Stessa offers two different pricing plans with diverse features, catering to both first-time and seasoned investors. There's a free Essentials plan, while the paid Pro version offers additional features like eSigning, unlimited portfolios, and a higher APY on bank account balances.
Go here to learn more about Stessa rent collection.
Stessa is not a bank. Stessa is a financial technology company. Banking services provided by Blue Ridge Bank, N.A., Member FDIC. The Stessa Cash Management Visa® Debit Card is issued by Blue Ridge Bank, N.A., pursuant to a license from Visa U.S.A. Inc., and may be used everywhere Visa debit cards are accepted. Your funds are FDIC insured up to $250,000 through Blue Ridge Bank; Member FDIC.
Essentials is a free plan and Pro is a premium plan. Annual Percentage Yield (APY) of 3.12% on deposit accounts for new Essentials users signing up and 5.08% for the Pro users is accurate as of July 26, 2023. APY for the account may change at any time, before or after the account is opened. No minimum balance or opening deposit required. Fees could reduce earnings on the account.
Account holders can earn 1.10% cash back on debit card purchases. Cash back earned each month will be credited to your account by the next month's statement cycle. ATM transactions, the purchase of money orders or cash equivalents, loan payments and account funding made with your debit card are not eligible for cash back rewards. No minimum opening deposit and no minimum balance requirements. *Terms and eligibility requirements apply. See T&C's for cash back program for more details.