One of the biggest concerns nearly every landlord has at one time or another is getting a tenant to pay the rent by the due date. Online rent payment tools can help eliminate the risk of late rent payments, with features such as mobile apps to make a rent payment, recurring billing for rent, automatic debiting of a checking account or debit card, and notifications of late and missed rent payments.
---
Key takeaways
Online rent payments can help a landlord to receive the rent sooner, minimize late rent payments and fees, and offer a tenant the convenience they are looking for.

Some online services only collect rent, while others are part of a larger suite of property management software.

Many online rent payment platforms automatically charge late fees, report on-time tenant rent payments to credit bureaus, and allow a landlord to block partial rent payments from a tenant.
---
Benefits of accepting rent payments online
As a recent article from Forbes explained, convenience is created by reducing friction to make it easier for a customer to buy. In the real estate business, landlords use online rent payment services to make it easier and quicker for tenants to pay their rent.
Benefits of online rent payments include:
Tenants can schedule a recurring rent payment to be automatically debited from a bank account or credit card on the 1

st

of every month and result in the landlord receiving the rent sooner.

Minimize late rent payments

and fees by using an online rent payment service to remind a tenant when the rent is coming due.

Monitor rent payment status in real time online instead of being told by a tenant that "the check is in the mail."

Although an ACH (automated clearing house) payment from an eCheck or debit card may take 2-3 days to receive, it's generally faster than waiting for a check in the mail to arrive and a bank putting the funds on hold until the check clears.

Online rent payment options provide security for a tenant if a check is lost or a tenant's personal information is stolen.
16 online rent payments services for landlords
There are a variety of companies that offer online rent payment services. Some include property management software, while others focus mainly on screening potential tenants and collecting the rent.
Here are 16 online rent payment services for landlords to consider, starting with our own solution:
Stessa
Stessa is a great option for managing your rental property. It's easy to use and lets you collect rent online, track expenses, and generate performance reports. Plus, its comprehensive online dashboard makes it simple to keep an eye on how your property and portfolio are doing.
Stessa's Rent Collected feature is a useful way for landlords to automate rent collection, including things like depositing rent checks, charging late fees, and tracking payments for financial reporting. There are no fees for tenants or landlords, and Stessa has robust security measures in place to keep everyone safe and secure.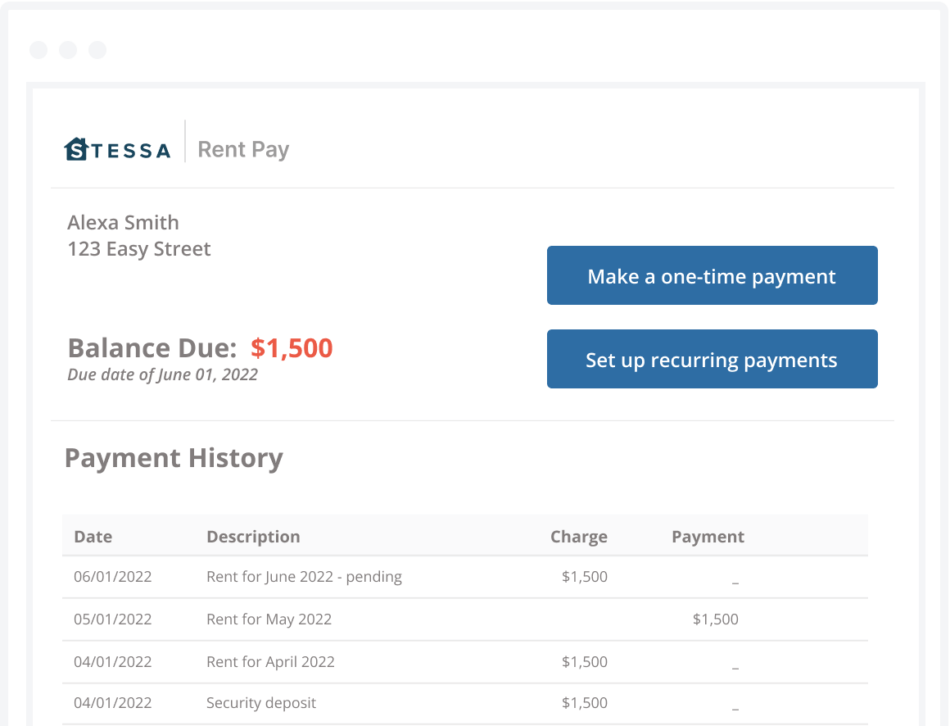 Here's a quick overview of Stessa's online rent collection functionality:
Deposit types: ACH (other payment types coming soon)
Deposit times: 2 to 3 business days
Landlord fees: None
Tenant fees: None
Autopay: Yes
Late fees: Coming soon
User verification steps: SSN, date of birth, address, phone
Real-time notifications: Yes
Automatic accounting: Yes
Avail
Rent is direct-deposited into a landlord's bank account to help ensure the rent is received on time. A tenant can take advantage of Autopay and CreditBoost, and a landlord can sign up for FastPay to receive rent money as soon as the next business day. Avail also offers landlord tools such as rental listing, tenant screening, and maintenance requests and tracking.
Buildium
The company claims to cut rent payment processing time by up to 70% when tenants add a bank or credit card account set up for recurring payments. Funds are automatically transferred to a landlord's bank account, eliminating the need for a manual deposit. Buildium software also offers a full suite of property management services, including accounting, maintenance request tracking, rental listings, and tenant screening.
ClearNow
With an A+ BBB rating, ClearNow claims to be the leader in online rent payment, serving landlords and tenants since 2000. Rent is debited from a tenant's bank account and directly deposited into a landlord's bank account within 3 banking days after the debit day. Tenants can also establish a credit history with Experian RentBureau.
ClickPay
A landlord can collect 100% of rent payments remotely with ClickPay's online platform. Features include online payments, lockbox and check scanning, e-billing, and walk-in payment solutions. The company's Invitation Wizard sets new tenants up in a matter of minutes, while landlord bank deposit reports make monthly reconciliations easier.
Cozy
Cozy recently teamed up with Apartments.com to offer a free, easy-to-use online rent payment service for landlords. Monthly rent payments and fees are deposited directly into a landlord's bank account, and the only time a landlord pays is for an expedited rent payment. Other features include rental listings and tenant screening, localized leases and maintenance requests.
eRentPayment
The company provides landlords and tenants with flexible online rent payment options including one-time and recurring rent payments, credit card processing, and customizable settings for late fee assessments. A landlord can block partial rent payments, and tenants can build a credit history by reporting rent payments. 
Visit the eRentPayment website
PayClix
Landlords and tenants can save time and money by invoicing, collecting, and sending payments online. The company processes all types of property transactions, including rent, deposits, application fees, late fees, and miscellaneous rent like parking or pet fees. Accept/reject technology from PayClix allows a landlord to accept or reject any payment from a tenant, including a partial rent payment.
PayPal Invoicing
Landlords can set up one-time or recurring rent billing on PayPal to make it easier for tenants to pay the rent. According to the company, 76% of PayPal invoices are paid within 1 day of sending the invoice. Scheduled or recurring invoices can be delivered automatically, the complete history of each bill and payment can be reviewed, and easy follow-up reminders can be sent to tenants with unpaid balances.
Visit the PayPal Invoicing website
PayRent
The company helps to make collecting rent more predictable for landlords and paying rent more rewarding for tenants. RentDefense offers an exclusive set of payment controls to help ensure on-time rent payments, while RentCred is a rewards program for tenants with reports sent to credit bureaus when the rent is paid on time.
PayYourRent
Landlords can receive same day rent payment processing, while tenants build their credit history with each rent payment. Tenants can pay a security deposit and the monthly rent by credit card or eCheck, and landlords get same-night rent deposits directly into their bank accounts. Other services from PayYourRent include rental applications, tenant screening, and maintenance requests.
Rentec Direct
Renters can use their Tenant Portal to pay online from their checking account, credit card, or debit card, plus submit maintenance requests and receive property notifications. Landlords can help eliminate late fees with automatic tenant payments, enforce full rent payments, and have the option to set up same day funding of rent payments received. Online rent collection is part of the full suite of property management software offered by Rentec Direct.
Visit the Rentec Direct website
RentPayment
The company streamlines the process of paying and receiving rent for landlords and tenants. Rent can be paid a variety of ways, including credit and debit card, eCheck, cash, via text, or with auto-withdrawal from a bank account. Landlords can have funds directly deposited into their bank accounts to help collect the rent on time and reduce collection costs. 
TenantCloud
Rent payments can be sent and received completely online, with deposits made directly to a landlord's bank account. TenantCloud accepts direct deposits with ACH payments, accepts debit and credit card payments, and allows for automatic monthly rent payments and one-time or daily late fees (or both). Additional services include online rental listing and tenant screening.
TrueRent
TrueRent offers free ACH online rent collection and recurring billing to help increase income. The company's QuickPay feature notifies a tenant when the rent is due, and rent payments are deposited directly into a landlord's bank account. Late fees are automatically generated when a tenant is past due, and a new invoice is sent to a tenant showing the new total amount due including monthly rent and late fees.
TurboTenant
The company offers an all-in-one property management tool to help landlords manage the entire rental process. Rent payment options include ACH bank transfers or payment using a credit or debit card. A landlord can allow roommates to make separate rent payments, disallow partial rent payments, or set up a payment plan with a tenant. Other services from TurboTenant include rental advertising and tenant screening, state-specific lease agreements, maintenance requests, and document management.