AppFolio and Buildium are two of the most well-known online property management platforms available to real estate investors today. Both companies offer a wide variety of features, including online marketing of vacant units, tenant screening, leasing, rent collection, and financial reporting.
In this article, we'll take an in-depth look at AppFolio and Buildium, including the main features and pricing structure of each service, to help landlords better understand which option may be best for their particular needs. We'll also cover another tool with free services called Stessa and why it might be suitable for many investment property owners.
---
Key Takeaways
AppFolio is a good choice for landlords with 50 or more units under management, with fees starting at $280 per month.

Buildium works is a good option for owners with one to 5,000 units or more, with fees starting at $50 per month.

Both platforms offer owners and property managers key features including listings, tenant screening, leasing, rent collection, financial reporting, and tax management.
---
AppFolio Overview
AppFolio has been in business since 2006. It has over 5 million units under management on its platform, was recently ranked as the #1 fastest-growing company by Fortune, and is publicly traded on Nasdaq under the symbol APPF.
AppFolio primarily focuses on cloud-based property management software solutions, services, and data analytics for residential and commercial real estate investors, property managers, and community associations.
AppFolio requires a minimum of 50 units for implementation, making the software a good match for real estate investors with large portfolios and residential property management companies.
Visit the AppFolio website
Residential Pricing
AppFolio offers two pricing packages for residential rental property:
Core
$1.40 per unit per month

Minimum fee of $280 per month

Minimum portfolio size of 50 units required for implementation

Onboarding (start-up) fee varies based on the portfolio size
Plus
$3 per unit per month

Minimum fee of $1,500 per month

Minimum portfolio size of 500 units required for implementation

Onboarding (start-up) fee varies based on the portfolio size
Software Features
Core
Accounting and reporting

Built-in virtual marketing and leasing tools

Resident and owner management

Online maintenance

Fully mobile experience

Continuous software updates
Plus
Everything in Core

Workflow management

Performance insights

Revenue management

Data export capabilities

Strategic account management
Buildium Overview
Buildium was launched in 2004 by two real estate investors with the idea of making property management simpler and easier to control. The company has rapidly grown over the years, and by 2017 reached a major customer milestone by surpassing 14,000 customers.
Buildium works with real estate investors and property managers with 1 to 5,000 units or more, including residential properties, affordable housing, student housing, and community associations.
Visit the Buildium website
Residential Pricing
Every Buildium pricing plan includes software modules for Accounting, Maintenance, Tasks, Violations, Resident & Board Member Communications, and Online Portals.
Essential
Starts at $50 per month

Basic tenant screening

Standard reports

Ticket customer support

Property inspections starting at $40/month

eLeases $5/lease

Bank account set up fee $99/account

Online payments fees of $1.00 for incoming and $0.50 outgoing EFTs

Credit card fees 2.95% per transaction
Growth
Starts at $160 per month

Basic and premium tenant screening

Standard reports

Ticket and live phone customer support

Free property inspections

Unlimited eLeases

Bank account set up fee first 5 free, then $99/account

Online payments free for incoming EFTs, $0.50 per transaction for outgoing EFTs

Credit card fees 2.95% per transaction
Premium
Starts at $460 per month

Basic and premium tenant screening

Standard reports

Ticket, live phone, and priority customer support

Free property inspections

Unlimited eLeases

Bank account set up fee first 5 free, then $99/account

Online payments free for incoming EFTs, $0.50 per transaction for outgoing EFTs

Credit card fees 2.95% per transaction
Software Features
Accounting
Property accounting

Company financials

Online payments

Retail cash payments 

1099 eFiling
Business Operations
Resident site

Owner portal

Document storage

Maintenance request tracking

Property inspections

Renters insurance

Analytics and insights

Open API
Leasing
Rental listings

Rental applications

Showings coordinator

Tenant screening

Professional website

eLease
Community Association Management
Violations tracking

Board communications

Accounting and budgeting

Online payments

Maintenance request tracking

Document management
Buildium has a dedicated team to make switching software and onboarding easy, and employs industry-leading data security measures to protect customer data.
AppFolio vs. Buildium
Choosing the right property management software for a rental property business isn't always easy. Here's a look at some of the similarities and differences between AppFolio and Buildium based on the top features that most real estate investors use:
Listings
AppFolio prioritizes flexibility and service with automation-driven innovations. Lisa is AppFolio's AI Leasing Assistant who handles routine tasks like scheduling showings. AppFolio can accommodate virtual showings as part of the lead-to-lease process, with listings syndicated through online listing platforms like Apartments.com, Zillow, and Zumper.
Buildium offers rental property owners a free website with every pricing plan. Once a vacant listing is posted to the owner's website, listings are syndicated and promoted via a variety of online listing sites including Apartment List, Craigslist, Facebook Marketplace, PadMapper, the entire Zillow Rental Network, and Zumper. 
Tenant Screening
AppFolio allows property owners to pre-set leasing criteria to quickly and easily screen applicants. Tenant screening is an add-on service with AppFolio that checks things like a prospective tenant's credit score, rental and eviction history, criminal history, and verifies employment and income.
Buildium tenant screening is powered by TransUnion. Once a landlord requests a tenant background check, the screening process begins. Buildium provides full credit, criminal, and eviction data with results that show up on the owner's dashboard. Applicants are notified when they've been rejected or accepted, and added to the Resident Center to begin accepting online rent payments.
Leasing
AppFolio lets landlords create customized, branded leases that can quickly and easily be e-signed using any mobile device. Lease renewals are automated with lease dates and rental amounts automatically updated.
Buildium eLeases help landlords manage the entire leasing process online and collect applicant signatures from any computing device. Property owners can quickly set up lease templates, have leases and addendums electronically signed, then securely stored online so that documents can be accessed anytime from anywhere.
Online Rent Collection
Both AppFolio and Buildium let landlords collect tenant rent payments online, create and schedule automatic late fees, and receive partial payments:
AppFolio: Contact for current pricing.

Buildium: EFTs vary from $0 to $1.00 depending on the pricing plan, with credit card fees of 2.95% of the transaction amount.
Financial Reporting
AppFolio property owners with real-time, flexible reporting with more than 80 customizable reports including owner statement, income statement, cash flow statement, balance sheet, and rent roll.
Buildium simplifies rental property accounting with online bill payments and automatic entry of repeat expenses. Comprehensive accounting reports and key financial metrics including monthly profits, real estate balance sheets, income statements, cash flows, and bank reconciliations can be generated with just a few clicks.
Tax Management
Both AppFolio and Buildium provide property owners with tools to help manage taxes, in addition to e-filing of 1099-MISCs and 1099-NECs. 
Stessa vs. AppFolio and Buildium
While both AppFolio and Buildium provide robust property management platforms for a monthly fee, there are a lot of features that many small rental property owners may not need. 
That's why Stessa developed a rental property financial management system that's 100% free. 
Created by real estate investors for real estate investors, Stessa makes it easy to track rental property performance at both the property and portfolio level, manage finances, and create an all-important paper trail that every real estate investor needs.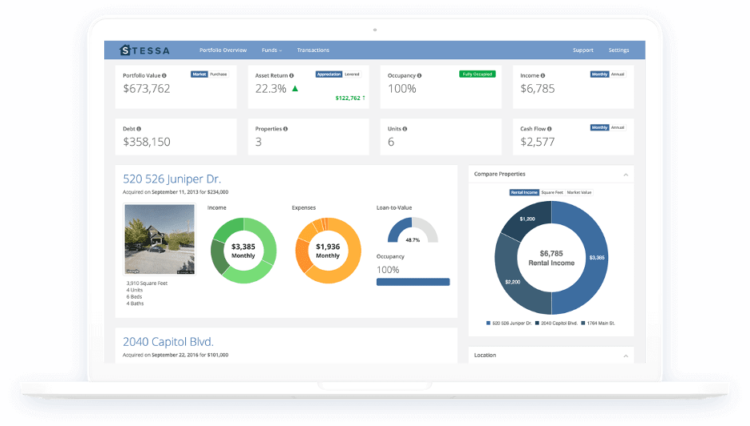 After signing up for a free account with Stessa and entering some basic property information, real estate investors can:
Track unlimited properties

Get performance dashboards at the property and portfolio level

Automate income and expense tracking

Collect rent online with free ACH transfers (other payment options coming soon) and a recurring payment option for tenants, as well as the ability to collect late fees

Track expenses on the go with the iOS and Android app

Organize and store all real estate documents safely and securely

Run numerous monthly reports including income, net cash flow, and capital expense statements

Export tax-ready financials

Personalized tax package on the

Stessa Tax Center

, including an income statement, net-cash-flow report, and a ZIP file in a single email
As an added benefit, Stessa's Cash Management deposit accounts currently earn 2.00% APY (compared to the national average interest of 0.03% on checking accounts as of July 2022, according to the FDIC). Stessa Cash Management users can earn interest on balances from automated rent collection deposits, CapEx account, and operating account.
Annual Percentage Yield (APY) of 2.00% is effective as of 8/5/2022. No minimum opening deposit or account balance required. Fees could affect earnings on the account. Stessa is a financial technology company, not a bank. Banking services provided by Blue Ridge Bank, N.A., member FDIC. The national rate is the average of rates paid by all insured depository institutions and credit unions for which data is available to the FDIC, with rates weighted by each institution's share of domestic deposits.
Go here to create a free Stessa account.
Wrapping Up
AppFolio,Buildium, and Stessa each make owning and managing rental property easier. 
AppFolio and Buildium's online property management platforms offer an array of services, including listing vacant units across multiple online rental websites, screening tenants and signing leases online, collecting rent and charging late fees, and monitoring the financial performance of every rental property.
However, with prices ranging from $50 to $1,500 per month, AppFolio and Buildium may not be cost effective for every real estate investor. Before signing up for either service, ask about a free trial period and investigate free alternatives such as Stessa to make tracking real estate investments simple.