You can't run a successful small business these days without the right technology. Whether we like it or not, rental property management apps are an integral part of a landlord's toolbelt. Knowing which tools to keep, and which ones to leave at home, is a constant balance between practicality and efficiency.
There are many top-rated rental property management apps that landlords should consider adding to their toolbox. These tools include tenant management, financial dashboard, listing, and screening apps. All of these tech tools help us be better and more efficient business owners. And as landlords, we are certainly small business owners.
Here are the top apps all landlords should consider using.
1. Stessa (5 stars / 1,300 reviews)
Stessa is a digital platform for property investors to manage, monitor, and communicate the performance of real estate assets. Created by real estate investors, Stessa allows users to easily keep track of property performance, finances, and the paper trail that comes with real estate investing—in one central place.
Stessa will track income, expenses, and provide investors with dozens of critical investing metrics and tax-ready documentation.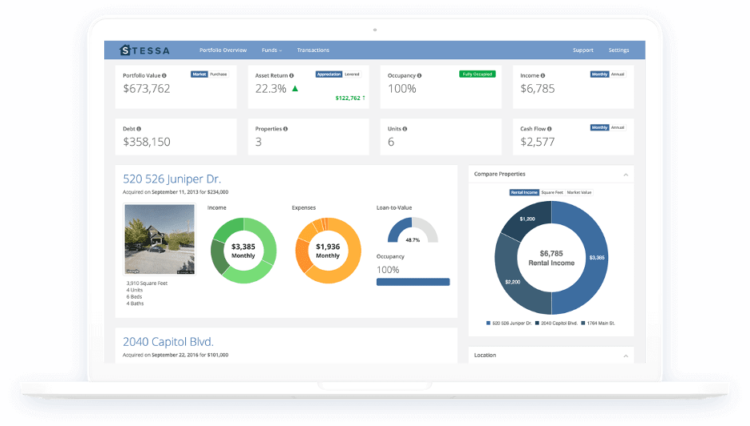 Beyond the fact that it's free, Stessa also offers a number of innovative solutions for landlords who want a tool that moves beyond simple accounting inputs and outputs. For instance, Stessa recently added real-time receipt scanning with automatic tax-ready real estate categorization to the Stessa mobile apps for
iOS
and
Android
.
All receipts and invoices that are scanned with the Stessa app are also available on the online platform and vice-versa, so you always have a complete picture of your property expenses. Stessa's machine learning and OCR technologies parse all the details and then organizes the information. All transaction details are stored in the cloud with the industry's best security, so everything is always accessible and available during tax time or for audit purposes.
Further, Stessa has a document storage feature that allows landlords and investors to capture all of their critical financial and accounting documents in one centralized database.
Other cool features from the Stessa accounting software app includes rental reports and a mortgage portal for those looking to explore their financing options.
PROS:
Stessa lets you know exactly how much money your rentals are making you in real time
Stessa automates 90% of the bookkeeping and accounting work so you can spend your time on what matters
Stessa makes tax time a breeze with tax-ready reports
CONS:
Stessa focuses on getting the financials perfect, so the property management features you may need like tenant management and rent collection aren't included. Stessa does integrate seamlessly with popular property management apps like Appfolio and Propertyware, however, so you can have the best of both worlds.
2. Landlordy (5 stars / 1,200 reviews)
Landlordy is a companion app for landlords and property managers. This app is built for the smartphone world and integrates with the iPhone/iPad camera, email, and messaging features. Some of the key features of Landlordy include full and partial rent payment tracking, expense log, receipt scanner and PDF storage, a photo library, and safety and maintenance checklists.
3. Landlord Studio (5 stars / 288 reviews)
Landlord Studio is a property management app built by landlords. It can help you keep track of rent payments and expenses, generate reports for accounting, automate reminders, and invoice tenants.
Through the Landlord Studio dashboard, you can also get an overview of your investing metrics such as cash flow and expenses, as well as store critical documents with their cloud storage service. This app also supports tenant screening, which is becoming much more important these days.
4. Zillow Rental Manager (4.5 stars / 9,200 reviews)
Zillow Rental Manager is all about filing vacancy. This rental property management app is less about the overall management and more about finding renters for and leasing your vacant properties. Once you find a renter, Zillow Rental Manager can help you screen them and collect rent.
Other key features include pricing, rental photos, rent inquiry notifications, rental application tracking and submission, income and credit verification tools, and online rental collections.
5. Buildium (4.5 stars / 664 reviews)
Buildium is a powerful full-service software for property managers. It has an impressive amount of features, and is therefore expensive and built for investors with larger portfolios.
Buildium does offer some cool features such as an app, payment tracking, robust accounting, and more. Buildium also includes some in-app calculators and an e-filing tool when it comes to tax time.
Bottom line
Keep in mind that an overloaded toolbelt will weigh you down. Test out the above tools, see if they work for your business, and keep them if they do. We are moving more and more toward technology-driven real estate investing, so the quicker you get accustomed to the current top rental property management apps, the better.