As a landlord, you have a lot of decisions to make, including which property management software to choose. AppFolio and Propertyware are 2 of the most popular options, but which one is right for you?
This post will compare the 2 programs and help you decide which one is best for your business. In addition, we'll discuss how free rental property management software from Stessa stacks up against AppFolio and Propertyware.
---
Key takeaways
AppFolio and Propertyware both offer a wide variety of powerful features, but their pricing plans may not be cost-effective for landlords with a small number of rental properties.

AppFolio pricing currently begins at $280 per month with a minimum of 50 units, while Propertyware pricing has a minimum charge of $250 per month, excluding the onboarding/implementation fees both companies collect.

Stessa is 100% free cloud-based reporting and accounting software to receive recurring online rent payments and track property and portfolio performance metrics for unlimited single-family houses, multiunit properties, and short-term vacation rentals.
---
AppFolio overview
AppFolio's cloud-based property management software offers a wide variety of residential and commercial rental property features.. The company requires a minimum portfolio size of 50 units and currently charges a minimum monthly fee equal to 200 units, plus a one-time onboarding fee based on portfolio size.
While AppFolio offers robust features, including marketing and leasing, maintenance and operations, communication and service, accounting, and reporting, it may not be a good fit for investors or property managers with a small number of properties due to the minimum size requirements.
Current pricing
AppFolio provides 2 pricing options for its software based on the size of your portfolio:
Core
Core is best suited for small to medium portfolios, requiring a minimum of 50 units and currently costing $280 a month, with $1.40 a month for each additional unit. The onboarding charge begins at $400 for the smallest portfolio and increases with the portfolio size.
Plus
Plus requires a minimum of 500 units but may be a better match if you have a portfolio of 1,000 units or more. Pricing currently begins at $1,500 a month and includes all the features in Core plus additional property management tools. Onboarding fees start at $400 and increase depending on how many units are in your portfolio.
Software features
Core
Accounting and reporting

Virtual marketing and leasing tools

Resident and owner management

Online maintenance

Full mobile capabilities

Continuous software updates
Plus
All Core features

Workflow management

Performance insights

Revenue management

Data export capabilities

Strategic account management
Propertyware overview
Propertyware provides users with numerous features, including online leasing, property management, maintenance, accounting, operations, and risk management.
Although Propertyware software is powerful and customizable, it may be a better match for investors and property managers with large portfolios. While there is no minimum unit requirement, the company presently charges a minimum monthly fee equal to 250 units, plus a one-time implementation fee equal to 2 times the monthly subscription price.
Current pricing
Propertyware offers 3 clear pricing packages based on the features provided, plus additional services for an extra fee. The company also offers a limited-access free trial period:
Basic
The Basic plan costs $1.00 per unit a month with a minimum charge of $250 a month. There is also a one-time implementation fee equal to 2 times the monthly subscription price, or a minimum of $500.
Plus
The Plus plan costs $1.50 per unit a month with a minimum charge of $350 a month. The one-time implementation fee is equal to 2 times the monthly subscription price, or a minimum of $700.
Premium
The Premium plan costs $2.00 per unit a month with a minimum charge of $450 a month, plus a one-time subscription fee equal to 2 times the monthly subscription price, or a minimum of $900.
Additional services
Propertyware offers the following services that can be added to any of the above pricing plans. Pricing varies based on selected services, and users must contact the company for pricing details:
Maintenance contact center
There is a 24/7 answering service to handle maintenance and emergency calls. That currently costs $1.10 per unit a month with a $300 setup fee.
Leasing contact center
Capture and manage every call and email with professional agents who become an extension of your staff. This currently costs $2.85 per unit a month with a $300 setup fee.
Professional websites
Modern and professional designs integrate with Propertyware. This currently costs $99 a month with setup fees starting at $500.
AssetProtect
This provides owners and tenants with important coverage to protect their property. It currently costs $12 per policy a month with no setup fee.
Software features
Basic
Global customization and reports

Marketing

Property management

Owner portals

Tenant portals

Maintenance

Accounting

Screening

Payments

Unlimited support

Unlimited storage

Unlimited online training
Plus
This includes everything in the Basic package, plus:
Two-way text messaging

Digital signatures

Inspections
Premium
This includes all of the features in the Basic and Plus packages, plus:
Maintenance projects

Vendor portals
How do AppFolio and Propertyware compare?
Here's a side-by-side comparison of the essential features that many landlords use. Keep in mind that the best software for you may vary depending on your particular rental properties and business goals.
Listings
AppFolio seamlessly integrates with online listing services, including Apartments.com, Zillow, and Zumper to help landlords fill vacancies and keep cash flowing. Virtual tours can be run within the AppFolio platform, and artificial intelligence (AI) leasing assistant Lisa handles routine tasks like data entry and scheduling showings.
Propertyware can help you find prospective tenants by automatically sending your listings to its network of free distribution partners. Each listing you create and publish on your Propertyware website is automatically distributed to these high-traffic partner sites, including Apartment List, Trulia, Zillow, and Zumper.
Tenant screening
Tenant screening is an add-on service with AppFolio that checks an applicant's credit score, criminal history, and eviction history and verifies their income and rental history. The company currently charges $15 for each credit or eviction check. Credit, criminal background, and eviction checks are $20 for all 3 reports.
Propertyware uses transactional pricing for each tenant screening service provided. Current costs for credit only are $7.95, criminal only is $8.95, and eviction only is $4.45. Credit, criminal, and eviction are $16.95. The company also offers advanced screening services for credit, criminal, and eviction that includes state, county, and local records, as well as state sex offender registry records for $29.95 per screen.
Leasing
AppFolio subscription plans include unlimited, customized state-specific e-leases and renewals that tenants can digitally sign from any device. After the lease is executed, landlords can use free online storage to organize and store documents, eliminating the need for paper copies.
With Propertyware Plus and Premium plans, you can use MailMerge to automatically pull in applicant data when creating a lease, which saves you time and prevents duplicate entries. The DocuSign electronic signature feature also makes it easy and convenient for applicants to sign the lease while keeping all files and records safe and secure in one place.
Online rent collection
AppFolio and Propertyware offer various online options for collecting rent, partial payments, security deposits, and other fees. AppFolio currently charges a $0.50 fee for each Automated Clearing House (ACH) transaction, a flat fee of $9.99 for a debit card payment, and a credit card transaction fee of 2.99%.
Propertyware currently charges tenants who pay through their tenant portal $1.95 for each ACH transaction, 2.99% for credit and debit card payments (with a minimum fee of $3.00), and $3.75 when tenants pay cash at a participating retailer.
Financial reporting and tax management
AppFolio provides real-time, flexible reporting online. You have access to over 80 customizable reports, including owner statements, income statements, cash-flow statements, balance sheets, rent rolls, and tenant delinquency records. The software also provides landlords with tax readiness tools; you can file 1099s for independent contractors directly from the platform. 
Propertyware's reports tab offers a variety of customizable reports that you can export to different formats, publish to owner portals, and email once or on a recurring basis. While there is no profit and loss (P&L) report available in Propertyware, several reports provide similar information, including income and expense, standard income statement, and Schedule E.
Stessa vs. AppFolio and Propertyware
While both AppFolio and Propertyware offer a variety of features, both software systems may not be cost-effective for smaller landlords. Minimum pricing with AppFolio currently begins at $280 per month with a minimum of 50 units required, while Propertyware pricing packages start at $250 per month, excluding the one-time startup fees that both companies collect.
That's where Stessa comes in. Stessa, a Roofstock company, offers free cloud-based software that helps real estate investors maximize profits through smart money management, automated income and expense tracking, personalized reporting, and more.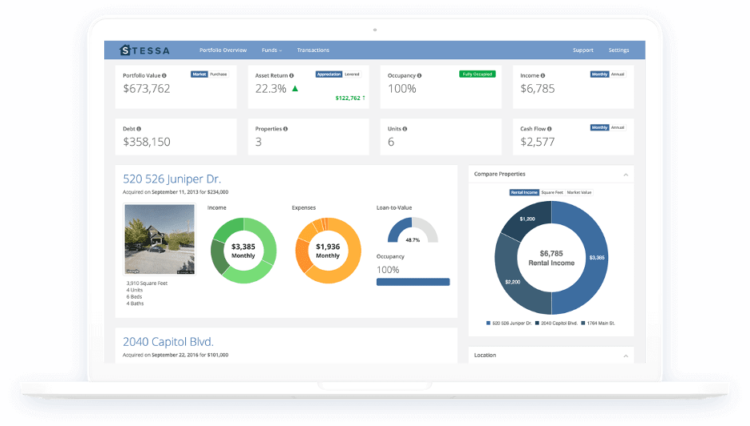 The company was launched in 2016 by 2 experienced real estate investors with 30 years of combined experience. Stessa was built to take care of monitoring and analyzing details, so you don't have to. 
Rental property management software from Stessa is 100% free and provides robust tools to investors with single-family rentals (SFRs), small multifamily buildings, short-term vacation properties, and entire rental property portfolios. More than 100,000 investors already use Stessa to track over 250,000 properties with over $60 billion in asset value:
Stessa is 100% free with optional, premium services for real estate investors for a fee to assist with things like rent analysis and market research.

Track unlimited SFRs, multifamily units, and

short-term vacation rental properties

and portfolios.

Access comprehensive performance dashboards at the property and portfolio levels.

Automate income and expense tracking by linking property bank and mortgage accounts.

Stessa online rent collection

lets tenants pay online using a free ACH transfer.

Track expenses on the go with the iOS and Android apps.

Organize and store all real estate documents safely and securely.

Generate financial reports, including income, net cash flow, capital expense (CapEx) statements, tenant rent roll, and real estate balance sheet.

Export tax-ready financials to help make tax time a breeze.

Create a personalized tax package on the

Stessa Tax Center

that includes an income statement, net-cash-flow report, and a ZIP file in a single email.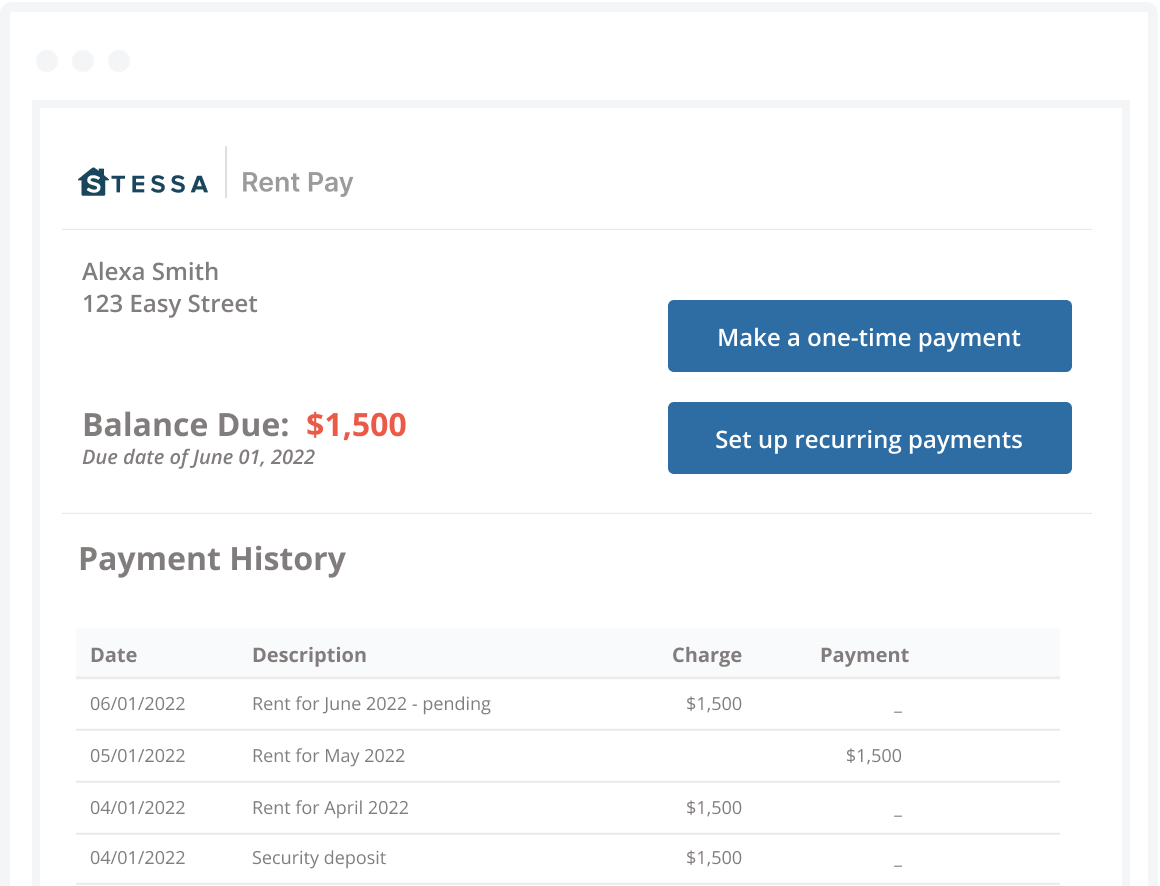 Closing thoughts
AppFolio and Propertyware offer great features for landlords, but their monthly fees and the minimum number of units can be cost-prohibitive for smaller investors. Stessa is a great alternative for those looking for robust features without the high price tag. In fact, Stessa is free, so why not sign up for an account today?