Avail and Apartments.com (formerly Cozy) are 2 of the most popular property management software programs for landlords. But which one is right for your real estate business? 
In this blog post, we'll compare Avail and Apartments.com so you can decide which rental property software program is best for you. We'll also discuss Stessa, another free tool for investment property owners.
---
Key takeaways
Avail is an online software program with free and paid options for managing rental properties. 

Apartments.com (formerly Cozy) is another free online software program that performs various accounting and property management tasks.

Stessa is a great free tool that offers a variety of services, including accounting and online rent collection.
---
Avail overview
Avail's software is designed specifically for landlords and real estate investors. It helps property managers keep track of their finances, manage properties, and stay organized. Avail is part of the Realtor.com network and can track rental income and expenses, so landlords can see precisely how their investment performs. The software also includes features for managing tenants, such as a lease builder and online rent payment options. 
Pricing
Avail offers 2 pricing plans for residential property managers:
Unlimited

: $0 per unit per month with syndicated listings, credit and criminal screening, state-specific leases, online rent payments, and maintenance tracking

Unlimited Plus

: $5 per unit per month with everything the Unlimited Plan, plus next-day rent payments, waived ACH fees, custom applications and leases, custom lease agreements for cloning and reuse, and the ability to create a properties website
Software features
Avail provides cloud-based software with features for the entire tenant cycle:
Avail syndicates listings to 12 of the most popular online rental websites, including Zillow, Trulia, Zumper, Realtor.com, Apartments.com, and Apartment List.

Avail offers lead management tools and a messaging center.

Showings can be scheduled automatically from Avail or any rental platform that lists the property.

Tenants can initiate TransUnion credit reports and background checks.

Screening reports include a nationwide criminal history report, nationwide prior eviction reports, residence and employment reference checks, and income verification and documentation.

Applicants can use a communication and message center.

Avail offers state-specific and lawyer-reviewed lease templates.

Landlords can use unlimited document attachments, digital signatures, PDF lease generation, and online document storage.

Tenants can set up automatic recurring payments.

Landlords can set up rent reminders and notifications.

Payment receipts and confirmations are automatically generated.

Depending on landlord instructions, late fees can be automatically assessed on a one-time or recurring basis.

Fees, such as security deposits,

pet rent

, or utility fees, can be collected.

Online rent payments can link directly to your bank accounts.

Tenant rent payments are reported to credit bureaus to incentivize tenants to pay on time.

Maintenance and repair tickets can be created and tracked by tenants and landlords.
Apartments.com (formerly Cozy) overview
Apartments.com is another popular property management software for landlords and real estate investors. The rental property software makes it easy to collect rent, track expenses, and communicate with tenants. Apartments.com also offers powerful tools for marketing and showing properties to prospective tenants. 
Pricing
Apartments.com's rental management tools are free to use and include listing a vacant property, accepting rent applications, screening tenants, generating and signing leases, collecting rent payments online, tracking and organizing expenses, and receiving and managing maintenance requests. 
Apartments.com also offers premium listings, can charge prospective tenants with application and screening fees, and can collect transaction charges if rent is paid with a debit or credit card.
Software features
Apartments.com's cloud-based software provides a comprehensive set of solutions to assist investors in managing rental properties. Owners and property managers may use Apartments.com to advertise rentals, screen tenants, sign leases, receive rent payments and deposits, and manage maintenance requests.
After listing a home for rent on Apartments.com, the property is automatically placed on 5 of the most popular websites on the Apartments.com network, including ForRent.com, Apartment Finder, ApartmentHomeLiving, and Apartamentos.com.

Renters can contact landlords by phone or email or click the

Apply Now

button to begin the application process.

Landlords can gain more exposure by purchasing a Premium Listing, which appears on 7 network sites, places higher in search results, and supports videos. 

Applicants verify their identities and pay for tenant screenings, with reports running as "soft inquiries" so credit is not negatively affected.

TransUnion credit reports include breakdowns of applicants' total debt, credit payment histories, and employment and address histories.

Criminal and eviction reports are generated by searching national databases and county records.

Landlords can create customized lease documents using an online wizard.

Convenient digital signatures allow for online lease signing and storage.

Tenants can set up recurring payments online, which may increase on-time rent payments.

Landlords can monitor tenant rent payments, security deposits, and other move-in costs, such as prorated rent.

Tenants can pay through ACH transfer for free or debit or credit card for a small fee.

Landlords receive payments directly into their bank accounts each month.

Tenants can make maintenance requests and provide details, including photos and videos.

An online portal keeps tenants updated about maintenance timelines and contractor visits.
Avail vs. Apartments.com
It's not always simple to determine which property management software is appropriate for a rental property. So, here are some similarities and differences between Avail and Apartments.com's rental management tools.
Listings
Avail automatically syndicates rental listings to the top 12 national listing websites to reach millions of renters quickly. Leads can be managed online, and landlords can coordinate in-person and virtual showings and answer questions before beginning the application process. Avail also offers rent price recommendations to help landlords set a competitive rent based on property location and features.
Apartments.com can also reach millions of renters seeking single-family homes, condos, apartments, or townhouses to rent. After adding a listing to Apartments.com, the property is automatically placed on the 5 most popular rental websites on the Apartments.com network. Landlords can gain more exposure for vacant properties by purchasing a Premium Listing, which is placed on 2 additional network sites, receives higher search result placement, and supports larger ads and property videos.
Tenant screening
Tenant screening services through Avail include credit reports from TransUnion and tenant background and rental history checks. An applicant initiates screening reports with step-by-step guidance via email, and information is pulled as a "soft inquiry" so credit scores are not negatively impacted.
Apartments.com also uses TransUnion to run credit reports and criminal and eviction reports. Applicants verify their identities and pay for their screenings, and reports are also run as "soft inquiries.". Comprehensive tenant screening reports from Apartments.com include employment and address history, total reported debt breakdown, and in-depth credit account payment history.
Leasing
Avail provides state-specific, lawyer-approved lease agreement templates, including all necessary disclosures and attachments to comply with local ordinances. Landlords can also choose from Avail's extensive list of clauses  for smoking, pet, and other rules. Leases can be digitally signed and stored online. Once a lease is executed, landlords can request tenant payments, such as the first month's rent, security deposit, and any additional move-in fees via the online landlord dashboard.
The online wizard from Apartments.com takes landlords through a step-by-step process to create a state-compliant online lease agreement. Lease forms have been reviewed with consultation from industry and local jurisdiction experts and customized by location. Digital signatures are used to execute all lease documents and stored online.
Online rent collection
Online rent collection from Avail streamlines the payment process for both tenants and landlords. After creating a landlord account and entering the monthly rent amount and any additional fees, tenants receive easy-to-follow instructions to create a preferred payment method, such as an ACH transfer or debit card. 
Apartments.com eliminates the hassle of physical checks and in-person payments by allowing tenants to set up recurring rent payments online. Funds are deposited to a landlord's bank account each month, and rent payments can be monitored via an online dashboard. 
Financial reporting
The Avail Rental Property Accounting tool tracks income and expenses that are logged through the Avail platform. A landlord can manually add one-time transactions or edit those already in the system to keep income and expenses up to date. The rental property income and expense tracker monitors the transaction date, type, category, payer, and total amount.
Landlords can use Apartments.com to manually enter and track expenses per property, assign them to Schedule E tax categories, and upload and attach receipts and images to organize and store online. The expense entry template includes fields for vendor and payment date, amount and IRS expense category, and a section for adding notes about the expense.
Tax management
Transactions on Avail can be exported into a CSV spreadsheet to be shared with a landlord's tax professional. Data is sorted by rental property, transaction type, and vendor or payer.
Landlords using Apartments.com for tax management can download expenses based on calendar year or a custom date range and include receipt images in the download as a backup. In addition, expense reports are generated in a CSV and PDF format following Schedule E to make tax preparation easier. 
Stessa vs. Avail vs. Apartments.com
While both Avail and Apartments.com provide robust property management platforms, they offer features that many small rental property owners may not need. 
That's why Stessa, a Roofstock company, developed a rental property financial management system that's easy to use and free. 
Stessa makes it simple to track rental property performance at both the property and portfolio levels, manage finances, and create records.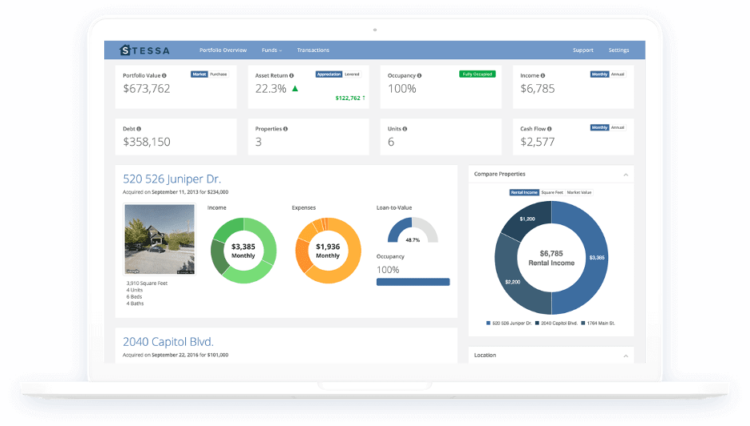 After signing up for a free account with Stessa and entering some basic property information, real estate investors can: 
Track unlimited properties.

Automate income and expense tracking.

Collect rent payments online (either through one-time payments or Autopay).

Track expenses on the go with the iOS and Android app.

Organize and store all real estate documents safely and securely.

Run numerous monthly reports, including income, net-cash-flow, and capital expense statements.

Export tax-ready financials.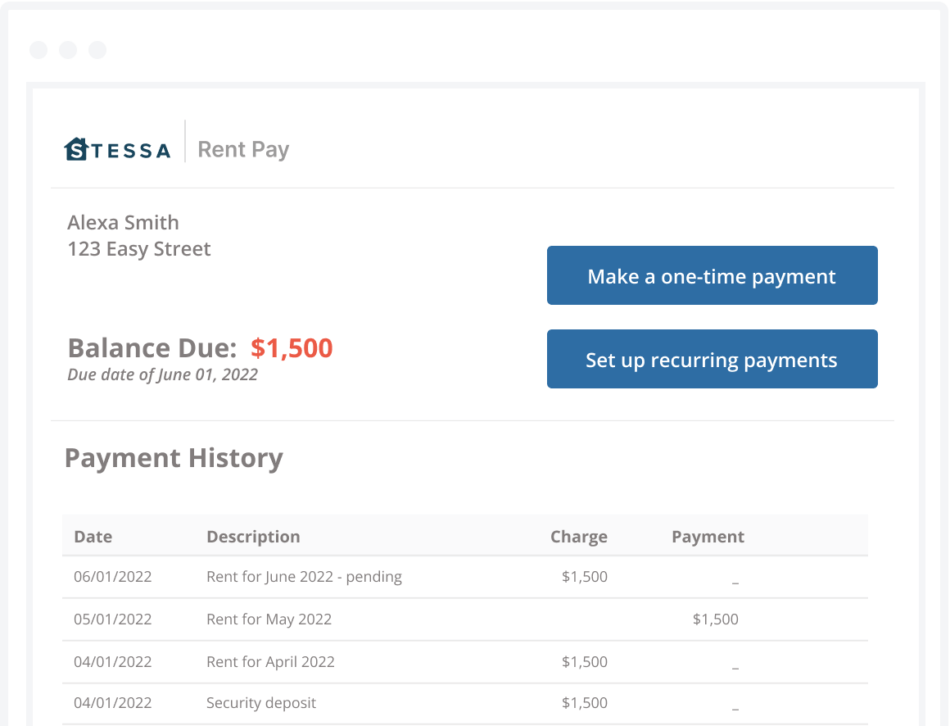 Closing thoughts
Avail and Apartments.com offer unique features for tracking income and expenses, collecting rent online, and financial reporting. 
Stessa provides a robust property management platform that is easy to use and free. While Avail and Apartments.com have their strengths, Stessa may be a better option for property owners with smaller portfolios.