Real estate investing apps and tools can streamline your rental property business. Many apps for real estate investors are free or inexpensive and are used by investors to find listings online, analyze potential deals, screen tenants, collect rent online, create and electronically sign documents, and manage money.
---
Key takeaways
Real estate apps and tools help to simplify the process of investing and managing rental property.

There are online and smartphone apps and tools for finding single-family rental (SFR) properties, analyzing potential returns, performing due diligence, networking with fellow investors, and managing money.

Some of the best apps and tools we've found for real estate investors include Stessa, Roofstock, DocuSign, LegalTemplates, and Stessa Cash Management.
---
19 apps for real estate investors
Both novice and experienced real estate investors use apps and tools to find the right deals, boost productivity, and maximize potential profits.  
Here are 19 of the best real estate investment apps and tools we've found:
1. Stessa
Landlord Gurus selected Stessa as the best overall reporting and accounting tool for landlords.
Stessa is free rental property financial management software that automates income and expense tracking and helps investors maximize profits through smart money management. Stessa can be used with SFRs, residential multifamily properties, and short-term vacation rentals. When tax time rolls around, the Stessa Tax Center helps to make filing a breeze with a customized tax package and TurboTax discount. Stessa offers apps for both iOS and Android.
In addition, investors who open a Stessa Cash Management deposit account can further streamline their property management with online rent collection. The tool lets real estate investors automate typically manual parts of rent collection, including depositing checks, charging late fees, and monitoring payments for financial reporting. Stessa imposes no fees for either landlords or tenants to use online rent collection, and it offers strong security measures to protect both parties' personal and financial information.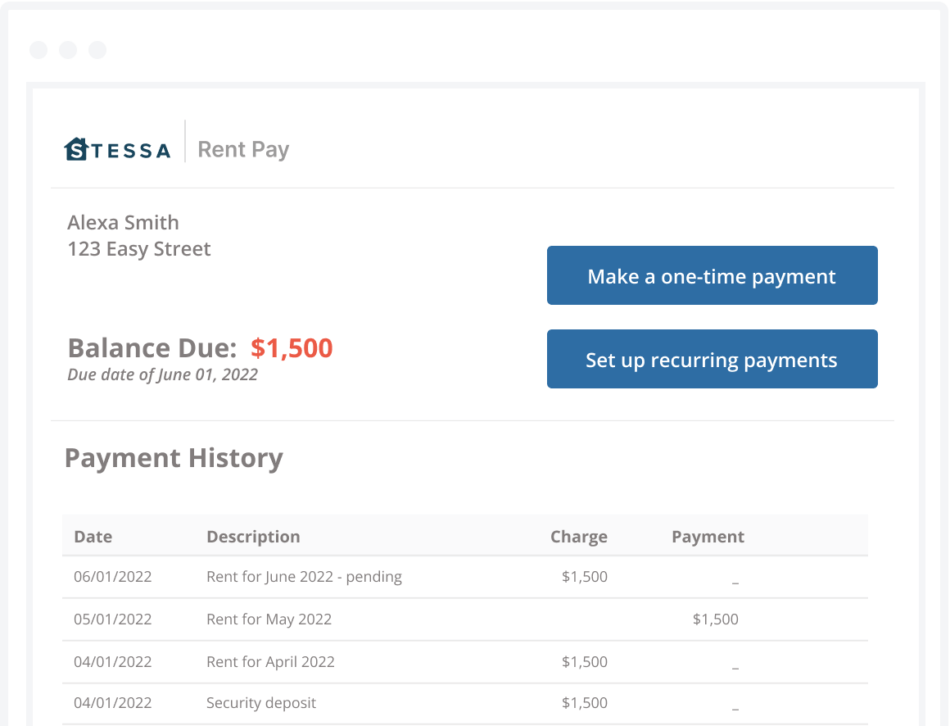 Here's a quick rundown of Stessa's online rent collection features:
Deposit type:

ACH

Deposit times:

2 to 3 business days 

Landlord fees:

None 

Tenant fees:

None

Autopay:

Yes

Late fees:

Coming soon

Real-time notifications:

Yes

Automatic accounting:

Yes
As an added benefit, Stessa's Cash Management deposit accounts currently earn 2.00% APY (compared to the national average interest of 0.03% on checking accounts as of July 2022, according to the FDIC). Stessa Cash Management users can earn interest on balances from automated rent collection deposits, CapEx account, and operating account.
Annual Percentage Yield (APY) of 2.00% is effective as of 8/5/2022. No minimum opening deposit or account balance required. Fees could affect earnings on the account. Stessa is a financial technology company, not a bank. Banking services provided by Blue Ridge Bank, N.A., member FDIC. The national rate is the average of rates paid by all insured depository institutions and credit unions for which data is available to the FDIC, with rates weighted by each institution's share of domestic deposits.
Go here to create a free Stessa account.
2. Apartments.com
Investors looking for a full suite of online property management tools may want to give Apartments.com a closer look. The online rental listing website recently acquired Cozy to provide landlords with free rental management tools to market listings, screen tenants, and collect rent online. Mobile apps from Apartments.com work with Android and Apple devices.
3. Auction.com
Auction.com is the nation's online marketplace for bank-owned real estate (REO), short sales, and foreclosures. The website is a good option for investors looking for off-market properties, and buyers can attend auctions in person or bid online. Apps for Auction.com are available from Google Play and the App Store.
4. DealCheck
DealCheck is a real estate app for estimating profits on rental properties, BRRRRs (buy, rehab, rent, refinance, repeat), fix and flips, and residential multifamily deals. Investors can view detailed financial projections, look up recent sale and rental comps, calculate the maximum allowable offer, and much more. The DealCheck mobile app is available for both Android and Apple.
5. DealMachine
Real estate investors looking for off-market leads use DealMachine to lower marketing costs with software plans for list building, driving for dollars, real estate direct mail postcards, skip tracing to locate hard-to-find owners, and more. DealMachine has apps on Google Play and the App Store.
6. DocuSign
The DocuSign Agreement Cloud for Real Estate is used by investors, real estate agents, property managers, and escrow officers. Documents are shared and signed completely online with applications such as eSignature, Rooms for Real Estate, DocuSign Identity, and Notary. The DocuSign mobile app is available for iOS and Android.
7. Neighborhood Rating
Neighborhood Rating is an online real estate app from Roofstock thatto helps investors better understand the risks and rewards of investing in different neighborhoods. Simply enter the property address to receive a neighborhood star rating from 1-5 stars, along with neighborhood data, including median home values, median incomes and employment, percentage of owner-occupied homes, and average school rating.
8. Dotloop
Transaction management software from Dotloop is used by real estate professionals around the country to collaborate, edit forms, and sign using a single online platform. The software works on a desktop and via iOS and Android apps.
9. eRentPayment
Software from eRentPayment is an online rent payment service and a property management system rolled into one. Landlords can screen tenants online, collect security deposits and recurring monthly rent, and track and respond to tenant maintenance requests. The mobile app for paying rent can be downloaded from the App Store and Google Play.
10. Homesnap
Homesnap is a real estate app that provides information about homes for sale simply by snapping a picture. The app integrates with the multiple listing service (MLS) to provide buyers and investors with the same information that real estate agents use, including photos, property data, property taxes, and more. Homesnap offers apps for both iOS and Android.
11. LegalTemplates
Landlords looking for free legal documents and contracts will find nearly everything they need on LegalTemplates.net. Documents can be customized and signed online, including purchase-and-sales agreements, lease agreements, lease termination forms, and limited liability company (LLC) forms
12. Magicplan
Magicplan is an iOS and Android app that measures existing spaces and creates floor plans. The app uses a smartphone camera and internal gyroscope to create accurate plans that can be exported to PDF, JPEG, PNG, and other formats.
13. PayYourRent
Property managers, landlords, and tenants use PayYourRent for same-day rent payment processing. The app comes with online and mobile versions. Renters can pay by credit card or check, and landlords receive additional property management tools, including tenant screening, rental applications, and maintenance request management. Mobile apps for PayYourRent are available for iPhone and Android phones.
14. Property Fixer
Property Fixer provides a fast analysis for investors who are fixing and flipping properties. This real estate app helps investors purchasing short sales, REO properties, foreclosures, and rehabs to perform due diligence and crunch the numbers to determine if a deal matches an investor's strategy. Property Fixer works with iPhone, iPad, and Mac.
15. Real estate listing websites
Real estate listing websites like Realtor.com, Redfin, Trulia, Zillow, and ZipRealty are good resources for finding both MLS and for sale by owner (FSBO) listings. Investors can search for homes using a variety of criteria, and all of the websites have apps for iOS and Android.
16. Rentometer
Rentometer is an online app that runs rent comparables and determines the fair market rent of a home based on similar nearby properties. Investors can use the free version to analyze rent based on property address, or upgrade to generate rent comps at the neighborhood, ZIP code, and city levels.
17. Scanner Pro
Investors can download Scanner Pro to an iPhone or iPad to take high-quality scans, write and highlight text, share, and fax. Scanned documents can be uploaded and stored online, and the smart optical character recognition (OCR) technology recognizes text in more than 25 languages.
18. Xome
Xome is an online listing website for auction properties, foreclosure sale events, and traditional home sales. The site is a good resource for investors who want to fix-and-flip, or fix-and-hold renovated property and rent to a tenant. Investors can browse listings on Xome online and download the Xome mobile app for iOS and Android.
19. Doorsteps
Doorsteps is a website for listing and managing rental properties online. Landlords can list vacant properties for free, market listings on 12 high-traffic sites like Realtor.com, Zumper, and Zillow, schedule showings, and get tenant screening reports.