The more reliable and consistent cash flow a rental property generates, the more successful you'll be as a real estate investor. 
Solid cash flow begins by renting to the most qualified tenant possible, and one of the best ways to screen a tenant is by using a free rental history check report.
What is a Rental History Check Report?
Knowing how a prospective tenant performed for previous landlords they rented from is a pretty good indication of how good the tenant will be for you. 
A rental history check is a report that lists in chronological order each property a tenant rented from, and also provides you with the contact information for the property management company or landlord. 
You can cross-check the information received on the rental history report to the tenant credit check and the tenant's rental application. Ask the tenant to explain any discrepancies between the three documents, to ensure you're getting the most accurate information. 
Why Landlords Should do a Rental History Check
They say that information is power, and that's absolutely true when you're screening prospective tenants. 
The rental history check provides you with a snapshot of where the tenant has lived going back for several years. Based on this information, you'll be better able to estimate how long the tenant will rent your place and more accurately predict future cash flows. 
For example, if a tenant moves to a new home every year, the odds are that you'll only have one year of rental income from the tenant before you have to spend money turning the property over for another tenant. 
On the other hand, if the tenant has a history of staying in the same place year after year, you can probably count on the tenant being good for several years of future rental income. 
Just as importantly, if the tenant has a history of frequently changing addresses every few months, that's a big red flag that the tenant may have a history of not paying their rent.
How to Use a Rental History Check
If there are no red flags on the rental history check, the next step is to interview the tenant and their previous landlords. You can use the same questions when speaking to the tenant and landlords by structuring them in different ways:
Questions to ask the tenant
When was the due date of the rent, and did you always pay the rent on time and in full?

Did you ever have to pay a late fee? If yes, how often and why did you pay late?

Were you charged for any damages beyond normal wear and tear when you moved out?

Were there parts of the lease agreement you didn't understand or didn't agree with? If so, what were they?

What condition did you leave the property in when you moved out?

Would you rent from our previous landlords again? Why or why not?

Is there anything else about your previous landlords you would like to tell me?
Questions to ask the landlord
Did the tenant pay the rent in full by the due date?

If not, how often was the rent paid late, and was a late fee assessed?

Did the tenant cause any damage beyond normal wear and tear?

What condition did the tenant leave the property in when they moved out?

Would you rent to the tenant again?

Can you tell me anything else about the tenant that a fellow landlord should know?
What If a Tenant Has No Rental History?
As a landlord, you may run into prospective tenants who don't have a rental history. 
For example, Gen Zs renting for the very first time probably won't have anything show up on their rental history check. Also, Baby Boomers who have decided to cash-out on the home they own and rent instead will likely have plenty of income but nothing on their rental history report. 
Both of these prospective renter groups can make excellent tenants despite having no rental history. 
You can ask your prospective Gen Z renter for a cosigner on the lease. Boomer applicants should be a good choice to rent to as well, provided the applicant has a good credit report and a history of paying bills on time.

Where to Find a Free or Cheap Rental History Check 
Here are seven good sites where you can find a free rental history check, along with several other low-cost options for a rental history check:
Free Rental History Check
Other Options for a Rental History Check
Related: Once you've screened and approved your new tenants, do you have an easy way to collect rent from them? Check out Stessa rent collection – a free tool that makes it easy for tenants to pay on time, and automate key tasks like deposits, receipts, and accounting. Tenants can also enable Autopay to avoid missing rent deadlines. Get notified when a payment is made and when it's been deposited in your account.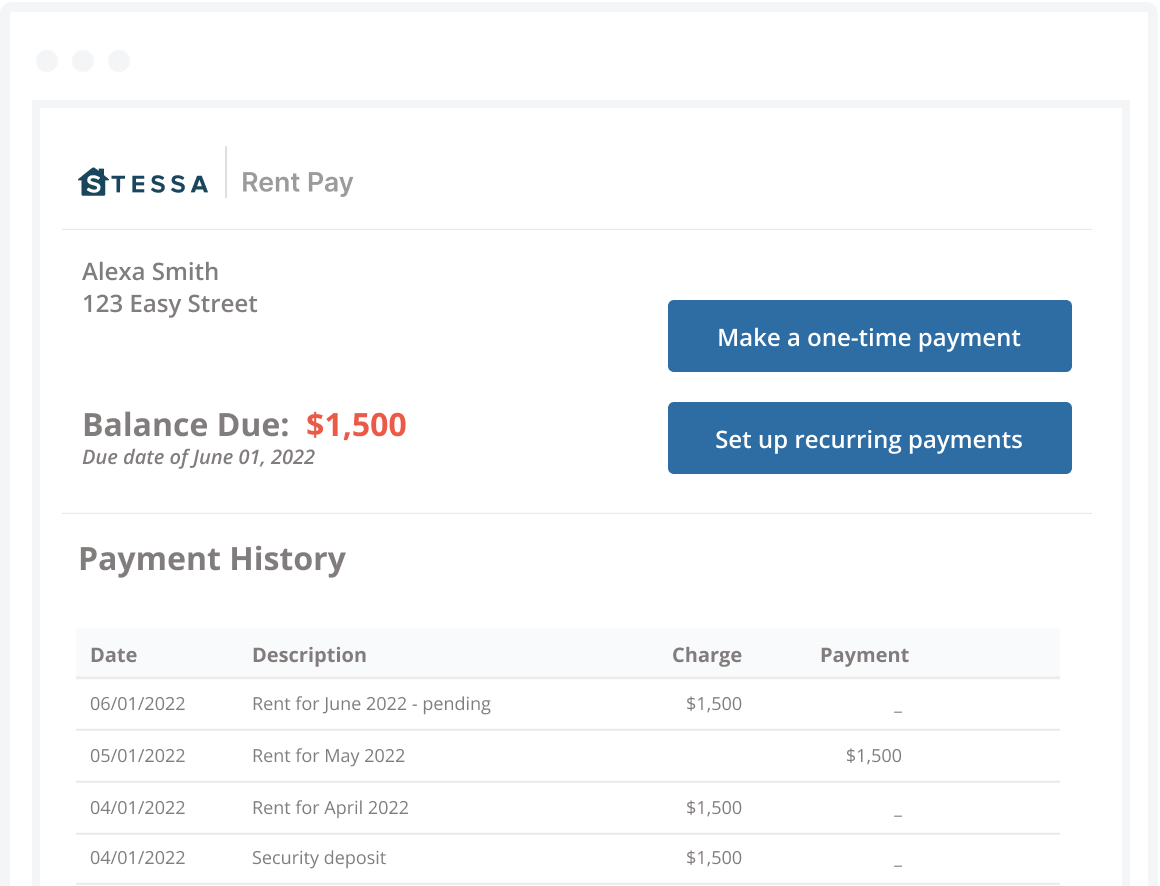 Best Practices for Checking Rental History
The profile of the tenant you'll attract depends on a variety of factors, such as the neighborhood your property is located in, and the types of rental properties nearby. Depending on the local market, you may decide to accept a tenant with a lower credit score or one that has paid the rent late on occasion. 
It's still important to conduct thorough tenant screening, including a rental history check, credit report, and criminal and background check. Once you have the complete tenant package, compare the reports to the tenant's application and look for any inconsistencies. Ask the tenant to explain any discrepancies, and speak with the tenant's previous landlords or property managers to learn if the tenant paid the rent on time and took good care of the property.
After you've interviewed the prospective tenant and previous landlords, go over the tenant screening report one last time to:
Examine the rental history check to understand if the prospective tenant is likely to rent for more than one year.

Compare the tenant's income to their monthly debt payments to gauge whether or not the tenant really has enough monthly income to pay the rent, utilities, and other living expenses.

Review the tenant's employment history to help predict if the tenant has a stable job, and whether or not they receive part of their income in cash (if they do, ask for copies of their recent tax returns to verify their true annual income).

Note red flags such as previous convictions, evictions, judgments and liens, or pending lawsuits that could signal the tenant may run into cash flow problems after they move into your home.
Wrapping Up
A rental history check is just one of the countless documents you'll need to manage as a real estate investor. 
To stay organized and know where everything is when you need it, sign up for a free account with Stessa and get the industry's best security to protect your data and organize and store all of your real estate documents. Stessa works with single-family rentals, residential multifamily, and short-term rentals to track property performance, finances, and documents all in one place.