Clare Trapasso of Realtor.com opened up the week with an article on how the Delta variant may affect the housing market. Generally speaking, when investors get worried, they tend to exit the stock market for more stable bonds and mortgage-backed securities. As demand for bonds rises, so too do prices, pushing yields, and ultimately mortgage rates, lower. Here are some additional highlights:
As investors fret over the variant, interest rates are being pushed lower.
Lower interest rates plus new lockdown fears could push more buyers into the market.
This trend could continue to buoy prices and add to the already tight supply of residential real estate.
If there are more lockdowns, urban center real estate will likely feel another hit as homeowners increasingly move to secondary and tertiary markets.
That said, with higher vaccination rates in urban areas, this may serve to entice people to stay more central.
"I don't think Delta is going to dent the housing market unless it starts to elude our vaccinations to the point where we start self-quarantining and schools start shutting down and we go backward on the reopenings." — Mark Zandi, chief economist of Moody's Analytics.
Although the Delta variant may have minimal impact on the overall housing market, the additional risk to the senior living asset class is undeniable. According to Senior Housing News:
"Among the biggest risks to senior living operators is that growing case counts among unvaccinated people could lead to a resumption of some local or statewide mandates or restrictions, slowing occupancy recovery; or even lead to new outbreaks among their workforce and residents. The potential for delta outbreaks among staff members is a particularly pressing concern, given current labor challenges that include worker shortages."
Earlier this week, as the national eviction moratorium expired, President Biden urged a renewed ban on evictions "to prevent a wave of homelessness as the more infectious Delta variant of the coronavirus takes hold…[But] Biden acknowledged the administration does not have the legal authority to help renters stay in their homes."
Home sale data by asset type
We saw some interesting home sale data this past week, starting with Redfin who reported that the speed of home selling passed its record peak, meaning the market may be starting to cool. Pending home sales saw a year-over-year increase of 7%, the smallest increase since late June 2020.
Of the asset types with the highest sales volume, Redfin also reported that luxury home prices jumped 26% year-over-year in Q2 2021, and prices of affordable homes jumped 19%. These two segments of the housing market outperformed all others.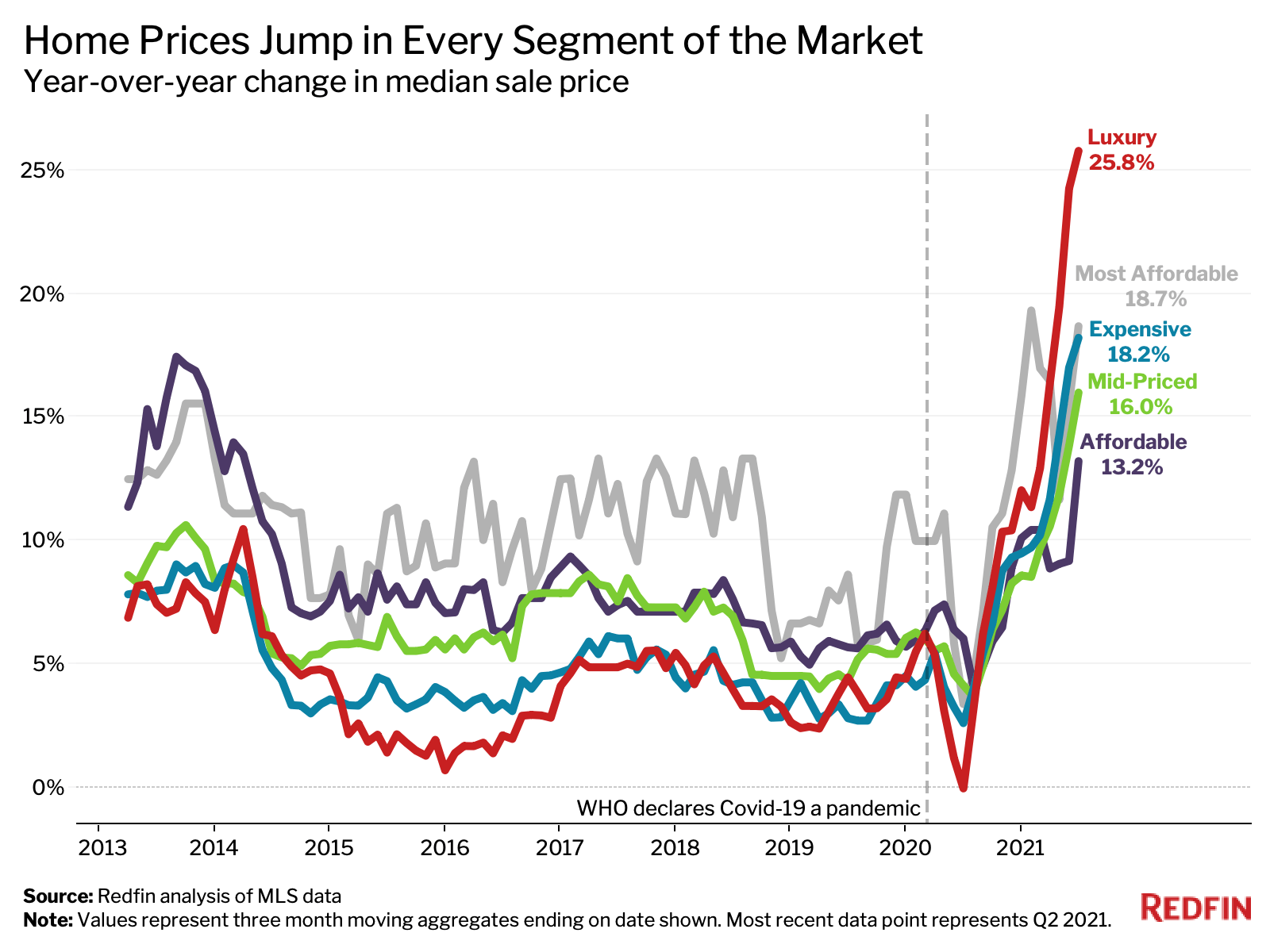 Source: Redfin
Redfin Chief Economist Daryl Fairweather noted that "surging prices can be especially problematic for first-time and lower-income homebuyers, but the good news is that the supply of the country's most affordable homes is growing. That means there could be more homes to choose from and less competition for buyers in that segment of the market."
That said, Rose Quint of the National Association of Home Builders (NAHB) penned an article outlining that affordability perceptions are worsening. "Affordability expectations have worsened in every region of the US. From the final quarter of 2020 to the second quarter of 2021, the share of buyers who could afford less than half the homes for-sale in their markets rose 51% to 66% in the Northeast, 74% to 83% in the Midwest, 68% to 75% in the South, and 61% to 70% in the West."
Source: NAHB
George Ratiu, Senior Economist at Realtor.com, noted this week that home sale contract signings declined in four of the first six months of 2021, concluding that this year's record-high prices and tight inventory are putting downward pressure on sales transactions.
STR update
Anyone try and book a short-term rental lately? If so, you're likely aware that occupancy and demand are sky-high in this previously hard-hit industry. Brad Jamison of AirDNA reported last week that the shift from business to leisure travel has pushed the industry to recalibrate, and airlines to add new routes.
"With Zoom calls now the norm and fewer companies wanting (or seeing the need) to put employees on planes, airlines see travelers' pent-up eagerness to escape to destination markets as a way to get a foothold on an otherwise shaky travel landscape — and to establish profitable routes in both the near and long terms."
Source: AirDNA
And it's not just rental demand that is bouncing back, but sales of secondary homes are also on the increase, as reported by The Seattle Times last week.
"Many Americans have bought a vacation home during the pandemic for a variety of reasons. In fact, sales of vacation homes last year were up 16.3% over 2019, outpacing the total existing-home sales growth of 5.6% in 2020…In the months of July through September 2020, sales of homes intended to be used for vacation climbed to 109,100, a 44% gain from the 75,600 figure during the same period in 2019."
Capitalizing on the strength of the industry, Vacasa, a short-term rental management company, announced it is going public through a SPAC according to CNBC. This pegs Vacasa at a $4.5 billion valuation. "The timing of Vacasa's debut comes as the broader travel and hospitality industry is assessing the impact of the delta variant on travel bookings and whether customers will cancel future plans."