According to the U.S. Bureau of Labor and Statistics (BLS), the Consumer Price Index (CPI) jumped 0.4% in October and 7.7% year over year. This is a deceleration from 8.2% in September, and overall sentiment around these numbers, as we will see, appears positive.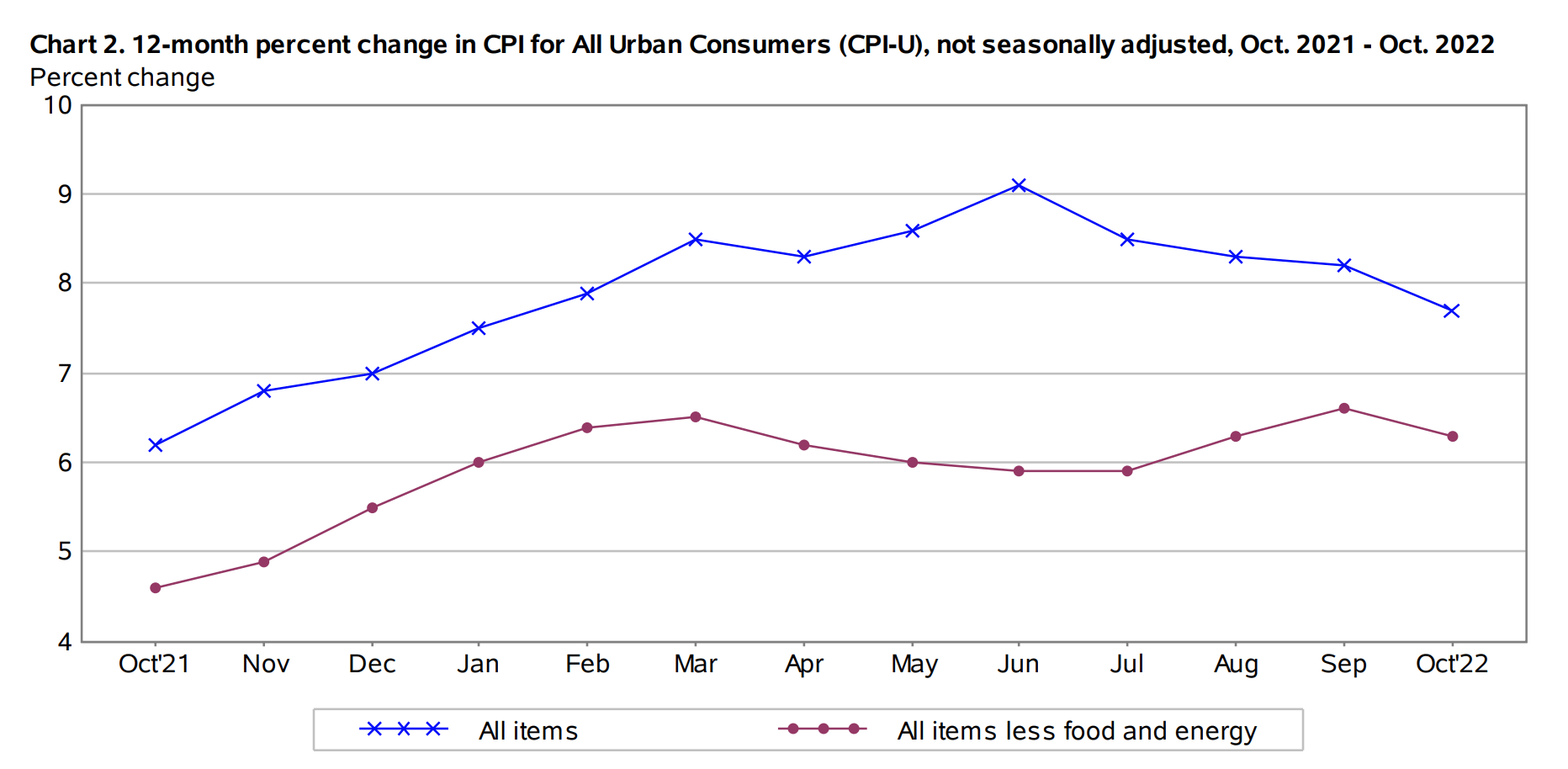 Source: BLS (November 2022)
That said, the cost of shelter continues to rise: "The shelter index continued to increase, rising 0.8 percent in October, the largest monthly increase in that index since August 1990. The rent index rose 0.7 percent over the month, and the owners' equivalent rent index rose 0.6 percent…The shelter index increased 6.9 percent over the last year, accounting for over 40 percent of the total increase in all items less food and energy."
Specifically on shelter (rent) costs, Fannie Mae commented on the data:
"[W]e know that shelter is a lagging indicator and that home prices are beginning to decline, and private measures of rent increases have slowed and may outright decline in the coming months. Though we don't believe this one report will significantly affect the Fed's current aggressive tightening stance (and note that single months of inflation data can be volatile), we do view this as a sign that inflationary pressures are generally slowing."
Source: Fannie Mae (November 2022)
This data prompted a significant jump in homebuilder stocks, according to Breanna Bradham and Norah Mulinda of Bloomberg. This was the biggest rally in these stocks in 2 years, fueled by bets that, given the weaker inflation data, the Federal Reserve will begin dialing back interest rate increases. Further, this CPI data prompted Treasury yields to tumble, which, in the short term, will put downward pressure on mortgage rates, a welcome relief for many borrowers.
Jeff Cox of CNBC notes that if you remove volatile food and energy costs from the equation, inflation only increased 6.3% year over year in October. Cox quotes Mark Zandi, chief economist at Moody's Analytics, as saying: "It's pretty clear that inflation has definitely peaked and is rolling over. All the trend lines suggest that it will continue to moderate going forward, assuming that nothing goes off the rails."
Finally, according to the New York Times, healing supply chains and the rapid rise by the Fed in benchmark rates are the main reasons for cooling inflation. This new data is also fueling speculation that the central banks may be able to tame consumer prices without sending the economy into recession. The paper also notes that "[h]ousing inflation remains rapid for now, but that is expected to change next year. Economists at firms including T.D. Securities and J.P. Morgan predict that rent inflation could begin to slow notably as early as the first three months of 2023."
Source: NYT (November 2022)
Home price growth
Because housing is a lagging indicator, we are now beginning to see the effects of months of interest rate increases filter into home prices. According to Zillow, home value prices were flat in October (+0.1%) as a new equilibrium entered the market. While Las Vegas (-2.3%) and Austin (-2.2%) saw the largest value declines, active listings are still down 23.9%, highlighting ongoing supply issues.
A new report from Redfin shows similar data, with home prices monitored by that platform rising only 3.2% year over year, the smallest increase since July 2020. Since reaching all-time highs, median home prices have now fallen 8.4%.
Source: Redfin (November 2022)
According to Redfin's Deputy Chief Economist Taylor Marr:
"Still-high home prices are propping up inflation…But things are changing fast–faster than the numbers we have would suggest. The employment numbers that came out today don't reflect this week's layoffs, and prices of the past month's closed sales don't reflect the contracts homebuyers are signing with sellers today. The buyers who remain in this market are likely getting much better deals than the median asking or sale price reflects. The typical home now sells for less than asking, price drops remain at a record high and seller concessions are becoming increasingly common."
Spencer Lee of National Mortgage News (subscription required) reports on National Association of Realtors (NAR) data showing that annual home price growth monitored by that platform decelerated to 10% in Q3 2022 (median sale price of $413,500), with 46% of markets still experiencing price appreciation in the double digits. 
In commenting on this data, NAR's Chief Economist Lawrence Yun notes that housing prices will not see a major decline. "Housing inventory is about a quarter of what it was in 2008…Distressed property sales are almost non-existent, at just 2%, and nowhere near the 30% mark seen during the housing crash. Short sales are almost impossible because of the significant price appreciation of the last two years."
Multifamily update
Brooklee Han of HousingWire reported last week that the same economic conditions that are keeping potential home buyers in the rental market are causing a slowdown in multifamily construction. The number of buyers who can afford to buy a home dropped 15% compared to a year ago, and these conditions will only worsen the supply shortage of rental housing.
"Those same interest rates pushing would-be homebuyers to the sidelines are also hurting developers. So although the number of multifamily permits pulled has continued to rise and rents are elevated, the number of multifamily units authorized but not yet started has also increased, jumping 33.3% year over year to a seasonally adjusted annual rate of 144,000. Industry professionals expect that this trend will only worsen, which is not good news for the estimated 4.3 million more multifamily units needed by 2035."
According to Ryan Luby, Henri Torbey, and Brian Vickery of McKinsey & Company, the confluence of low supply and high demand for multifamily has driven outsized returns over the past few years, with the highest quartile of apartments seeing year over year gains of 35%.
"Multifamily residential-investment performance reflects both intra- and inter-MSA (metropolitan statistical area) migration patterns. Garden-style apartments, typically found in suburbs and exurbs, have been the highest-performing apartment type over the past year, returning 32.8 percent. The highest-performing regions were the Southeast (36.5 percent), Mountain (35.6 percent), and the Southwest (27.4 percent), all relatively low-cost regions experiencing inflows. In ten of the largest 15 metros where population growth decelerated from July 2020 through July 2021, rents rose in line with broader inflation."
And, there is continued near-term upward pressure on rents due to overall limited supply.
We are seeing a rent deceleration though, according to Moody's Analytics, with 68% (54 out of 79) primary metros seeing rent growth decelerate quarter over quarter in Q3 2022.
Source: Moody's Analytics (November 2022)
Finally, given the supply chain challenges multifamily builders faced over the last few years, Sebastian Obando of Construction Dive reports that many are now embracing modular construction. The multifamily sector is the fastest-growing user of modular construction, making up 23% of output in 2021. 
Some of the primary factors for increased adoption include environmental sustainability, better overall construction safety, and time savings. That said, the adoption of modular construction methods at the moment doesn't necessarily save on construction costs, according to Obando.