If you're a real estate investor, landlord, property manager, or rental property owner, you know that staying organized is key to success. That's why you need the right software to help you manage your properties. 
So, should you use Innago or Apartments.com (formerly Cozy)? Here's a breakdown of the pros and cons of each, along with an overview of the free rental property management software Stessa, so you can decide which is best for you.
---
Key takeaways
Innago is free property management software that can be used for residential properties, commercial buildings, and student housing.

Cozy is a popular property management software landlords use to manage all aspects of their rental properties from one platform. 

Stessa provides a free, easy-to-use financial management system. 

With Stessa, real estate investors can track their property performance and finances and collect rent online all in one place. 
---
Innago overview
Innago can be used for residential properties, commercial buildings, and student housing.
Pricing
Innago provides free software for finding tenants, collecting rent online, and more. There is no cost to set up, no monthly cost, and no contract. Innago charges tenants for screening and online rent payments. However, landlords can choose to pay for these services themselves.
Software features
Innago posts vacancy listings to various listing sites.

Creating a listing for a property is easy with the step-by-step guide. Landlords can add property details and policies, upload images and videos, and publish to selected rental listing websites. Landlords can get insight into applicants' financial history, including open accounts, payment history, credit history, collections, inquiries, and more.

Landlords can access criminal records from all 50 states, as well as the national sex offender registry.

With Innago, landlords can tap into one of the largest eviction databases in the country, covering all 50 states plus Washington, D.C.

Custom tenant applications can be built.

Lease templates make it easy to get the right document with the correct information for your property, including rental amounts, move-in dates, and pet addendums.

Innago provides cloud-based file storage that allows users to upload, share, and manage documents securely and easily.

Tenants receive automatic reminders and notifications when rent is due, with a convenient payment button within the email.

Tenants can pay rent online using their checking or savings account, debit/credit card, or mobile device, and landlords can receive the funds within one business day.

Every tenant can submit a maintenance request by selecting the appropriate category, stating the problem, and attaching photos and/or videos.

Landlords can respond to maintenance requests from the Innago app, track updates, and inform tenants of timeline changes.
Apartments.com (formerly Cozy) overview
Cozy, which is now part of the Apartments.com family, lets landlords manage all aspects of their rental properties from one platform. 
Pricing
The Apartments.com website offers free tools to help you manage your property. This includes listing a vacant property, accepting rent applications, screening tenants, generating and signing a lease, collecting rent payments online, tracking and organizing expenses, and receiving and managing maintenance requests.
Apartments.com charges people to list their homes for rent, charges prospective tenants to apply for a rental, and collects a fee when rent is paid with a debit or credit card.
Software features
After listing a home for rent on Apartments.com, the property is automatically placed on 5 of the most popular websites on the Apartments.com network. This includes ForRent.com, Apartment Finder, ApartmentHomeLiving, and Apartamentos.com.

Landlords can get more people to see their property by purchasing a premium listing. This will put their property higher in search results, and they can also upload videos of the property.

Applicants verify their identities and pay for tenant screening, with reports running as "soft inquiries" to ensure that credit isn't affected.

Credit reports are created by TransUnion and show an applicant's total debt, credit payment history, employment, and address history.

Criminal and eviction reports are generated by searching national databases and county records.

Landlords can create a lease document using the Apartments.com online wizard. 

Lease forms are customized based on property location with help from industry and local jurisdiction experts.

Digital signatures allow you to sign leases online and store them in a safe place. You can access them whenever you need to.

Tenants can set up recurring payments online.

Rent payments are free for tenants who use an Automated Clearing House (ACH) transfer, while tenants using a debit or credit card pay a small fee.

Landlords receive payments directly into their bank accounts each month.

Tenants can make maintenance requests online and include photos and videos.

An online portal keeps tenants up to date about maintenance. 

Landlords can track receipts, images, and notes to provide a clear record.
Innago vs. Apartments.com
Here's a breakdown to help you decide which platform is right for you.
Listings
Innago makes it easy for landlords to list their vacant rental properties. Landlords can enter information, upload photos and videos, and publish to listing sites with just a few clicks. Innago provides a dedicated listing URL, so landlords can manage all their listings from one place. The changes will automatically be implemented on all selected listing sites. 
When you add a listing to Apartments.com, it will automatically post to 5 other websites. In addition, landlords who want more exposure for a vacant property can pay for a premium listing with increased search result placement, a larger ad, and videos of the property.
Tenant screening
Innago tenant screening provides insight into open accounts, payment history, credit score, and more. Credit checks are soft pulls, so they won't affect the applicant's credit score. All reports include tenant judgments, unlawful detainers, failure to pay rent, writs, and warrants of eviction. Innago's custom application builder allows landlords to build a tenant application from scratch.
Apartments.com uses TransUnion to check criminal and eviction records and credit scores. Applicants can verify their identities and pay for the screening. The reports will not affect people's credit scores. Comprehensive tenant screening reports from Apartments.com include employment and address history, total reported debt breakdown, and in-depth credit account payment history.
Leasing
Innago lets landlords create custom lease templates. The company's digital signature partner, HelloSign, provides convenience and security. Sign and store as many leases and other documents as you like, and easily upload and share so tenants can access necessary paperwork and disclosures, or keep a sensitive file private for your records.
Apartments.com's online wizard helps landlords create a state-compliant lease agreement. The wizard takes landlords through a step-by-step process, and the lease forms have been expert-reviewed. The forms are customized for locale, and digital signatures are used to execute all documents. 
Online rent collection
Innago allows tenants to pay rent online. They can use any payment method, including a checking or savings account or a debit/credit card. Landlords can manually enter payments received. Funds are sent to a landlord's bank account in one business day, free of charge.
Apartments.com lets tenants pay rent online. They can set up a schedule to run each month. Apartments.com also lets landlords see how much rent each tenant has paid, if any tenants are past due, and when they are supposed to pay next.
Financial reporting
Landlords can enter information using Innago, such as payers, payment amounts, payment categories, and accounts. Innago also provides performance reports. These reports include data on bank deposits, rent roll, and more. The software also supports multiple businesses, individuals, and bank accounts.
Landlords can use Apartments.com to track expenses for each property. They can assign them to specific Schedule E tax categories and upload and attach receipts and images to store everything online. The expense entry template includes fields for vendor and payment date, amount, and IRS expense category, as well as a section for adding notes about the expense.
Tax management
Innago users can export all financial records into Excel and other financial programs. The software also integrates with QuickBooks web accounts, directly recording rental payments, custom invoices, and expenses into your QuickBooks account. 
Landlords and property managers who use Apartments.com for tax management can download expenses based on the calendar year or a custom date range. They can also include receipt images in the download as a backup. Expense reports are generated in a CSV and PDF format following Schedule E.
Stessa vs. Innago vs. Apartments.com
Some owners of small property portfolios may not need all the features of Innago and Apartments.com. 
That's why Stessa, a Roofstock company, created a free, easy-to-use financial management system. With Stessa, real estate investors can track property performance, finances, and paperwork in one place.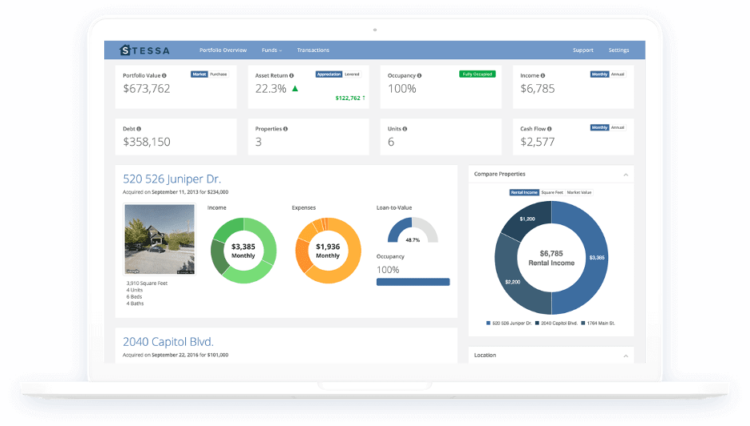 Just sign up for a free account and enter some basic information about your properties, and you're good to go:
Track an unlimited number of residential properties and

entire portfolios

.

Monitor investments from a single, comprehensive online dashboard.

Automate income and expense tracking by linking property bank accounts.

Update outstanding mortgage balances and property values.

Collect tenant rent payments online using ACH transfer (tenants can also enable Autopay to avoid missing deadlines).

Track expenses on the go with the iOS and Android apps.

Organize and store all real estate documents online safely and securely.

Run key financial reports, including income, net-cash-flow, and capital expense (CapEx) statements.

Export tax-ready financials to make tax time a breeze.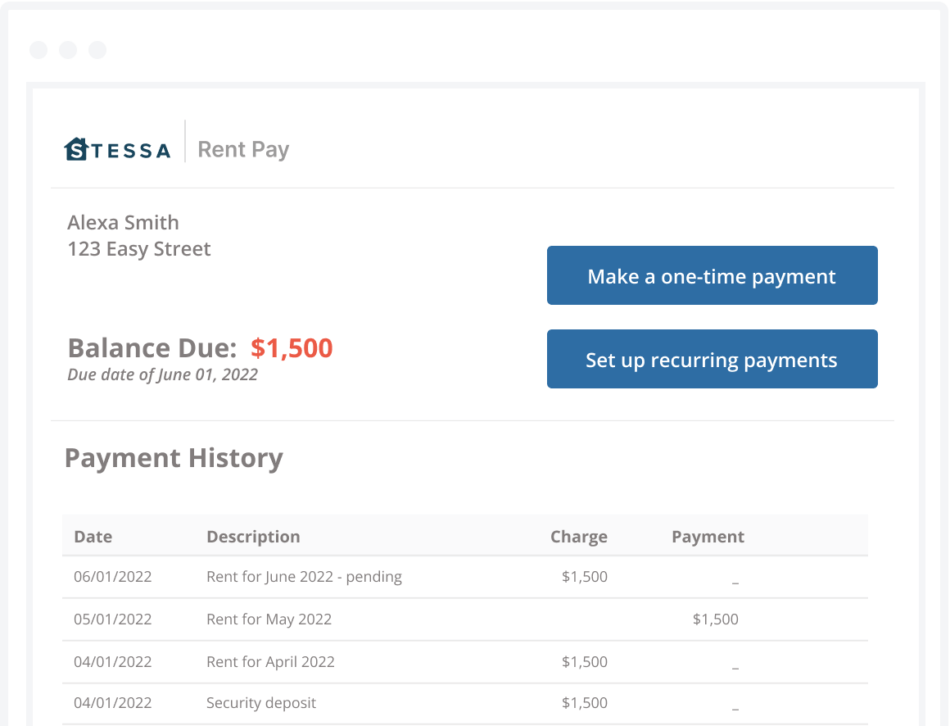 Closing thoughts
Stessa is free to use and cloud-based, meaning you can use it from any device with an internet connection. It does not have all the features that some of the other companies offer, but there are several good alternatives online. 
Innago and Apartments.com are 2 other companies that offer property management services, and both plans are free to use.