If you're a landlord, you know how important it is to have good property management software. There are many different options on the market, but 2 of the most popular are Landlord Studio and Apartments.com (formerly Cozy). Both have pros and cons, so it's essential to evaluate your needs before choosing one. 
Landlord Studio is a good option for landlords who need robust features and don't mind paying a higher price. Apartments.com is a more affordable option that offers many of the same features for free. 
Stessa is another option to consider, especially if you're looking for rental property management software that is free and designed by and for real estate investors.
---
Key takeaways
Landlord Studio uses a subscription-based model to help you track your rental properties and expenses, screen tenants, and collect rent online.

Apartments.com is a free, all-in-one solution for managing your rental properties.

Stessa is a free cloud-based reporting and accounting software that may be used to collect online rent payments and track property and portfolio performance data for unlimited single-family houses, multiunit homes, and short-term vacation rentals.
---
Landlord Studio overview
Landlord Studio offers simplified accounting and tax reporting, tenant screening, online rent collection, and document storage for multiple rental properties.
Owners with vacant property can create a property listing webpage on the Landlord Studio website, including images and a tenant screening portal, and manually place the listing link on rental listing websites, social media, and emails. Rather than automating rental listings, Landlord Studio centralizes tenant inquiries on its own site to make the application process more manageable.
Pricing
Property owners and managers can try Landlord Studio free for 14 days. After the free trial period, choose one of 3 pricing plans with the option of month-to-month billing or a discount with annual billing. The prices below are based on one unit under management, with prices gradually increasing as more units are added:
Start: $6.99 a month for one unit or $5.99 a month with annual billing ($71.88 a year)

Growth: $17.99 a month for one unit or $14.99 a month with annual billing ($179.88 a year)

Scale: $35.99 a month for one unit or $29.99 a month with annual billing ($431.88 a year)
Software features
Start
Online rent collection ($2.25 a transaction deducted when the rent payment is processed)

Desktop, iOS, and  Android

Income tracking

Expense tracking

Mileage tracking

Email reminders

Email and chat support

Tenant screening

Rental listings

Secure storage (up to 10 documents)

Customizable emails

Financial dashboard

Tenant portal
Growth
The Growth plan includes all of the features of the Start plan, plus a discounted transaction fee when tenants pay rent online:
Online rent collection ($1.75 a transaction)

Phone support

Advanced reporting

Multiuser access (up to 3 users)

Bank feed integration (one bank account)

Xero integration (for improved financial reporting and tax preparation)
Scale
Includes all of the features of the Start and Growth plans, plus an additional discount on the transaction fee for online rent payments:
Online rent collection ($1.25 a transaction)

Multiuser access (up to 5 users)

Bank feed integration (5 bank accounts)

Multiowner support

Account manager
Apartments.com (formerly Cozy) overview
Using Apartments.com, landlords can market their rentals, screen tenants, sign leases, receive rent payments and deposits, and make maintenance requests. Additionally, homes for rent are advertised on several of the most popular rental listing websites to reach over 25 million monthly prospective renters. 
Pricing
All of the software features listed below are free to use.
Apartments.com also provides premium listings for a fee, asks prospective tenants to pay application and screening fees, and collects transaction fees if rent is paid with a debit or credit card. 
Software features
Property listings on 5 of the most active rental listing websites on the Apartments.com network with the option of purchasing a premium listing for increased visibility

Online applications directly from the property listing

Tenant screening with reports by TransUnion, including credit and background checks, debt payment histories, employment verifications, and previous addresses

State-specific lease agreements using the online wizard to create customized leases that can be signed online

Free online rent payments with ACH transfers, or credit or debit card payments with fees paid by tenants

Trackable rent payments and other fees, including prorated rent, security deposits, and late fees

Online maintenance requests with photo and video capabilities

Fillable, trackable property expenses available 24/7 online, 

Operating expenses recordable by Schedule E category and exported to CSV and PDF formats for financial statements or tax returns
Landlord Studio vs. Apartments.com
Here's an overview of how Landlord Studio and Apartments.com compare.
Listings
With Landlord Studio, owners create property listing pages, then manually place the link on the websites of their choice. The link can also be used in social media and email marketing campaigns.
With Apartments.com, listings can be automatically placed on the 5 most popular rental websites. Landlords can purchase a Premium Listing to put a property on 2 other network websites, gain higher placement in search results, and post a more prominent property ad and videos.
Tenant screening
Both Landlord Studio and Apartments.com use TransUnion to offer options for prospective tenants to complete rental applications online. 
As of July 2022, Landlord Studio charges a $38 report fee that can be paid by the landlord or passed on to the applicant. Apartments.com collects a $29 fee from each applicant to generate a screening report, which is good for 30 days and can be shared with up to 10 landlords on the Apartments.com network if you don't accept the applicant. 
Leasing
Landlord Studio doesn't offer an option for creating and signing leases online, although landlords can upload and store up to 10 documents on the website. On the other hand, Apartments.com's online wizard aids landlords in creating a legally compliant online lease agreement. In addition, all lease paperwork is signed electronically and saved on the Apartments.com website, eliminating the need for paper documents.
Online rent collection
Landlord Studio and Apartments.com both offer online rent collection. Property owners can collect monthly rent plus one-time fees, such as security deposits, prorated rents, or late fees. Tenants can set up automatic rent payments, and funds are transferred to the landlord's linked bank account within a few business days. 
Landlord Studio charges owners a fee of between $1.25 and $2.25 for each online rent transaction (as of July 2022), while Apartments.com collects a processing fee of 2.75% (as of July 2022) from the tenant if the rent is paid using a debit or credit card, with no charge for an ACH rent payment.
Financial reporting
Property owners can automatically track income and expenses with Landlord Studio by linking and syncing a bank account. Landlord Studio software can generate 15 different financial reports, including a profit and loss (P&L) statement, rent ledger, and owner net worth statement. The program can also connect with Xero for enhanced financial reporting. 
You can use Apartments.com to track property expenses manually. This includes categorizing them for Schedule E tax purposes and submitting receipts and photos. The expense entry form contains fields for vendors and payment dates, money spent, IRS cost categories, andnotes.
Tax management
IRS Schedule E can be generated with both Landlord Studio and Apartments.com. The report is created on Landlord Studio in just a few clicks, while Apartments.com allows property owners to download income and expenses in CSV and PDF formats following IRS Schedule E, making tax filing simpler.
Stessa vs. Landlord Studio vs. Apartments.com
Landlord Studio offers online rent collection, tenant screening, financial reporting, and tax management tools using a subscription-based model. Apartments.com offers similar property management tools for free, plus online lease preparation and signing. 
Stessa, a Roofstock company, is a free platform that offers a streamlined experience for landlords who own single-family rentals, small multifamily properties, short-term vacation rentals, and rental property portfolios. It includes online rent collection, income and expense tracking, and free resources from the Stessa Tax Center.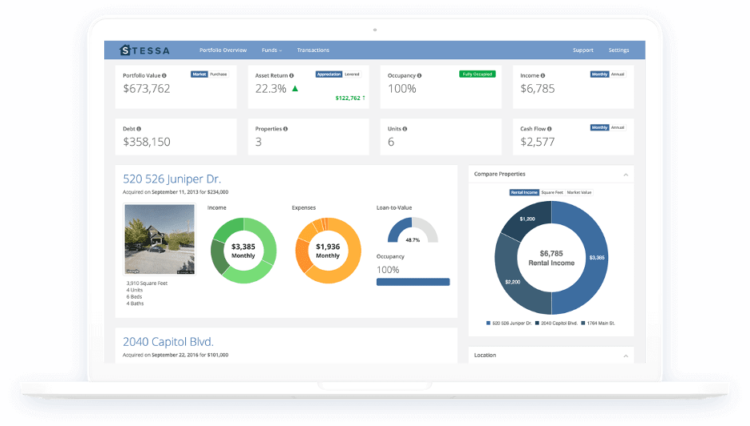 After signing up for a free account with Stessa and entering some basic property information, real estate investors can: 
Track unlimited rental properties and portfolios.

Access comprehensive performance dashboards at the property and portfolio levels.

Automate income and expense tracking by linking property bank accounts.

Collect tenant rent payments online using ACH transfer.

Track expenses on the go with the iOS and Android apps.

Organize and store all real estate documents safely and securely.

Generate key financial reports, including income, net-cash-flow, and capital expense (CapEx) statements.

Export tax-ready financials to make tax time a breeze.

Create a personalized Stessa Tax Package, including an income statement, net-cash-flow report, and a ZIP file in a single email.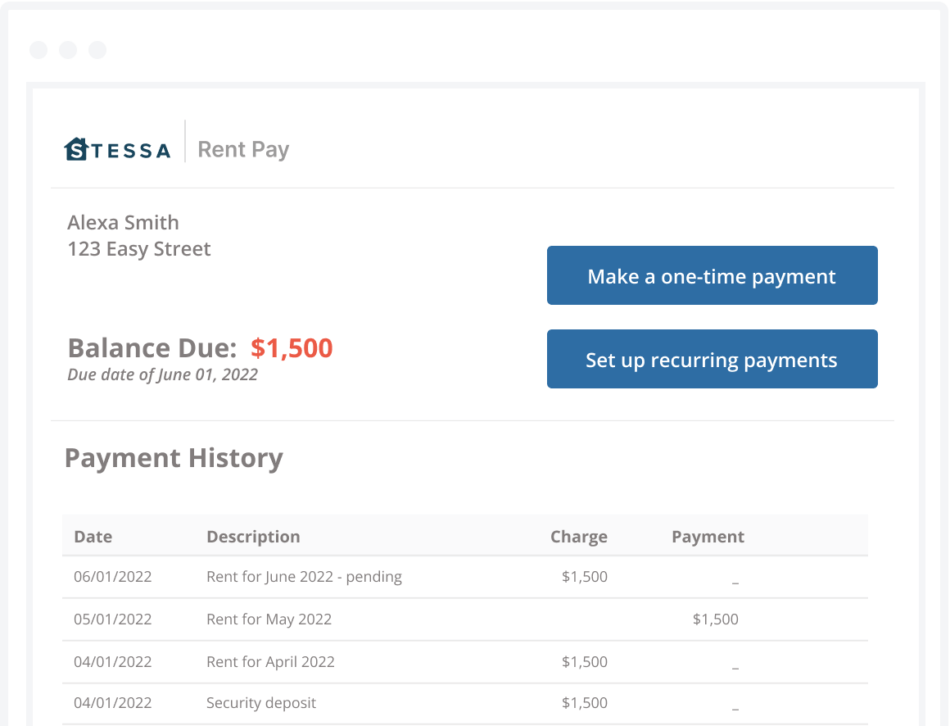 Final thoughts
Landlord Studio and Apartments.com offer a variety of features. 
However, Stessa's streamlined, user-friendly experience for managing rental properties may make it the best rental property software for owners of small property portfolios. 
Stessa is free and includes features for online rent collection, income and expense tracking, and portfolio management. These features make it easier for landlords to stay organized.