David Logan of the National Association of Home Builders (NAHB) reports on construction materials, showing that prices overall increased almost 16% in 2021, and 18.6% since December 2020. Lumber jumped 24.4% in December alone, gaining 44.5% since September, and tripling since late August.
"Record-high volatility of softwood lumber prices continues to be as problematic as high prices. The monthly change in softwood lumber prices averaged 0.3% between 1947 and 2019. In contrast, the percent change of the index has averaged 12.0% since January 2020—the highest 24-month average since data first became available 1947 and nearly triple the previous record."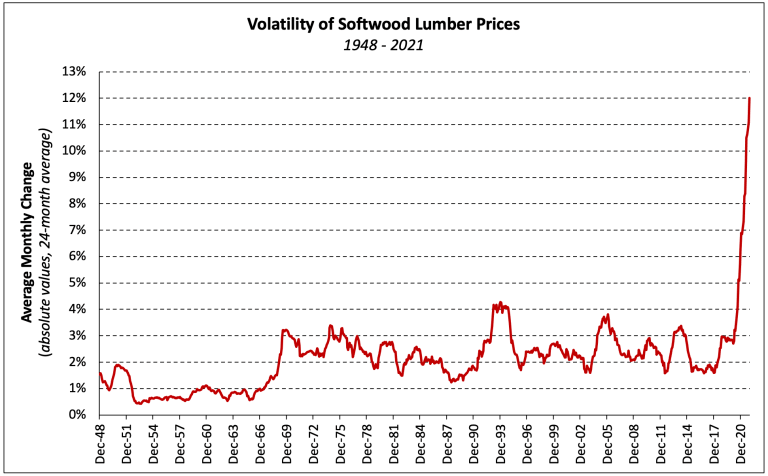 Source: NAHB (Jan. 2022)
We aren't seeing the same record highs as we did last summer, but it's getting close. Jann Swanson of Mortgage Daily News reports that the most recent price surge is due to a combination of factors: continued supply chain disruptions, a doubling of tariffs on Canadian lumber imports, and a strong summer wildfire season in western United States and British Columbia.
Indeed, Chuck Fowke of The Seattle Times reports that despite the ongoing housing affordability problems, "the Biden administration has delivered a body blow to American home buyers, renters and businesses that rely on lumber products by effectively doubling tariffs on Canadian lumber shipments into the U.S. from 9% to 17.9%."
Lance Lambert of Fortune noted recently that as of mid-January, lumber prices are back up to $1,111 per thousand board feet, a 186% increase since August.
Source: Fortune (Jan. 2022)
According to Lambert, "[D]on't expect cheap lumber anytime soon. Even if lumber prices pull back somewhat, it doesn't mean we're headed back to pre-pandemic levels. There is a shortage of around 4 million homes—a dynamic that is likely going to keep builders busy (aka buying more lumber) for years to come."
Inflation update
Christopher Rugaber of the Associated Press reports on inflation, noting that it has increased at its fastest pace in 40 years, with a 7% jump from last year. "Vast infusions of government aid and ultra-low interest rates helped spur demand for goods, while vaccinations gave people confidence to dine out and travel."
Source: Associated Press (Jan. 2022)
For housing, there is reportedly an inflation disconnect between official statistics and reality. Amy Scott of Marketplace reports that "This is the housing inflation disconnect. According to the latest consumer price Index, rents are increasing by a modest 3% a year. But private sources estimate much higher increases. Zillow's Observed Rent Index rose by a record 15.2% in November, year over year. The rental listing site Apartment List says the median national rent rose 18% in 2021."
A third of the Consumer Price Index (CPI) is shelter, so as tenants sign new leases in the coming months expect the official figures of this inflationary pressure to rise.
Sydney Ember of The New York Times discusses this topic, noting that "supply chain issues and labor shortages continued to curtail the number of new houses and apartment buildings available, exacerbating the mismatch between housing supply and demand."
Home price update
Speaking of rising inflation, home prices have continued to rise as they capped off 2021, according to new data from CoreLogic. Home prices increased 18.1% year-over-year in November according to the latest CoreLogic Home Price Index (HPI®) Report. This was the highest 12-month growth metric on the index since its inception in 1976.
Source: CoreLogic (Jan. 2022)
That said, CoreLogic forecasts that home price growth will slow significantly heading into 2022: "The CoreLogic HPI Forecast indicates that home prices will remain flat on a month-over-month basis from November 2021 to December 2021, and increase on a year-over-year basis by 2.8% from November 2021 to December 2022."
Redfin also released some interesting housing price data, with Tim Ellis stating that "January is shaping up to be the most competitive month in housing history."
Source: Redfin (Jan. 2022)
"The median home sale price surged 16% year over year during the week ending January 9 to an all-time high of $365,000. Prices keep climbing because the supply drought keeps deepening while demand increases. The number of homes for sale fell to a new low as listings hit the market at a slower rate than they did early last year. Yet homebuyer activity–as measured by the Redfin Homebuyer Demand Index–jumped 9%. Mortgage rates rose to 3.45% during the seven days ending January 13, making homebuying more expensive as overall inflation hit a 40-year high."