As expected, the Federal Reserve last week raised its benchmark rate by another 0.75%, to a range of 3.75% to 4%, the highest level in 15 years. According to Realtor.com, the 30-year benchmark rate dipped slightly but is still hovering around the 7% mark and is likely to push higher in the near term.
Source: Realtor.com (November 2021)
"After the meeting, Jerome Powell indicated that the Fed plans to evaluate the impact of this year's aggressive monetary tightening on economic indicators and inflation, with the possibility of scaling back the rate increases. However, he made it clear that any slowdown in monetary policy is premature, and that rates are likely to end up much higher than initially expected."
Following the rate hike announcement, PBS released an article outlining that despite the rapid rise in rates, the Fed has signaled that a rate increase deceleration may be in the works. The Fed noted that they need to consider the cumulative effect of rate hikes on the economy, and that these take time to fully affect the impact of inflation. This suggests that they may not be looking to raise rates as quickly over the next few meetings.
Howard Schneider and Ann Saphir of Reuters agree, noting that "[e]ven if policymakers do scale back future increases, he [Federal Reserve Chair Powell] said, they were still undecided about just how high rates would need to rise to curb inflation."
Jessica Dickler of CNBC reports that these rate increases have dramatically impacted the affordability of homeowners. At the beginning of 2022, if someone qualified for a $300,000 mortgage, with the current rate hikes, that same qualification now sits at only $200,000.
Employment
The U.S. Bureau of Labor Statistics released its October employment conditions report last week, and the results were fairly positive. According to the Mortgage Bankers Association (MBA) Deputy Chief Economist Joel Kan:
"Job growth for October was slightly stronger than expected, with a gain of 261,000 jobs. The number of jobs added to the economy did slow from September's total, but this was still a strong positive gain that kept the monthly average for 2022 at over 400,000 jobs added per month. Most of the October growth was in the service sector, while the goods producing industries saw the lowest gain since January 2022. Construction employment was essentially flat over the month, consistent with the slowdown in the home building sector."
More specifically to real estate, cracks are showing in the job numbers, according to Orion Jones of The Real Deal, highlighting that the housing market is slowing down. This includes losses in warehousing and real estate leasing jobs. That said, leisure and hospitality were bright spots, adding 20,000 jobs in October.
According to Jing Fu of the National Association of Homebuilders (NAHB), "Over the last 12 months, home builders and remodelers added 105,300 jobs on a net basis. Since the low point following the Great Recession, residential construction has gained 1,195,000 positions." And, although unemployment increased by 0.2%, we are still seeing strong employment numbers: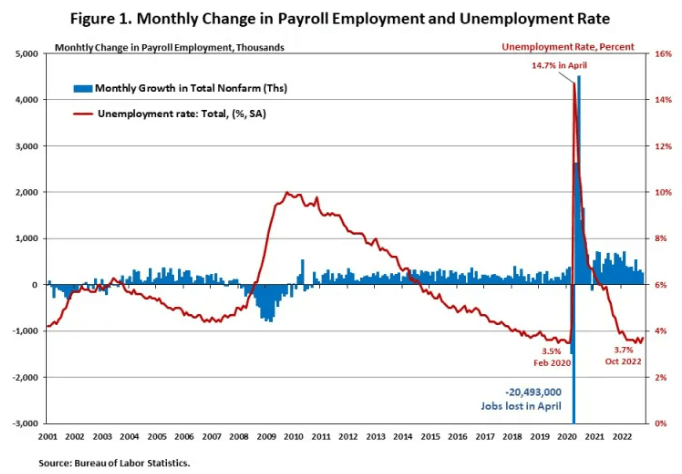 Source: NAHB (November 2022)
Finally, George Ratiu, senior economist at Realtor.com, had this to say about the October employment numbers as it relates to real estate:
"For the Federal Reserve, a tight labor market amplifies the concern that workers will retain an advantage during wage negotiations, leading to higher incomes and continued pressure on prices. At the same time, coming out of a global pandemic, which displaced millions of workers and led to a two-and-a-half year recovery, the solid job market is keeping Americans on a stronger financial footing, especially amid soaring prices for goods, services and housing. For real estate markets, rising employment and pay are welcome news, as they may help to partially offset the significant headwinds brought about by surging mortgage rates."
Mortgage update
In its latest mortgage volume report, the MBA stated that refinances are down 85% year over year, and that purchase volume was down 41% year over year. In commenting on this data, Joel Kan, MBA's deputy chief economist, noted:
"Mortgage applications declined for the sixth consecutive week despite a slight drop in rates. The 30-year fixed rate decreased for the first time in over two months to 7.06 percent, but remained close to its highest since 2002…Apart from the ARM loan rate, rates for all other loan types were more than three percentage points higher than they were a year ago. These elevated rates continue to put pressure on both purchase and refinance activity and have added to the ongoing affordability challenges impacting the broader housing market, as seen in the deteriorating trends in housing starts and home sales."
Given this, mortgage lenders are one industry that has not been adding jobs lately, with a string of layoffs being felt across multiple major institutions in America. Here are a few announcements from the past week worth noting:
In other big mortgage news, United Wholesale Mortgage (UWM)reportedly booked $325.6 million in net income in Q3 on $33.5 billion in loan volume, surpassing by 31% Rocket Mortgage as the country's biggest originator by volume.