Are you still collecting rent the old-fashioned way? If so, you're missing out on a lot of benefits that come with using a mobile rent collection app. Not only does it make life easier for you and your tenants, but it can also help you manage your property more efficiently.
But with so many different platforms to choose from, how do you know which one is right for you? Keep reading to learn more about the advantages of using a mobile rent collection app and tips for choosing the right one.
---
Key takeaways
Mobile rent collection apps are a convenient way for landlords to collect rent from tenants.

The apps offer many features to make rent collection easier, such as tracking payments and sending reminders.

Rent collection apps can also help landlords to stay organized by keeping track of important documents and communications.

Ultimately, mobile rent collection apps can save landlords time and money by making rent collection more efficient.
---
Features to look for in a rent collection app
A rent collection app can be a great tool for landlords and tenants. For landlords, it can help streamline the rent collection process and make it more efficient. It can provide tenants with a convenient way to pay rent and track payments. Additionally, a rent collection app can help keep everyone organized by providing a central place to view upcoming rent payments and track payment history.
Here are some of the most important features to look for when choosing a mobile rent collection app for your real estate business:
Deposit options.

Rent can be collected through different methods, including Automated Clearing House (ACH) and credit and debit card payments.

Funding times.

The best mobile rent collection apps offer quick funding, usually within 5 business days.

Landlord fees.

Several rent collection apps do not charge fees for receiving payments, making it easy for landlords to collect rent without losing money.

Tenant fees.

A mobile app that doesn't charge tenants for online payments helps landlords collect rent more efficiently.

Autopay option.

An autopay option for rent payments can improve

cash flow

and help tenants avoid late payments.

Late fees.

A rent collection mobile app that automatically charges

late fees

can help offset lost revenue from late payments.

Built-in banking.

Using a rent collection app that integrates with your checking account can help you avoid the hassle of managing multiple accounts and fees.

Security.

One of the most important features of a rent collection tool is security, which protects tenants' sensitive information.

Real-time updates.

The best rent collection apps update rent payments in real-time to help chase down late payments and maintain a good relationship with tenants.

Accounting integration.

A rent collection app that integrates with an accounting system can help landlords, real estate investors, and property managers track payments and expenses automatically.
With an app that collects rent payments, you can have all the important information in one place. This makes it easier to make good decisions about your rental property and keep track of your finances. In addition, this type of system can provide landlords with a record if there are any disputes.
10 rent collection mobile apps for landlords
There are a variety of rent collection apps on the market, so it can be tricky to know which one is right for you and your business. To help you out, we've compiled a list of the best rent collection apps for landlords based on our own experience and research.
1. Stessa
Stessa's online rent collection ticks all of the boxes landlords look for in a mobile rent collection app. It's easy for tenants to pay on time, and you can automate key tasks like deposits, receipts, and accounting. Don't worry about sending rent reminders or depositing rent checks. Stessa handles it for you, so nothing slips through the cracks.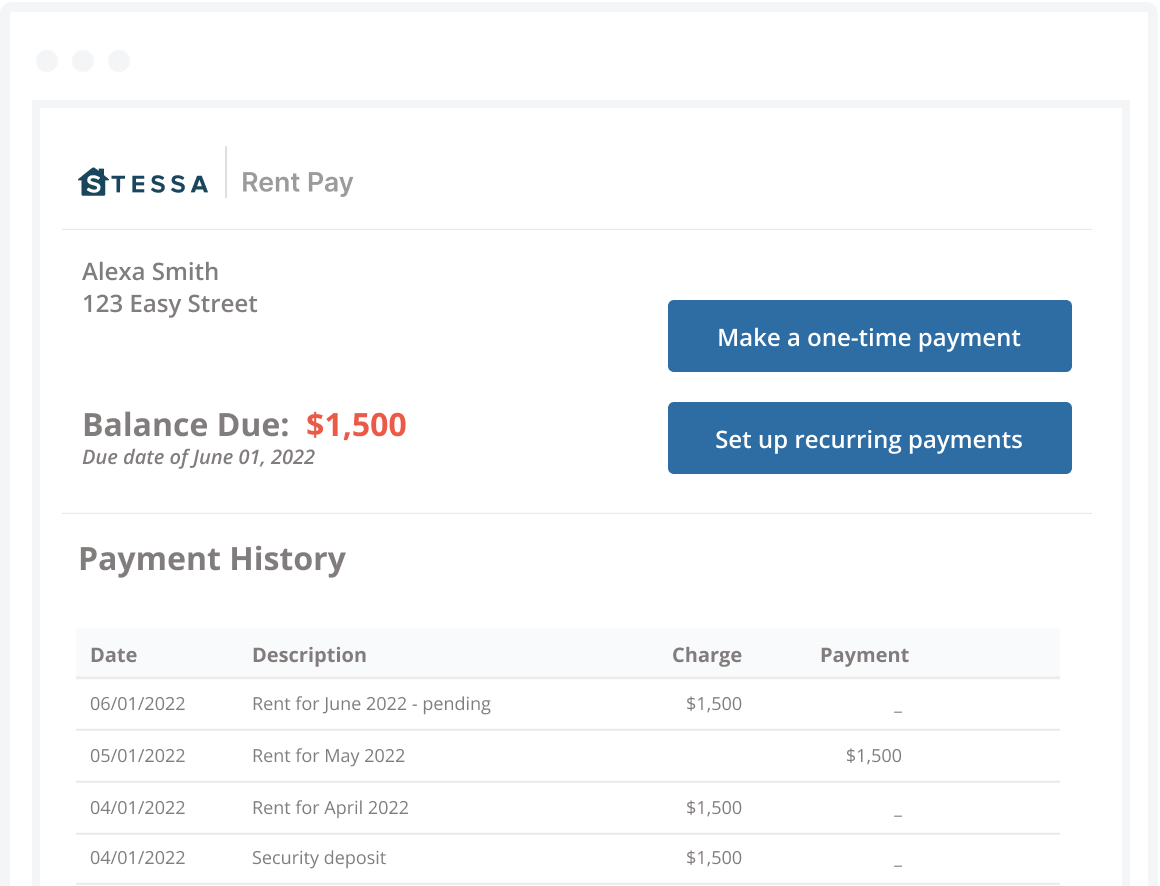 Offer tenants the ability to set up recurring ACH payments – so they don't have to schedule payments and never miss a deadline. Options for additional payment methods are coming soon. Get notified when a payment is made and when it's been deposited in your account.
Rent collection seamlessly integrates with your Stessa account, providing you with real-time performance at the portfolio and property levels via a comprehensive online dashboard. Income, expenses, mortgage balances, and owner's equity are automatically tracked when you link accounts. In addition, you and your tenants will benefit from built in security to protect sensitive data.
Get started by signing up for your free Stessa account or downloading our app (available for both iOS and Android).
2. Avail
Avail.com is designed for use on mobile devices and mobile web browsers. There is no standalone app yet, but creating a shortcut to the login page or your dashboard on your device's home screen makes it easy to access. 
Bank transfers are free for landlords on the Unlimited Plus plan ($5/unit/month), but with the Unlimited plan, tenants pay $2.50 per bank transfer. In addition, a 3.5% processing fee is added regardless of the subscription plan if a credit or debit card is used.
3. Buildium
Buildium has a mobile app that allows tenants to manage their resident experience on the go. Resident Center, powered by Buildium, is designed with simplicity in mind. 
Residents can make rental payments, submit maintenance requests, contact their property manager, and more—with just a few taps. Electronic funds transfer (EFT) fees begin at $1/transaction, while tenants pay a transaction fee of 2.95% when paying rent with a credit card or debit card.
4. Landlord Studio
The Landlord Studio app makes it easy and secure for tenants to pay rent directly into your bank account. Online rent collection pricing is included in all plans and starts at $2.25/transaction. 
The app offers landlord-specific features like receipts, reminder emails, payment tracking, tenant payable expenses, deposit collecting, and automatic payments.
5. Rentdrop
Rentdrop is a rent collection app that allows tenants to make their monthly rent payments online and set up automatic payment reminders, while landlords can charge late fees and block partial payments. Tenants can also split rent with roommates and set up recurring payments to ensure on-time submission of rent. 
The app mainly focuses on online rent collection, meaning landlords will need to outsource additional tools to track rental income and handle other aspects of landlording. There is no fee for ACH transactions, but tenants using a card to pay rent are subject to a 3.4% fee.
6. Rentec Direct
Tenants can pay rent online with their checking account for free or with a credit card and debit card for 2.95%, or the landlord can pay the fee, depending on your preference. There's also the option to set up automatic payments or one-time payments. 
Electronic cash payments are also available for $3.99 per payment, but there is a setup cost of $200 and a 10 payments per month minimum. While there are no setup costs to collect online rent payments with Rentec Direct, you must subscribe to Rentec Pro for $35/month or Rentec PM for $40/month.
7. Rentler
Rentler is free for landlords to collect monthly rent from tenants. ACH transfers are free, while tenants paying rent with a debit or credit card are charged a 2.9% fee. Other features of Rentler include split rent, recurring payments, and reporting to credit bureaus. 
The Rentler app also lets landlords add and manage properties for free. Tenants can also search for places to rent and submit their applications online.
8. RentPayment
RentPayment provides a variety of ways landlords can collect rent – with the mobile app, through the phone or text, and online. Transaction fees vary based on the payment method used. 
Credit cards are charged 2.95%, debit cards have a rate of 0.95%, and tenants pay a fee of $4.95 when paying the rent with an eCheck or ACH transfer.
9. RentRedi
Managing rent payments is easy with the RentRedi mobile app. Tenants can use their credit or debit cards to pay rent ($1.00 ACH or 2.9% plus $0.30 for credit cards), and landlords don't incur any payment fees. 
The app also allows tenants to set up automated monthly reminders or auto-payments, and landlords can split or block rent payments.
10. Zillow Rental Manager
Zillow Rental Manager online rent collection is free for landlords and free for renters if they pay with ACH (bank transfer). Tenants will pay a 2.95% fee when using a credit card and a $9.95 convenience fee for debit payments. 
In addition, renters can set up autopay to help ensure the rent is paid on time and rent payments are deposited directly into the landlord's bank account.
Final thoughts
So there you have it! The benefits of using a rent collection mobile app are many and varied, from increased convenience and efficiency to improved cash flow and tenant satisfaction.
And when it comes to rent collection apps, Stessa is hard to beat. ACH transfers are free, and the online rent collection tool integrates seamlessly with Stessa's property asset management software, making it easy for you to track rent payments and expenses. To get started, sign up for a free Stessa account today.