A rent increase letter is used by a landlord to inform a tenant that the rent will be going up. While it's probably safe to say that most landlords look forward to having some extra rental income, there are certain rules and procedures to follow before raising the rent.
In this article, we'll discuss when a landlord can  – and can not – raise the rent, some important things to do before increasing the rent, and how to write a rent increase letter to send to a tenant.
---
Key takeaways
A landlord may generally raise the rent when the lease ends.

There may be a limit to how much and if the rent can be increased for property located in an area with rent control laws.

Landlord-tenant laws usually dictate how much notice a landlord is required to give a tenant before raising the rent.

Factors to consider before increasing the rent include researching rent comparables, determining how much to raise the rent, and deciding whether or not to collect an additional security deposit.
---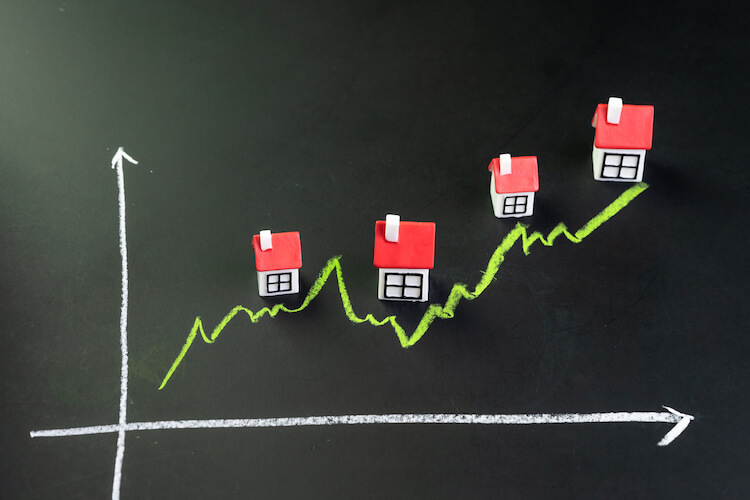 When can a landlord increase the rent?
A landlord can usually increase the rent when the current lease comes to an end, with a few exceptions. 
If the rental property is located in a city or state with rent control laws, there may be a limit to how much – and even if – a landlord can raise the rent. That being said, landlords with single-family rental homes and owner-occupied multifamily properties with 4 units or less are generally exempt from rent control, according to the legal resource website Nolo.com. 
A landlord must also wait until the end of the lease to raise the rent, unless the terms and conditions of the lease allow a landlord to increase the rent in the middle of the lease. If the tenant has a month-to-month lease, state landlord-tenant laws generally require a landlord to give a tenant at least 30-days notice before increasing the rent. 
Most states also prohibit a landlord from raising the rent to discriminate or retaliate against a tenant, such as increasing a tenant's rent because they filed a legal complaint against the landlord for not keeping the property in habitable condition. 
Because a rent increase isn't always as straightforward as it might seem, a landlord may wish to consult with a property manager or real estate attorney before sending a rent increase letter to a tenant.
Related: Looking for an easier way to collect rent from your tenants? Check out Stessa rent collection – a free tool that makes it easy for tenants to pay on time, and automate key tasks like deposits, receipts, and accounting. Get notified when a payment is made and when it's been deposited in your account. Tenants can also enable Autopay to avoid missing rent deadlines.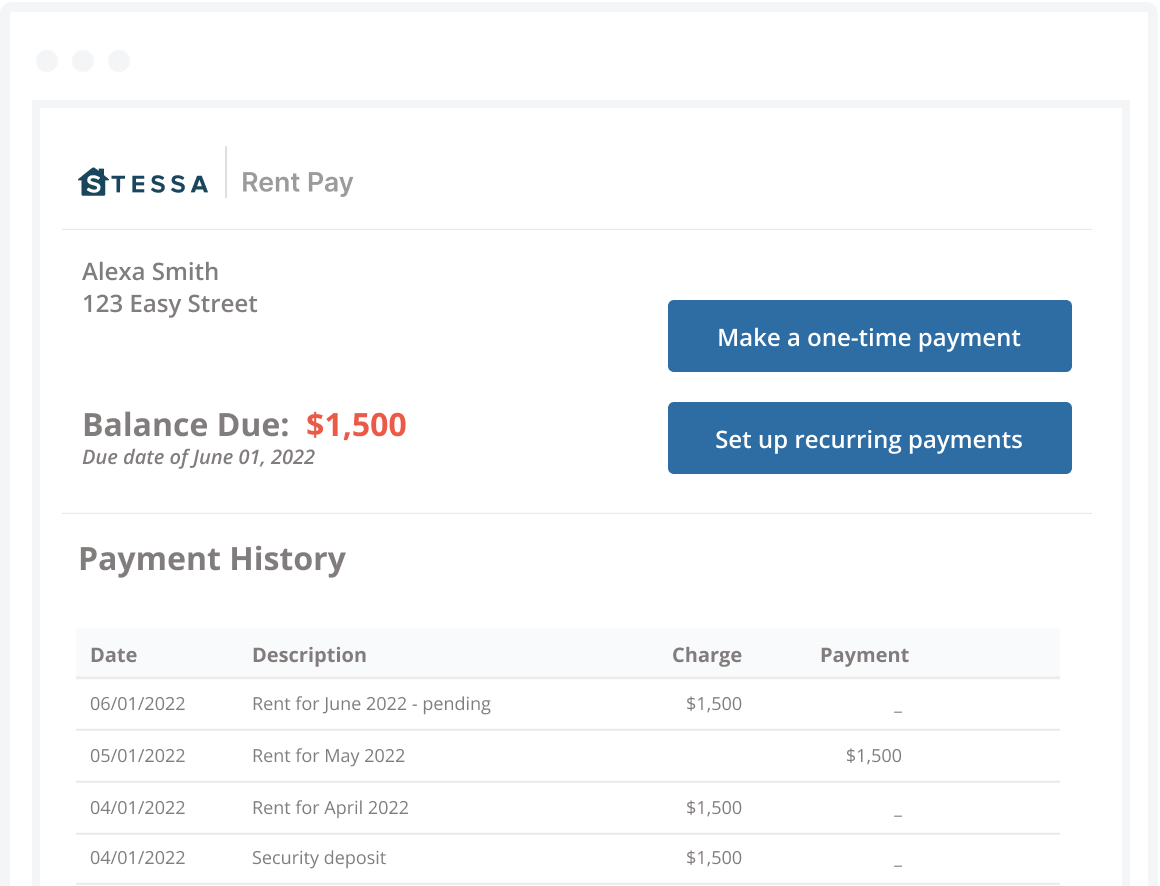 As an added benefit, Stessa's Cash Management deposit accounts currently earn 2.00% APY (compared to the national average interest of 0.03% on checking accounts as of July 2022, according to the FDIC). Stessa Cash Management users can earn interest on balances from automated rent collection deposits, CapEx account, and operating account.
Annual Percentage Yield (APY) of 2.00% is effective as of 8/5/2022. No minimum opening deposit or account balance required. Fees could affect earnings on the account. Stessa is a financial technology company, not a bank. Banking services provided by Blue Ridge Bank, N.A., member FDIC. The national rate is the average of rates paid by all insured depository institutions and credit unions for which data is available to the FDIC, with rates weighted by each institution's share of domestic deposits.
Go here to create a free Stessa account.
Factors to consider before increasing the rent
After determining if the rent can legally be raised, here are some factors to consider before increasing the rent:
Rent comps
Sometimes landlords factor in an annual rent increase of between 3% and 5% on a rental property pro forma. But a ball park rent increase figure may not always reflect what is occurring in the actual real estate market. 
For example, some cities with strong population and job growth are seeing significant increases in rent prices. In cities like Riverside and Phoenix, there's currently more demand for rental housing than there is supply, driving rent prices up by 10% or more year-over-year. On the other hand, some places like Rochester, New York and Wichita, Kansas are experiencing big rent decreases year-over-year. 
To determine actual conditions in the local marketplace, a landlord can run rent comps using online resources like Stessa Rent Estimate, Rentometer, or Zillow Rental Manager to run rent comps and research the current fair market rent.
Lease term
Unless the lease states otherwise, a rent increase can only occur when the current lease ends. A landlord with a longer term lease of 6 or 12 months will generally send the tenant a lease renewal notice that includes any rent increase about 90 days before the termination date of the lease. 
If a tenant is on a month-to-month lease, a landlord is generally required to provide a tenant with a 30-day notice before the beginning of the current lease month before raising the rent. For example, if a landlord wants to raise the rent on a month-to-month lease beginning July 1st, a rent increase notice must be given to a tenant before June 1st. 
Increase amount
A landlord normally raises the rent to generate additional rental income to pay for changing expenses, such as rising property taxes or an increase in insurance premiums. As a rule of thumb, a rent increase must be fair and reasonable and based on the current local rental market. 
If the rent is raised too high (or above market), a landlord may run the risk of losing a good tenant or being accused by the tenant of levying an illegal rent increase. In cities and states with rent control, the law may also dictate if and by how much a landlord can increase the rent.
Notice period
State landlord-tenant laws and customs of the local real estate marketplace may require a landlord to give a tenant 30 or 90 days notice before increasing the rent, even if the lease is being renewed. Notice must be given to a tenant in writing and may need to to be delivered personally or sent by U.S. first class or certified mail, depending on the local law. 
Security deposit
Increasing the rent might also lead to an increase in the security deposit. For example, if a landlord collects a security deposit equal to 1 ½ times the monthly rent and the rent increases by $100 per month, the security deposit could increase by $150. 
Some landlords will collect the additional security deposit when the rent increase goes into effect, while others may opt to not ask the tenant for an additional security deposit as an incentive for a good tenant signing a lease renewal.
What to include in a rent increase letter
A rent increase letter contains the following details:
Date of the rent increase letter.

Name and information of the tenant and landlord.

Property address and unit number (if applicable).

Reference the expiration date of the existing lease.

Current rent amount.

Amount of rent increase.

Date the rent increase will go into effect.

Due date for accepting the rent increase.

Time tenant has to provide a non-renewal notice if they do not agree to the rent increase.
Sample rent increase letter
Here's an example of a basic rent increase letter for landlords to use:
Rent Increase Letter
Date ____________________________
Tenant Name ___________________________________________
Address ________________________________________________
City, State, Zip Code ______________________________________
Dear (names of all tenants on the lease),
Your existing lease with an original start date of ___________ will expire on __________. Effective __________ (date) the monthly rent will increase from $ __________ to $ __________ per month. 
Payment for the new monthly rent will be due on _________ (date) and on the first day of the month thereafter. The amount of your refundable security deposit will also increase by $ __________, and this additional security deposit amount will be due on __________ (date). The total amount due on __________ (date) will be $ __________.
Please reply by __________  (date) if you agree to this rent increase, and we will arrange a time to sign the lease renewal. If you do not agree with this rent increase, you are required to vacate the property by __________ (date).
Sincerely,
Landlord Name ________________________________________
Landlord Signature _____________________________________
Address ______________________________________________
City, State, Zip Code ____________________________________
Phone Number ________________________________________
A landlord may choose to mail or email the rent increase letter, or deliver the rent increase notice in person to answer any questions a tenant might have (after giving the tenant the required amount of notice before entering the property).
A landlord will also keep a copy of the rent increase letter as a standard business practice, along with a note of how the rent increase letter was delivered to the tenant.
How to increase the rent
If a tenant agrees to the rent increase, a landlord may draw up a new lease agreement or amend the existing lease, such as with a month-to-month lease. Both the landlord and tenant will sign the document, and each will receive a copy for their files. 
If a tenant does not agree to the rent increase, a landlord may wish to send a non-renewal lease notice to a tenant. Doing so provides additional documentation that the tenant was properly notified of a rent increase and declined to accept the rent increase, and is also aware of the date the property must be vacated.
Where to find a free rent increase letter
A real estate attorney or local property manager are two good sources for obtaining a rent increase letter that complies with local and state landlord-tenant laws. Some online sources for finding a free rent increase letter template include:
Final thoughts
Asking someone for money usually isn't an easy task, but periodically raising the rent is a fundamental part of owning and operating a rental property. Collecting a fair market rent helps an investor to have sufficient cash to keep a property well-maintained, attract qualified tenants, and increase the total return on investment.