When it comes to online rental property management tools, RentRedi and Apartments.com (formerly Cozy) are 2 of the most popular options. Both offer a wide range of features and benefits, but which is best for you? 
In this blog post, we'll compare RentRedi and Apartments.com to Stessa so that you can decide which tool is right for your business.
---
Key takeaways
RentRedi offers a full suite of property management tools that are easy to use, with various monthly pricing plans.

Apartments.com (formerly Cozy) is a powerful free rental property software that helps landlords collect rent, track expenses, communicate with tenants, and market properties.

Stessa is free, cloud-based reporting and accounting software for unlimited properties and portfolios of single-family rentals (SFRs), multifamily homes, and short-term vacation rentals.

Stessa offers many features owners of small property portfolios need, including free financial reporting, automatic income and expense tracking, and online rent collection.
---
RentRedi overview
RentRedi offers an all-in-one property management software solution for landlords with an easy-to-use computer and mobile app. The company believes its technology is easy to adopt, affordable for self-managing landlords, and sustainable for residential real estate's current and future landscape.
Pricing
RentRedi offers 3 different pricing plans based on billing cycle. All billing cycles include unlimited rentals, tenants, team members, rental listings, and customer support:
$19.95 a month

$15 a month paid every 3 months

$9 a month based on annual billing
In addition to the above pricing plans, RentRedi partners with REI Hub for accounting plans. Financial reporting is an add-on service, and all REI Hub plans are month to month, with no long-term contracts:
Up to 3 units: $15 a month

4 to 10 units: $25 a month

11 to 20 units: $45 a month

20+ units: $99 a month
Software features
RentRedi listings get automatically syndicated to partner sites Realtor.com and Doorsteps.com.

Landlords can upload photos and add virtual tours to make listings stand out.

Landlords can use one dashboard to manage listings, marketing, and showings.

TransUnion provides access to comprehensive credit, criminal, and eviction history reports for every applicant.

Applicants are invited to initiate a tenant screening, and landlords may automatically include tenant screening with all applications.

Tenant screening is conducted via the RentRedi app with the $35 cost paid for by the applicant.

Landlord lease documents can be uploaded directly from the RentRedi app.

All lease signatures are legal digital signatures using a government ID photo.

The landlord dashboard is used to manage rent, late fees, evictions, and rent reminders.

Paying rent can be scheduled and automatic with autopay enabled for Automated Clearing House (ACH), bank account, and credit card payment methods.

Tenants can also deposit cash at over 90,000 retail locations.

Tenants can report rent payments to the credit bureaus, incentivizing on-time rent payments.

Landlords can send in-app push notifications to renters, receive maintenance requests, and send rent reminders to tenants.

Automatically sync properties in RentRedi to view numbers by property or unit.

Connect bank and credit card accounts electronically to sync income and expenses automatically.

Complete financial reports, including profit and loss (P&L) statements, cash-flow statements, balance sheets, and tax-ready Internal Revenue Service (IRS) Schedule E reports.
Apartments.com (formerly Cozy) overview
Apartments.com enables landlords to collect rent, track expenses, communicate with tenants, and market their properties. Apartments.com also offers an easy-to-use platform for managing all aspects of your rental business. 
Pricing
Apartments.com's rental management tools are easy to use and free. Apartments.com makes it simple to accept rent applications, screen tenants online, generate and sign leases, collect rent payments, track expenses, and receive and manage maintenance requests. 
With Apartments.com's tools, everything related to your rental property is organized and accessible in one place. The company also offers premium listings, charges prospective tenants application and screening fees, and collects transaction charges if rent is paid with a debit or credit card. 
Software features
Apartments.com makes it easy to list your rental property and automatically place it on 5 of the most popular websites in the Apartments.com network, including ForRent.com, Apartment Finder, ApartmentHomeLiving, and Apartamentos.com.

The landlord can be contacted by phone or email, or applicants can click the

Apply Now

button to begin the application process.

Property owners may increase their exposure by purchasing a premium listing, which allows them to appear on 7 different network sites and rank higher in search results.

Applicants verify their identities and pay for their tenant screenings, with reports coming in as "soft inquiries" so credit is not affected.

TransUnion, Equifax, and Experian provide Apartments.com's credit reports. These reports include a detailed account of an applicant's overall debt, credit payment history, and job and address history.

Reports on criminal and eviction events are generated by searching national databases and county records.

Landlords may use Apartments.com's online wizard to produce a unique lease agreement for their tenants.

Lease contracts may be signed online using digital signatures and saved and retrieved at any time.

Tenants may set up online recurring payments.

Rent payments through ACH transfers are free for renters, but they must pay a small fee using a debit or credit card.

Landlords receive payments directly into their bank accounts each month.

The app lets tenants submit maintenance requests and other information, such as photographs and videos.

Online management and storage of maintenance requests and records, including receipts and notes, helps you track your expenditures more accurately.
RentRedi vs. Apartments.com
Here's a comparison of RentRedi and Apartments.com, so you can choose which one may work best for you.
Listings
RentRedi listings are immediately syndicated to partner sites Realtor.com and Doorsteps.com. Landlords receive unlimited professional marketing pages to share on social media, and tours can only be scheduled with qualified tenants.
Vacant property listed on Apartments.com can reach millions of renters seeking single-family homes, condos, apartments, or townhouses to rent. The software automatically adds listings to the top 5 most popular rental websites in its network. In addition, landlords may get more exposure for vacant properties by purchasing a premium listing with 2 additional network sites, enhanced search result display, and larger ads and property videos.
Tenant screening
RentRedi partners with TransUnion to provide access to full credit, criminal, and eviction history reports for every tenant screening. According to RentRedi, TransUnion credit checks with ResidentScore offer 15% better accuracy than typical credit scores when predicting rental eviction risk.
Apartments.com uses TransUnion to run credit reports and criminal and eviction reports, with applicants verifying their identities and paying for their screenings. Apartments.com's comprehensive tenant screening reports include employment and residential address histories, a complete debt breakdown, and in-depth credit account payment history.
Leasing
Landlords use RentRedi to upload a lease or other document to share or send for signatures. Tenants are notified when documents are ready to sign, the RentRedi tenant app is used to create a legally binding signature, and the signed lease can be stored online with the tenant's profile.
Apartments.com's online wizard takes landlords through a step-by-step procedure to develop a state-compliant online lease agreement. Lease agreements have been reviewed and customized for the region where the rental property is situated. Digital signatures are used to execute all lease documents and are securely stored and available online.
Online rent collection
RentRedi offers customizable payment solutions to easily collect rent online, with the option of charging any processing fees to the tenant. Payment options include ACH, credit and debit card, and cash deposits at over 90,000 retail locations. Landlords can accept partial payments or block payments from a tenant.
Apartments.com allows renters to make recurring rent payments online. A landlord receives funds into their bank account, and rent payments can be tracked via an online dashboard.
Financial reporting
Financial reporting is an add-on feature with RentRedi and requires a paid subscription with REI Hub. After signing up for an account, landlords can automatically sync properties on RentRedi to view numbers, import recent transactions, and access preset rental templates. 
Apartments.com allows landlords to record and manage their rental expenses in an easy, visual way with no extra charge. It can be used manually to input and track costs for a property, categorize them as Schedule E tax categories, and upload and attach receipts and pictures to organize and store online. The entry form features fields for vendor and payment date, amount, IRS expense category, and a space to provide notes regarding the expenditure.
Tax management
Provided a landlord has a paid subscription with REI Hub, RentRedi can be used to generate reports, including a P&L, cash-flow statement, and real estate balance sheet, along with a Schedule E to use when filing year-end taxes.
Apartments.com allows real estate property managers to track and manage their financial information in a free, secure, user-friendly interface. They may also download expenses based on the year or a custom date range, as well as receipt images, for backup. A CSV and PDF file are also produced as part of the Schedule E report, making tax preparation simpler.
Stessa vs. RentRedi vs. Apartments.com
Stessa, RentRedi, and Apartments.com all provide accounting and reporting software for rental property owners and managers. While both RentRedi and Apartments.com offer a lot of features, there are many things that owners of small property portfolios may not need.
Stessa, a Roofstock company, provides software that is 100% free and very user-friendly. More than 100,000 investors already use Stessa to track over 250,000 properties with over $60 billion in asset value.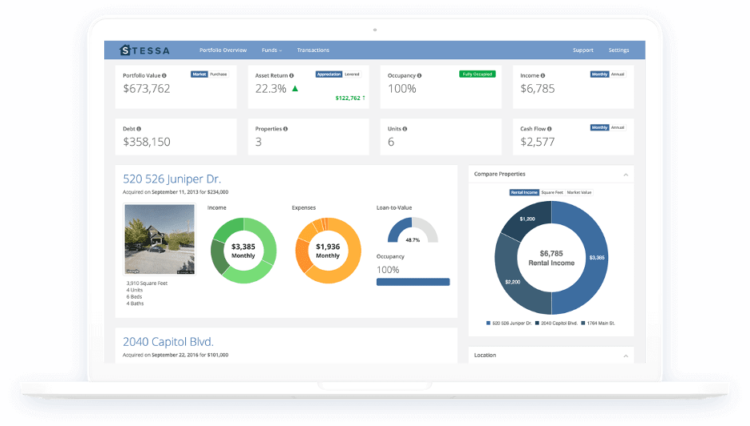 After signing up for a free account with Stessa, owners monitor their rental property investments from a single, comprehensive dashboard that they can use to optimize performance and returns:
Track unlimited residential rental properties and entire portfolios.

Monitor rental property investments from a single, comprehensive online dashboard.

Link bank and mortgage accounts to automatically track income and expenses.

Collect tenant rent payments online using ACH transfer (additional payment methods coming soon).

Allow tenants to set up recurring rent payment with Autopay.

Track expenses on the go with the iOS and Android app.

Organize and store all real estate documents safely and securely.

Run unlimited financial reports for free, including income, net-cash-flow, and capital expense statements.

Export tax-ready financials to make tax time a breeze.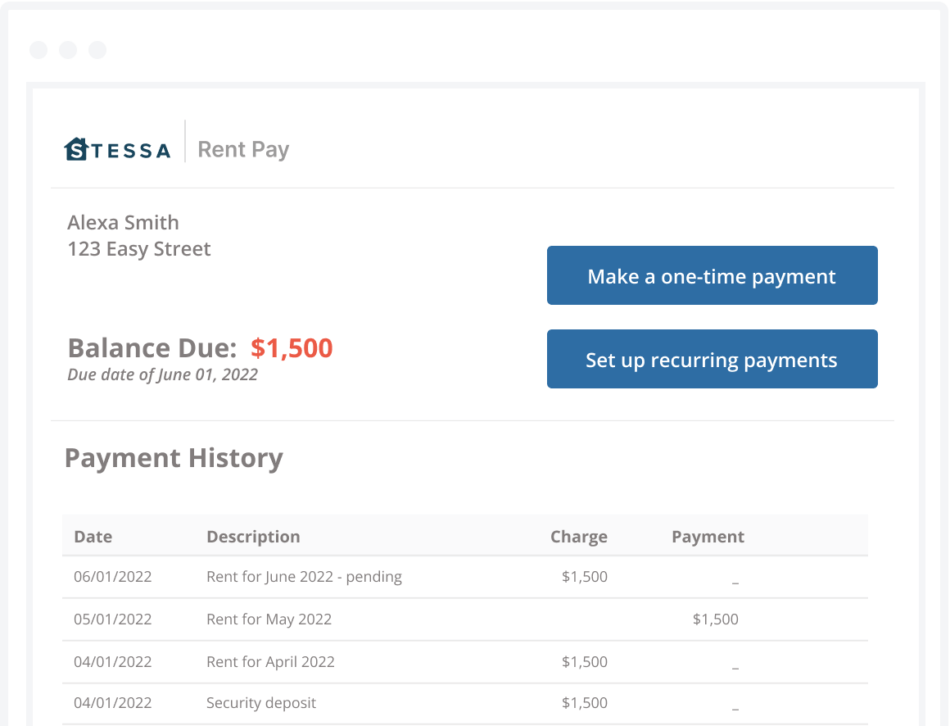 Closing thoughts
RentRedi and Apartments.com offer a lot of features, but owners of small property portfolios may not need all the bells and whistles that these programs offer. Stessa is a good option for those who want user-friendly accounting and reporting software that is 100% free and easy to use.