If you're a rental property owner, then you know there are a lot of software options out there to help you manage your business. But how do you know which one is right for you? 
In this post, we'll compare 2 of the most popular rental property software options on the market: RentRedi and Avail. We'll go over pricing, features, and more to help you decide which one is right for your rental business. 
We'll also look at how these options compare to free rental property software from Stessa that more than 100,000 investors are already using.
---
Key takeaways
RentRedi offers a full suite of property management tools with various monthly pricing plans.

Avail rental property software includes features for marketing vacant property, managing tenants, and online rent payment options with a free and paid plan.

Stessa is a free cloud-based reporting and accounting solution for single-family rental (SFR), multifamily housing, and short-term vacation rentals. It offers free financial reporting, automatic income and expense tracking, and online rent collection.
---
RentRedi overview
If you're a landlord looking for a rental property software solution that's easy to use and adopt, RentRedi is worth considering. Its technology is affordable for self-managing landlords, and its computer and mobile apps offer an all-in-one solution that may meet your current and future needs.
Pricing
RentRedi uses a subscription-based pricing model that varies based on the billing cycle. On the plus side, landlords can use the software for unlimited rentals, tenants, team members, rental listings, and customer support. However, there's an extra subscription to REI Hub required for landlords who want financial reporting and accounting. As of July 2022, the costs for this service are:
Monthly: $19.95

Quarterly: $15 a month (paid every 3 months)

Annual: $9 a month (paid every 12 months)
Pricing for financial and accounting is by the month and doesn't require a long-term contract:
Up to 3 units: $15 a month

4 to 10 units: $25 a month

11 to 20 units: $45 a month

20+ units: $99 a month
Software features
RentRedi automatically syndicates vacant property listings to partner sites Realtor.com and Doorsteps.com.

Use RentRedi's single dashboard to upload photos, create virtual tours, and manage listings, marketing, and showings.

TransUnion provides access to comprehensive credit, criminal, and eviction history reports for every applicant through RentRedi.

Landlords can prepare their own lease documents and upload them to RentRedi to be digitally signed.

The landlord dashboard is used to manage rent, late fees, evictions, and send rent reminders.

Rent payments can be made online using an Automated Clearing House (ACH) transfer, credit or debit card, or cash at over 90,000 retail locations with RentRedi.

Send in-app push notifications to renters, receive maintenance requests, and send rent reminders.

A paid monthly subscription to REI Hub provides landlord accounting and financial statements.

Automatically sync properties between RentRedi and REI Hub and connect financial accounts to upload and track income and expenses.

Complete financial reports from REI Hub include a profit and loss (P&L) statement, cash-flow statement, balance sheet, and tax-ready IRS Schedule E reports—all of which can be accessed through your RentRedi account.
Avail overview
Avail is part of the Realtor.com network and makes it easy to track rental income and expenses, so landlords can see precisely how much money they are making on their investment. The free and paid versions of the software also include features for managing tenants, such as a lease builder and online rent payment options. 
Pricing
Currently, Avail offers 2 pricing plans for residential real estate investors:
Unlimited Plan
$0 a unit each month

Includes syndicated listings, tenant screening, state-specific lease agreements, online rent payments, maintenance requests, and tracking
Unlimited Plus
$5 a unit each month

Includes everything in the Unlimited Plan, plus next-day rent payment disbursement to landlords, waived ACH fees for tenant rent payments, option for customized tenant applications and lease agreements, and a property website for listings
Software features
Avail's rental property software listings syndicate to a dozen online rental websites, including Zillow, Trulia, Zumper, and Realtor.com.

Manage leads and communicate with applicants via a centralized messaging center.

Schedule showings online for any listing platform right from Avail.

Once an applicant approves, TransUnion credit reports and background checks are automatically initiated.

You'll have access to lease templates that are state-specific and lawyer-reviewed. And, you can customize clauses and rules unique to a specific rental property.

Use digital signatures to execute agreements and store documents online.

Automate one-time and recurring payments to potentially increase on-time rent collection, plus get rent reminders and notifications.

The software tracks income and operating expenses logged through Avail.

Transactions not processed through Avail must be manually entered and edited to keep income and expenses accurate and up to date.

Come tax time, generate a CSV spreadsheet filtered and sorted by the rental property, transaction type, vendor, and more, according to IRS categories and transaction types.
RentRedi vs. Avail
Here's a comparison of the top features most rental property owners and managers use.
Listings
RentRedi listings are immediately syndicated to partner sites Realtor.com and Doorsteps.com, which is a huge benefit for landlords. In addition, subscribers receive unlimited professional marketing pages to share on social media and can schedule tours with qualified tenants only. 
As a landlord, you want to make sure as many potential tenants see your rental property as possible. Avail can help by automatically syndicating your listing to the top 12 national listing websites. This way, you can easily manage leads online and coordinate in-person or virtual showings. Plus, Avail offers rent price recommendations to help you set a competitive rent based on your property's location and features.
Tenant screening
RentRedi has partnered with TransUnion to provide access to full credit, criminal, and eviction history reports as part of every tenant screening. As of July 2022, tenants are charged a $35 fee to process a screening report.
Avail offers credit reports from TransUnion and tenant background and rental history checks. The cost of credit, criminal background, and eviction checks vary by location due to state laws and can be covered by the tenant or the landlord.
Leasing
You can use RentRedi to upload a lease or any other document to share or send for signatures. Your tenants will be notified when the documents are ready to sign, and they can use the RentRedi Tenant App to create a legally binding signature. Once the lease is signed, it can be stored online with the tenant's profile.
If you're looking for a lease agreement template that's been lawyer-approved and is specific to your state, Avail has you covered. They also have an extensive list of clauses (like no-smoking and pets) that you can choose from. Plus, once you've executed the lease, you can request tenant payments (like the first month's rent, security deposit, and any additional move-in fees) via the online landlord dashboard.
Online rent collection
RentRedi provides customizable payment solutions, so you can choose how to accept payments and whether or not to charge tenants any processing fees. You can accept payments via ACH, credit and debit card, or cash deposit at over 90,000 retail locations. ACH/cash currently cost $1 per payment and card payments are 2.9% of the payment plus 30 cents.
Avail's online rent collection can streamline your payment process. Just create a landlord account, enter the monthly rent amount and any additional fees, and provide your tenants with easy-to-follow instructions to create their preferred payment method. You can accept ACH transfers or debit cards.
For landlords on Avail's Unlimited Plus, there are no fees when tenants pay from a bank account. With Unlimited (free), tenants currently pay $2.50 per bank transfer. In addition, a 3.5% processing fee is added to tenant payments regardless of subscription if a credit or debit card is used.
Financial reporting
RentRedi offers financial reporting and accounting as an add-on, which requires a paid subscription with REI Hub. Landlords who sign up for an account can automatically sync their properties on RentRedi, view the number of recent transactions, and access preset reporting templates. 
The Avail Rental Property Accounting tool is great for tracking income and expenses logged through the Avail platform. You can easily add one-time transactions or edit those already in the system to keep your income and expenses up to date. In addition, the rental property income and expense tracker monitors the transaction date, type, category, payer, and total amount, making it easy for you to stay on top of your finances.
Tax management
If you have a paid subscription with REI Hub, you can use RentRedi to generate reports, including a P&L, cash-flow statement, and real estate balance sheet. You can also use a Schedule E when filing your year-end taxes.
Transactions on Avail can be exported into a CSV spreadsheet for your landlord's tax professional. The data is sorted by the rental property, transaction type, and vendor or payer. This way, your tax professional can easily see all transactions and identify tax-deductible expenses.
Stessa vs. RentRedi vs. Avail
There are a lot of software options out there, like RentRedi and Avail, but they can be expensive and may offer options that many landlords don't need.
Stessa, a Roofstock company, is different, it's free and very user-friendly. More than 100,000 investors already use Stessa to track over 250,000 properties with more than $60 billion in asset value.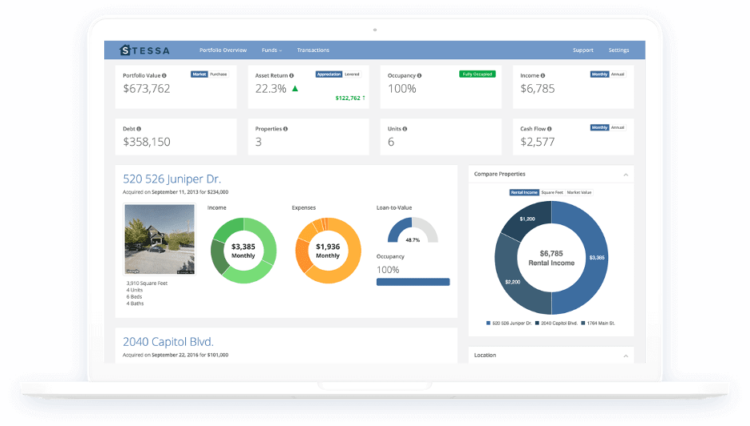 After signing up for a free account with Stessa, owners monitor their rental property investments from a single, comprehensive online dashboard. This makes it easy to make better, more informed decisions about how to optimize performance and returns:
Track unlimited residential rental properties and entire portfolios.

Monitor rental property investments from a single, comprehensive online dashboard.

Link property bank and mortgage accounts to automatically track income and expenses.

Collect tenant rent payments online

using ACH transfer.

Track expenses on the go with the iOS and Android apps.

Organize and store all real estate documents safely and securely.

Run unlimited financial reports for free, including income, net-cash-flow, and capital expense statements.

Export tax-ready financials to make tax time a breeze.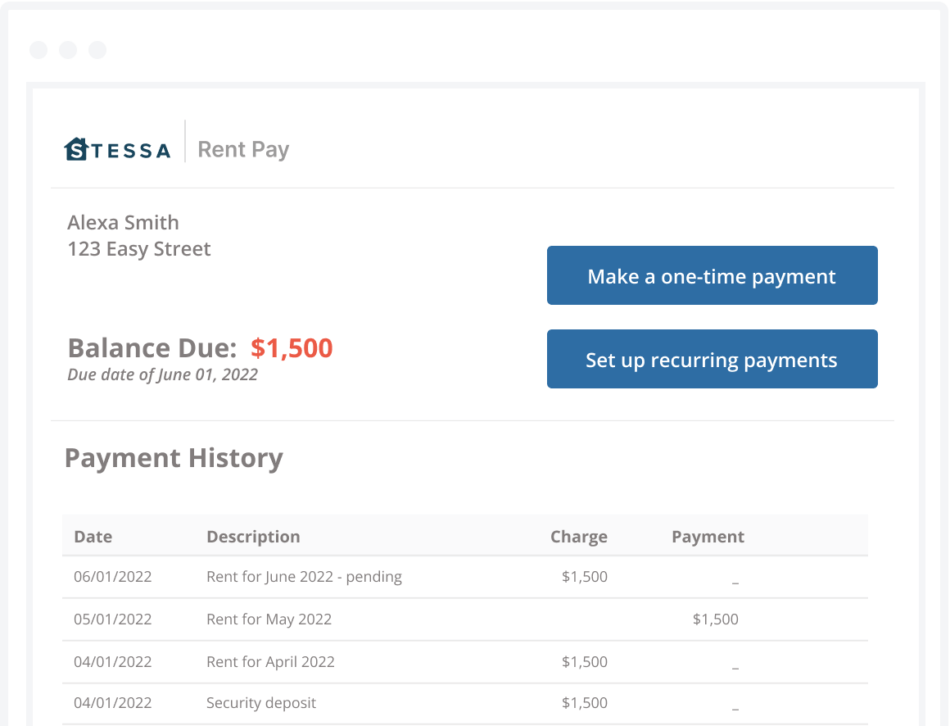 Closing thoughts
Although both RentRedi and Avail provide a lot of features, many may be features that owners of small property portfolios don't need.
If you're a landlord looking for an easy and effective rental property software solution, Stessa is definitely worth checking out. With its wide range of features and tailor-made design for real estate investors, Stessa may be the best solution for your accounting and reporting needs and online rent collection. Plus, it's free to use!