Institutional money is still pouring into single-family rental (SFRs) homes as the fundamentals of this asset class continue to impress investors. According to a new report from JLL, SFR supply has grown by 3.5 million homes since 2005, now representing 10.4% of total housing units. The report concludes that:
"In Q1 2022, SFR gross yields equaled 6.4%, representing 11 consecutive years of compression. This phenomenon has been supported by rapid home value appreciation coupled with strong rental growth. The sector is poised to see strong cap rate fundamentals versus other property sectors as rent growth and occupancy remain strong due to favorable supply/demand imbalance."
Source: JLL (accessed July 2022)
Kevin Vandenboss of Yahoo! Finance reports on Jeff Bazos-backed Arrived Homes which recently acquired another $23 million worth of SFHs, with plans to increase that count to satisfy increased investor demand for fractional real estate investments.
That said, not all large players are increasing their portfolio size. According to Patrick Clark and Gillian Tan of Bloomberg, the Starwood Capital Group is now exploring the sale of two SFR portfolios of 3,000 properties with a sales value of around $500 million.
Political headwinds exist as well, with MarketWatch reporting this week that the U.S. House Financial Services Subcommittee on Oversight and Investigations held the virtual meeting titled, Where Have All the Houses Gone? Private Equity, Single Family Rentals, and America's Neighborhoods. The Democratic chair of the subcommittee called out "mass predatory purchasing" in corporate purchases of SFRs.
In another article, the chair, Rep. Al Green, is quoted as saying that "private equity companies have bought up hundreds of thousands of single-family homes and placed them on the rental market. This removes from the housing market, homes that might otherwise have been purchased by individual homeowners."
New rent data
Zumper released its National Rent Report last week, showing that national one-bedroom rent hitting a record high, increasing 0.5% month-over-month in June 2022, but that two-bedroom rents dropped 2.9% month-over-month. Overall, Zumper is seeing rent moderating across the board.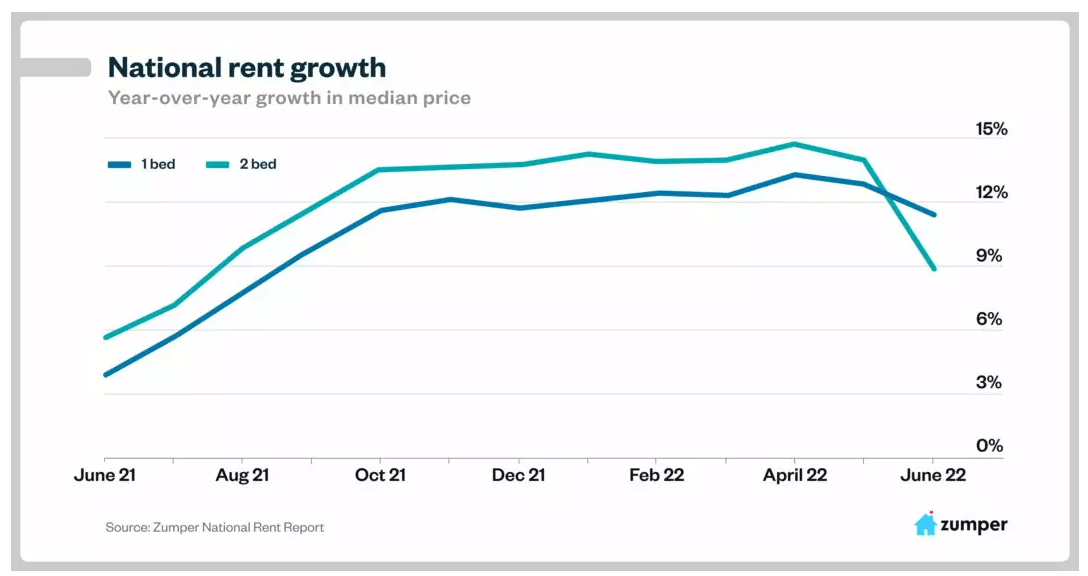 Source: Zumper (June 2022)
Apartment List also released its National Rent Report, showing a similar moderation in rent growth throughout the first half of 2022. Since the beginning of the year, "rents have increased by a total of 5.4 percent, compared to an increase of 8.8 percent over the same months of 2021."
Source: Apartment List (June 2022)
Vacancy also appears to be leveling off, with vacancies falling to a low of 4.1% in mid-2021, to now sitting at a healthy 5%. In all, the report concludes that:
"The summer months are likely to bring continued rent growth through the rental market's busy season. Despite a recent cool-down, many American renters are likely to remain burdened throughout 2022 by historically high housing costs."
For landlords looking to encourage on-time rental payments, note that Freddie Mac announced last week that rent payments will be included in its underwriting. This is aimed to incentivize responsible renters who want to jump into homeownership. "[T]his option will be available starting July 10 and will allow mortgage lenders to submit a borrower's bank account data that shows a 12-month streak of on-time rent payments to its automated underwriting system."
Baby boomers
In real estate, demographics matter a lot, and it's something investors should be watching closely. Adam DeSanctis of the Mortgage Bankers Association (MBA)discusses a new report that shows that "[m]ore than 4 million existing-homes for sale annually over the next decade will come from the aging and mortality of older homeowners." That said, sustained demand from younger generations as well as population growth will balance housing supply "and have no measurable reduction in home prices."
Other highlights from the report include:
In 2019, there were 32 million Boomer homeowners, representing almost 41% of all homeowners.
In 2019, there were 2.6 million deaths of those aged 50+, with 1 million being renters.
The repercussions of death and aging will be a reduction in new housing growth and softness in the rental market.
Finally, the report concludes that "[b]eyond 2032, demographic change is more favorable to demand. This occurs because of compositional changes of the population toward the Millennials and general population growth, as well as the conversion of previously owner-occupied units to rental housing.
A recent NPR interview highlights potential challenges for aging homeowners who may be looking to downsize or sell to free up equity, but are finding it challenging to find a new home or rental due to tight market conditions. As a result, many are choosing to stay where they are for now.