Market predictions and spotlights are leading the headlines as we look to close off 2022 and see what the new year has in store for real estate investors. What markets will outperform in 2023? There were several key reports released last week worth highlighting, starting with Danielle Hale, Chief Economist at Realtor.com.
Realtor.com explores the top ten markets projected sales and price growth next year. In a challenging time for real estate markets generally, these markets are expected to outperform.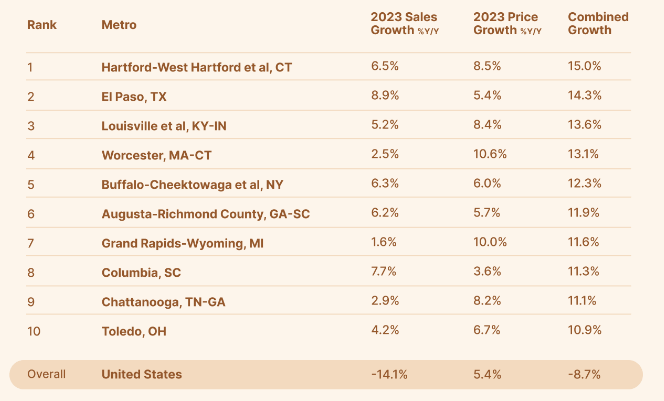 Source: Realtor.com (December 2022)
The National Association of Realtors (NAR) also recently made market predictions for 2023, highlighting that the South will see the majority of the growth in 2023. Atlanta took the top spot for 2023 growth, due to "greater housing affordability than comparable cities, its population is growing more rapidly and 20% of renters there can afford to buy a median-priced home—higher than the national average."
Atlanta-Sandy Springs-Marietta, Ga.

Raleigh, N.C.

Dallas-Fort Worth-Arlington, Texas

Fayetteville-Springdale-Rogers, Ark.-Mo.

Greenville-Anderson-Mauldin, S.C.

Charleston-North Charleston, S.C.

Huntsville, Ala.

Jacksonville, Fla.

San Antonio-New Braunfels, Texas

Knoxville, Tenn.
In terms of affordability, Zillow ranked the top 10 metros for first-time homebuyers in 2023. The following markets have lower rents, making it easier to save for a downpayment, and have higher supplies of homes than other cities.
Wichita, KS

Toledo, OH

Syracuse, NY

Akron, OH

Cleveland, OH

Tulsa, OK

Detroit, MI

Pittsburgh, PA

St Louis, MO

Little Rock, AR
Finally, as we enter 2023 amidst a cooling housing market, Redfin highlights the top markets that are better poised to handle a downturn. Redfin ranked these markets based on year over year changes in a number of statistics including demand and competition.
Lake County, IL

Chicago, IL

Milwaukee, WI

Albany, NY

Baltimore, MD

Elgin, IL

Rochester, NY

Pittsburgh, PA

New Haven, CT

Hartford, CT
Rates are falling
With the latest data showing inflation may be leveling off, mortgage rates have been decreasing following months of rapid rises. Freddie Mac reports that the 30-year fixed rate now sits at 6.27%, down from a high of 7.08%.
Gabriella Cruz-Martinez of Yahoo! Finance reports that rates dropped for the sixth straight week heading into the holiday season. The primary driver of the rate decrease was the Fed signaling that their rate hikes will be much more tempered in 2023.
As such, the Mortgage Bankers Association (MBA) reports that this interest rate reprieve has improved affordability slightly: "Homebuyer affordability improved in November, with the national median payment applied for by applicants decreasing 1.8 percent to $1,977 from $2,012 in October." Similarly, the MBA reports that mortgage applications increased by 0.9% last week from the previous one, bucking the trend of downward application volume over the past few months. Mike Fratantoni, MBA's SVP and Chief Economist, comments on this trend:
"The Federal Reserve raised its short-term rate target last week, but longer-term rates, including mortgage rates, declined for the week, with the 30-year conforming rate reaching 6.34 percent – its lowest level since September…Refinance application volume increased slightly in response but was still about 85 percent below year-ago levels. This is a particularly slow time of year for homebuying, so it is not surprising that purchase applications did not move much in response to lower mortgage rates."
Dana Anderson of Redfin reports on decreasing mortgage rates and the impact on affordability, noting that the typical monthly mortgage payment is about $300 less than the October 2022 peak. That said, mortgage payments are still 36% higher than this time last year.
Source: Redfin (December 2022)
That said, according to Flávia Furlan Nunes of Housing Wire, despite these short-term drops in rates, we shouldn't be expecting this to continue or any significant reductions in 2023. Citing several experts, Nunes highlights that the Federal Reserve is expected to not increase rates in the new year by a significant amount, and 30-year fixed rates will hover between 5-6%.
Multifamily update
According to new data from the National Association of Home Builders (NAHB), multifamily units under construction have reached a nearly 50-year high. That said, the data shows that permit growth is slowing. Specifically, multifamily started increased by almost 5% in November, while permits decreased by 16.4%. NAHB is forecasting continued declines in construction in 2023 due to the robust pipeline of projects and tightening financing conditions.
Of note, the number of multifamily units under construction in November sat at 932,000, the highest number seen since 1973. This is likely a result of delays in construction from the pandemic and supply chain shortages, extending build times and keeping more projects from completion. 
Source: NAHB (December 2022)
Jesse Wade of NAHB reports on multifamily construction, noting that there is an ongoing slowdown of starts in large metro areas, with smaller markets seeing the bulk of additional new supply coming online.
"Except for the large metro outlying county market, all other markets had higher growth rates in 2022 when compared to 2021. The growth rate in large metro outlying counties went down from 44.1% in the third quarter of 2021 to 31.0% in the third quarter of 2022. The largest yearly increase in multifamily growth rate was in micro counties which experienced as 15.3 percentage point increase in growth rate, from 4.2% in the third quarter of 2021 to 19.5% in the third quarter of 2022. The smallest yearly increase was 7.1 percentage points which occurred in the large metros core county market, increasing from 9.8% to 16.9% over the year."
Finally, the National Multifamily Housing Council (NMHC) reports on the Federal 2023 Spending Bill passed last week and it's implications for apartment investors and owners. Here are some of the highlights:
The bill includes $85 million for a new HUD "Yes In My Backyard" incentive program advocated by NMHC/NAA to help localities eliminate exclusionary policies, zoning and density restrictions, onerous parking requirements and other regulations. The grant program will help fund efforts by local communities to update their zoning codes and community engagement to remove obstacles to affordable housing production and preservation.

The bill includes a one-year reauthorization of the National Flood Insurance Program.

The bill reauthorizes $58.2 billion for HUD programs including multifamily lending programs, rental assistance programs and grant programs. Notably, it increases funding for Section 8 Housing Choice vouchers by $130 million, enough to support 12,000 new vouchers.