As a property manager or landlord, you may wonder what to charge as a late fee for rent. Charging too much can drive away prospective tenants, but charging too little can mean losing out on potential revenue. So, what's the right amount?
Check out this post to find out the most common late fees being charged by landlords and property managers across the country. You'll also find advice on choosing the right amount.
---
Key takeaways
The late fee is assessed by a landlord to a tenant when rent is not paid on time.

The most common late fee charged by landlords is 5% of the monthly rent, but fees can also be assessed for each day the rent is late or a fixed dollar amount for a late fee.

Late fees can encourage timely rent payments and generate additional revenue, but be sure to charge an amount that is fair and in line with what other landlords are charging in your area.

Check your state and local laws before implementing a late fee to see if there are any restrictions.
---
What's the average late fee?
A standard late fee for rent is 5% or less of the rent, according to a recent post on MySmartMove. However, there are a few different ways that landlords cand calculate late fees:
Charge a late fee based on the number of days that rent is late. For example, charge a late fee of $5 for each day that rent is late.

Charge a late fee as a percentage of the total rent amount. So, a landlord could charge 5% of the total rent if rent is late by more than 5 days.

Charge a flat fee regardless of how many days the rent is late. For example, charge $50 no matter how many days the rent is late.
Landlords will typically provide renters a grace period, such as 3 days after the due date, before charging late fees. 
How late fees vary by state
Late fees may be regulated by state or local laws. For example, in California, late fees must reflect a landlord's liquidated damages, not a preset fee. 
Other states, such as Florida, don't have laws regulating late charges for rent. This means landlords have more flexibility in setting late fees, provided a late-fee clause is included in the written lease.
However, even in these states, it's still best to charge a late fee that is fair and reasonable. Charging an excessively high late fee could be seen as unfair and could result in tenants taking legal action against the landlord.
To learn more about late fees for rent in your state or city, you can check out your local landlord-tenant laws. You can also contact your local housing authority or consumer protection agency for more information.
When is it okay to charge a late fee?
Late fees are a standard part of the landlord-tenant relationship, but they can be a source of conflict if they're not properly handled. Understand best practices for late fees to avoid any problems down the road.
You should have a late-fee policy and grace period clearly stated in the lease agreement
Once you have your late-fee policy and grace period in place, stick to it. If you start making exceptions, it may be harder to enforce the policy in the future. 
What if your tenant can't pay the late fee?
If your tenant can't pay the late fee, you have a few options. One is to extend the grace period. 
Another option is to waive the late fee altogether. This may be an option if your tenant has a good rental history and you feel confident they will be able to pay the full rent on time in the future. Finally, you could choose to prorate the late fee, which means that your tenant would only have to pay a portion of the late fee based on how late they were in paying rent.
The best option for you will depend on several factors, including your specific situation, your state's landlord-tenant laws, and how easy it would be to find a more qualified tenant.
How to calculate a late fee that's fair to both landlord and tenant
Here are a few things to consider when choosing the right late-fee amount:
1. Rental market
In some markets, tenants are willing to pay higher late fees because competition for apartments is high. In other markets, tenants are more price-sensitive and may be turned off by high late fees. Choose a late fee amount that is in line with your rental market.
2. Your tenants
If you have long-term tenants who have always paid their rent on time, you may want to charge a lower late fee than you would for tenants who are frequently late with their rent.
3. Costs of late rent
Late rent can cause several problems for landlords, including lost income, late fees from mortgage lenders, and evictions. Choose a late-fee amount that will cover the costs of late rent.
4. Grace period
If you provide tenants with a grace period, you may want to charge a higher late fee.
5. Other late fees
In some states, landlords can charge additional fees, such as returned check fees. If you plan on charging additional fees, you may want to charge a lower late fee for rent.
Use online rent payments to avoid late fees
For tenants, late fees can be a real pain. Fortunately, there are ways to avoid late fees altogether. One way is to offer tenants the option of making online rent payments with Stessa.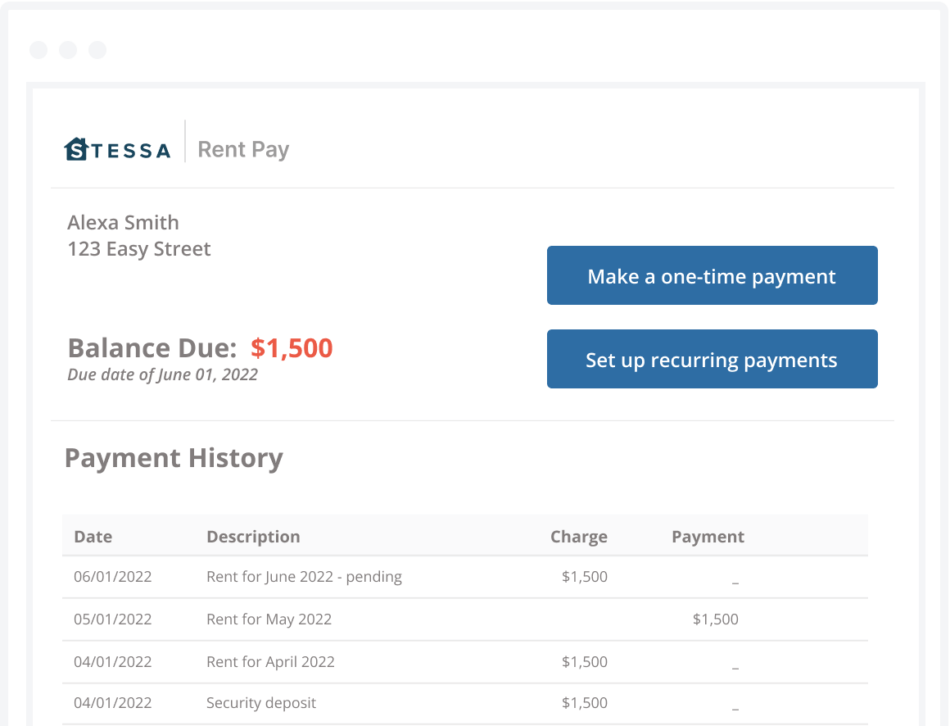 Stessa, a Roofstock company, offers free cloud-based software that helps real estate investors maximize profits through smart money management, automated income and expense tracking, personalized reporting, and more.
Here's a quick rundown of Stessa's online rent collection features:
Deposit type:

ACH

Deposit times:

2 to 5 business days 

Landlord fees:

None 

Tenant fees:

None

Autopay:

Yes

Late fees:

Yes

Real-time notifications:

Yes

Automatic accounting:

Yes
As an added benefit, Stessa's Cash Management deposit accounts currently earn 2.00% APY (compared to the national average interest of 0.03% on checking accounts as of July 2022, according to the FDIC). Stessa Cash Management users can earn interest on balances from automated rent collection deposits, CapEx account, and operating account.
Annual Percentage Yield (APY) of 2.00% is effective as of 8/5/2022. No minimum opening deposit or account balance required. Fees could affect earnings on the account. Stessa is a financial technology company, not a bank. Banking services provided by Blue Ridge Bank, N.A., member FDIC. The national rate is the average of rates paid by all insured depository institutions and credit unions for which data is available to the FDIC, with rates weighted by each institution's share of domestic deposits.
Paying rent online has a number of advantages for tenants. First, it's convenient. Tenants can pay their rent from anywhere, at any time. Second, it's easy to set up recurring payments so that rent is always paid on time. And finally, some landlords offer discounts for tenants who pay their rent online or early.
For landlords, online rent collection has several advantages as well. First, it's a great way to avoid late rent. Second, online rent collection is easy to track and manage. Finally, online rent payments can be synced with a landlord's free Stessa account.