The U.S. vacation rental industry is estimated to reach $13.3 billion in revenues this year, growing to nearly $20 billion in billings by 2025, according to a recent Hotel Tech Report. That's a tremendous amount of money to keep track of, which is why good vacation rental accounting software is in such demand.
In this article, we'll review 17 vacation rental software solutions, beginning with how easy Stessa can be used for vacation rental accounting.
How to use Stessa for vacation rental accounting
It's easy to use Stessa for short-term and vacation rental property accounting, and best of all Stessa is free. Here are the steps to follow after signing up for a free Stessa account:
Use the Airbnb file importer to download transaction history into a CSV format file, then upload the file to your Stessa account. After the transactions have been uploaded, Stessa will automatically categorize most (if not all) of the transactions.

Switch the rent roll to "short-term rental" on the Leases & Tenants page. Enter the anticipated nightly rental rate and occupancy for the current calendar year.

Enter expected monthly operating expenses on the Property Details page to use as baseline to compare actual expenses incurred.

Connect bank accounts used for receiving vacation rental income and paying expenses, along with any credit cards used for short-term rentals. Stessa will automatically categorize existing transactions, and going forward vacation rental income and expenses will be automatically synced. 
Learn more about how to track short-term rentals with Stessa here.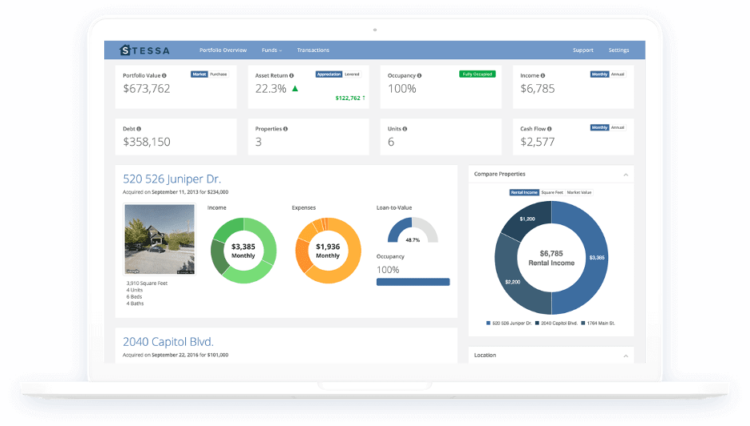 16 other options for vacation rental software
Vacation rental software helps owners to schedule reservations, manage maintenance and cleaning services, and keep track of income and expenses. While Stessa is free, the following services charge a monthly or annual subscription fee or collect a commission for each reservation made.
Here are 16 other vacation rental accounting software programs to consider using for short-term rental property in 2022, listed in alphabetical order.
Bookerville
Bookerville has been used by over 1.5 million guests to make nearly 500,000 bookings and generated over $500 million in vacation rental revenue for owners. Software features include a master calendar, channel managers, email templates for guest communication, housekeeping management, and accounting. 
Pricing begins at $50.42/mo for 1 unit and up to $371.33/mo for 100 units. Visit the Bookerville website. 
Escapia
Escapia vacation rental software is used by more than 900 property management companies around the world and receives a customer rating of 9.2 out of 10. Features include a performance dashboard, an opportunities hub with actionable insights and recommendations to grow a vacation rental business, and what they call "trust accounting" for accurate comprehensive financial reports.
Pricing is not disclosed on the website. After filling out an inquiry form, an Escapia team member will be in touch in 1-2 business days. Visit the Escapia website.
Futurestay
Futurestay is designed for independent vacation rental owners to help make short-term renting more profitable. Features include channel management, a booking engine connected to Google, automated payment processing, financial reporting, and performance analysis.
A pricing commission of 5% is built into the nightly rate charged to guests. Visit the Futurestay website.
Guesty
Guesty provides an all-in-one vacation rental software solution for owners of aparthotels, glamping, serviced apartments, and urban and vacation rentals. Features include accounting and analytics, booking and channel management, payment processing, and revenue management. 
Pricing is customized depending on the number of listings, but generally runs between 2%-5% per booking, including reservations that are canceled. Visit the Guesty website.
Hospitable
Formerly known as Smartbnb, Hospitable was voted the most loved vacation rental software in 2021. Features include guest experience messaging, channel management, direct reservations, pricing updates, and financial and operational metrics.
Pricing begins at $25/mo for up to 2 properties, after a 14 day free trial. Visit the Hospitable website.
Hostaway
Hostaway is a full-service vacation rental software solution that includes property management and accounting along with reservations and guest management. The software can be integrated with more than 100 apps, including listing platforms like Airbnb and Expedia, payment apps such as Stripe and Braintree, and Autohost to automatically screen guests. 
Pricing models can be customized with a fixed fee or commission, and start at $100 per month. Visit the Hostaway website. 
Hostfully
Hostfully claims to help vacation rental property owners make more money by reaching customers on major listing platforms including Airbnb and Booking.com. The Property Management Platform solution includes pipeline management, owner reporting, and a centralized calendar. Digital and offline guidebooks can be created with the Guidebook Platform to help create a unique brand image. 
Property Management Platform pricing starts at $79/mo + a $400 implementation fee (waived with the purchase of an annual subscription), while Guidebook Platform pricing ranges from $0-$7.99/mo with annual billing. Visit the Hostfully website.
Hostify
Hostify is designed for professional vacation rental property managers with 5 units or more. Features include payment processing, property management, channel management, and a booking engine. 
Pricing begins at $20/mo per unit, with a minimum of 5 units, after a 14 day free trial. Visit the Hostify website.
iGMS
Formerly known as AirGMS, this software promises to put a vacation rental business on autopilot. Features include guest communication, payment processing and invoice management, and cleaning and team management. 
Pricing for 1 rental property runs between $14/mo and $27/mo based on monthly billing, or $1 per night with a minimum fee of $1/mo. iGMS offers a 33% discount for an annual billing cycle. Visit the iGMS website.
Lodgify
Lodgify is specifically designed for vacation rental owners and property managers to grow bookings, and is a preferred partner of companies like Airbnb, VRBO, and Expedia. Features include property management with built-in accounting and analytics, channel management to market listings, and a booking engine to receive bookings and payments online. 
Pricing is transparent, with a Starter plan of $12/mo + 1.9% booking fee, to the Professional $32/mo plan and the Ultimate $48/mo plan with 0% booking fees. Visit the Lodgify website.
Lodgix
Lodgix combines online booking, comprehensive guest management, and user-friendly interfaces into one flexible vacation rental software package. Features include channel management, online booking, credit card processing, and robust reporting. Property management and QuickBooks Online syncing are available for additional monthly fees.
Pricing begins at $69.99/mo for up to 7 properties. Optional property management module is $24.99 per month, and QuickBooks sync is $20.00/mo. Visit the Lodgix website.
MyVR
Vacation rental management software from MyVR (a Guesty company) promises to help owners book more nights while working less. The full range of features includes centralized property management, availability calendar synced across all properties and marketing channels, reservation management and payments, and reporting to help make informed decisions.
Pricing is not disclosed on the website. In order to receive a customized pricing quote, an owner must first request a demo by filling out an inquiry form online. Visit the MyVR website.
OwnerRez
OwnerRez (short for Owner Reservations) is vacation rental software built by owners, for owners. Modules include channel and property management, websites and integrations, accounting, messaging, and CRM. 
Pricing for one rental property is $35/mo with no setup or booking fees, after a 14 day free trial. Visit the OwnerRez website. 
Smoobu
Smoobu is an all-in-one software solution designed for owners of short-term and vacation rental property. Features include rate synchronization, booking engine, channel manager, online check-in, guest guides, and a reservation system to monitor revenue statistics and KPIs (key performance indicators).
Pricing begins at $22/mo for 1 unit, with a discount of 20% for annual billing, after a 14 day free trial. Visit the Smoobu website.
Tookeet
Tookeet is designed for vacation rental owners and managers who want complete control over their business. Features include invoice & payments, simple and smart reporting, channel management and website builder, and contract signature.
Pricing begins at $9.99/mo for 1 unit for a limited number of features, or $64.99/mo for up to 10 units with a full array of features, with a 31% discount for annual billing. Visit the Tookeet website.
Uplisting
Uplisting helps owners manage short-term rentals and bookings, and take payments and care for guests with a variety of features including channel management and a direct booking engine, eSign rental agreements and security deposit collection, and automated guest messaging and reviews. 
Pricing begins at $100 per month for 1 property and includes a free 14 day trial. Visit the Uplisting website.