Are you a property manager or real estate investor looking for alternatives to Apartments.com (formerly Cozy)? If so, you're in luck. Several great online options can help you manage your property portfolio more effectively.
In this blog post, we'll look at 6 Apartments.com alternatives. We'll compare options so you can make an informed decision about which one is best for you.
Ready to get started? Let's dive in!
Where Apartments.com falls short
Apartments.com recently acquired Cozy—a free, popular online property management software offering great benefits for property managers and real estate investors. It's easy to use, affordable, and offers a wide range of features to help you manage your properties effectively. 
However, there are a few drawbacks to using Apartments.com's rental management tools:
There is an extra charge to list a vacant property on more than 5 rental listing websites for higher search result placements and larger ads and videos.

Expense transactions must be manually entered into Apartments.com, requiring a landlord to spend extra time on bookkeeping tasks that could be automated.

Limited reporting capabilities and a tax management system require downloading and uploading CSV transaction files to generate basic financial reports and year-end statements.
6 alternatives to Apartments.com
While Apartments.com does fall short in some areas, a number of other great options are available. Here are 6 alternatives.
Stessa
Stessa, a Roofstock company, offers a rental property financial management system that is free and easy to use. More than 100,000 investors already use Stessa to track over 250,000 properties with over $60 billion in asset value.
It offers many great features, including the ability to track expenses, income, and performance metrics automatically; create custom reports; and automate tasks like online rent collection and accounting.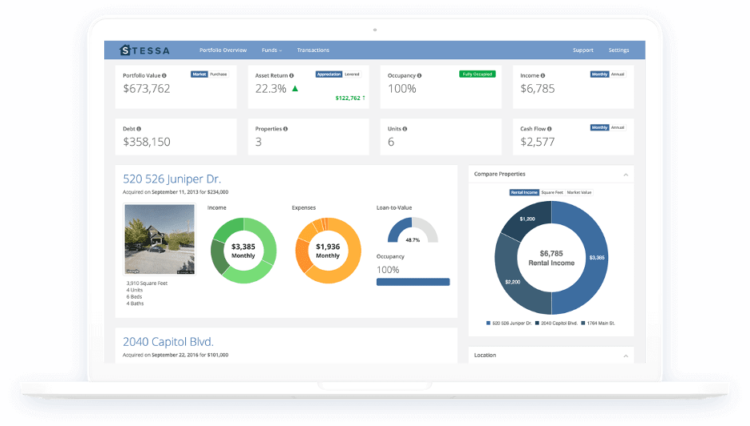 One of the best things about Stessa is that it's designed specifically for rental property management. This means all the features are geared toward helping you run your rental business more efficiently. 
For example, the expense tracking feature makes it easy to track where your money goes each month, so you can make informed decisions about where to cut costs or identify areas for increasing revenue. 
Owners monitor their rental property investments from a single, comprehensive dashboard that they can use to optimize performance and returns.
Key features
After signing up for a free account with Stessa and entering some basic property information, real estate investors can: 
Track unlimited single-family rentals (SFRs), multifamily properties,

short-term vacation rentals

, and complete portfolios.

Monitor their rental property investments and portfolios from a single, comprehensive dashboard.

Automate income and expense tracking by linking property bank accounts.

Update outstanding mortgage balance and property values.

Collect tenant rent payments online for free using Automated Clearing House (ACH) transfers (tenants can also setup Autopay so they never miss a deadline).

Track expenses on the go with the iOS and Android apps.

Organize and store all real estate documents safely and securely.

Run important financial reports, including income, net-cash-flow, and capital expense (CapEx) statements.

Export tax-ready financials to make tax time a breeze.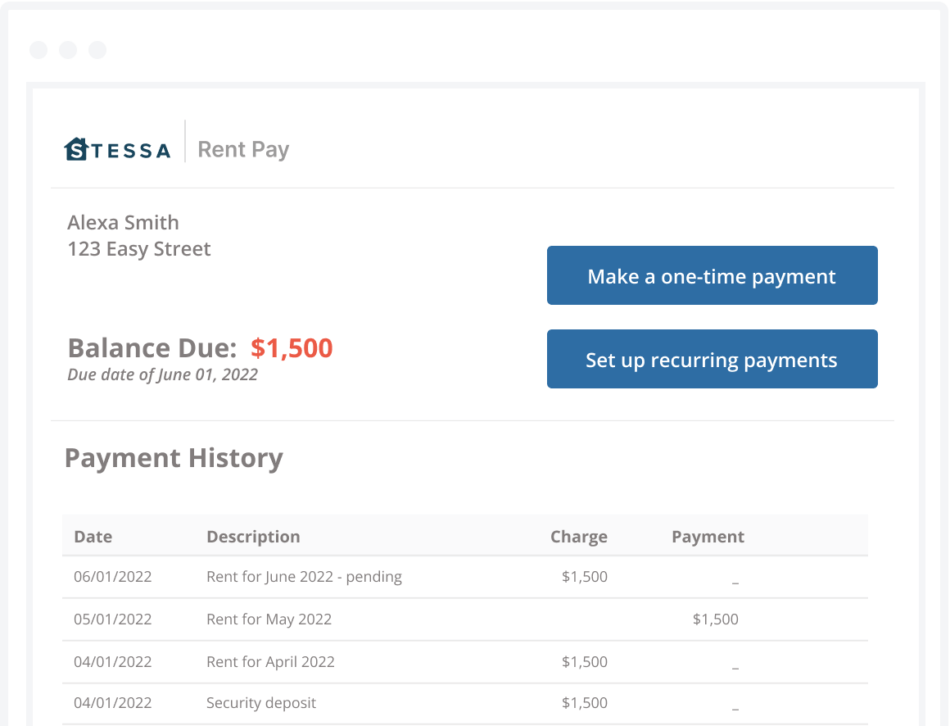 Avail
Avail software helps property managers track their finances, manage properties, and stay organized. The software also includes features for managing tenants, such as a lease builder and online rent payment options. 
Avail offers 2 pricing plans. The Unlimited Plan is free and offers syndicated listings, credit and criminal screening for tenants, state-specific leases, online rent payments, and maintenance tracking. The Unlimited Plus plan costs $5 per month per unit and includes everything the free plan does, plus next-day rent payments, waived ACH fees, custom rental applications, leases, and a property website.
Key features
Listings are syndicated to 12 of the most popular online rental websites, including Zillow, Trulia, Zumper, Realtor.com, Apartments.com, and Apartment List.

Screening reports include a nationwide criminal history report, nationwide prior eviction reports, residence and employment reference checks, and income verification and documentation.

Lease templates are state-specific and lawyer-reviewed.

Online rent payments feature automatic recurring payments, late fees, and collection of security deposits and additional charges

Rental property accounting software tracks income and expenses processed through Avail.

Avail generates a CSV spreadsheet at tax time to aid with tax readiness and reporting.
Innago
Innago provides free software that can help landlords find good tenants, easily collect rent online, and more. It can be used for residential properties, commercial buildings, and student housing.
There are no expenses to start up, no monthly costs, and no contract required. Innago charges tenants for screening services and online rent payments. Landlords may opt to pay for these services themselves.
Key features
Landlords can post vacant property to selected listing websites.

Tenant screening provides insight into applicants' financial history, including open accounts, payment history, credit history, collections, inquiries, and more.

With lease forms, you get the right document with the correct information for your property, including rental amounts, move-in dates, and pet addendums.

Innago provides automatic reminders and notifications when rent is due, along with a convenient payment button within the email.

Entering expense data manually is quick and simple, from payee details to categories and accounts.

Innago integrates with QuickBooks to automatically generate financial statements and Schedule E for year-end tax reporting.
RentRedi
RentRedi offers an all-in-one property management software solution for landlords with an easy-to-use computer and mobile app. In addition, the company offers 3 different pricing plans based on the billing cycle: $19.95 a month, $15 a month paid every 3 months, and $9 a month based on annual billing.
All plans include unlimited rentals, tenants, team members, rental listings, and customer support. Landlords who want financial reporting must sign up for the add-on service with REI Hub. All REI Hub plans are month to month, with pricing varying based on the number of units: $15 a month for up to 3 units, $25 a month for 4 to 10 units, $45 a month for 11 to 20 units, and $99 a month for 20 units or more.
Key features
RentRedi listings are automatically distributed to Realtor.com and Doorsteps.com, the company's 2 partner sites.

TransUnion provides access to comprehensive credit, criminal, and eviction history reports with the $35 cost paid for by the applicant.

Landlord lease documents can be uploaded directly from the RentRedi app and executed with digital signatures and a government ID photo.

Rent payments can be made using ACH,credit cards, and cash.

Bank and credit card accounts can be connected electronically to sync income and expenses automatically.

Landlords can complete financial reports with a paid REI Hub subscription, including profit and loss (P&L) statements, cash-flow statements, balance sheets, and tax-ready Internal Revenue Service (IRS) Schedule E reports.
TenantCloud
TenantCloud is a cloud-based property management software designed for residential real estate investors, landlords, and managers. The company offers 3 pricing plans with an unlimited number of properties and units and unlimited rental postings on the internet: free, $15 a month, and $50 a month. 
Customized pricing plans are available for investors and property managers with large portfolios. Plus, customers who pay annually get a 20% discount, and the company offers a free trial period. 
Key features
Features vary based on the price plan selected and include modules for listings, showings, tenant screenings, leasing, rent payments, digital signatures, and tax reporting.

Listings are automatically syndicated to websites like Apartments.com, Trulia, and Zillow.

Three different screening packages are available through TransUnion.

Lease agreements can be designed from scratch or from a template to update an existing lease and get tenant digital signatures.

Rent payments may be made and received online using a debit card, credit card, and ACH, and tenants can schedule recurring monthly payments.

TenantCloud can sync with QuickBooks to process income and expenditure transactions and prepare financial statements, tax preparation reports, and 1099s.
TurboTenant
TurboTenant offers free property management software with rental advertising, online tenant applications, tenant screening, online rent payments, and tenant management.
The company offers a free pricing plan for unlimited properties and a premium plan billed at $59 a year. In addition, users selecting the free plan are charged $39 each for state-specific lease agreements, $15 each for addendums, and $9 a document for digital signatures. Subscribers may also purchase a landlord forms pack for a one-time charge of $145.
Key features
Features vary based on the plan selected and include rental advertising, tenant applications and screening, reference checks, online rent payments, expense tracking, and document management.

TurboTenant makes it easy to list your rental property on popular websites like Realtor.com, Apartment List, Rent.com, Facebook Marketplace, and Craigslist.

TurboTenant offers landlords free credit, criminal, and eviction reports on applicants, which are pulled from TransUnion.

Online lease agreements help landlords input essential information for their states, including rent amounts, fees, lessees, and pets policies. Once the lease is complete, it can be sent out for digital signatures and stored in the landlord's TurboTenant account.

TurboTenant allows landlords to automatically charge rent, late fees, security deposits, and more every month and set up autopay for tenants.

The software allows landlords to manually enter expenses by date, property, and expense category, which can then be exported as a CSV file for use with QuickBooks or other financial software for tax reporting.
Closing thoughts
Many software options are available to help landlords with their property management needs. While Apartments.com is a popular option, the software comes up short in some areas. 
Six popular alternatives are Stessa, Avail, Innago, RentRedi, TenantCloud, and TurboTenant. When choosing, it is crucial to consider which features are most important to you and your business. 
Stessa is an excellent choice for landlords looking for rental property software because it is free, easy to use, and offers a wide range of features. The software is designed to help landlords manage their properties, tenants, and finances all in one place. With Stessa, landlords can collect rent online, automatically track income and expenses, and more.