It's no secret that the rental market is booming. So, whether you're a new investor looking to get into the game or have been at it for a while, it's crucial to stay on top of the latest technologies and trends. So, which property management platform should you be using?
In this post, we'll take a detailed look at 3 popular options: Apartments.com (formerly Cozy), Avail, and TenantCloud. Then, we'll break down the pros and cons of each so you can decide which one is right for you.
Plus, we'll review free rental property management software from Stessa, a program already used by more than 100,000 investors to track over 250,000 properties with more than $60 billion in asset value.
---
Key takeaways
Apartments.com is a free, all-in-one solution for managing your rental properties.

Avail rental property software has free and paid options and features for marketing vacant property, managing tenants and expenses, and online rent payment options.

TenantCloud also offers a variety of tools to manage rental property with free and paid plans.

Stessa is a free cloud-based reporting and accounting software used to receive recurring online rent payments and track property and portfolio performance metrics for unlimited single-family houses, multiunit properties, and short-term vacation rentals.
---
Apartments.com (formerly Cozy) overview
Apartments.com is a free, cloud-based program that provides comprehensive tools to help you manage your rental properties from start to finish. Apartments.com allows you to market your rentals, screen tenants, sign leases, receive rent payments and deposits, and make maintenance requests. Additionally, homes for rent are advertised on several of the most popular rental listing websites that reach more than 25 million prospective renters monthly.
Pricing
Apartments.com offers free rental property software. All of the software features listed below are free to use. The site also provides premium listings, asks prospective tenants to pay an application and screening fee, and collects a transaction fee if rent is paid with a debit or credit card.
Software features
List your rental on 5 of the most active websites in the Apartments.com network.

Consider purchasing a premium listing for increased visibility.

Direct prospective tenants to apply to rent your property online directly from the listing.

Screen prospective tenants with reports by TransUnion. These reports include a credit and background check, debt payment history, employment verification, and previous addresses.

Build a state-specific lease agreement using the online leasing wizard to create customized leases that can be signed online.

Collect rent payments online for free with an Automated Clearing House (ACH) transfer. Or, tenants can opt to pay a small fee for using a credit or debit card.

Track rent payments

and other fees, including prorated rent, security deposits, and late fees.

Receive and manage maintenance requests online, with photo and video capabilities.

Enter and track property expenses 24/7 online, and upload and store images and receipts to create a record.

Record operating expenses by the Schedule E category and export in CSV and PDF formats to prepare financial statements or tax returns.
Avail overview
Avail's rental property software is designed to help landlords and real estate investors stay organized. The software includes features for managing tenants, such as a lease builder and online rent payment options.
Landlords can track rental income and expenses to see whether or not the property is turning a profit. And because Avail is part of the Realtor.com network, landlords may be able to increase exposure when marketing vacant property.
Pricing
Unlimited Plan
Free with:
Syndicated listings

Credit and background checks

Criminal screening

State-specific lease agreements

Online rent payments

Maintenance tracking
Unlimited Plus
$5 a unit each month with:
Everything the Unlimited Plan includes

Next-day rent payments

No ACH fees

Custom applications and leases

Copy and reuse custom lease agreements

Create a property website
Software features
Syndicate to a dozen online rental websites, including Zillow, Trulia, Zumper, and Realtor.com.

Track prospects with lead management tools and a messaging center. 

Schedule showings online from any listing platform with ease.

Receive TransUnion credit reports and background checks, initiated once an applicant approves.

Use state-specific lease templates that are lawyer-reviewed to make signing leases easy.

Create customizable clauses and rules unique to a specific rental property and add to the lease agreement template.

Use digital signatures to execute agreements and store documents online without having to print anything out.

Allow automatic one-time and recurring payments to make rent collection a breeze. Plus, rent reminders and notifications can help keep tenants on track.

Report tenant rent payments to credit bureaus to incentivize tenants to pay the rent on time.

Receive and manage maintenance and repair tickets through Avail's software platform.

Generate a CSV spreadsheet at tax time, filtered and sorted by rental property, transaction type, vendor, and other criteria according to Internal Revenue Service (IRS) Schedule E categories and transaction types.
TenantCloud overview
TenantCloud includes an online payment and leasing management system and a configurable online platform to manage properties and tenants.
Pricing
TenantCloud offers 4 pricing levels. You can choose between a monthly or annual plan, which provides access to an unlimited number of properties and units, as well as an unlimited number of internet rental postings. Furthermore, customers who pay annually receive a 20% discount, and the firm offers a 14-day free trial period for paid plans:
Free: $0 a month

Starter: $15 a month

Growth: $50 a month

Business: Customized pricing plan for investors and property managers with large portfolios
Tenants are also charged for tenant screening and online rent payments through TenantCloud:
Tenant screening
Full check report: $39

Credit check report: $30

Background check report: $25
Online rent payments
ACH payments: No charge

Credit/debit card: 2.9% plus 30 cents per transaction
Software features
Free
Here are some of the features accessible in the Free plan:
Listings

Scheduling

Applicants

Screenings

Rent payments

Maintenance requests

Vendor network access
Starter
The Starter plan offers specialized services like tax reports and Google Calendar synchronization. The $15-a-month Starter package includes all of the Free plan's features, plus:
Premium leads for online listings

Tax reporting

Digital signatures

Lead tracking for customer relationship management (CRM)

Autopay for tenants

Google Calendar sync
Growth
TenantCloud's Growth plan is intended for landlords with small or medium-sized portfolios who want additional capabilities like a customized owner portal and QuickBooks Online synchronization. The Growth Plan, which costs $50 per month, includes all of the services included in the Free and Starter plans, as well as:
Property manager tools

Individual owner portal

Management fees

Lease builder

Property message board

QuickBooks Online sync
Business
For landlords and property managers who need more customization and flexibility in their rental business, the Business plan may be worth exploring. If you're curious, contact the firm to learn more about pricing. Everything in the Free, Starter, and Growth plans is included, as well as:
Team management and tools

Task management

Customization
How do Apartments.com, Avail, and TenantCloud compare?
Here's a deeper look at the most important features to consider.
Listings
Apartments.com: Listings are immediately posted on the top 5 most popular rental sites in just one click. Landlords may also acquire a premium listing, which allows them to place their property on 2 additional network websites and obtain higher search results placement and enhanced property advertising and videos.
Avail: Automatically syndicate rental advertisements to reach millions of renters on the top 12 national listing sites. Landlords can also manage leads online, schedule in-person and virtual showings, and answer queries before beginning the application process using our software.
TenantCloud: Apartments.com, Rentler, and Zillow Group are some of the leading online platforms that work with TenantCloud to get more exposure for your properties. You may also create a property-specific website for free to gather inquiries from prospective tenants.
Tenant screening
Apartments.com: It collects a $29 fee from each applicant to generate a screening report, which is good for 30 days and can be shared with up to 10 landlords on the Apartments.com network if you don't accept the applicant. 
Avail: The cost of credit, criminal background, and eviction checks vary by location due to state laws. Landlords choose the required reports for each applicant, and screening fees can be charged to the applicant or paid by the landlord.
TenantCloud: It offers 3 tenant screening packages, with the fee charged to the applicant: Full check report $39, credit check report $30, and background check report $25.
Leasing
Apartments.com: The online wizard assists landlords in drafting a legally valid lease agreement online. Furthermore, all lease paperwork is signed electronically and saved on the Apartments.com website, eliminating the need for paper copies.
Avail: Avail offers the option for landlords to use their own lease agreements or create state-specific lease agreements online. After the lease is drawn up, it can be sent to the tenant and signed using a digital signature, then stored online.
TenantCloud: TenantCloud allows landlords to upload their own lease agreement or create a lease online. The software provides rental agreement templates and electronic signature capability.
Online rent collection
Apartments.com: Property owners can collect the monthly rent plus one-time fees, such as a security deposit, prorated rent, or late fees. Apartments.com collects a processing fee of 2.75% from the tenant if the rent is paid using a debit or credit card, with no charge for an ACH rent payment.
Avail: Tenants can pay rent online using an ACH bank transfer, a debit card, or a credit card. Avail collects a fee from tenants of $2.50 per ACH transfer (waived for the Unlimited Plus plan) or a 3.5% processing fee for debit and credit card payments.
TenantCloud: Rent can be paid online with an ACH direct deposit or debit and credit card payments. Partial payments are also allowed, and funds can be transferred straight to the landlord's bank account if desired. ACH payments are free, while tenants pay a fee of 2.9% plus 30 cents for paying the rent with a debit or credit card.
Financial reporting
Apartments.com: You may manually keep track of your property expenses using Apartments.com, categorize them according to Schedule E, and store receipts and images online.
Avail: The Avail rental property accounting tool keeps track of income and expenses logged through the Avail platform. A landlord can manually add one-time transactions or edit ones already in the system by date, type, category, payer, and total amount.
TenantCloud: It integrates with QuickBooks Online to keep your income and expenses up to date. The financial documents include a summary of deposits, general revenue, property expenses, amortization and depreciation tracking, and a profit and loss statement.
Tax management
Apartments.com: Landlords can download income and expenses in CSV and PDF formats following IRS Schedule E to help make tax filing simpler.
Avail: Income and expense transactions entered on Avail can be downloaded in a CSV format, then uploaded to financial software such as QuickBooks, or sent to a certified public accountant (CPA).
TenantCloud: The Tax Preparation Report from TenantCloud is used to calculate all property income and expenses, including management fees and depreciation costs, to create IRS Schedule E. Excel, CSV, QuickBooks, PDF, and Numbers file types are available for data downloads.
Why Stessa could be a better choice
Although Apartments.com, Avail, and TenantCloud come with a lot of features, owners of small property portfolios may not need to pay extra for them.
That's where Stessa, a Roofstock company, comes in. Free rental property management software from Stessa provides powerful tools to the investor community at the lowest possible cost. There are also optional premium services to assist with rent analysis, mortgage financing, and market research.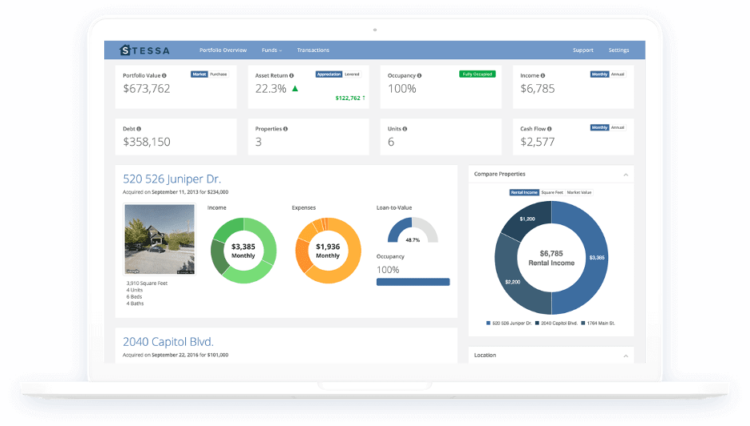 Stessa is free, cloud-based software that helps real estate investors maximize profits through smart money management, automated income, expense tracking, personalized reporting, and more:
Track unlimited single-family rentals, multifamily units, and short-term vacation rental properties and portfolios.

Access comprehensive performance dashboards at the property and portfolio levels.

Automate income and expense tracking by linking property bank and mortgage accounts.

Collect tenant rent payments online using free ACH transfer.

Track expenses on the go with the iOS and Android apps.

Organize and store all real estate documents safely and securely.

Generate various financial reports, including income, net cash flow, capital expense statements, tenant rent roll, and real estate balance sheet.

Export tax-ready financials to make tax time a breeze.

Create a personalized tax package on the

Stessa Tax Center

that includes an income statement, net-cash-flow report, and a ZIP file in a single email.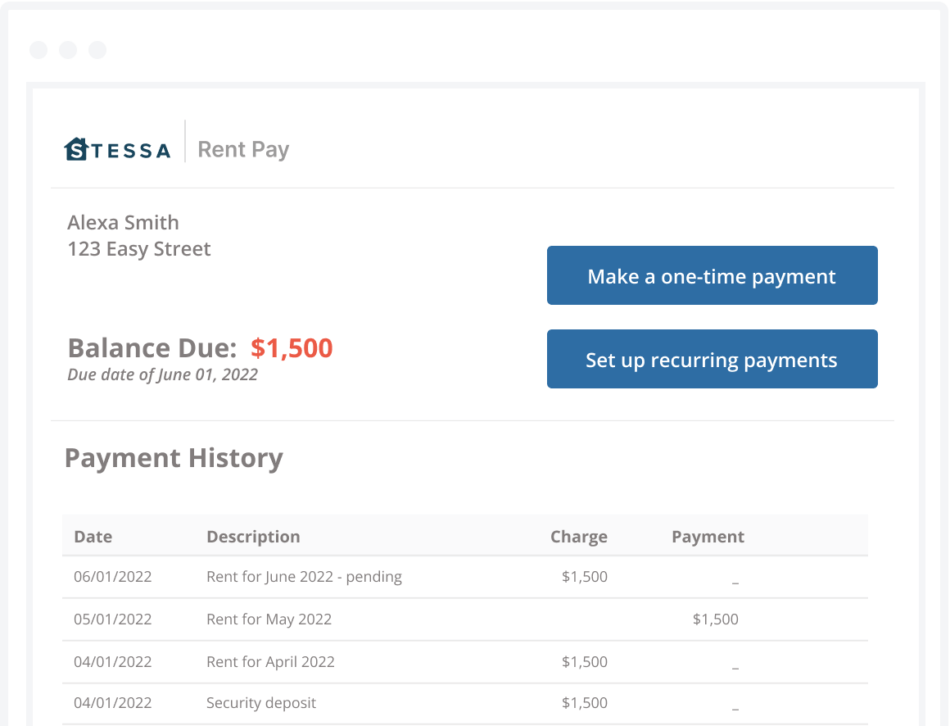 Final thoughts
Apartments.com, Avail, and TenantCloud are all options that landlords may wish to consider. But, overall, Stessa could be the best solution for landlords when it comes to accounting and reporting and online rent collection. Not only is the software free, but it also offers a wide range of features that other solutions may charge for.
In addition, Stessa was created by 2 experienced real estate investors with 30 years of combined experience, so it's tailored specifically for those in the industry. If you're a landlord looking for an easy and effective rental property software solution, Stessa is definitely worth checking out.