Are you a busy landlord or property manager who hates the hassle of rent collection? A tool that allows your tenants to autopay rent may be the solution for you.
With this service, your tenants can have their rent automatically deducted from their bank account each month, eliminating the need to follow up with late fees or track down checks monthly.
Autopayments are a stress-free way to collect rent and helps ensure consistency with your tenant payments. In this post, you'll learn more about how autopay works with Stessa online rent collection.
What is rent autopay?
Rent autopay is a system where rent is automatically deducted from the tenant's bank account each month on the designated date. This is different from paying rent manually, which requires renters to remember to log in and make a payment each month or mail a check.
There are a couple of drawbacks to having tenants pay rent by check or in person each month. It can be time-consuming for landlords to keep track of rent payments. If your tenants pay by check or in person, you have to go to the bank to deposit the money. Also, if tenants forget to pay rent or are late on their payments, landlords may have to chase them down for the money.
Benefits of rent autopay
Rent autopay helps you seamlessly collect the rent so you can focus on running your business instead of bookkeeping. Here are some of the reasons why an autopay rent option might be beneficial for you as a landlord or property manager:
It can help you keep track of payments and ensure that rent is always paid on time.

If you have tenants who

frequently forget to pay their rent

, autopay can help to reduce late payments.

Autopay rent can simplify your accounting and bookkeeping by providing a clear record of all payments made.
If you're interested in setting up autopay for your tenants, Stessa offers an easy-to-use online rent collection tool that can help you get started. With Stessa, you can automate your rent collection process and track payments all in one place.
How to autopay rent with Stessa
With Stessa online rent collection, tenants can set up recurring Automated Clearing House (ACH) payments so that the rent is paid by the due date each month. For landlords, there's no more worrying if the check is really in the mail, and you're instantly notified when a rent payment has been made and deposited in your account.
Here's a quick look at how tenants and landlords can use autopay with Stessa:
Set up Stessa Cash Management
In order to collect rent through Stessa, you will need to open and fund a Stessa Cash Management account. This account can be opened entirely online, in your personal name or the name of your property ownership entity, partnership, limited liability company (LLC), etc.
To get started, simply create a Stessa account and navigate to the Cash Management page. 
As an added benefit, Stessa's Cash Management deposit accounts currently earn 2.00% annual percentage yield (APY), compared to the national average interest of 0.03% on checking accounts as of July 2022, according to the Federal Deposit Insurance Corporation (FDIC). Stessa Cash Management users can earn interest on balances from automated rent collection deposits, capital expense (CapEx) accounts, and operating accounts.
Annual Percentage Yield (APY) of 2.00% is effective as of 8/8/2022. No minimum opening deposit or account balance required. Fees could affect earnings on the account. Stessa is a financial technology company, not a bank. Banking services provided by Blue Ridge Bank, N.A., member FDIC. The national rate is the average of rates paid by all insured depository institutions and credit unions for which data is available to the FDIC, with rates weighted by each institution's share of domestic deposits.
Enable rent collection
To begin collecting rent using Stessa, first go to your Leases & Tenants page. From there, click on the Tenancy Details for the unit/tenant you would like to enable for rent collection. Ensure you have a valid name and email address for the chosen tenant.
If you have already set up a Cash Management account, you will now see that the Enable Rent Collection button is available at the top of the tenant ledger. Simply click on this button and enter the necessary information.
Send an email invite to your tenants
Stessa's online rent collection tool is available to tenants by invite only. If you've generated the email invitation, but your tenant can't find it, ask them to check their spam (and other folders) for an email from Stessa Rent Pay. It's also a good idea to confirm that you have your tenant's most current email address on file.
The invite is still valid even if it's been more than 5 days since an invitation email was sent. Simply selecting the large blue Get Started button in the email will allow your tenant to create a new link to log in and register for Stessa online rent collection.
Collecting rent with Stessa for the first time
Before tenants can pay rent, they'll need to connect their bank accounts. Stessa online rent collection uses Plaid to check banking credentials and connect directly to the checking or savings account(s) your tenant would like to use to pay rent. Once completed, your tenant can pay rent easily via ACH and with no extra fees.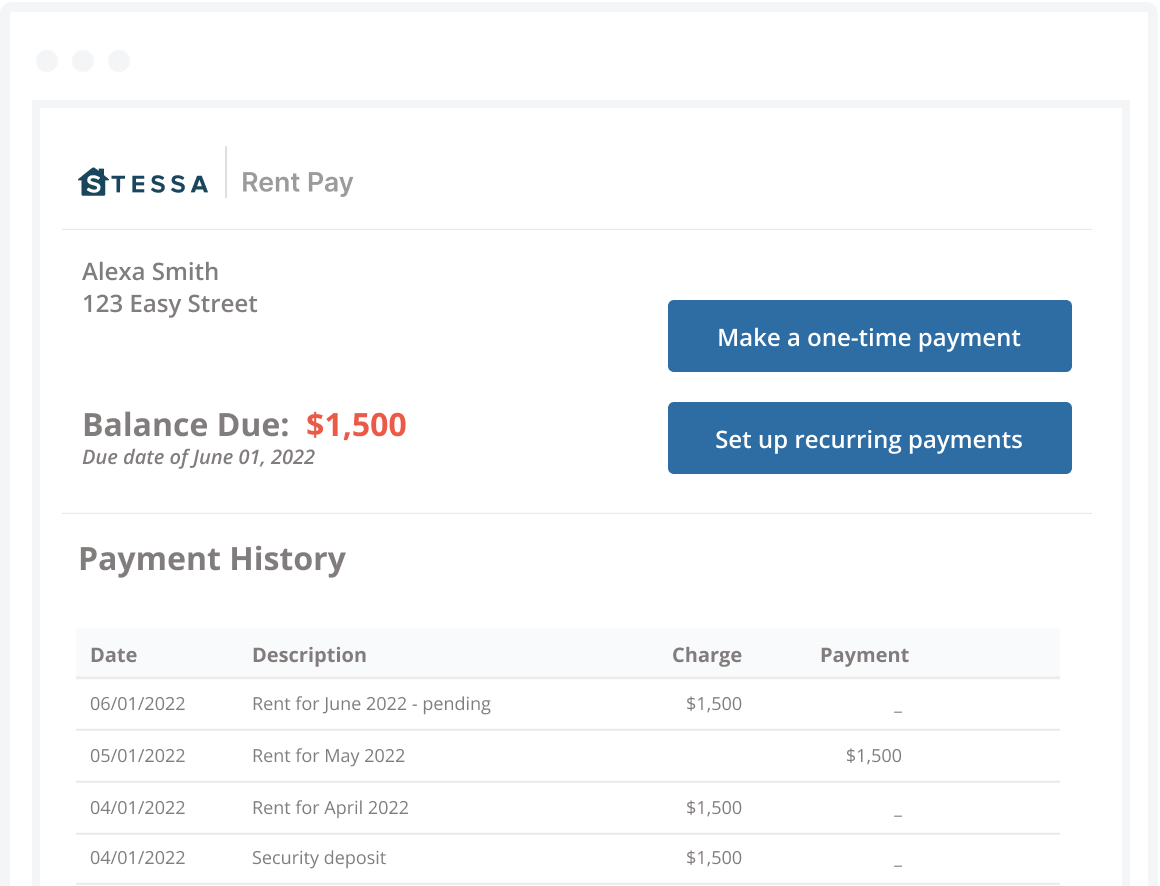 If your tenant is having trouble connecting their preferred bank account, they can reach out to the Stessa support team by selecting the blue circle in the lower right. The customer care experts at Stessa will take a closer look and get back to your tenant with the next steps.
Closing thoughts
Autopay is a great way for landlords to collect rent monthly without worrying about sending reminders or depositing rent checks. 
Stessa can handle all of this for you, so you don't have to worry about anything slipping through the cracks. To get started, sign up for a free Stessa account to begin automating key tasks like deposits, receipts, and accounting.