Collecting rent is the main reason for investing in rental property, and landlords can accept rent payments in various ways. Some owners prefer tenants to pay by cash or money order to reduce the risk of bounced rent checks; other landlords are OK with accepting checks. Still others enhance the tenant experience by offering tenants the option to pay rent online.
Regardless of how rent is received, providing a tenant with a rent receipt is a good business practice and may even be required as part of the rental agreement or by local and state landlord-tenant laws.
We'll explain why landlords use rent receipts, cover the information to include on a rent receipt, and provide a free rent receipt template for landlords in both Excel and PDF formats.
---
Key takeaways
A rent receipt is provided to a tenant to acknowledge the rent was received.

Information on a rent receipt includes the date of rent receipt, tenant name, payment method and amount, and whether there is an outstanding balance due.

Some local and state landlord-tenant laws require landlords to provide tenants with rent receipts.

Landlords use rent receipts to project more professionalism, create a record, and minimize rent payment disputes with tenants.
---
What is a rent receipt?
A rent receipt acknowledges that a tenant has paid the rent. 
Also known as a rental fee invoice, rent remittance voucher, or rent payment slip, a rent receipt is similar to the receipts received for other financial transactions, such as a statement received when a bank deposit is made. 
If a tenant pays the rent in person, a rent receipt is typically written up and signed by the landlord and tenant, with both parties keeping a copy for their own records. Rent receipts can also be sent to a tenant after the rent payment is received in the mail or when the monthly rent is paid online.
Why landlords use rent receipts
Some local or state laws may require landlords to provide tenants with rent receipts. Even if it is not required by law,  many landlords use rent receipts as a good business practice.
1. Professionalism
Rent receipts help landlords and property managers project professionalism. Imagine going into the local convenience store, paying cash for a few items, and not receiving a receipt. The first thing that might come to mind is where the money is actually going.
2. Record-keeping
A rent receipt creates a record for rent payments, particularly if a tenant pays the rent with cash or with a money order or cashier's check. While a landlord may be able to use monthly bank statements as backup, rent receipts can keep record-keeping clean and straightforward and provide a tenant with proof of payment.
3. Tenant benefits
Rent receipts are beneficial for tenants. A tenant can use rent receipts to build credit history by showing the rent is current and has been paid on time. With so many people working from home, a tenant may want to use rent receipts as a backup in case part of the rent is being claimed as a home-office tax deduction.
4. Dispute minimization
Minimizing payment discrepancies or disputes with a tenant is another benefit of using rent receipts. For example, if a tenant claims to have paid the rent on time when it was actually received late, a written rent receipt can keep any dispute from escalating. 
However, a rent receipt doesn't protect a tenant who writes a bad check because a rent receipt isn't proof that a check has cleared the bank. If a rent check is returned due to non-sufficient funds (NSF), a landlord can still pursue a tenant for nonpayment because a copy of the bounced check proves the rent was not paid. 
Information to include on a rent receipt
A rent receipt generally includes the following information:
Date

Receipt number

Property address, including unit number, if applicable

Tenant contact information

Date of receipt

Rental payment period

Amount of rent received

Method of payment, such as cash, debit/credit card, or check and check number

Remaining balance, if a partial rent payment is accepted, along with any applicable late fees

Landlord's signature

Tenant's signature to acknowledge the rent receipt completed by the landlord is correct

Landlord contact information
Free rent receipt template for landlords
Here's a sample of a rent receipt for landlords:
We've put together a free rent receipt template you can download in Excel and PDF formats:
Related: Looking for an easier way to collect rent from your tenants? Check out Stessa rent collection – a free tool that makes it easy for tenants to pay on time, and automate key tasks like deposits, receipts, and accounting. Get notified when a payment is made and when it's been deposited in your account.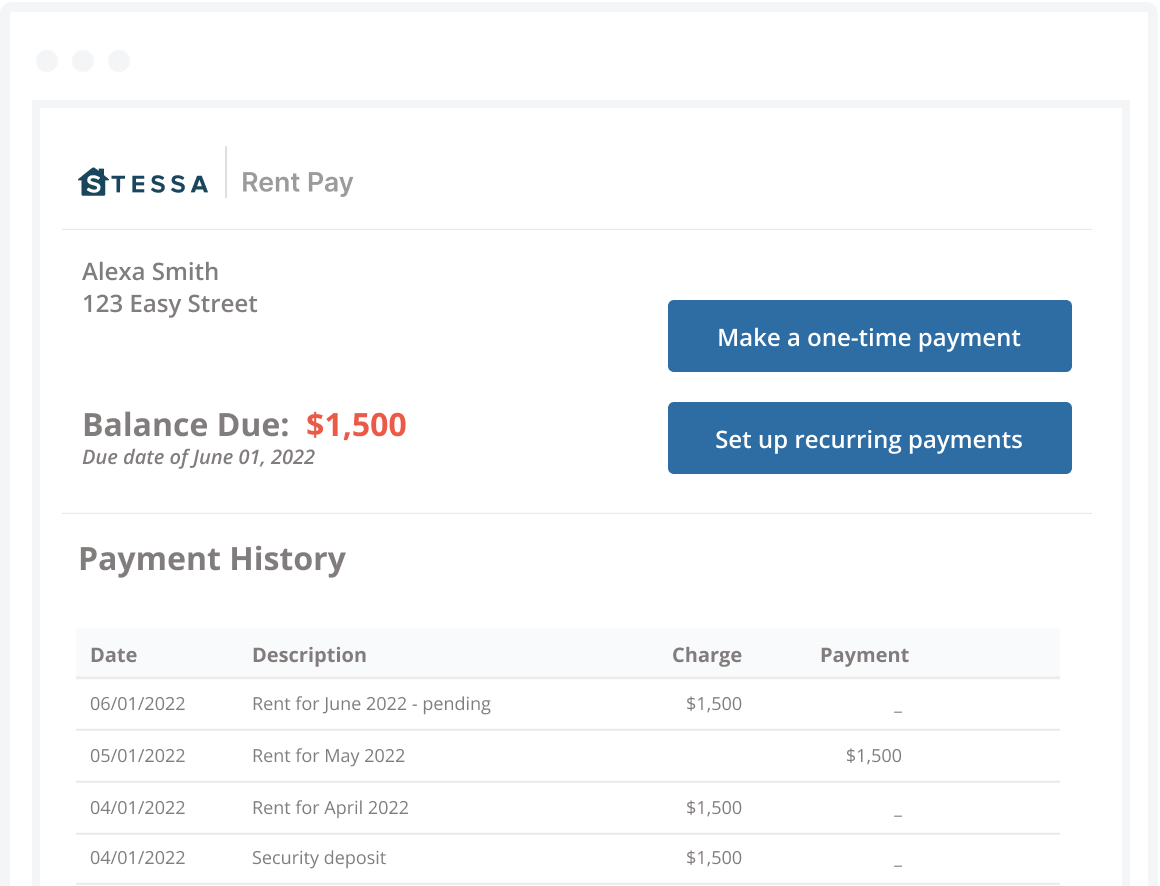 How to automate rent payment receipts
Landlords often provide tenants with convenient options for paying the rent online. Using an online rent payment system can improve cash flow, save time and money wasted processing payments by hand, and give tenants the security and convenience they want.
Online rent payment platforms, such as Zillow Rental Manager and PayYourRent, are 2 options that are free for landlords to use. A tenant can also make Automated Clearing House (ACH) transfers from their bank account to a landlord's bank account to pay the rent online using a service like PayPal or Zelle.
Landlords can send tenants rent receipts for online payments by printing and mailing them to the tenant or emailing them in a PDF format.
Common rent receipt FAQ
Q: Can a rent receipt be used for additional rent payments, like pet or roommate rent or security deposit receipts?
A: Yes, rent receipts should be used to provide proof of all payments received from a tenant, even if a security deposit is refundable and not recorded as rent.
Q: When does a rent receipt have to be issued?
A: Some local and state landlord-tenant laws require landlords to issue tenant rent receipts, while others do not. As a rule of thumb, landlords issue tenant rent receipts when requested by a tenant, when required by law, when a tenant pays in cash or in person, and when a tenant pays the rent online.
Q: Does a rent receipt protect a tenant who writes a bad check?
A: No, an NSF check serves as evidence that the rent was not paid. A rent receipt indicates a check was received for the rent but does not prove that a tenant's rent check actually cleared the bank.
Final thoughts
Writing out a rent receipt each time a tenant pays the rent may seem time-consuming, but, as the saying goes, an ounce of prevention can be worth a pound of cure. 
Using rent receipts helps landlords present a professional appearance, create an important record for real estate investing, and maintain better landlord-tenant relationships. 
Tenants who feel they're treated fairly and given respect are more likely to renew their leases, which can keep occupancy rates high and rental income flowing.